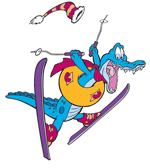 Yesterday I told you guys about the waterslide at the new Atlantis hotel that ends in a shark lagoon (
see Waterslides and Sharks
).
I want to point out that I don't find the height of that slide particularly scary - just the sharks.
Their slide is only 90 feet tall while
Summit Plummet
at Disney's
Blizzard Beach
is the highest free fall slide in the world at 120 feet.
I think it's high time Disney ups the ante and drops a slide into a pool of dyed-blue aligators.
Now
that
would be scary.