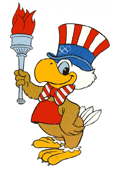 Good morning, and Happy
Fourth of July
!
I know it's not even Friday yet in the States, but I'm awake and on the computer at 4:30 am.
Yes, just a few minutes ago one of our lovely neighbors was down on the street, yelling at his taxi driver in Arabic for about five minutes straight.
Needless to say, it was loud enough to wake me up. One of the cats too.
Liz never budged.
Don't worry, the cat has since gone back to sleep.
But not me, I'm awake enough to ponder Dubai for Independence Day. I bet nobody even notices. I read somewhere there are only something like 25,000 or 26,000 Americans in this city. That's hardly a blip! I bet there are more people from one
city
in India than there are Americans in Dubai.
And it's not like we even have patriotic gear to wear - not like the Germans and their country's soccer jersey. I guess I could wear my Boston Red Sox hat ... that's
kind of
like its own nation ...
Last year for Fourth of July, you might remember, we were on our way back to the States, but stopped in Paris for a few days.
Yes, one year ago today we were at the
Eiffel Tower
,
Arc de Triomphe
,
Champs-Élysées
and
Musée d'Orsay
.
But where will we be
next
Fourth of July? Maybe I can go back to bed and dream about that.
Good night, and Happy Fourth of July!