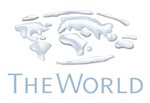 So hey, know that artificial cluster of islands called
The World
that they're building out in the Gulf?
Well the other week they laid the final stone on the breakwater.
The sixteen and a half miles of breakwater took five years and 34 million tons of rock to construct. The breakwater protects the 300 islands, all in the shape of the different continents and countries of the world.
Now that the breakwater is completed, people who own the islands can start construction.