An Open Letter to Theo Epstein, General Manager and Executive Vice President of the Boston Red Sox,
Theo! Congratulations on the
great season
. Your whole organization has helped put together a fantastic team that I hope will be around for a long time.
Congrats to All-Star third baseman
Mike Lowell
, too. MVP of the World Series, man, that guy is something. You like stats, right? In the four games he hit .400 with 1 home run, 4 RBI, 6 runs scored and a
stolen base
! And now he holds the Red Sox franchise single-season record for most RBIs by a 3rd baseman, too. Lastly, he's just a great guy. He's always talking about the team effort, selfless - just a great guy.
Speaking of third base, I couldn't help but hear the other night that Yankee third baseman Alex Rodriguez has opted out of his record-breaking $252 million, 10-year contract. Interesting that his agent Scott Boras chose Sunday to make that announcement. Probably had
nothing
to do with the final game of the World Series being played. Nope. I bet he just wanted to give the reporters something for the Monday morning papers. Because sports pages are pretty thin these days with only the NFL, NHL, NBA, MLS and MLB playing.
It's interesting to compare Lowell and A-Rod. Both were All-Star third basemen this year. And I think both have hit three home runs in one game.
Of course there are differences, too. Lowell is a big bad machine in the post-season, and A-Rod is, well, more like a baby kitten. In the 2006 postseason, A-Rod went, what? 1-for-14 against the Detroit Tigers?
You know there are other differences, too. While Lowell is a cancer survivor, A-Rod causes cancer. Lowell likes to hug children and kiss babies, and A-Rod likes to hurt children and eat babies. Lowell goes to church every week and A-Rod cheats on his wife every week. Yep, the differences are staggering.
But those things don't matter to me as much as one moment. One moment of complete unsportsmanlike conduct. Let's go back in time to the 2004 American League Championship Series. This is what Red Sox Nation thinks of when someone says "A-Rod" to us. Right here, this photo below, slapping the ball out of Bronson Arroyo's glove. This is Junior High baseball. This is A-Rod: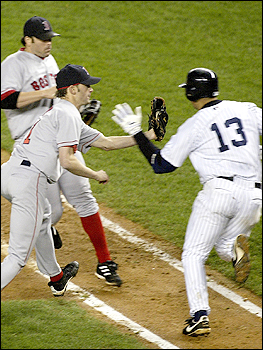 'Course, Toronto fans probably think of the game a few months ago when A-Rod yelled "Mine" as a baserunner, distracting the Blue Jay's thirdbaseman from making a play. That's not Junior High baseball, you can't even characterize that as Little League baseball. Little League coaches would be livid over that stunt.
I bet that every team has a reason, just like this, to hate A-Rod.
Anyway, what I'm trying to say Theo is congratulations, but if you sign A-Rod over Lowell you just lost yourself a fan.
It'll be a cold day in hell before I root for A-Rod
.
No, you know what - "Alex Rodriguez". I'm going to call him his real name from now on, forget this "A-Rod" junk. Baseball players shouldn't have nicknames like they're a character in the
WWE
or the
XFL
. You just know that Scott Boras concocted that name in a Vince McMahonian moment to help distinguish Rodriguez from the eighteen other ballplayers named "Rodriguez". Remember how Boras was trying to get the media to call Daisuke Matsuzaka "D-Mat", but the Boston papers were calling him "Dice-K" and that stuck because that's the phonetic spelling of his name and not some manufactured nickname?
In summary, if you hire Alex Rodriguez as thirdbaseman you're going to lose lots of fans. You're a numbers guy, do a poll of Red Sox Nation and see just how few of us want that asshat on our team.
Thank you, and congratulations again.