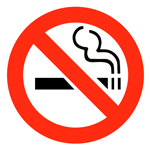 So this was a big one that I forgot to mention - on Friday all shopping malls in Dubai banned smoking.
It's pretty clever, really, to start the smoking ban during Ramadan - when it's already illegal to smoke during the day. It's possible that people will just get used to not smoking during the day, and keep it up once the holy month is over.
Of course, it's unclear whether the malls will enforce the ban, which I kind of doubt. I also haven't seen what their smoking sections look like - it could just be a plexiglass wall with no roof, a la the smoking sections in Gatwick and Heathrow Airports.
But any way you slice it, anything's an improvement ...