Did you hear the news? Apple has revamped their line of iPod music players.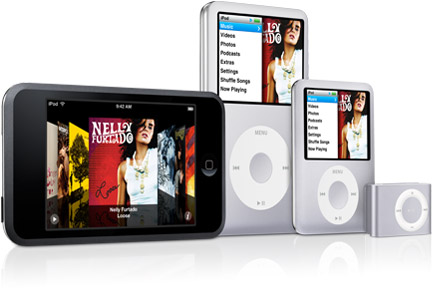 The big news is that the
iPod nano
now plays video on a 2.0-inch display. The resolution is 320 x 240 pixels.
The iPod as we know it is now the
iPod classic
. It now has an all-metal enclosure, and comes in a new 160GB model. That's as much memory as my whole dang computer!! The 80GB model is thinner than my fifth generation iPod I bought this summer, too. The screen is still 2.5-inches, the same as mine, though.
And then there's the
iPod touch
. Pretty much the
iPhone
without the phone, it has a 3.5-inch widescreen display, Wi-Fi web browsing and a Wi-Fi iTunes Store, where you can buy songs. Oddly it only comes in 8GB and 16GB models.
Just for the record, I love my iMac and my iPod that we just bought two months ago (
see Adjusting to life in the States and iPod, TV and Me
), even if both are both outdated now. I've never felt the need to have all of the newest, shiny things in life.
And I have been more than psyched to have the iPod for the last three weeks to play downloaded shows on the television. Virtually every time that we use it, I say to Liz, "I am so excited that this works!"
Technology is so fun ...