So we haven't had a crazy look into Dubai's future lately. Let's fix that right now. Here's a concept hotel I saw on the web the other day.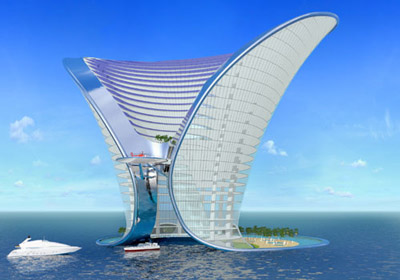 The
Apeiron
will be, if built, a $500 million dollar hotel on an island almost a thousand feet (300 meters) into The Gulf. The only way to get there? Yacht or helicopter.
Yeah, exclusive.
Designed by
Sybarite
, the Apeiron will be 600 feet tall and feature 350 suites. The official site says that it's "the definitive James Bond retreat boasting its own private lagoon, beaches, restaurants, art gallery, retail shopping, cinemas, spas and conference facilities. Its dramatic silhouette on the horizon creates a completely unique architectural icon that will be instantly recognised worldwide."
They also call it a "seven star" hotel. Hmm. Shades of the
Burj Al Arab
much?
So maybe this will be built, or maybe it'll be another
Hydropolis
...