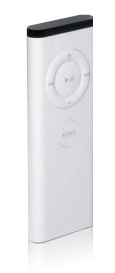 This won't be of much use to most of you guys, but if I can just help
one
person out there, then this will be worth it.
No, it's nothing that serious, in fact, it's really goofy.
You know how I was telling you that we hooked our
iPod
to our television via an
Apple Universal Dock
?
Well, oddly enough, we found that using the
Apple Remote
to pause the show we were watching ended up turning
on
our
iMac
. Yep, the iMac (which is in the same room, obviously) also has an infrared receiver.
Talk about technology amuck - the first time it happened the TV is going and all of a sudden from behind us
iTunes
is blasting. At first I thought the iMac might have gained sentience, like HAL from 2001.
As much as I like computers, I'm glad that's not the case. I like being the one in charge.
Anyway, this has been a pain in our necks for almost a month now, but the other day I finally found an Apple Support Document that helped -
Pairing your Apple Remote with your computer
. Here's an excerpt:
Turning off infrared reception

You can use the Security pane in System Preferences to turn the infrared ("IR") reception on your Mac off (or back on). To do this:



1. From the Apple menu, choose System Preferences.
2. Click Security to display the pane.
3. Select the "Disable remote control infrared receiver" checkbox.