2007-08-31
The Mist trailer
So I don't know if you've heard about the Stephen King short-story "The Mist", but it takes place in Bridgton, Maine - that's where Liz grew up, and the last place I lived before moving to Dubai. My brother Daniel still lives there.

Anyway, apparently Frank Darabont (who wrote and directed the Green Mile and the Shawshank Redemption) has made a movie of it. It stars Thomas Jane, Andre Braugher, Laurie Holden, Marcia Gay Harden and William Sadler. Sadly, it was filmed in Louisiana, and not Maine.




Look for it in theaters on November 21, 2007.
posted by Josh @ 11:35 PM
RFID Blockers for new Electronic Passports
Last summer on our arrival in Dubai we had a little mishap, and Liz's passport went through the laundry (see Taken to the Cleaners).

Luckily the US Consulate in Dubai is fantastic, so we were able to get a temporary one year passport and not ruin our honeymoon (see Your Tax Dollars at Work ...).

Anyway this summer Liz got a new passport. The only problem? It's brand new - one of the new Electronic Passports.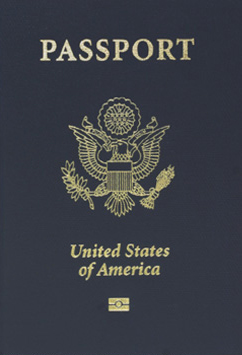 The little rectangle and circle glyph means that this is an Electronic Passport.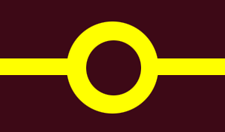 The Electronic Passports contain an RFID (Radio-frequency identification) chip on which data about the passport and passport bearer is stored. This will help facilitate border inspections, kind of like a barcode for the 21st century.

Yeah, a little Orwellian, eh?

And then I read this technical analysis - Flexilis RFID Passport Implementation Vulnerabilities.

I'll quote just a little bit. (BAC stands for Basic Access Control, which is an authentication program like a digital signature that prevents anyone reading or accessing the information on the chip without the owner's knowledge):


Assuming that BAC is secure, the risk of explicit information disclosure (identity theft) is minimal due to the authentication required to access any personal information; however, what security expert Jon Callas has described as a one-bit attack remains. For an attacker to authoritatively know that someone is carrying a passport (and where he or she is carrying it) is a large security threat that may subject Americans to increased risk abroad. Additionally, various characteristics (unique singulation identifiers, power analysis, etc.) can be utilized to fingerprint the characteristics unique to each country's RFID deployment and allow attackers to ascertain the exact country a given passport belongs to. Taken to a logical extreme, this could enable what has been described as a RFID-equipped mine which only detonates in the presence of U.S. citizens.

Holy cow.

Yes, I know it says taken to a "logical extreme", but really all logic gets thrown out the window when you picture your wife being detonated by a mine.

Oh, and it's illegal to tamper with the chip, so no microwaving it.

The only other thing to do? Block the signal.

A quick search online found these products billing themselves as "RFID Blocking":


Of course, there's no Consumer Reports test for all of these yet. So we opted for the Paraben StrongHold Bag, I'm not really sure why.

It's actually a whole lot nicer than it looks in the photo, there's a little billfold for money and credit cards, it's pretty handy. Hopefully it'll work well at blocking the RFID, too ...
posted by Josh @ 10:50 AM
2007-08-30
You know you're watching too much "Lost" when ...
Yesterday afternoon I was in our office (the green room) and the air-conditioning kicked in, causing this loud rushing/rumbling noise.

I thought I was having a flashback.

For those of you keeping score at home, we're already through the 5th episode of season 3, so I think we only have 18 left before we're caught up completely.
posted by Josh @ 9:42 AM
News: Paramount Park in Dubai
This is older, about two months old now. But I was finishing up my semester and getting ready to go on vacation when this news broke. Sorry I missed it.


Variety
Paramount plans park in Mideast
Ruwaad to spend $2.5 billion on U.A.E. venue
By Marc Graser
June 26, 2007

Paramount is expanding its theme park biz into the Middle East.

Studio has inked a licensing deal with Ruwaad Holdings enabling the developer to build rides and attractions based on its library of films and characters at a proposed theme park in the United Arab Emirates.

Ruwaad plans to spend $2.5 billion on the Paramount Pictures-branded park, with the city of Dubai being considered to house the project.

Venue will also house hotels and resorts, restaurants and themed retail outlets.

No opening date has been announced. Exact size of the park is still being worked out.

Par is not footing any of the park's construction costs but will oversee planning and design elements.

Developers were attracted to Paramount's properties, which include "Top Gun," "Mission: Impossible," "Titanic," "The Godfather," "Grease," "Braveheart" and DreamWorks' co-production "Dreamgirls," which are viewed as lending themselves to adaptation as theme park attractions.

Park will also incorporate Bollywood and Arabic-language film content.

Par becomes the latest Hollywood player to enter the UAE with theme park plans.

A few months ago, Universal Parks & Resorts announced a partnership to build Universal City Dubailand, set to open in 2010. And Marvel has plans for a $1 billion park to bow in 2011, also in Dubai.

"The UAE is a spectacular center of growing commerce, tourism and entertainment, and we look forward to working together to bring a taste of Paramount and Hollywood to this dynamic market," said Michael Bartok, exec VP and head of Paramount Licensing, which handles licensing for Par, DreamWorks, Par Vantage, Nickelodeon Movies and MTV Films.

The Par deal is being overseen by Intl. Destination Brands, an affiliate of Ruwaad.

Darrell Metzger, CEO of Ruwaad Destinations, will manage the development aspects of the project. A former Walt Disney Co. exec, Metzger is also vice chairman of the Intl. Assn. of Amusement Parks and Attractions.

Ruwaad and Paramount Licensing are exploring development opportunities in other countries within the Middle East and elsewhere.

Paramount has licensing deals with five theme parks in North America that used to make up the Paramount Parks chain.

Owned and operated by Viacom, Paramount Parks went to CBS when the two companies split. Last year, CBS sold off the theme parks -- located in California, Ohio, Toronto, Virginia and on the border of the Carolinas -- to Cedar Fair Entertainment.

In May, Par Licensing also announced a licensing deal with Daewoo Motor Sales Corp. to build an $800 million theme park in South Korea.

&copy Reed Business Information
posted by Josh @ 9:18 AM
2007-08-29
USA Rugby? Who knew?
I've gone on and on about my complete lack of cricket knowledge here for quite some time now, to quite a comic (I hope) effect.

The other "new-to-me" sport that's on TV quite often is rugby.

Now, I'm not a rugby expert, I don't know the ins and the outs of the game like I would baseball or soccer, but I have a rough idea what the point of the game is. To whale on the opposing team.

There's also something with a ball, too.

But mostly it's to pummel the other guys.

I only mention this because I just found out today that the United States has a rugby team.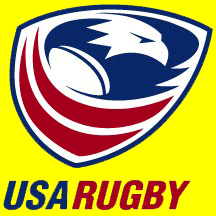 Who knew?

I don't think I talked about this last year, but there's a kind of famous rugby championship here in Dubai - the Dubai Rugby Sevens.

We didn't go last year, I'm not sure why.

Anyway, a "rugby sevens" is a variation of normal rugby game where only seven people play per side, as opposed to ... the normal number of players. Also the games are shorter, I think 15 minutes a game. The other day I watched a replay of last years Dubai Rugby Sevens on our Orbit ESPN. It's a crazy quick game, all running.

So yesterday they announced the dates and teams for the "Emirates Airline Dubai Sevens" (the official title). It goes down on November 30 and December 1, with competing teams from Wales, New Zealand, Fiji, Samoa, South Africa, England, Australia, France, Scotland, Argentina, Canada, Kenya, Tunisia, Zimbabwe, the Arabian Gulf and USA.

Now we have to go and cheer on our country.

Or New Zealand, 'cause they're supposed to be pretty good.
posted by Josh @ 9:18 AM
2007-08-28
Jebel Ali Fire
So you may have heard this yesterday, apparently there was a fire in the port of Jebel Ali here in Dubai.

I guess at 4 am some chemical depot exploded or something. It took three hours to contain the fire.

I only heard about it on the news myself, by the time I was awake the billowing black plumes of smoke were gone.

But we are actually pretty close to Jebel Ali here, a couple of miles I'd guess. Some older maps even call the area we live in (Al Sufouh) as part of Jebel Ali.

Anyway, needless to say, we're safe from the chemical fire.
posted by Josh @ 9:32 AM
Thank you Detroit!
The only thing better than a 7 1/2 game lead going into a series against the Yankees is an 8 game lead.


American League
East
W
L
Pct
GB
Boston Red Sox
80
51
.611
--
New York Yankees
72
59
.550
8
Toronto Blue Jays
65
65
.500
14.5
Baltimore Orioles
58
71
.450
21
Tampa Bay Devil Rays
51
80
.389
29
posted by Josh @ 9:29 AM
2007-08-27
Going to the Bronx ...
So the Boston Red Sox have tonight off, then go to New York on Tuesday for a three game series against the Yankees.


American League
East
W
L
Pct
GB
Boston Red Sox
80
51
.611
--
New York Yankees
72
58
.554
7.5
Toronto Blue Jays
65
65
.500
14.5
Baltimore Orioles
58
71
.450
21
Tampa Bay Devil Rays
51
79
.392
28.5
posted by Josh @ 8:27 AM
Dubai is not a "Global City"
The other night we went to go see the new Bourne Ultimatum film with a friend of ours. I won't tell you much about the plot of the flick in case you haven't seen it yet, but I do want to talk a little about it being filmed all over the globe - locations included Moscow, Paris, London, Madrid, Tangier and New York City.

Not to toot our own horns, but it was pretty cool to see Jason Bourne in Waterloo Station or Gare du Nord - as we just were in London and Paris ourselves as part of what one of my buddies in Southern California called our Amazing Race summer. When you count Maine, Boston, Los Angeles, Las Vegas and of course, Dubai, well, we hit even more places than Matt Damon's character in the movie.

Which got me thinking of a prediction I made last December. After seeing "Casino Royale" I said, and I quote, "I bet you that at some point in the next two James Bond movies (#22 or #23) James Bond will visit to Dubai" (see James Bond in Dubai).

I'm now wondering if that was too bold a statement.

I mean, it felt right that Jason Bourne hopped a plane to Madrid, but had he come to Dubai it might have felt forced. I honestly am not sure that in 2007, or even 2008, that Dubai matches up with Moscow, Paris, London, Madrid, New York City, Los Angeles or Las Vegas. Sure, Dubai is an emerging city, but it's still got a ways to go.

It reminds me of an article I read last spring on wikipedia about "global cities".

Really simply, a global city is a city that has a direct effect on global affairs through culture or politics as well as socio-economic means.

Cities get points based on the following characteristics:

International, first-name familiarity; whereby a city is recognized without the need for a political subdivision. For example, although there are numerous cities and other political entities with the name Paris or variations on it, one would say "Paris", not "Paris, France".


Active influence and participation in international events and world affairs; for example, New York City is home to the United Nations headquarters complex and consequently contains a vast majority of the permanent missions to the UN.


A fairly large population (the center of a metropolitan area with a population of at least one million, typically several million).


A major international airport (for example, London Heathrow Airport, and Chicago O'Hare Airport) that serves as an established hub for several international airlines.


An advanced transportation system that includes several freeways and/or a large mass transit network offering multiple modes of transportation (rapid transit, light rail, regional rail, ferry, or bus).


In the West, several international cultures and communities (such as a Chinatown, a Little Italy, or other immigrant communities). In other parts of the world, cities which attract large foreign businesses and related expatriate communities; for example, Singapore, Shanghai, Hong Kong, Tokyo, and Moscow.


International financial institutions, law firms, corporate headquarters (especially conglomerates), and stock exchanges (for example the London Stock Exchange, the New York Stock Exchange, the World Bank, or the Tokyo Stock Exchange) that have influence over the world economy.


An advanced communications infrastructure on which modern trans-national corporations rely, such as fiber optics, Wi-Fi networks, cellular phone services, and other high-speed lines of communications.


World-renowned cultural institutions, such as museums and universities.


A lively cultural scene, including film festivals (for example the Toronto International Film Festival), premieres, a thriving music or theater scene (for example, West End theater and Broadway); an orchestra, an opera company, art galleries, and street performers.


Several powerful and influential media outlets with an international reach, such as the BBC, Associated Press, Reuters, The New York Times, The Times, or Agence France-Presse.


A strong sporting community, including major sports facilities, home teams in major league sports, and the ability and historical experience to host international sporting events such as the Olympic Games, Football World Cup, or Grand Slam tennis events.

Wonder where Dubai placed on this list?

Not very highly:

12 points: London, New York, Paris, Tokyo

10 points: Chicago, Frankfurt, Hong Kong, Los Angeles, Milan, Singapore

9 points: San Francisco, Sydney, Toronto, Zürich

skip a whole bunch


2 points: Abu Dhabi, Almaty, Birmingham (UK), Bogota, Bratislava, Brisbane, Bucharest, Cairo, Cleveland, Cologne, Detroit, Dubai, Ho Chi Minh City, Kiev, Lima, Lisbon, Manchester, Montevideo, Oslo, Riyadh, Rotterdam, Seattle, Strasbourg, Stuttgart, The Hague, Vancouver
Ooooh, dang, on the same par as Bratislava (the largest city in Slovakia) and Montevideo, which is either a city in Uruguay or a new South American MTV rip off.

I mean, anyone on the level of Cleveland has to feel pretty bad. (And for those of you defending Cleveland, two questions: Why do your rivers catch fire and why can't you win at any sports, like, ever?)

It's interesting when you look at the criteria for a global city - Dubai certainly is gaining in the international first-name familiarity, but we're still not a household name like London, New York, Paris, Tokyo. We have a fairly large population, but not nearly as big as some (did you know Ho Chi Minh City is the fiftieth largest city in the world?)

We do, however, have a big airport, and are building Dubai World Central International Airport - which will have an annual cargo capacity three times that of Memphis (MEM), today's largest cargo hub, and a passenger capacity of almost 50% more than Hartsfield-Jackson Atlanta International Airport (ATL), currently the world's busiest passenger airport.

As for an advanced transportation system - um, well, we have a bus ...

No, but seriously, the Dubai Metro will be done in a couple of years.

And that's just the thing - everything is still pretty new, or just a few years from being done.

The stock exchange is not even two years old. This will be the fourth year for the film festival, while the tennis championships has been around since 1993.

That big airport? It'll be fully built-out and operational by 2017.

Other than that museums, theaters, art galleries, all are in the nascent stages.

While we might be a little lacking on the whole "world-renowned cultural institutions" thing, we do have a mall that's just a shade smaller than Mall of America (100,000 square feet of retail floor area smaller, to be exact). And ours has an indoor ski mountain. So there.

And we're building the tallest man-made structure in the world, the Burj Dubai, as well as two other competitors (the Al Burj and the Burj Al Alam). The Burj is scheduled for occupancy in September 2009, the other two haven't even started construction yet.

So anyway, if Bond #22 is coming out in November of 2008, #23 will probably be in 2010, right?

Let's look at Dubai in 2010. We'll have a metro, and probably have the world's tallest building, too. Maybe a museum. For sure a new mall or two.

I'm thinking the Burj alone should bump Dubai a few pegs above Bratislava and Cleveland.

As for visits from Bond or Bourne? I'm still not sure.
posted by Josh @ 8:21 AM
2007-08-26
News: They're redesigning the $100 bill. Again.
Man, they just can't leave the money alone, can they?

I like the fourth-to-last paragraph the best, though. That the American Council for the Blind is urging the government to help the visually impaired distinguish between different denominations of currency. Um, not really. Technically a US District Judge ordered the Treasury Department to do that last November.

The Treasury is appealing the decision.


The Associated Press
Currency change aimed at adding security
By Martin Crutsinger
August 26, 2007

WASHINGTON - After six decades in which the venerable greenback never changed its look, the U.S. currency has undergone a slew of makeovers. The most amazing is yet to come.

A new security thread has been approved for the $100 bill, The Associated Press has learned, and the change will cause double-takes.

The new look is part of an effort to thwart counterfeiters who are armed with ever-more sophisticated computers, scanners and color copiers. The C-note, with features the likeness of Benjamin Franklin, is the most frequent target of counterfeiters operating outside the United States.

The operation of the new security thread looks like something straight out of the Hogwarts School of Witchcraft and Wizardry. This magic, however, relies on innovations produced from decades of development.

It combines micro-printing with tiny lenses - 650,000 for a single $100 bill. The lenses magnify the micro-printing in a truly remarkable way.

Move the bill side to side and the image appears to move up and down. Move the bill up and down and the image appears to move from side to side.

"It is a really complex optical structure on a microscopic scale. It makes for a very compelling high security device," said Douglas Crane, a vice president at Crane & Co. The Dalton, Mass-based company has a $46 million contract to produce the new security threads.

Larry Felix, director of the Bureau of Engraving and Printing, confirmed details about the security thread in an AP interview.

The redesign of the $100 is about one-third of the way complete. The bill is expected to go into circulation late next year.

Starting in 2003, splashes of color have spruced up the $20 bill and other currencies. Those changes followed the addition of a first round of security features in the mid-1990s.

Benjamin Franklin's latest makeover was delayed while the government searched for a high-tech security device that would provide extra protection on the bill.

The $100 bill represents more than 70 percent of the $776 billion in currency in circulation, two-thirds of which is held overseas.

Holograms, used extensively on credit cards, were considered for the $100. They were rejected because they did not offer the strong visual signal the government wanted.

"We were looking for features that had very distinctive types of actions so that we could tell the American public, you will know that it is authentic if you do this and the note does that," Felix said.

The new security thread is used on the Swedish 1,000 kroner note and has been selected by the government of Mexico for some higher denomination notes.

Felix said many other devices expected to be included in the $100 redesign will be similar to features added over the past four years to the $20, $50 and $10 bills. That means subtle pastel colors on the currency and patches of micro-printing that are difficult to duplicate, along with a touchup on Ben Franklin's portrait.

Originally there were no plans to redesign the $5 bill. That decision was reversed once counterfeiters started bleaching $5 bills and printing fake $100 bills over the bleached paper; certain security features were in the same location on both bills.

The new $5 design will be made public on Sept. 20 and will go into circulation early next year.

The bleached bills represent the latest skirmish in a battle with counterfeiters.

"Counterfeiting is becoming highly organized and highly efficient," Felix said. He said some clandestine printing plants in Latin America and Eastern Europe have been caught counterfeiting not only the U.S. currency but other countries' notes.

The government says $118.1 million in counterfeit U.S. currency was detected in 2006, an increase of 3.8 percent from 2005.

While that is a fraction of the currency in circulation, the Secret Service is concerned with the threat, especially the challenge posed by new digital technology. Digital copies account for about half of all counterfeit notes passed in the U.S., compared with less than 1 percent of all counterfeit bills detected in 1995.

"The quality of the counterfeit currency has gone down, but the ease by which people can make this currency and the access to the computer equipment has had an impact on the rising numbers," Secret Service spokesman Eric Zahren said.

To stay ahead of the counterfeiters, the Bureau of Engraving and Printing plans to redesign U.S. currency every seven years to 10 years. That is a far cry from the practice for most of the 20th century - from 1929 to the 1990s - when the currency stayed the same without any major changes.

"We had three generations of engravers who spent their entire careers at the bureau and never saw their designs hit the streets," Felix said. "Now since 1996, we have all of these changes."

All the new security devices have added to the complexity of making money. The government churns out 38 million notes each business day with a face value of $750 million at two facilities - one in Washington, D.C., and the newest one in Fort Worth, Texas.

By order of Congress, the $1 bill, which accounts for 45 percent of the notes printed each year, will not be redesigned. Lawmakers were concerned about the cost to business if low-end vending machines that only take coins and $1 bills had to be upgraded.

In addition to redesigning the money, the bureau is putting in new printing presses with more capabilities to handle the increasingly sophisticated security features.

The new presses can vary the size of the bills being printed. That is something the American Council for the Blind is urging the government to consider as a way of helping the visually impaired distinguish between different denominations of currency.

Felix says no decision has been made on such a change. The government is appealing a federal court ruling that could force such a redesign.

In its continuing effort to stay ahead of counterfeiters, the bureau is reviewing a wide range of new ideas such as adding a sense of depth to the designs.

"Currency is essentially a confidence situation," Felix said. "You have to always stay ahead in changes."

&copy The Associated Press
posted by Josh @ 9:42 PM
2007-08-23
News: Dubai invests $5 billion in Vegas
"Gentlemen, the 14000 block of Las Vegas Boulevard. Otherwise known as the Bellagio, the Mirage, the MGM Grand. Together, they're the three most profitable casinos in Las Vegas..."

So apparently someone in Dubai is a fan of Ocean's Eleven, as Dubai World just bought a chunk of MGM Mirage, the company that owns the Bellagio, the Mirage and the MGM Grand (Terry Benedict's a fictional character - sorry to ruin the illusion for ya).

Of course, last year Dubai invested heavily in New York (see Essex House, Mandarin Oriental, W Union Square Hotel, the Knickerbocker Hotel, Barneys New York). It was only a matter of time before Dubai hit The Strip.

Personally, I think the outrageous architecture and opulence of Vegas fits Dubai better.

Anyway, here is a list of the Las Vegas holdings of MGM Mirage:

Bellagio

The Mirage

MGM Grand Las Vegas

Excalibur

Luxor

Mandalay Bay

New York-New York

Treasure Island

Monte Carlo

Circus Circus

This reminds me, I still have to get our photos from Los Angeles and Las Vegas online ...


MotleyFool.com
MGM Gets a $5 Billion Boost
By Jeff Hwang
August 22, 2007

Just a couple of months ago MGM Mirage majority shareholder Kirk Kerkorian's Tracinda Corp. backed out of discussions to acquire MGM's key Bellagio and Project CityCenter properties on the Las Vegas Strip. It sure didn't take long for MGM to find another interested party.

MGM announced this morning that Dubai World would make a $5 billion investment in the company - a $2.7 billion investment in CityCenter and another $2.4 billion in MGM stock. The $2.7 billion investment nets Dubai World a 50% equity stake in CityCenter, valuing the project at $5.4 billion. Project CityCenter includes a 4,000-room resort hotel and casino, 2,650 condo and condo-hotel units, and two 400-room boutique hotels located on 76 acres of prime real estate at Center Strip. The project is scheduled to open in November 2009 at a cost of $7.4 billion.

Through its Infinity World Investments subsidiary, Dubai World will purchase up to 28.4 million shares of MGM stock at a price of $84 per share, or $2.4 billion total, amounting to 9.5% of outstanding shares. Dubai World plans to acquire half of the shares via public tender offer and the remaining shares directly from the company. The purchase price represents a premium of about 13% to the price of MGM shares at Tuesday's close.

With the proceeds, MGM could pay down debt, buy back shares, or perhaps fund an acquisition or future development.

MGM has thoroughly demonstrated its ability to monetize the value of its massive Strip real estate holdings through the use of joint ventures. In June it announced a 50/50 joint venture with Kerzner International to build a hotel and casino resort at the north end of the Strip on land MGM acquired earlier this year. The deals also speak to the value of undeveloped Strip real estate owned by Harrah's Entertainment, Wynn Resorts, and Boyd Gaming.

&copy The Motley Fool
posted by Josh @ 11:20 PM
Invade Earth
If you're looking for something fun to do that kills hours upon hours, download Invade Earth - a Java game based on the board game Risk 2210 A.D.
posted by Josh @ 8:45 AM
Jet Lag is Evil
So it's four-something in the morning and I am wide awake. I hate jet lag.

See, the problem is that yesterday I didn't take a nap, I just fell asleep at 7 pm watching Discovery Channel. So did Liz. When we woke up it was already 9 pm, and somehow the television was on Animal Planet. (Is it possible the cats learned how to use the remote control while we were gone this summer?)

Since I pretty much need eight hours of sleep a night, this morning at 3 I start tossing and turning, and at one point I just gave up.

And now here I am.

Freaking circadian rhythms.

Liz, who is obviously a better sleeper than I, as she's still asleep, swears that recovery takes "one day per time zone". Eight time zones ... got in on Saturday ... yeah, looks like we still have a few more days left.

But in the nearer future, I'm totally going to have to take a nap today or I'll fall asleep before dinner. And I think I might make pizza. And I loves me some pizzas.
posted by Josh @ 4:25 AM
2007-08-22
iPod, TV and Me
I know I talked about our television offerings here in Dubai quite a bit last year, how we have many show from the States but that they're at the least six months delayed from when they air back home, but in some cases a few years later. And some shows don't exist here (poor "My Name is Earl" and "The Office").

Last year I probably also mentioned that we had tried to download some shows from Apple's iTunes Store, but Liz's laptop doesn't have the processor speed needed to play the files in an unstuttered manner. And my iBook, well, that just died altogether.

Anyway, this summer I devised a fantastic workaround for both of these problems. We bought an Apple iPod.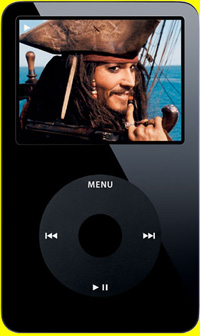 See, at first I really wanted one of those Apple TV dealies. But then I found out you need a widescreen or high definition television, and we don't have that. Plus, our TV is the European PAL, not North American NTSC, and Apple TV doesn't play nicely with PAL.

But as I was doing my research, I discovered that the current iPod (iPod with video a/k/a 5.5th Generation iPod) allows for video output - NTSC or PAL.

Plus this summer Apple was running a deal for college students - buy a Mac before and get a $199 rebate on an iPod of your choice.

Sweet!

So in addition to the iMac we now we have a new 30GB iPod that stores up to 40 hours of video. The LCD display is a little small (2.5-inch diagonal) with 320 by 240 pixel resolution, but it was fine to watch a few episodes of "Lost" on the airplane.

Other specs:

Height: 4.1 inches

Width: 2.4 inches

Depth: 0.43 inch

Weight: 4.8 ounces

Best of all, if we want to find other things to download (*cough bit torrent illegal copies of television shows*) or rip DVDs (*cough using an open-source, GPL-licensed, multiplatform, multithreaded DVD to MPEG-4 converter such as HandBrake*) we can now play them on our television set ...
posted by Josh @ 7:59 AM
2007-08-21
Gap in Dubai
So I just read in this week's TimeOut Dubai that apparently we now have a Gap here in Dubai!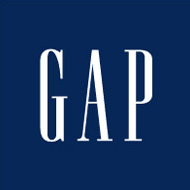 I don't generally get fired up about clothing, but until I moved to Dubai last year I didn't realize how much of my wardrobe was Gap-related. I ruined one pair of khakis in the wash, spilled something on some jeans, my tan cords started to wear out ... all three from Gap.

(Sidenote: is it "The Gap" or just "Gap"? I'm going with "Gap", but I might be wrong here. Excuse my ignorance.)

I was excited last fall when H&M opened up here, but I've had some odd run-ins there. Have I told this story yet? I might have. But let's tell it again, because it's so odd.

One day, perhaps after said pants-ruining month (oh yes, all three pants went down in the same month) I went to the H&M at Ibn Battuta Mall. They're nice stores, stripped down with polished concrete floors and very basic fixtures, but in a trendy way. Very Euro. Very hip. Anyway, I asked one of the clerks where the Mens' section was.

His reply?

"In Mall of the Emirates".

Wow, your Mens' section is in a different mall.

Several miles away.

That's handy.

Anyway, once I got to the Mens' section in the other mall, I realized that our Sweedish friends Hennes & Mauritz need to learn a few things about the America ... um ... posterior. There's a reason Gap has "Loose Fit" and "Baggy Fit" and "Poncho-esque Fit" jeans. Americans are a ... rotund crowd. We're not "skinny" or "petite" or "in shape" like the Europeans.

Needless to say, I'm interested to check out this Gap at Deira City Centre, see if my large American behind will fit into their pants.

But before that, I'm totally going to the gym first.
posted by Josh @ 11:08 AM
News: UAE father of 78 eyes new brides for century target
Well golly, I guess we all need goals ...


Reuters
UAE father of 78 eyes new brides for century target
August 20, 2007

DUBAI (Reuters) - A one-legged Emirati father of 78 is lining up his next two wives in a bid to reach his target of 100 children by 2015, Emirates Today reported on Monday.

Daad Mohammed Murad Abdul Rahman, 60, has already had 15 brides although he has to divorce them as he goes along to remain within the legal limit of four wives at a time.

"In 2015 I will be 68 years old and will have 100 children," the local tabloid quoted Abdul Rahman as saying.

"After that I will stop marrying. I have to have at least three more marriages to hit the century."

The United Arab Emirates newspaper splashed its front page with a picture of Abdul Rahman surrounded by his children, the eldest of whom is 36 years old and the youngest of whom is 20 days old. Two of his current three wives are also pregnant.

Abdul Rahman said his large family lived in 15 houses. He supports them with his military pension and the help of the government of Ajman, one of seven emirates that comprise the UAE, which includes the Gulf trade and tourism hub of Dubai.

Islam allows men to marry up to four women at a time, though most marry only one. The UAE is a Muslim country but is home to migrants from around the world.

&copy Reuters
posted by Josh @ 10:44 AM
2007-08-19
Baseball in Dubai
How many times have I complained about not getting Major League Baseball on TV here in Dubai? Are you as sick of reading about it as I am writing about it?

Well right now on my Orbit ESPN I have baseball.

Live baseball.

Live Little League baseball.

Yep, Orbit ESPN is playing the 2007 Little League World Series right now.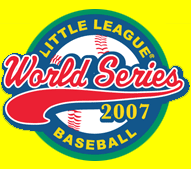 I can't see Manny, Schilling or Ortiz, but I can see a bunch of eleven, twelve and thirteen year olds strike out.

Whoo.

Oh well.

Baseball is baseball.

I guess.

Actually, this pitcher isn't half bad. I think that was a curve ball. And number four on the light blue team looks as if he has a mouthful of chewing tobacco! Huh. Holy cow, this little twerp just cranked a home run. Jeesh! Apparently it was his second of the day! Wow! Go dark blue team!
posted by Josh @ 9:23 PM
2007-08-18
Celsius
As I've said here before, thankfully pretty much everyone in Dubai speaks English, so being native English speakers from the United States we've been spared the difficulty (or some might say enjoyment) of daily translation.

However, being from the United States we've never have day-to-day contact with metric units, unlike the rest of the world. So we do have to convert distances, weights and temperatures all of the time.

Now, growing up after Jimmy Carter's 1970s push at metrication, but amidst Ronald Reagan dissolved the U.S. Metric Board in the early 1980s, I had a marginal working knowledge of the metric system before coming over here. And luckily the metric world is pretty basic, so that hasn't been too difficult to work with. Kilo-, centi-, mili- and we're done.

But Celsius to Fahrenheit still has me confused.

The one hint I have is this poem. I don't recall learning it in school per se, more likely I picked it up from my science teacher father. (Who, granted, was my eighth grade science teacher). I just googled it, and apparently it was written by a Boston University School of Education professor Carole Greenes:


30° is hot,
20° is pleasing,
10° is not,
0° is freezing.

So I've converted it out further:


30 degrees C is 86 degrees F
20 degrees C is 68 degrees F
10 degrees C is 50 degrees F
0 degrees C is 32 degrees F.

Unfortunately for us right now it's about 43 degrees Celsius (about 109 Fahrenheit). Kind of off Professor Greenes' scale ...
posted by Josh @ 12:53 PM
2007-08-17
Back in Dubai!
We're back!

Just landed two hours ago, give or take, after a nice flight on Delta from Atlanta. Unfortunately that means we had to drive two hours from Maine to Boston, fly two hours from Boston to Atlanta, and then fly back up the Eastern Seaboard past Boston and Maine on our way to Dubai.

Oh well.

The flight took a few minutes more than thirteen hours, and I seriously only slept a couple of hours. Add that to the hour nap I had on the way to the airport, and the second hour nap I had on the BOS to ATL flight, and I'm one tired cookie. Luckily it's already night here, so I'm ready for bed.

More adventures to write about tomorrow. Good night!
posted by Josh @ 9:29 PM
2007-08-15
Disney-MGM Studios
Last week while we were traveling I missed a pretty big Disney story. Apparently the Disney-MGM Studios theme park at Walt Disney World Resort in Florida is going to be renamed this January to "Disney's Hollywood Studios".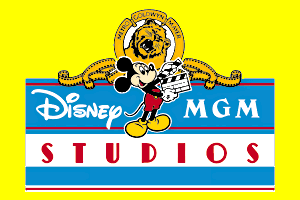 Not a big story, really, but for Disney fans it's pretty crazy, as it seems everyone at Walt Disney World has called that park "MGM" since about 1989. When I worked there in the summer of 1996 they were trying to get everyone to call it "Studios" but that was a little uphill of a battle. I guess now people'll have to call it that!

The only thing that scares me is this quote from the president of the resort, Meg Crofton. "The new name reflects how the park has grown from representing the golden age of movies to a celebration of the new entertainment that today's Hollywood has to offer - in music, television, movies and theater."

"From the golden age of movies to new entertainment that today's Hollywood has to offer."

Uh-oh.

I like how the park is themed to 1930s and 1940s Hollywood. The chrome Art Deco stylings, the replicas of the Chinese Theater, Crossroads of the World, Echo Park, Brown Derby and more. This "today's Hollywood" quote has me a little scared. Today's Hollywood isn't nearly as fun, whimsical or interesting as the Hollywood that never was.

Anyway, it has nothing to do with us or Dubai, but I thought I'd mention that here.

Although we were just in Los Angeles, so I have Hollywood on the brain a little. Speaking of our trip, I probably won't have photos of California compiled and displayed for a few more days, as we leave tomorrow to head back to Dubai.

As you can imagine, I've got to split as we have lots of packing to do. Adios!
posted by Josh @ 4:41 PM
2007-08-13
Eric Gagné
Don't worry.

We're back from California, safe and sound in Maine. But I know you are more concerned with Eric Gagné right now.

The night we left for our trip two weeks ago the Boston Red Sox completed a trade for relief pitcher Eric Gagné, who you might remember from a journal entry last December (see I Jinxed Gagné).

And so far he hasn't pitched well in the two games he's been in. So I know you are concerned.

Don't be.

"What?" You're say. "Aren't Red Sox fans supposed to see doom and gloom at every potential corner?"

Yes, this is true. But I've seen Gagné smoke the New York Yankees like they were a Little League baseball team that ended up on the field of Dodger Stadium instead of in the bleachers. This guy is okay, trust me. Going into the last two months of the season, and then the playoffs, the Red Sox are going to need him. And by then he'll be adjusted and ready.

Trust me.
posted by Josh @ 7:38 PM
Josh and Liz are two American kids who got married in August. Liz has lived in Dubai since 2003, Josh since August of 2006.

Follow along in the culture shock of being recently married and (for Josh, at least) recently transplanted to Dubai.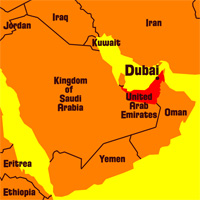 Right now in Dubai
Videos
Pictures
Previous Words
Favorite Recipes
Currency Converter
The easy way to convert Dirhams to Dollars!

Enter a number in either field, then click outside the text box.
Archives
Links We Like
Visitor Counter: