2007-05-31
News: Sam Adams Beer, Latrobe, PA
Haven't talked about beer in a while, so here we go. I just saw this article about Sam Adams beer from the other week. I didn't even realize that Rolling Rock has been owned by Anheuser-Busch since 2006.

(Sam Adams was my favorite beer before I met Shipyard.)


Associated Press
Samuel Adams Rolling Off Line in Latrobe
Former Rolling Rock Brewery in Western Pa. Now Making Sam Adams
By Joe Mandak
Monday May 21, 2007

PITTSBURGH - The first barrels of Samuel Adams beer started rolling out Monday from the brewery that for decades made Rolling Rock.

Boston Beer Co. signed a deal in April to brew Samuel Adams beer at the former Rolling Rock brewery in Latrobe. City Brewing Co., of La Crosse, Wis., bought the facility last year after its former owner sold the Rolling Rock brand to Anheuser-Busch for $82 million.

Brewery manager Kevin Morgan said Boston Beer wants the Latrobe facility to produce at least 250,000 barrels of beer for bars, restaurants and other draft beer outlets through the end of the year. A barrel, the beer industry's standard unit of measurement, equals 31 gallons.

"That should be enough to keep our keg line running five days a week," Morgan said.

The bottling line will start up in June and the brewery plans to bottle about one-and-a-half times as much beer as it sells in barrels, Morgan said.

The brewery, about 40 miles east of Pittsburgh, has the capacity to produce 1.2 million barrels annually, Morgan said.

The beer produced in Latrobe will be distributed along the East Coast, Morgan said.

The brewery had 47 employees on Monday and six others were being trained in Wisconsin. Once the bottling lines begin operating next month, the brewery will employ 60 to 80 people, Morgan said.

Boston Beer has said it plans to invest $3 million to $7 million in the facility, and may eventually take an ownership stake in the plant.

Rolling Rock had been brewed in Latrobe since 1939, but Anheuser-Busch is now making it in Newark, N.J.

&copy The Associated Press
posted by Josh @ 7:37 PM
The Boston Globe on Bridgton, Maine
Apparently yesterday the Boston Globe had a write up on Bridgton, Maine - Liz's hometown, and where I lived for the two years before moving to Dubai.

I was excited to see that our local movie theater will now serve beer and wine when it reopens, but then question the line that says the theater will be open this summer - last I heard the Magic Lantern was opening in November.

Either way, neat article!
posted by Josh @ 10:12 AM
Dubai Road Expansion
Okay, so this was the big news yesterday in Dubai - on Tuesday the The Roads and Transport Authority (RTA) unveiled a plan to increase the number of roads in and around Dubai, and the number of bridges over the Dubai Creek. The total cost? $12 billion.

Twelve.

Billion.

United States Dollars.

And just what are they going to spend it on?

"Our plan is to increase the capacity of the roads by building 500km of new roadways, 95 new interchanges, nine new ring roads, and increasing the number of Creek crossing lanes from 19 (in 2006) to 47 by 2008, and 100 by 2020," said the Chairman of the Board and Executive Director of RTA.

500 kilometers of roads.

Five hundred.

Kilometers.

Of roads.

Personally, I don't even see how you could build that many roads around Dubai, especially now that it's so built up. But then again I don't see how adding 81 lanes over the creek won't be just paving over it.

Towards the end of the article I read about this there was a crazy figure - the population in Dubai is currently around 1.3 million - but it's forecast to increase to around 5.3 million by 2020.

That's more than four-hundred percent growth in the next thirteen years.

Wow. They might even need more than 500 kilometers of roads!
posted by Josh @ 7:01 AM
Microsoft Surface
Wow, that new Microsoft thing is really cool.

Yes, let me repeat myself, "Wow, that new Microsoft thing is really cool."

Words I won't likely say again in a long time, if ever.

And no, I'm not talking about the new Pink Zune.

(For those of you reading this in the future - perhaps even as soon as the Holiday Season of 2007 - and don't remember what a "Zune" is, the "Zune" was Microsoft's failed answer to the iPod, but it was weird looking, and instead of glossy white or glossy black, the Zune was brown. Needless to say it was cancelled in the late-Summer / early-Fall of 2007 due to bad word-of-mouth and low sales.)

Anyway, I just saw a video online for Microsoft Surface.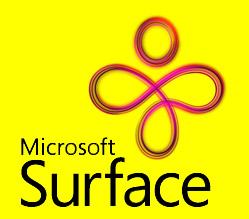 It's tough to describe what it is really, it's kind of a coffee table surface (hence the name) that's also a touch-screen computer. So you can download photos from your camera onto the table, then do photoshop-esque photo resizing ... all with your hands.

Here's the official company line: "The launch of Microsoft Surface marks the beginning of a new technology category and a user-interface revolution. Surface, Microsoft's first surface computer, provides effortless interaction with digital content through natural hand gestures, touch and physical objects. Surface computing breaks down traditional barriers between people and technology, changing the way people interact with all kinds of everyday information — from photos to maps to menus."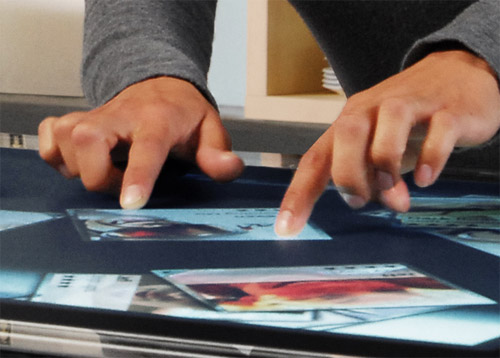 Go watch the videos, and see for yourself. If this really works, this is fantastic.

Wow, that new Microsoft thing is really cool.
posted by Josh @ 6:47 AM
2007-05-30
Story Idea
Have you ever been somewhere when it's so hot and humid that when you leave an air-conditioned building or car your glasses (either of the sun or prescription variety) fog up?

Well it's doing that in Dubai right now. Somewhere about 50% humidity, between 105 and 110 degrees. Good times.

But today when I left work it gave me an idea for a story, though.

You know how the comic book / movie character Superman is really just mild-mannered reporter Clark Kent without glasses and with a little curl in his hair? And how many times has Lois Lane or Jimmy Olsen come close to finding out Clark Kent's secret?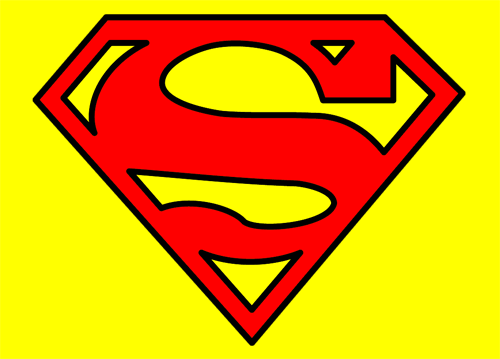 Well, I was thinking what if one summer day in Metropolis it gets really hot and humid? So when Clark Kent goes to leave The Daily Planet building his glasses fog up, so he has to remove them. And the humidity messes with his slicked back hair, so it curls up. And then he sweats, soaking his white button-up shirt to reveal his bright blue tights underneath.

C'mon, it's so realistic I'm surprised someone hasn't done it before!

Although wait - does Superman sweat? That would be the one weakness of the story. The hair and the glasses alone would be enough, though, I think.
posted by Josh @ 5:03 PM
We Got Lost
Just about everyone I know loves the TV show Lost. And, up until this weekend, I've never seen a complete episode.

Sure, it interested me when I worked in Portland and my coworkers would be twittering around the watercooler on Thursday morning. But at that point in my life I had a two-and-a-half hour commute and a ten hour day - do you really think I had time to catch up on a television series?

But earlier this month ABC set an expiration date for Lost. After the third season (which just ended last week or two weeks ago) they're only going to make 48 more episodes, divided into three, 16-episode seasons.

The last episode (#119) will air during the 2009-10 season.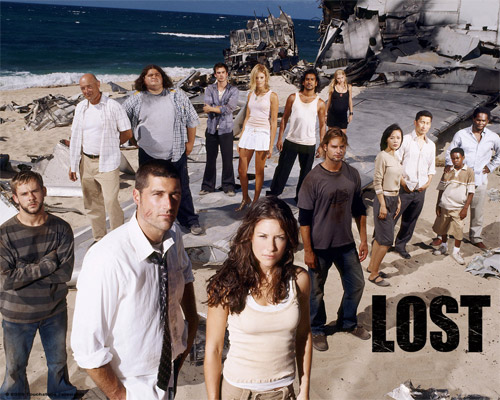 So a couple of factors played into my wanting to catch up on the show. Because honestly, I want to watch it. I just figured I'd do like so many of my friends, and get Netflix and rent each season one-by-one. (I had friends who did that with The X-Files - and I'm pretty sure that show was on the air for something like 37 seasons!)

But then I got thinking, some big surprise will happen that I'll hear about and it'll be ruined. That's already happened with the sixth season of 24 - I know a couple of bad things that happened that I wish I didn't.

In fact, in the thirteen episodes of Lost that I've already watched, I've known a surprising number of tidbits already. So I think it's good I'm catching up.

Plus it's a good show. If you don't watch it, you really should. (See, now I'm one of those cool people who's 'in the know'. Alas, we don't have a watercooler at work to hang around ...)
posted by Josh @ 6:34 AM
News: More on Ryan Dallas Cook
Here's a longer story about Ryan Dallas Cook, the Southern California musician who was killed two years ago ...


Los Angeles Times
Crash victim's family sues Hyundai
Company officials helped a colleague leave the country before police could talk to him about an O.C. hit-and-run, suit says.
By Christine Hanley
May 24, 2007

The family of a professional musician killed in a hit-and-run accident in Orange County filed a lawsuit Wednesday against Hyundai Motor America, alleging that company officials helped one of their colleagues leave the country before he could be questioned by police.

Wylie A. Aitken, an attorney representing the victim's family, said surveillance tapes from Los Angeles International Airport show that Hyundai employees helped Youn Bum Lee become a fugitive, contradicting statements they made to police investigating the crash.

"Justice has certainly been slow in this case," Aitken said, surrounded by Ryan Dallas Cook's parents and three sisters during a news conference at his Santa Ana law office. "But at least we're headed in the right direction."

Cook, 23, was killed in October 2005 when his motorcycle slammed into Lee's disabled car on the Costa Mesa Freeway. Lee, who had been drinking with colleagues shortly before the crash, left the scene and was on a plane to his native South Korea less than 24 hours later, according to police and court records.

Lee was charged last month in absentia with felony gross vehicular manslaughter while intoxicated; driving under the influence of alcohol or drugs with injury; and hit-and-run with injury or death.

Cook's family wants other Hyundai employees held criminally responsible for obstructing justice and being accessories after the fact.

In the meantime, family members say, they are seeking answers and justice through their lawsuit.

"It is shocking that a major corporation would create a culture that would inevitably lead to a drunken-driving fatality and then actively assist the perpetrator in his flight from justice," Aitken said. "What unfolded was possible criminal conduct not just by Mr. Lee, but up and down the corporate chain."

Susan Schroeder, spokesman for the district attorney's office, said charges against other employees were still possible, but that prosecutors did not have evidence showing anyone helped Lee get out of the country.

She said it took longer than usual for a warrant to be issued because, in seeking the maximum charges against Lee, investigators had to find evidence that he was under the influence at the time of the crash. Because Lee already was out of the country, that took a lot of legwork, she said.

"Unfortunately, it took a lot longer than we wanted it to," she said.

Kathy Parker, vice president of human resources at Hyundai Motor America, Hyundai's U.S. subsidiary in Fountain Valley, issued a short written statement Wednesday saying the company had been cooperative throughout the investigation, including helping authorities search for Lee.

Lee, who lived in Irvine, was fired shortly after the accident, Parker said, and the company does not know his whereabouts. On behalf of all employees, she expressed the "deepest sympathy" for Cook and his family.

For the Cooks, the sympathy comes far too late and rings hollow, Aitken said, repeating his allegation that Hyundai officials knew about the fatal accident and still helped Lee leave the country.

Cook family members did not learn who was driving the SUV that night until they were provided with a police report six months after the hit-and-run, Aitken said. That's also when they found out that investigators believed Lee had spent the night drinking with other company officials.

In their wrongful-death lawsuit, which seeks unspecified damages, the family identifies Jason Ryu and Young Jang among the Hyundai colleagues who they believe helped arrange for Lee to leave the country before police could track him down.

Ryu, who, according to Aitken, now works for Hyundai in Alabama, could not be reached for comment. Jang, who is still in Orange County and works in the technology division, said he could not talk about the case and referred questions to the human resources department.

Reports by the California Highway Patrol, which is leading the investigation, show that the two men were among a group of employees drinking with Lee in the hours before the crash, and that they accompanied Lee to Los Angeles the next day so he could meet with a criminal attorney.

On the way home, Lee asked to be taken to LAX because "something had come up," according to their statements to police. Uncomfortable with the request, they drove instead to a hotel near the airport, where Lee jumped out and hailed a cab, their statements show. They told authorities they tailed Lee in their own taxi, never explaining why they couldn't take the car they were driving, police records show.

Lee didn't tell them where he was going, and they didn't ask, according to their statements to police. He seemed agitated and asked to be left alone, they told police. They left the airport about 9:30 p.m. to take a shuttle back to their car, still at the hotel, then drove to their Fountain Valley office, according to their statements.

Aitken said airport surveillance videos tracking the men's movements that night showed that their version of events "doesn't hold water."

&copy Los Angeles Times
posted by Josh @ 6:31 AM
2007-05-29
That Cabbie Copped my Design!
The other night we were going to a going away party for one of Liz's friends, so Liz and I took a cab.

Stuck in traffic on the way over there I saw a familiar sight. An ad on the cab next to us had a silhouette of buildings in Dubai - just like the header of this website and our wedding invitations!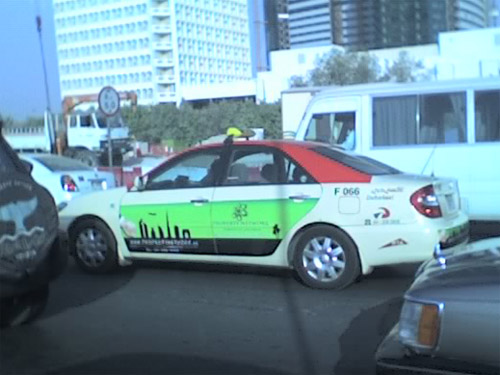 See, from left to right there's the Emirates Towers, some other building, Burj al-Arab, Burj Dubai, Dubai World Trade Centre and the Dubai International Financial Center.

Hey, I think on the far right they even have a palm tree!

Punks.

True, on the wedding invitations I didn't have the Dubai World Trade Centre or the Dubai International Financial Center, and I cut the Burj Dubai from the header of this website (at scale it just wouldn't fit properly!) but still, they're pretty similar!!

Personally I like how I have all of the buildings under construction in the background, I mean, to me that's really more "Dubai" than the rest of these silly buildings.

Sadly, I don't know what company this ad was for - my camera phone is a little lacking in image quality to read the ad properly. Oh well.

Let's just say "great minds think alike" then.
posted by Josh @ 6:40 AM
The .700 Club
American League
East
W
L
Pct
GB
Boston Red Sox
35
15
.700
--
Baltimore Orioles
24
27
.471
11.5
Toronto Blue Jays
23
27
.460
12.0
Tampa Bay Devil Rays
21
28
.429
13.5
New York Yankees
21
28
.429
13.5
posted by Josh @ 6:34 AM
2007-05-28
I hate Orbit ESPN
Not to make this all about sports today, but I have to bring up my satellite television company, Orbit and their crummy Orbit ESPN.




"Just like real ESPN, but now 90% crummier!"




We're what, almost two months into baseball season, and I've yet to see a game. In fact, I haven't even seen a game on the schedule ... well, other than that one time I got up before dawn because they said there was a game on (see That's not Baseball ... for the sad tale).

Yet, somehow in good conscience, Orbit ESPN loves to say they have baseball, and promote it in their commercials.

But we're not at the lowest point yet, my friends.

Nope.

This weekend I caught something on Orbit ESPN that most Americans with their ESPN, ESPN 2, ESPNews and ESPN Classic would never ever ever see. I saw a live broadcast of a Major League Soccer game.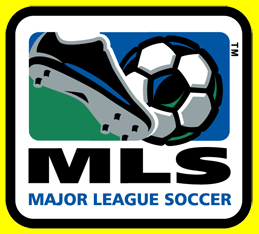 Wow.

I know that people here might not know about, or like, baseball, but replacing it with Major League Soccer is a real kick in the pants. That's like replacing reruns of "Seinfeld" with reruns of "The Nanny". Sure, they might sound the same on paper ('both half-hour sitcoms' - 'both live sporting events from America') but dang, they're pretty different in reality ...
posted by Josh @ 6:54 AM
Stanley Cup
The Stanley Cup finals start tonight out in California. The Ottawa Senators against the Anaheim Mighty Ducks. The Mighty Ducks of Anaheim. I mean the Los Angeles Ducks of Anaheim.

The Anaheim Ducks?

Yeah.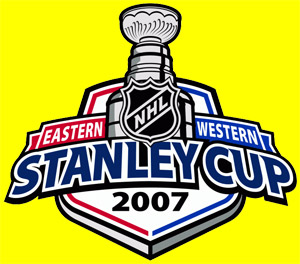 Anyway, I just read that if Ottawa wins that'd be the first time a Canadian team has won in 14 years. But don't get too upset, my Canada-loving friends, for the Ducks have 19 players who were born in Canada and the Senators only have 12.

So anyway, enjoy some hockey, eh?
posted by Josh @ 6:42 AM
Dubai Reaches World's End before U.S.
Avast there! It be too late to alter course, mateys, for guess what we're going to go see at noon today?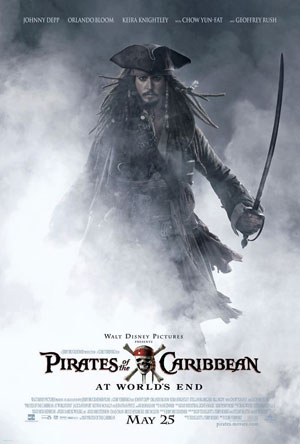 Arrr! Pirates of the Caribbean: At World's End! We go seeking adventure and salty old pirates in about an hour and a half!

The movie actually opened here yesterday, because Thursday night is the beginning of the weekend. But last night we had this thing to go to, so no pirates for us. Today, though, we're hitting the first showing, hoping that the mall will be empty. Yeah right. It's a little past 10:30 am in the morning and it's already over 100 degrees. The mall will no doubt be a zoo.

Anyway, yo ho ho and a bottle of non-alcoholic rum (we're in a Muslim nation, after all), we'll keep a weather eye open, for there be squalls ahead, and Davy Jones waiting for them what don't obey!

Dead men, after all, tell no tales ...
posted by Josh @ 10:26 AM
2007-05-24
News: Ryan Dallas Cook
I've never talked about this here before, but I've been following this story since October of 2005.

See, there's this band I like in California called Suburban Legends, they're a ska band with four or five trumpets, trombones, etc - pretty much more bandmembers than can fit into a minivan.

They're a small band, not on the radio, not on a record label, but they tour around Southern California and have some dedicated fans. Lots of high school age fans, because they play at Disneyland and Disney's California Adventure often, and due to the fact that they're all at least a half-a-decade younger than I am.

I think I told my brother that they were the world's first ska "boy band" when we first saw them in 2000 or 2001.

Probably the next line was how one of the trombone players reminded me so much of my brother's college roommate Andy.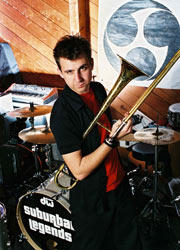 Anyway, a year and a half ago that trombone player was killed in a car accident on a freeway in Southern California. As if that wasn't horrible enough ... well, I guess you'll have to read the article below about who caused the accident and what happened next ...


knbc.com
Family Of Man Killed In Crash Files Lawsuit Against Hyundai Execs
May 23, 2007

SANTA ANA, Calif. -- A wrongful-death lawsuit filed Wednesday claims U.S. Hyundai executives helped a former colleague flee the country after a drunken-driving crash that killed a motorcyclist.

The Orange County Superior Court lawsuit seeks unspecified damages from Hyundai Motor America, Hyundai Motor Finance Co. and three executives for the 2005 death of Ryan Dallas Cook of Huntington Beach.

One of the executives, Youn Bum Lee, was charged last month with four felony charges: vehicular manslaughter by unlawful act with gross negligence while intoxicated; vehicular manslaughter with gross negligence; driving under the influence causing bodily injury and hit-and-run with permanent injury or death.

Lee is believed to have fled to his native South Korea after the crash and a warrant was issued last month for his arrest, although authorities are unsure of his specific whereabouts, said Susan Schroeder, a spokeswoman for the Orange County district attorney's office.

"He may never be held accountable," said Carlton Cook, the victim's father. "He may never own up to that because if they haven't found him by now, I don't know that they will be able to."

The family's attorneys said surveillance video shows that the executive was assisted in fleeing the country. The attorneys said two Hyundai executives escorted him onto an airplane.

"When they put him on that airplane, were they think about protecting Mr. Lee?" said attorney Wylie Aitken. "Or were they really thinking about protecting themselves?"

If convicted on all counts, he could receive up to 10 years in state prison, she said.

Hyundai released a statement that read, "Lee was terminated shortly after the event occurred."

Lee worked at Hyundai Motor America's headquarters in Fountain Valley and on Oct. 18, 2005, joined some colleagues for dinner followed by a visit to a karaoke bar, according to court documents.

During that time, Lee drank at least eight shots of rice wine, a colleague told police.

Just after midnight, Lee began driving his company car back to his Irvine home, according to the suit. A short time later, 911 calls to the California Highway Patrol reported that a sport utility vehicle with its headlights off had been weaving and hit the center divider of the 55 Freeway.

One caller reported seeing a headlight approaching. Authorities said it was Cook's motorcycle. The 23-year-old Cook braked but struck Lee's car, which had backed away from the center divider and into a lane, a CHP report indicated. Cook was thrown from the motorcycle and hit by three other cars. He died at the scene.

His parents, Carlton and Janet Cook, contended that Lee had been drinking at a Hyundai-sponsored function to entertain visiting executives from Seoul.

Cook's family contends that after the crash Lee fled but later contacted Hyundai colleagues to report he had been in an accident. Instead of reporting it, the suit contends that they arranged for him to meet with a criminal defense attorney in Los Angeles, then took him to the airport, where he bought a ticket to Seoul.

Lee's wife and son are believed to have joined him later.

Only after Lee reported safely arriving in South Korea did "the officers, directors and managing agents of Hyundai" contact the Fountain Valley Police Department to report they had the SUV involved in the crash, the suit claims.

The lawsuit claims Hyundai encouraged "a corporate culture of drinking and driving," failed to rapidly report the accident and assisted Lee in a "flight from justice."

"The company and its employees have and continue to express the deepest sympathy for the victim of the tragic accident and his family and friends," Kathy Parker, vice president of human resources for Hyundai Motor America, said in a statement Wednesday.

The company terminated Lee shortly after the accident and doesn't know his whereabouts but has been cooperating with the investigation, Parker said.

© KNBC.com and KNBC (NBC4 Los Angeles)
posted by Josh @ 6:37 AM
2007-05-23
Weekend photo roundup
I know it's Wednesday, but I have a few photos from the weekend I'd like to share. We haven't done this in awhile, I know, and I got some neat ones for you.

First off we have a shot of the Burj Dubai from the good old camera phone while we were stuck in traffic (don't worry, Liz was driving). The Burj, as you might recall, is projected to be the world's tallest building upon completion in a few years.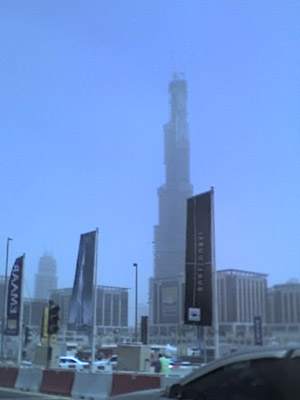 The Burj Dubai a few days later, again in traffic - almost the same intersection, actually. (Again, Liz was driving. Oddly enough I do do my fair share of driving, just somehow both of these times I wasn't. Well, I guess all of the times I do drive I don't have photographic evidence to prove it ...)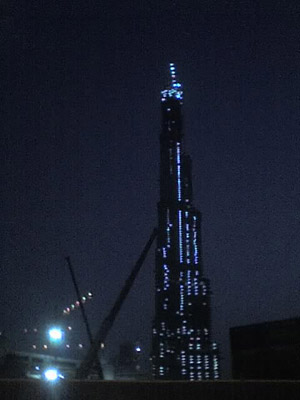 Here's a shot out of our window of our apartment at one of the (many) buildings in construction. The other weekend they put some palm trees out on the landing.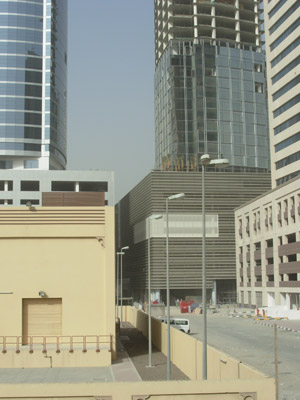 Here's a closer shot.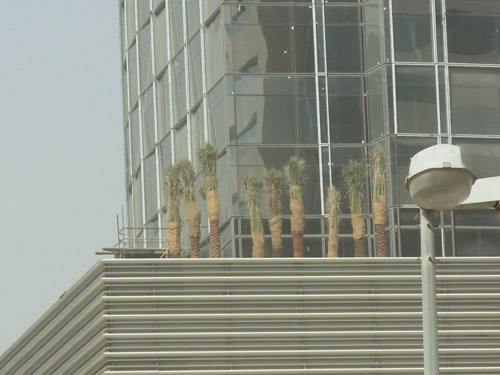 When we returned from Al Aqqa a few weeks ago we found graffiti on the wall outside of our apartment. That's fairly odd, because I can tell you when and where I've ever seen graffiti in Dubai. Three times, actually. Once at the Mall of the Emirates ("Fresh"), once on Beach Road (a U.A.E. flag - remind me that I want to get a photo of that), and out in Jebel Ali (another "Fresh").

Oh, and now this. Four times.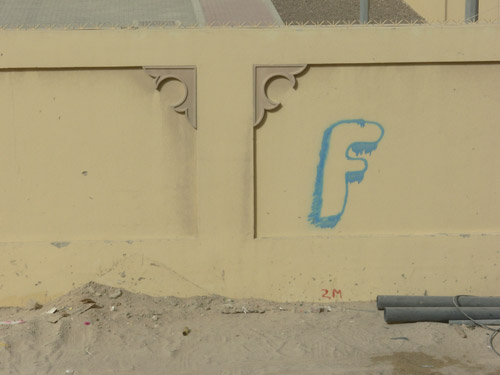 Lastly, when we went out to dinner the other night on Sheikh Zayed Road, we came very close to being stuck in our parking spot ... by a double-parked Lamborghini.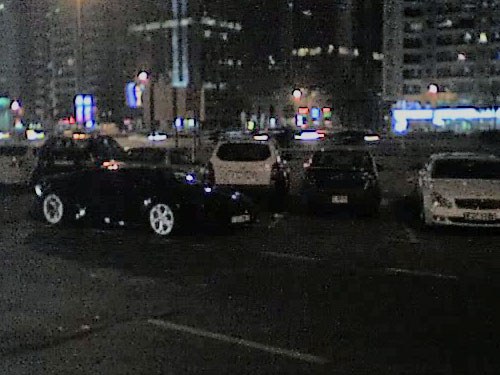 See, second car in on the right is the Black Echo (parked legally), and right next to us not in a spot is a black Lamborghini (not parked legally).

I don't know much in this world, but I know that if I went to the trouble and expense of buying myself a several hundred-thousand dollar car, I might not double-park it on a busy weekend night.

Or ever, really.

Just a thought.

Anyway, I'm really so glad this photo came out (albeit it with some photoshop lighting and contrast help). Pretty much sums up Dubai for me right there ...
posted by Josh @ 6:41 AM
2007-05-22
Clemens vs. the Sea Dogs
As I've mentioned here before, baseball pitcher Roger Clemens is returning to the American League with Boston Red Sox arch-rival New York Yankees.

Instead of going right to the big leagues, though, he started last Friday in the Minor Leagues - for the Single A Tampa Yankees, pitching against the Fort Myers Miracle.

His next start is Wednesday, tomorrow, for the Double-A Trenton Thunder. What's notable to me is that the Thunder are playing my Portland Sea Dogs.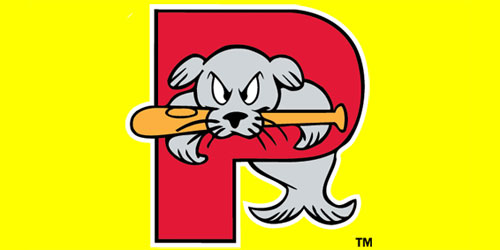 Crap.
posted by Josh @ 6:03 PM
5000 hits!
So a little under a half-an-hour ago we had our 5000th hit since January 23rd.

Four months, 5000 page hits.

Wow.
posted by Josh @ 6:44 AM
art-barn anniversary
The revolution began eight years ago today.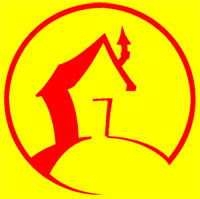 Yup, on this very day back in 1999 my brother and a few of his peeps struck out to form art-barn. Part web design firm, part animation studio, all cool.

What would the world have been like without

art-barn

? Luckily, we'll never have to know.

If you haven't visited lately, take a few and check out the fun: art-barn.com.

Happy birthday art-barn!
posted by Josh @ 6:41 AM
2007-05-21
Sorrow
Over the weekend I found out that a family friend passed away last week. It's times like this when it's really quite difficult to be overseas.

I feel really pretty crummy about the whole thing. Our friend was a carpenter - well, that's not the right word. No, Dickie was a craftsman. Anything that he touched would become instant artwork. He transcended carpentry.

For example, last summer he helped my dad put an addition onto our summer cottage in the woods of Maine. Then they put fake log cabin siding on. Well, not just "they" - I helped a little bit, but as I'm not a carpenter or a craftsman I pretty much just moved big piles of wood around, or held things straight while someone with talent and skill hammered them in.

Anyway, at one point, we replaced an existing window in the cottage with a big bay window. But Dickie was a little concerned about the weight of the window, and wanted to put some kind of support pieces in.

Now, your average carpenter would cut two pieces of wood, angle each side, hammer them in and go to the next project. Window supported, job done. But that wasn't Dickie. I don't even know what kind of tool he used (see, not at all a carpenter) but he made the most amazing, amazing curly-cue supports for the window. They support the window, but more than that - they're art. See? A craftsman.

Dickie wasn't just a craftsman, though. He was a musician, too, he played the steel guitar. All of the while when we were working on the cottage Dickie played an endless stream of country CDs, always reveling in the mastery of the musicians. His enthusiasm was infectious, and soon I was tapping along with the beat. And you know me and most country music. We just don't get along.

Anyway, I only helped for a few days at the cottage, at the same time I was busy packing up my things to move to Dubai, and putting the final touches on the wedding plans. I really wished I had helped more, Dickie was so clever and so helpful that even if you were hammering boards upside-down and using the wrong end of the hammer to do it he wouldn't even be upset, he would just calmly show you the proper way to do the job.

It was a great day when we finished the siding. My dad was beside himself with joy. I honestly don't think I've ever seen my father so pleased. I mean, yeah, he was happy at my college graduation, and my wedding was great fun, but I think those were predetermined in his mind. I don't think he ever doubted those days were going to happen. But putting the log siding on the cottage, that was always a dream to him. And all of a sudden it was real. He was speechless.

Then in the fall cancer returned to Dickie, and really did a number on him. But he and his wife fought through it. Tough old Mainers. I heard from my parents two weeks ago that Dickie and his wife stopped into the house and that he was looking good, had put on fifteen pounds, and even felt good enough to have a beer with dad.

And then, a week later, he was gone.

Now, I don't know all of Dickie's life story, but I know that at times he had it pretty rough. It seems that there's always employers out there willing to take advantage of employees, especially in the carpentry world of rural Maine. What made it worst was that Dickie wasn't your ordinary carpenter (not that there's anything wrong with being a carpenter, as I've fully proven that I'm not up to the job) and the pieces Dickie made could be in museums. They were art. He was an artist.

You know, ever since I've been in Dubai I've been shocked and amazed at the cars, the jewelery, the over-the-top showing wealth. I've written about it before. But the last few days I have been disgusted. Repulsed. Stomach-grindingly angry. How is it that life is not fair? That crappy people who want to spend hundreds of thousands of dollars for a car have the money and ability to, while other, kinder, nicer, more talented people can struggle so much?

Then all of a sudden I am ashamed. I mean really, I've kind of lived the life of Riley. I got to go to the college of my choice, got to move to Los Angeles to purse my dream, got to marry a wonderful woman, got to move across the world to a fantastic city and have the opportunity to earn a graduate degree in business ...

True, I wouldn't compare myself to Paris Hilton or any other trust-fund-having, heir-to-millions spoiled brat, but I've been quite lucky in my life.

Lastly - not to get too Kubler-Ross on you - acceptance. Because you know what? Every time that I look at those curlycue supports under the bay window at the cottage, I'll think of Dickie. Probably every morning that my father sees the cottage with it's log cabin siding, looking exactly like he had always dreamed, he'll think of Dickie too.

Because artists create, and their creations live on after they're gone.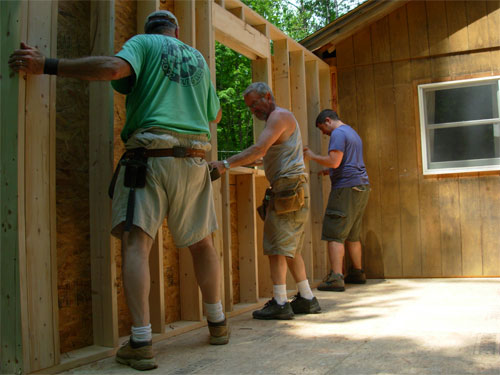 Dad, Dickie and Me putting up a wall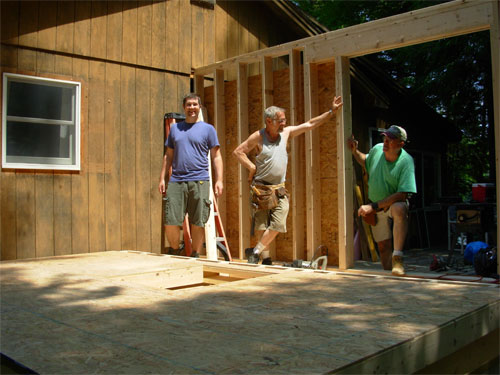 Mugging for the camera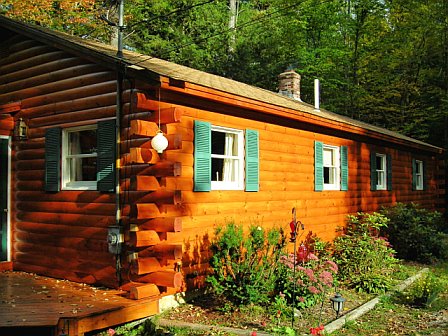 The finished and stained cottage. My Dad's Dream.
posted by Josh @ 6:42 AM
2007-05-18
400th Post!
Hey, this here's my 400th post!

Wow, in some ways August 13, 2006 feels like almost yesterday.

But then, in many, many other ways it feel like I've been in Dubai for nine months.

Anyway, looking towards the future, here are some headlines from upcoming posts between #401 - #800:

Glass melts on Sidewalk in Dubai


Dubai announces plan for mall bigger than all of Rhode Island


Temperature in Dubai officially hotter than the surface of the sun


Dick Cheney and Iranian President Mahmoud Ahmadinejad bump into each other in Abu Dhabi, Comedy Ensues


Orbit ESPN is showing another Cricket game. Oh joy.


Oh my Gosh the Palm Island just sunk!


Photos of the Palm Island sinking


I can't believe the Palm Island sunk


Why does Orbit ESPN love Cricket so much?!?


Dubai apologizes for Palm Island sinking


Just what in the world are the rules of Cricket anyway?!?


Dubai announces plan to colonize Moon


Dubai to build 2160 mile wide palm tree lake on Moon


So that's how you play Cricket


Oh my Gosh the Moon just sunk!


Dubai apologizes for sinking the Moon


You know, I think I like Cricket better than Baseball


Yep, Cricket is my new favorite sport


Yeah, okay, got a little nuts there at the end. I mean, Dubai colonizing the moon is one thing, but me liking cricket?

Not going to happen...

Anyway, see you for posts #401 - #800!
posted by Josh @ 7:40 AM
I miss Trot Nixon
A quick little Boston Red Sox tidbit for those of you who care:

This last winter the Red Sox didn't resign right fielder Trot Nixon, who then signed with Cleveland for three million dollars.

Right now he's hitting .287 with 2 homers and 16 RBIs, including .233 vs. lefthanded pitchers.

Instead the Red Sox signed former Dodger JD Drew to a five-year, $70 million contract.

Right now Drew is hitting .250 with 2 homers and 13 RBIs, including .222 vs. lefties.

Huh.
posted by Josh @ 7:37 AM
2007-05-17
Cheney & Ahmadinejad
I don't know if you've seen the news, but Vice-President / Batman villain (I always want him to have a long cigarette holder and a top hat) Richard "Dick" Cheney was in the U.A.E. capital of Abu Dhabi last week. While there he met with President HH Sheikh Khalifa bin Zayed Al Nahyan, then he sped out of town on a huge aircraft carrier, where he had a press conference on the flight deck and talked a little bit of smack towards Iran.

The best part of this story is that a few days later Iranian President Mahmoud Ahmadinejad went to Abu Dhabi to meet with the President of the U.A.E., as well as HH Sheikh Mohammad Bin Rashid Al Maktoum, Vice-President and Prime Minister of the U.A.E. and Ruler of Dubai. Then the Iranian President decided to talk some smack towards the U.S.A.

The two barely missed each other!

So this got me to thinking. If I wrote for

Saturday Night Live

, I'd want to write a skit where there's a sandstorm, or Cheney's aircraft carrier gets delayed, or Ahmadinejad shows up early or something and the two bump into each other in the sheikh's waiting room.

Wouldn't that be funny?

I mean, Cheney said, "We'll stand with others to prevent Iran from gaining nuclear weapons and dominating this region."

And Iran's Mehr news agency quoted Ahmadinejad as saying to the U.A.E. rulers, "with each other's help, we can turn the [Arabian] Gulf to the gulf of peace and friendship."

Although I'm pretty sure he said "Persian Gulf", as he's Iranian. But I got this quote from an Arabian news source, who would call it the "Arabian Gulf".

Hey, there you go right there, why don't we rename it "The Gulf"? How's that for peace and friendship?

Anyway, not sure how my fictional skit would end. Oh, wait, it's

Saturday Night Live

, after a few minutes of floundering and mugging (yes, I picture Horatio Sanz as Ahmadinejad, and we all know that he can't get through a skit without cracking himself up ...) they just say, "Live from New York, it's Saturday Night!"

And thus there's no need for a funny coda to the skit.

If only it worked the same for blogs.

"Live from Dubai, it's really early on Thursday morning!"

Nope.

Didn't work.

Oh well.

Time for work.
posted by Josh @ 6:44 AM
2007-05-11
Fujairah Tourism website
a/k/a Touristic Learnings for Make Benefit Glorious Emirate of Fujairah

I generally don't like to make fun of poorly translated websites, because hey, if I had to write in Arabic here this website would just be lots of photos. But the website for the Fujairah Tourism Bureau is just out of sight bad.

Check it:

Destination of The 3rd Millennium

Tourism in Fujairah have the priority due to the significant role that tourism plays in introducing the UAE society with its heritage and traditions including Fujairah with its wonderful beaches, mountain chains and archeological sites with history goes back to thousands of years.

All these factors encouraged in establishing Fujairah Tourism Bureau to be the governmental administrative body to play a big role to activate tourism in the Emirate.

The projects that the government of Fujairah intends to establish in tourism concentrate on studying and establishing many hotels and touristic establishments which many of them are already under execution and construction, in addition to rehabilitating the historical sites and concentration on the exploitation of archeology.

Dang.
posted by Josh @ 10:30 AM
News: Encyclopedia of Life
This is fascinating to me. This is what is great about the internet.

Well, this, and the rantings and ravings of self-centered American bloggers who live in the Middle East ...


Associated Press
Scientists work on Encyclopedia of Life
By Seth Borenstein
May 08, 2007

WASHINGTON - In a whale-sized project, the world's scientists plan to compile everything they know about all of Earth's 1.8 million known species and put it all on one Web site, open to everyone.

The effort, called the Encyclopedia of Life, will include species descriptions, pictures, maps, videos, sound, sightings by amateurs, and links to entire genomes and scientific journal papers. Its first pages of information will be shown Wednesday in Washington where the massive effort is being announced by some of the world's leading scientific institutions and universities. The project will take about 10 years to complete.

"It's an interactive zoo," said James Edwards, who will be the encyclopedia's executive director. Edwards currently helps run a global biodiversity information system.

If the new encyclopedia progresses as planned, it should fill about 300 million pages, which, if lined up end-to-end, would be more than 52,000 miles long, able to stretch twice around the world at the equator.

The MacArthur and Sloan foundations have given a total $12.5 million to pay for the first 2 1/2 years of the massive effort, but it will be free and accessible to everyone.

The pages can be adjusted so that they provide useful information for both a schoolchild and a research biologist alike, with an emphasis on encouraging "citizen-scientists" to add their sightings. While amateurs can contribute in clearly marked side pages, the key detail and science parts of the encyclopedia will be compiled and reviewed by experts.

"It could be a very big leap in the way we do science," said Cristian Samper, acting secretary of the Smithsonian Institution, one of seven museums, universities and labs to launch the encyclopedia. "This is a project that is so big, not even the Smithsonian, could do it by itself. It is a global effort."

Other institutions helping head the undertaking include Harvard University, Chicago's Field Museum, the Marine Biological Laboratory in Massachusetts, the Biodiversity Heritage Library Consortium, the Missouri Botanical Garden and the Atlas of Living Australia.

The project will try to be like Mexico's Conabio compilation of all 70,000 named species in that country, but bigger, Edwards said.

"They are going to do something extremely ambitious and important," said Conabio's founding director Jorge Soberon, now a professor at the University of Kansas.

For more than a decade scientists have tried to compile simply a list of all species on Earth, but failed. It's been too complicated, too expensive and too cumbersome.

This effort may succeed where the others have faltered because of new search engine technology - the same kind that Google uses. It will scan the Web for scientific information on the Internet and "mash up" all of the material into a file that then gets reviewed by expert curators, said Harvard's James Hanken, a steering committee member.

For scientists, especially those in developing countries, this can open up new worlds of research, said Samper, who has worked as a biologist in Colombia studying South American plants. And that means more science from different areas, he said. Research papers that used to limited to northern science libraries will be easily accessible in remote Botswana, he said.

"The democracy of science can't be overemphasized," he added.

And the democracy will be spread to people without PhDs. Edwards said the public will be able to send information to scientists that they wouldn't have otherwise.

"The public can contribute, and that makes a big difference," Soberon said. "It's one thing to be a passive spectator and another when the public can contribute."

This could be crucial in tracking invasive species, Samper said.

Sample demonstration pages of the polar bear show what the scientists hope to do. It offers pictures, maps, research and data on the molecular biology, genetics, reproduction diet of the polar bear.

The information can be accessed at the "novice" level, which says: "Polar bears inhabit Arctic sea ice, water, islands and continental coastlines." At "expert" level, it says: Polar bears occur in low numbers throughout their range and are most abundant in shallow water areas near shore or where current or upwellings increase biological productivity near ice areas associated with open water, polynyas or lead systems."

And as new species are discovered each day, they'll be added, scientists say. They estimate that Earth actually has 8 million species or so, but only one-quarter of them have been identified and named as separate species.

After that, long-gone species - the fossil world - will be added.

"If we don't include dinosaurs, we'll have lost 6-year-old boys," Edwards said.

___

On the Net:

Encyclopedia of Life: http://www.eol.org/

© The Associated Press
posted by Josh @ 10:12 AM
News: Disney negotiating with counterfeit Chinese Disneyland
New word yesterday about Beijing Shijingshan Amusement Park, the counterfeit Disneyland in China.

Apparently now they're in "negotiations" with Disney.

I think the second to last paragraph has it right. Those are the kind of tactics Disney uses in "negotiations".


Associated Press
Beijing park underscores piracy battle, analysts say
May 10, 2007

BEIJING, China - That round-eared mouse dancing with kids? Not a copy of Disney's Mickey Mouse, the Shijingshan Amusement Park insists. And that raven-haired woman with seven men in elf suits? Not Snow White and the Seven Dwarfs.

Such rampant Chinese copying has strained ties with the United States, whose trade deficit with China soared to $232.5 billion last year. Both governments are preparing for what are expected to be contentious talks May 23-24 in Washington on Beijing's trade policies, its currency and other issues.

On Wednesday, a Chinese delegation signed deals at a ceremony in San Francisco to buy $4.3 billion in U.S. technology in an apparent effort to ease American anger. The contracts went mostly to software, semiconductor and telecommunications companies including Microsoft Corp., Oracle Corp., Cisco Systems Inc. and Hewlett-Packard Co.

China regularly makes such purchases of U.S. jetliners, soybeans and other goods before high-level contacts. But it was unclear what effect the latest buying spree might have on the souring U.S. mood.

Facing rising criticism from Congress, the Bush administration has threatened trade penalties over product piracy. Washington last month filed a World Trade Organization complaint against Beijing.

China is a leading source of unlicensed copies of goods ranging from music and software to sports equipment and heart medicine. Officials say such piracy costs legitimate foreign and Chinese suppliers billions of dollars a year in lost sales. The International Intellectual Property Alliance, an industry group, estimated losses to Chinese piracy of books, films, music and software last year at $2.2 billion.

Beijing has raised penalties for violators of patents, copyrights and other intellectual property and launched repeated crackdowns. But foreign industry groups say violations are growing faster than enforcement, driven by China's roaring economic expansion that has raised incomes and provided a market for consumer goods, both real and fake.

Even in a country awash in pirated music, movies and other goods, the state-owned Shijingshan park stands out.

"We do not have any agreements with Disney," its deputy general manager, Yin Zhiqiang, said Wednesday. "The characters in our park just look a little bit similar to theirs. But the faces, clothes, sizes and appearances are different."

Over the weeklong May Day holiday, the Shijingshan Amusement Park filled its grounds on Beijing's western suburbs with actors in costumes that resembled Disney and other foreign characters.

A video shot by Japan's Fuji TV on May 1 showed children cavorting with characters resembling Minnie Mouse, Donald Duck, Pluto, Snow White and the Seven Dwarves and Japan's Hello Kitty and Doraemon.

A banner over the entrance said, "Disney is too far, so please come to Shijingshan."

On Wednesday, the banner was down and none of the cartoon characters were on display. An employee who would give only her surname, Li, said the performances usually occur during the summer and holidays.

Lawyers for the park and the Walt Disney Co. were in negotiations, said Yin, the deputy general manager of the park, which is owned by the government of Beijing's Shijingshan District.

"The results will come out in a couple of days," he said.

A Disney spokeswoman, Alannah Goss, declined to comment on the Shijingshan park but sent a statement affirming Disney's determination to fight copying.

"Disney values and protects its intellectual property vigorously and takes reports of suspected infringement very seriously," the statement said.

Despite the striking similarities to foreign characters, Yin insisted the Beijing parks are all locally designed.

"Take our Cinderella as an example. The face of Disney's Cinderella face is European, but ours is a Chinese. She looks like a young Chinese country girl," he said.

On Wednesday, two workmen with sledgehammers could be seen tearing down the Sleeping Beauty statue.

Yin, the deputy general manager, refused to say why.

&copy The Associated Press
posted by Josh @ 10:03 AM
2007-05-10
Ryman-esque Painting
Weeks and weeks ago we bought this really cool oil painting in Karama, the kind of black-market part of Dubai. The stuff there for sale that's not illegal / pirate / counterfeit is generally hand-made and quite inexpensive. We bought this painting for something like 25 dirhams, or under seven dollars.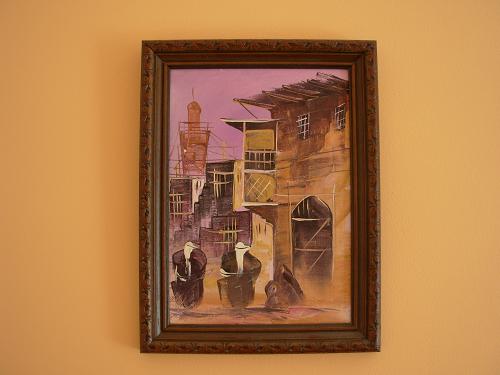 One of the reasons that I really like this painting is that the style reminds me of a painter by the name of Herb Ryman. He painted all sorts of pre-construction development artwork for Disney parks back in the day.

Here's a concept painting of New Orleans Square in Disneyland.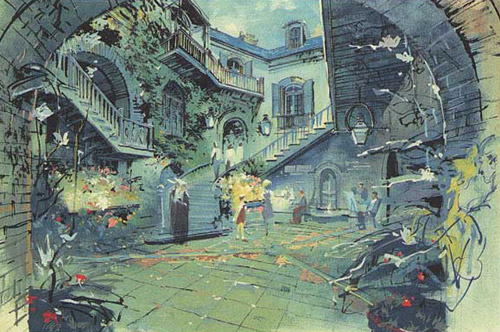 © Disney



And here's a concept piece for Tokyo Disneyland that Ryman did in 1976.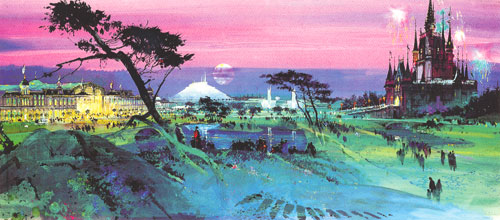 © Disney


A few similarities - mostly in the lack of detail, and almost sketchy quality - but you totally get the idea of what you're looking at.

Ryman's other work for Disney included, amazingly enough, the first map of Disneyland back in 1953.

The story goes that Walt Disney approached Ryman on either a Friday afternoon or on a Saturday morning, and said how his brother Roy (the financial genius behind the Walt Disney Company) was going to New York on Monday morning to meet with some potential Disneyland investors, and they needed to show the investors what Disneyland would look like.

Ryman said that he'd like to see it too, and that's when Walt said, "well, you're going to do it".

The two spent all weekend drawing what could be, with a few minor tweaks, the final map layout of Disneyland park.

I'll try and find a few other Ryman pieces to show you here, there's this one of EPCOT Center with a huge red sky that's just amazing.
posted by Josh @ 10:34 AM
You say "Al Aqah", I say "Al Aqqa"
No, you're not going crazy. (Well, that's a broad statement, let's just say on this case you're still sane). Some of the more eagle-eyed of readers might have noticed I've gone back-in-time and replaced all of the "Al Aqah"s with "Al Aqqa"s when talking about our trip last weekend.

Both are right. When I got home and was writing about our trip I googled it, and "Al Aqah" came up first. But then later I remembered the road signs to and from the area spelled it "Al Aqqa". And I think that one looks neater.

That happens quite a bit here, words or towns have multiple spellings. On old maps Dubai is sometimes spelled "Dubayy", even. I guess this is because the name is not being translated into English, it's only being transcribed from a different alphabet (from the Arabic alphabet to the Latin alphabet). So "Al Aqah" sounds like "Al Aqqa", and "Dubai sounds like "Dubayy".

So no, you're not crazy.

This time.
posted by Josh @ 10:12 AM
2007-05-09
New Delta Logo
As you know I love logos and branding, and I just saw that Delta Airlines has a new-ish logo.




Apparently the little Delta triangle is known as "the Widget" in the Delta world. So you see they've made the Widget two tones of red instead of blue and red like it used to be.

Thus they've also changed the tail colors on the planes, as well.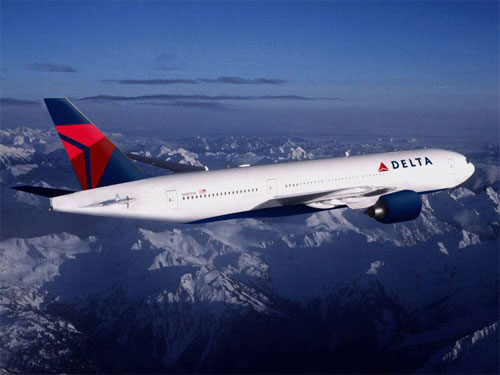 Their website says that the previous "flowing fabric" design introduced in 2000 required eight different colors when applied to aircraft – four shades of blue, two shades of red, one white and a clear coat – while the new design only needs four. They then trot out how many hours this will save when they repaint the plane. It's actually quite odd they're going to that much trouble to call our attention to it.

Of course, after pointing out such intense cost-saving analysis, Delta continues and says how they're going to have to replace signage in all its airport locations with the new logo, too. That can't be cheap, yet they don't mention a number ...

Anyway, while I generally resist change of any sort, I kind of like this new scheme. I appreciate that the logo isn't slanted forward in some "dynamic" pose like every retooled logo in the past ten years (AT&T, Burger King, Pizza Hut, UPS, etc).

Also there's no gradient, which is refreshing. Nowadays it seems like every logo redesign has to blend from light to dark all 3D-like (Volkswagen, Apple, UPS again, etc).

It's pretty amazing how a slight color alteration, a new typeface, and BAM! New Delta, but still recognizable. They're not throwing away years of built up recognition by ditching the Widget, but just recoloring it for a new feeling.

Very clever.
posted by Josh @ 4:43 PM
Fake Disneyland Video
Sorry, crummy title. This isn't a fake video about Disneyland, it's a video from the fake Disneyland in China - Beijing Shijingshan Amusement Park.

And it's pretty wacky, too:


posted by Josh @ 6:56 AM
2007-05-08
Another funny website
That's what I forgot the other day!!

So remember that fake Disneyland in China Beijing Shijingshan Amusement Park? That their website is www.bs-amusement-park.com?

"BS amusement park"!

Well the website for the Sandy Beach Hotel & Resort that we stayed at in Al Aqqa last weekend is www.sandybm.com.

Get it? "Sandy BM"?

And no, I'm not thinking of Bermuda's internet domain ".bm", nor am I thinking Boston and Maine Railroad that used to be carved into the face of the Boston Garden.

I'm thinking in the most Beavis and Butthead way. Think poop.

"Sandy BM".

Hahahahaha!
posted by Josh @ 8:12 PM
Sports Guy on Clemens
ESPN Page 2's Bill Simmons has chimed in with a great top ten list about Clemens.

They're all so good, but number eight is the best - "We're coming closer and closer to my dream of Clemens' Hall of Fame plaque featuring a cap with a dollar sign on it. I feel as if that's a genuine possibility at this point."
posted by Josh @ 7:03 AM
Oh boy, Jay Leno.
So I know I've complained mentioned our satellite TV provider, Orbit before.



Well, they've just scored a big coup, or, at least that's what they're telling us. Every third commercial on TV right now lets us know that Orbit Communications Company has secured the exclusive basic cable television rights for the Middle East of The Tonight Show with Jay Leno and Late Night with Conan O'Brien.

Whoo. Jay Leno.

Conan's cool, though.

I'm more excited that a week from tonight we get Aaron Sorkin's Studio 60 on the Sunset Strip. I haven't heard great things, but hey, it's pretty cool we're getting it only, what, seven or eight months after the premiere.

They're also starting the new season of ER (I think they're on season 37, if I'm not mistaken) and the last season of That 70's Show (which by my calculations should take place in about 1986. "Hey Hyde, would you rather go see "Space Camp" or Soul Man" in the theater today? Or are you going on a date with Jackieeee?" "Shutup Kelso." "Meesa like Lea Thompson." "Shutup Fes.")

And sadly, a month into baseball season and I haven't seen a damn game yet. If only Orbit ESPN would play one once in a while. I'm sick to death of Cricket and Rugby!!
posted by Josh @ 6:44 AM
2007-05-07
Clemens (cont.)
So yeah, I stick with my early morning assessment that the Boston Red Sox don't need Roger Clemens.

Especially now that I've seen more facts - that the Yankees will pay Clemens the equivalent of $28 million a season, with the luxury tax (a staggering $7.5 million in tax alone), the total costs come to $6.3 million a month - or about a million a game he starts.

Dang.

Here are a few fun news stories in case you want to hear more.

Let's start with Boston Globe blowhard Dan Shaughnessy - Rocket lands with Yankees again

Shaughnessy starts by reminding us that Clemens is old. Way old. That he was a rookie in Boston in 1984, "the year after Carl Yastrzemski retired". It gets meaner after that (with a detour to take a potshot or two at Curt Schilling). Why hasn't Shaughnessy coined some phrase like, "The Curse of the Clemens"? "The Bane of Boston"? "The Jinx of the Rocket"? (C'mon, you know that Shaughnessy's laptop computer has about 5 mb full of these ideas).

--

Nick Cafardo from the Globe has a few better points - This old story becomes new again

"There's going to come a time -- and who knows, maybe it's this season -- when Roger Clemens isn't going to be successful every fifth day when he takes the mound."

Oooooooh. I like.

But he does point out that this isn't good for Boston, per se. "And it's a double-whammy: losing Clemens and having him go to the enemy."

You're right. Double whammy.

--

Bostonist says it all with their title - The Evil Empire Just Got 40% Eviler

Awesome already.

"Bostonist never was quite sure how we felt about the idea of Clemens coming back here; obviously we're willing to forgive and forget - well, forgive, anyway - but it's not all that easy to mop up all the bad blood that's been spilled in the relationship since Roger bolted town in '96. Now he's cemented his reputation 'round these parts as a soulless mercenary, which is definitely easier for all of us than having mixed emotions."

Genius.

Plus the story is accented with a photo of Clemens and his wife from Sports Illustrated (while he was with the Yankees, no less).

--

The other paper, the Boston Herald, takes an odd Vegas/Foxwoods slant to their article - Roger's no sure bet: Unlike Yankees, Sox didn't need to go all-in

They continue the theme in the article, too. "You don't bid crazy money, no matter who it's for, when you don't have to."

True, True.

--

ESPN's Bill Simmons hasn't written anything yet, but Sean McAdam puts together a fair but not spectacular article - Red Sox feel powerful enough without Rocket

--

Sports Illustrated is pretty blunt - Yanked around: Clemens should have signed with Astros or Red Sox

"Face it: If you're going to pick a team to win the World Series right now, the Yankees aren't going to be it. Clemens or no Clemens.

"I mean, the Yankees? If Clemens wanted to win another World Series, wouldn't the Red Sox have been the smarter choice? The Sox have a better bullpen. They have a better rotation. They're younger and healthier and they're better looking and they're probably smarter and they have - not an insignificant point, this one - a 5 1/2-game head start."

Wow. Rough stuff.

"This is Clemens' choice? The man either has a lot of misguided faith in that team or an unhealthy belief in his own ability to change the course of baseball events."

--

Lastly, the best title? From Rocket's new hometown paper, the New York Times - Paying Dearly in Desperation

Hahahahahaha!
posted by Josh @ 7:16 PM
Oh yeah, Matt Lauer
So this is why I shouldn't write here at six in the morning. I forget funny things.

I meant to mention that as soon as we heard that the Today Show's Matt Lauer was in Dubai we got the heck out of town. But I forgot.

It seems Mr. Lauer was here on Thursday doing his whole "Where in the World is Matt Lauer?" schtick.

Ugh.

Here's a quote, "And Dubai is still growing. So much so that current estimates - hard to verify - claim that there are more heavy building cranes in Dubai than anywhere else in the world."

Um, dude, "hard to verify"? Take a drive down Sheikh Zayed Road. Have you ever seen so many cranes in your life? No, make that have you ever imagined that many cranes?!?

Exactly.

There was something else I wanted to mention I thought, but I've forgotten it again. Guess I shouldn't blog before dinner, either.

Oh well. At least Lauer was gone by the time we got home.
posted by Josh @ 7:00 PM
The Final "Twilight of his Career"
So Roger Clemens has signed with the New York Yankees, eh?

Lord knows I've been wrong about baseball before (at the time I thought trading Nomar was the death knell of the '04 Sox). But, Theo willing and the creek don't rise, I think the '07 Sox are a pretty solid team with or without the Rocket. That this time he really is in the "twilight of his career".

Luckily now I have a father-in-law and brother-in-law who won't let me live down a Yankees World Series victory, which will be quite a bit of fun for me when it happens ...
posted by Josh @ 6:50 AM
Fujairah Photos
So we are back from Fujairah!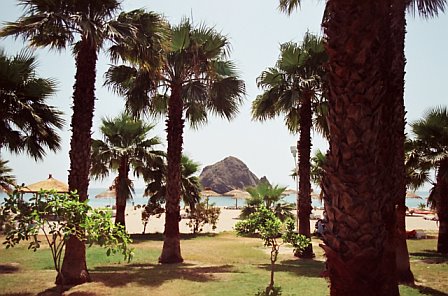 I didn't realize that we weren't going to the city of Fujairah, that we were going to the town of Al Aqqa in the emirate of Fujairah. Confusing.

This whole city and state having the same name generally is. Like the difference between New York with New York City, or Paradise with Paradise City.

Anyway, per usual we were photo-taking fools this weekend. We have a few good ones up at our Al Aqqa, Fujairah Gallery.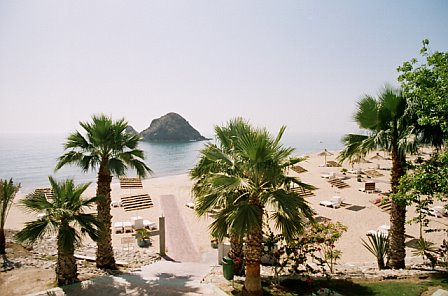 posted by Josh @ 6:45 AM
2007-05-03
Last of the Emirates
Wow, so, um, I made a goof. I've been saying all along that I've never been to the Emirate of Ajman, and then today I looked at a map and was a little amazed.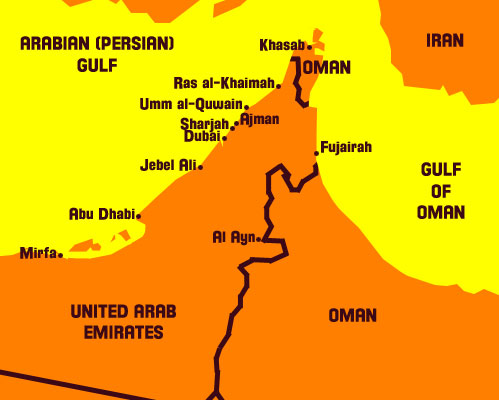 I've been to Ajman. When we drove up to Khasab, Oman (see Khasab Weekend Photos) we went through Sharjah, Umm al-Quwain and Ras al-Khaimah, so we had to go through Ajman.

I guess I was confusing it with Al Ayn.

Huh.

So after the weekend in Mirfa, Abu Dhabi (see Mirfa Photo Album) that means I've been to six of the seven emirates: Abu Dhabi, Ajman, Dubai (obviously), Ras al-Khaimah, Sharjah, and Umm al-Quwain.

All I need now is to go to Fujairah.

And guess where we're going this weekend?

Yup, for Liz's birthday on Sunday we're going to Fujairah, which is on the Gulf of Oman, on the east coast of the U.A.E. We leave tonight, so look for some photos and stories next week!
posted by Josh @ 6:38 AM
2007-05-02
Dubai from satellite
So with the photos of Dubai taken from space that I was talking about this morning, here's a little clarification. Because the image is enhanced with infrared light, the irrigated vegetation stands out in red. In case you were confused, we don't have red plants or red pavement here. Nope.

Anyway, here's a close-up of our 'hood: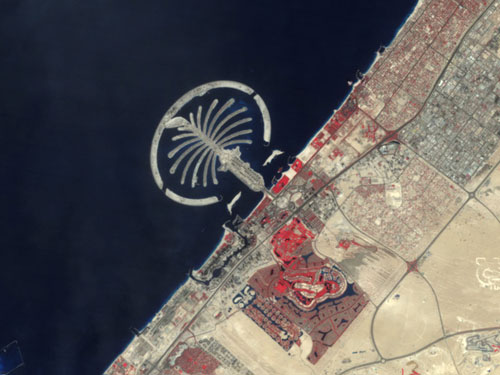 No, we don't live on the Palm Jumeirah, but on the land near it.

No chance you'd catch me on that fake island just waiting for a typhoon or tsunami or even a big wake from a Nimitz class aircraft carrier...
posted by Josh @ 11:06 PM
Dubai from Space
I found these pretty cool images of Dubai from satellite on the NASA Earth Observatory website.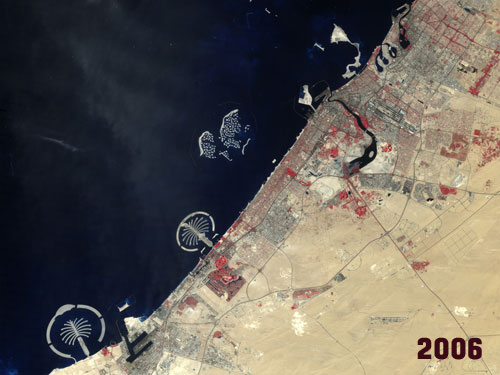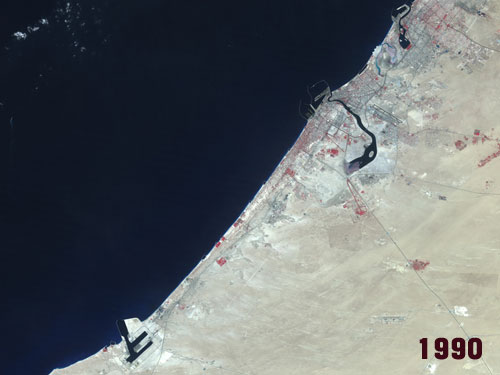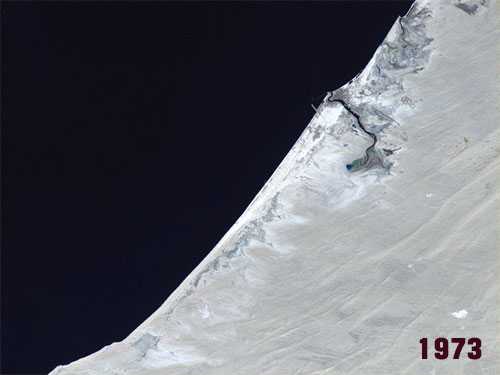 Pretty remarkable how different it was 24 years ago. I didn't realize that the creek wasn't real!

And it's amazing how the port of

Jebel Ali

isn't even there, either! Then again, it

is

the world's largest artificial harbor. I guess it doesn't matter if there's anything to start with or not.

For reference, here's that map we found back in October (see Map of Dubai).

For much larger versions of the photos, here are the links:

posted by Josh @ 6:53 AM
2007-05-01
Mission Accomplished?
Four years ago today: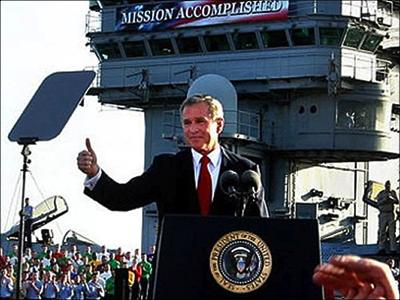 Oops.
posted by Josh @ 6:40 AM
Josh and Liz are two American kids who got married in August. Liz has lived in Dubai since 2003, Josh since August of 2006.

Follow along in the culture shock of being recently married and (for Josh, at least) recently transplanted to Dubai.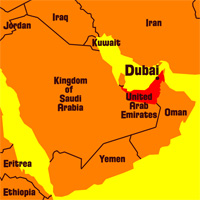 Right now in Dubai
Videos
Pictures
Previous Words
Favorite Recipes
Currency Converter
The easy way to convert Dirhams to Dollars!

Enter a number in either field, then click outside the text box.
Archives
Links We Like
Visitor Counter: