2007-03-31
News: LEGOLAND Berlin
So Thursday the Vegas mini-land at LEGOLAND California opened, and now today we have a new indoor LEGOLAND Discovery Centre opening in Berlin.

This is a new concept from the four existing LEGOLAND parks, an smaller, indoor center. It'll be interesting to see how it does.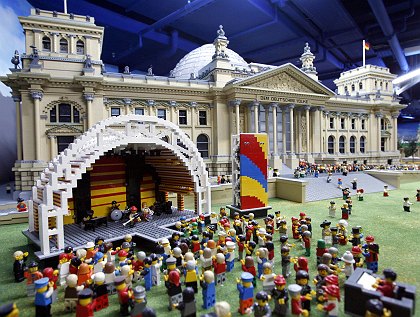 The Reichstag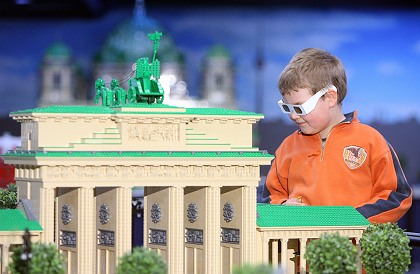 The Brandenburg Gate



And, to tie this all in to Dubai (which I can, because I'm pretty clever) the LEGOLAND parks is only thirty percent owned by the LEGO Group - they sold the majority stake in July of 2005 to Merlin Entertainments. Earlier this month Merlin Entertainments agreed to buy The Tussauds Group which is, you guessed it, controlled by Dubai International Capital LLC.

After the acquisition, Dubai International Capital will hold twenty percent of Merlin Entertainments.

So by my math, which could be off because I did just wake up, Dubai International Capital LLC will soon own fourteen percent of the LEGOLAND parks.


Spiegel Online
RECONSTRUCTING GERMANY
Berlin Sites Immortalized in Plastic at New Legoland
March 29, 2007

The Brandenburg Gate, the Reichstag and even soccer star Michael Ballack can be found in plastic brick form at the new Berlin Legoland.

Germany's latest addition to the animal world is neither as cute as the polar bear cub Knut, nor as dangerous as the rogue brown bear Bruno. Standing seven meters (23 feet) tall, the yellow giraffe made of Lego blocks cuts an imposing figure at Berlin's Potsdamer Platz, a popular tourist and shopping area in the heart of the city.

The plastic sculpture is one of the main attractions of the new Legoland Discovery Centre which will open its doors to the public on Saturday. Inside, visitors will find a 3,500 square meter (37,674 square meter) indoor amusement park with interactive games and Lego sculptures.

The centre is meant to appeal to a broad audience: "It's not only for children", explains Stella Owusu Boafo from the Berlin center. "Some of our attractions, like the miniature version of Berlin, will be particularly interesting for adults."

Owusu-Boafo argues that the rather hefty entrance price of €11 - 14.50 ($15 - 19) will be well worth it. There are six different areas to cater for architects and adventurers alike. The Lego factory explains how the plastic blocks are made, while the test and building center allows people to have a (Le)go at building little figures themselves.

Then there is the 5-million-Lego-block-strong miniature version of Berlin's city center, complete with Lego models of the Reichstag building and the Brandenburg Gate. Other attractions include a 4-D cinema -- built in the style of a 3-D cinema but with the additional dimension of artificial weather -- not to mention a dragon castle and a jungle exploration path.

This is the first indoor Legoland worldwide and the Berlin center will soon be followed by branches in other European capitals, says Owusu Boafo. The €7 million ($9.3 million) project is run by Merlin Entertainment who also manage the popular SeaLife centers. The organizers expect up to 300,000 visitors per year.

Before the official opening, several groups of schoolchildren were allowed to test the facilities. According to project manager Ulla Möll, the kids were happy -- and so was she: "Today is the first day where it's really full of kids and where we can see how happy they are," she told reporters on Tuesday. "I can't wait till Saturday."

mkp/dpa/reuters

© Speigel Online
posted by Josh @ 9:40 AM
News: LEGOLAND California goes Vegas
So here's a fun news story. LEGOLAND California (just north of San Diego) just opened a reproduction of the Las Vegas Strip made out of LEGO bricks.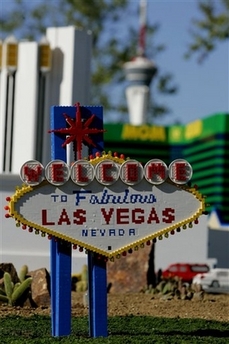 © LEGOLAND


And not only am I a fan of LEGO bricks (yes, it should always be capitalized, and always an adjective) but I also worked for the LEGO Group for about six months back in the day. Sadly, not at LEGOLAND, but at the now defunct LEGO Media Santa Monica.

Anyway, I bet you dollars to donuts that this mini-land exhibit has at least one Las Vegas C.S.I. joke. Seriously. The mini-land part usually has some very clever jokes for grown-ups.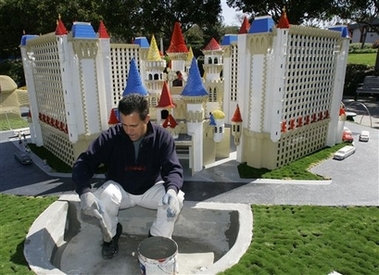 © AP
The Associated Press
Final touches put on Legoland Las Vegas
By Allison Hoffman
March 29, 2007

CARLSBAD, Calif. - What happens in Legoland Las Vegas will stay in Legoland Las Vegas - if the designers have anything to say about it.

With just hours to go before the official grand opening of a $1-million-plus scale model of the famed Las Vegas Strip, builders spent Wednesday snapping and glue-gunning the final few thousand bricks into place on replicas of 10 casinos - from the smooth black Luxor pyramid to the towering 20-foot Stratosphere, complete with a tiny working roller coaster shuttling green-faced passengers up and down the central spire.

Piles of little 3- to 4-inch Lego figurines - including scantily clad women, men handing out girlie fliers and partygoers toting neon green hurricane drinks - were stacked in bins and on the roofs of the waist-high casino buildings awaiting placement.

"We've got to get 2,000 little people in there this afternoon," design manager Pat DeMaria said as he surveyed the team of landscapers and engineers who were digging holes for tiny cacti and preparing to fill empty pools with water.

After years of complaints about the Disneyfication of Las Vegas, the famed Strip is getting the theme park treatment from DeMaria's designers. The new, 2-million-brick model recreates a handful of landmarks in intricate detail, from the bas-relief carvings on the campanile of the Venetian to the chic Tangerine bar set into the facade of the newly remodeled Treasure Island hotel.

The scale starts at 20-to-1 at the base, so the brick people don't seem dwarfed, and shrinks to 60-to-1 at the top, designers said.

About the only thing missing is any hint of gambling. Fiber-optic light boards advertise the Mirage dolphins and fake cabaret shows - in some cases headlined by the Lego designers' alter egos - but the constant jangle of slots and video poker machines is absent from the set.

Instead, there is a water-spitting Lego elephant, a two-track Lego monorail and automated Lego limousines that disappear into hotel-registration carports and then reappear on the other side. Kids can punch a button to see a parade of newlyweds come out of the Strip's infamous Little White Wedding Chapel - some in white gowns and tuxes, others in less formal nuptial garb.

"We wanted to make it kid-friendly," said Kristi Klein, the lead designer. "So there are lots of interactive elements for them, like the exploding Mirage volcano and the Treasure Island pirate ship."

Young Lego fans, drawn by the bright colors and all the moving parts, peered over yellow barricades that blocked off the new installation until its official opening Thursday.

The Las Vegas Miniland was built by a team of 15 designers in Carlsbad and at Lego headquarters in Billund, Denmark, over three years. It is the biggest scale model in the Legoland park, located 40 miles north of downtown San Diego, though the model Chrysler Building on the shiny New York New York casino is dwarfed by the plastic version rising a few yards away in the Lego Manhattan area.

"It's plastic replicas of fake copies of these great buildings," DeMaria said. "You have to take it a little tongue in cheek."

© The Associated Press
posted by Josh @ 9:25 AM
2007-03-30
Birthdays
Today is my father-in-law's birthday (Happy Birthday, hope you got the card!). I only mention this because it's also my birthday today.

Yes, that's right, my wife married someone who has the same birthday as her dad.

Kinda crazy, eh?

Anyway, Happy Birthday to us, as well as:

posted by Josh @ 11:58 AM
News: Chris Sanders update
Quick update on the Chris Sanders front. (You might remember him from Chris Sanders Fired or Animationy Famous.)

Looks like Disney's loss is Katzenberg's gain. And maybe the audience's, too, especially if it keeps DreamWorks from making "Shrek 5".


Variety
Sanders joins DreamWorks
Disney animator to direct 'Crood'
By Ben Fritz
March 27, 2007

DreamWorks Animation has hired "Lilo & Stitch" director Chris Sanders, a longtime Disney vet, to helm its cavemen comedy "Crood Awakenings." The talent coup is reminiscent of the competition for animators in the mid-'90s.

DreamWorks had been developing "Crood" with Aardman, but took it inhouse after its partnership with the British claymation house recently ended.

After a nearly 20-year stint, Sanders left Disney early this year due to creative differences with studio leadership, including John Lasseter, over his movie "American Dog." Mouse is continuing the pic with a new director (Daily Variety, Feb. 9).

Helmer, whose 2002 toon "Lilo & Stitch" was the most critically and commercially successful film for Disney Animation since the '90s, talked to several studios before making a deal with DreamWorks.

"I've been so anxious to start working on things, and so I talked to a lot of people," he told Daily Variety. "I like the way DreamWorks looks at animation. Animation still has a lot of different places to go, and I don't want to miss out on a chance to try some new things with it."

Sanders is the second Disney vet to sign onto a DreamWorks project in the past few months. "The Lion King" helmer Rob Minkoff is directing a bigscreen version of '60s TV toon "Mr. Peabody and Sherman" for the studio.

DreamWorks Animation topper Jeffrey Katzenberg knows both helmers from his time at Disney.

"Crood Awakenings," which is about a culture clash between cavemen, has a script by Brit comedy icon John Cleese and Kirk De Micco ("Racing Stripes"). Sanders is rethinking the project, however, and will likely end up doing a significant rewrite.

"We have always loved the premise, and when we finished our relationship with Aardman, we were very interested in keeping it inhouse," said Bill Damaschke, DWA's head of creative production. "We would have been excited to work with Chris on any project. But 'Crood Awakenings' is a high priority for us, and he responded to it."

"The idea of having all the modern conveniences and social structures that we're familiar with gone and being left with just a pure form of people was really fun to imagine working with," said Sanders, who started work at DreamWorks Animation on Monday.

Studio doesn't have a release date for "Crood" yet. Its slate is full through the first half of 2010, when a fourth "Shrek" is slated to bow. Should development go well, "Crood" would likely come out in late 2010 or 2011.

&copy Reed Business Information
posted by Josh @ 11:16 AM
2007-03-29
The Future Begins March 30 ... unless you live in Dubai
Crap!

Crap!

Crap!!!

Gosh darn it! Son of a gun! Jeezum crow! Aw heck! Fudge! Dang it! Dagnab it! Sugar! Great scott! Fiddlesticks! Shucks! Frick! Crud! Drats! Jiminy Cricket! Phooey! Horsefeathers! Blast! Blazes! Great Ceasar's ghost! Cheese and crackers!! Dashes! Oh knickers! Sheesh! Jinkies! Good heavens! For crying out loud! Oh my stars and garters! For goodess' sake! Oh Flip! Holy moley! For the love of Pete! Frak! Geez louise! Son of a monkey! Blimey! Crikey!

But seriously, pretend swearing aside, I am quite upset. Really, really upset.

Tomorrow, as I've mentioned many times before, the last movie I ever ever ever worked on at Disney is coming out - Meet the Robinsons.

Well, let me rephrase that. Tomorrow the last movie I ever ever ever worked on at Disney is coming out ... in the United States.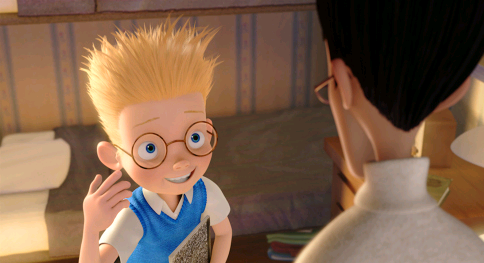 Why should I be surprised that it's not coming out here in Dubai? Really. Why should I be?

I mean, shoot, most movies come out a whole day early here (the weekend here is Friday & Saturday - so movies open on Thursday).

Spider-Man 3 is coming out on May 3, Pirates 3 on May 24, heck, even Open Season opened on September 27 last year.

Nope. My local movie page tells me I'll be able to see Meet the Robinsons on June 28.

Which is really fantastic because that's the day that we get to leave here to go home for the summer.

So I'm never going to see Meet the Robinsons on the big screen.

AAAAARRRGGH!
posted by Josh @ 12:23 PM
Like Little Bits of Gold
For some reason this week all I want to talk about is food.

Hope you don't mind if I run with that. Today I want to tell you about the new chips I found at the supermarket. They're Sweet Chili Pepper Doritos.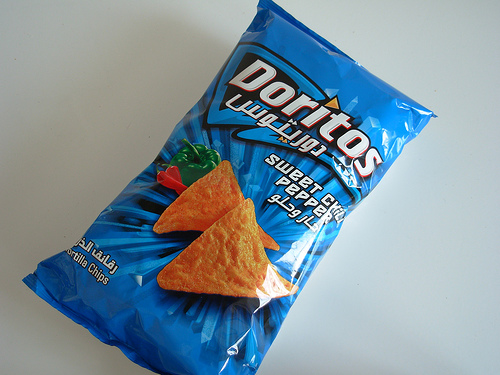 Here in Duabi it seems most food products are imported, especially things like chips. That means a significant markup in price. And, as much as I'd love a Dorito every once and a while, paying five or six dollars for a bag goes against every fiber in my being.

The Doritos sold in Dubai are apparently made by a British company - Walkers Snack Foods, Ltd.. I assume that they have some licensing deal with PepsiCo's Frito-Lay division.

As far as I can tell, though, they're like American Doritos, but a little different. Like what exactly does the Cool Original taste like? It looks like Cool Ranch, I'd assume. But I digress.

Back to my Sweet Chili Pepper flavor. These are produced by Saudi Snack Foods Co. Ltd. and not Walkers, as evident by the Arabic on the bags. And since they're not imported, they're much, much cheaper than Walkers' British chips.

So I bought them.

As soon as I tasted them - yum. Sweet, tangy, but not overly spicy. They're good.

Now, it's been about a decade or so, but back in the 1990s in the States we had a now legendary flavor of Doritos - the Taco Bell Doritos. (No, I'm not making this up. Ask any guy who was a teen in the 1990s.)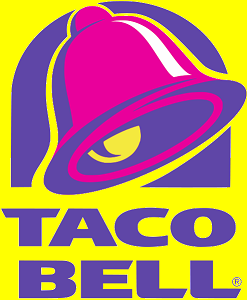 I don't even know how to describe the flavor, it really had little to no bearing on Taco Bell, that's for sure. But they were great. And then sometime in the late 1990s, they vanished without a trace.

Now, this is going to be a bold, and potentially controversial statement. But I think that these modern, Arabic Sweet Chili Pepper Doritos are almost as good as the Taco Bell Doritos.

I wish I could share them with all of my snack food loving friends in the States.

Maybe I could import them, I mean, for a large Walkers-esque markup ...
posted by Josh @ 10:09 AM
2007-03-28
NCAA Bracket
Here's a quickie update on my NCAA Men's Basketball bracket from work.

(If you don't recall, I only have three of the final four, but other than that I was doing really well.)

So the new standings just came out, and now apparently the only way I can make any money is if Florida plays Ohio State and wins. And then I only come in third.

Which pays out $33.

Not bad, but not the $200 that first place gets.

Needless to say, but, "Go Buckeyes. And go Gators even more!!"
posted by Josh @ 3:56 PM
Sum-sum-summertime
So it's, what, a little after 3:30 pm in the afternoon right now? It's hot.

Hot.

Like, mid-to-high nineties hot.

And it's still only March.

This does not bode well for April, May or June (who were, coincidentally, Donald Duck's nieces. Seriously. I know these things.)
posted by Josh @ 3:37 PM
2007-03-27
Counter
Allow me to toot my own horn here (although maybe it should be an Arghul?), about two hours ago we had our 1900th hit since we installed the counter 9 weeks ago.

That's a crazy-lot of people reading our words! Thanks everyone!
posted by Josh @ 9:27 PM
Mickey Cookies
I have a new favorite kind of cookie.

Best of all, it's an copyright infringement on Disney!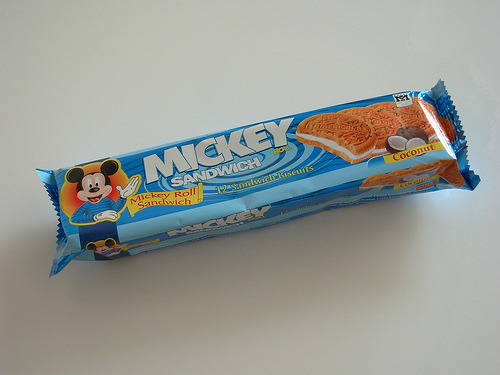 I saw these in the grocery store last time, and lo-and-behold, no Disney copyright on the entire package. I just had to get them. The style of the Mickey Mouse looks similar to the ice cream rolls I saw back in September (see Grocery Shopping in Dubai).

It appears from the packaging that they're made in the Kingdom of Saudi Arabia.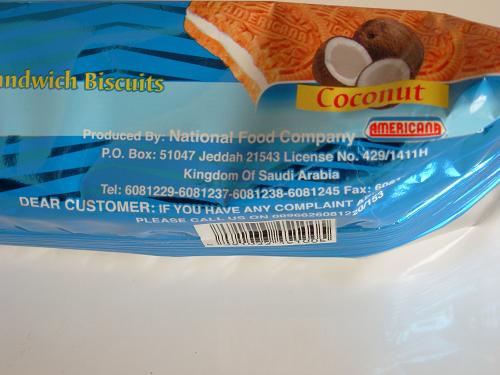 But the most important part? They taste really good! They're kind of coconutty. I'm not sure if they're flavored that way, or just scented, but it works for them.

My new favorite cookie, well, until Disney's phalanx of lawyers come out of the woodwork to put the kibosh on them ...
posted by Josh @ 6:58 AM
2007-03-26
Georgetown!!
Oh yeah, and not that I really even care about NCAA Basketball, but at work I joined up in the pool this year. I had a really good showing in the first round, too, ended up being tied for third (well, with about five other people - but this was a huuuuge pool).

In the second round I missed a few more, but the third round caught me back up. I was looking good. Plus, because of my high standings in the first round, I was looking really good.

I started to think that there was a pretty good chance I was going to take it. All of a sudden I was attached to the outcome of winning. I mean, I only put in five bucks, but still, there was a good chance I could win ...

And then Georgetown had to go and blow my Final Four pick of North Carolina.

You know what? I'm sick of the Carolinas. That's the last straw. I say with all of this Democratic house-cleaning that's going on with the Bush administration's firing of eight US Attorneys last year, let's also thrown in a plan to sell both of the Carolinas to someone. Mexico. Denmark. Heck, even Canada.

Whoever can raise the cash first, so be it.

Here are a few points I'd like to send to my congresspeople for review:


Let's not forget that they took our hockey team.

I never got why Hornets basketball team leaves, and then two minutes later the Bobcats show up. Seems like shady dealings.

And I still blame Wilmington for Dawson's Creek.

More than 80% of NASCAR racing teams are located in the Piedmont region.

And what was up with that whole Roanoke Colony back in Colonial times? I mean seriously.


Yep, it's time for the cackalackies to go. Who's with me?!
posted by Josh @ 4:03 PM
Bye Bye Beach
So last week we'd read in the local newspapers how "mysterious" scaffolding was going up around the one free beach left in Dubai. We had to check it out for ourselves this weekend.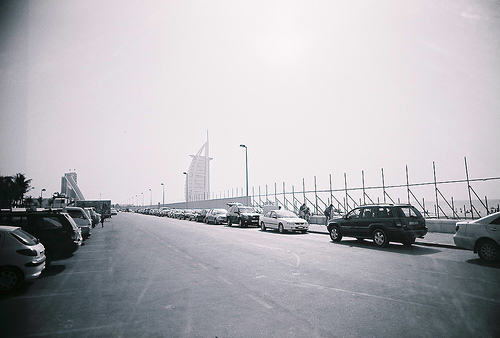 Yep. It's there.

The rumor around town is that the beach has been sold, and they're going to develop it.

Makes sense. Why have a free beach, when you can make money off of selling it?

Anyway, I have another few new photos up over my Flickr Gallery.

Here's one of the surf at the beach, notice the tugboats in the distance. They were maneuvering a large vessel a few hundred yards into the Gulf, no doubt doing something really good for the environment.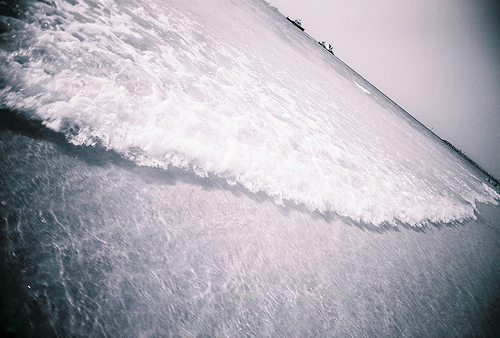 And here's one of a "Camel on Parade" over at Dubai Media City.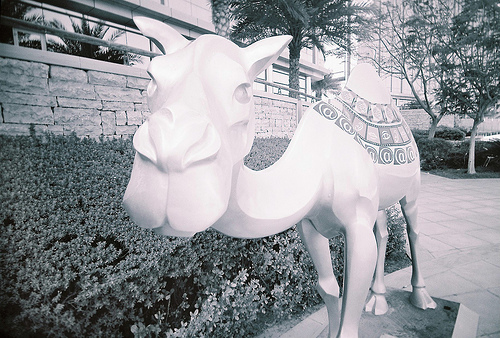 All of these photos were taken with my Vivitar Ultra Wide and Slim camera, using Kodak Professional 400CN film, by the way.
posted by Josh @ 3:40 PM
2007-03-23
Spring Training!
Oh man oh man!

We just got back from the beach and on our fakey ESPN is yesterday's Boston Red Sox spring training baseball game!!




Best of all, we had to take Kitty to the vet this morning (just a checkup, nothing serious) so I haven't had the chance to check yesterday's scores yet!

Thus it's kind of like that old, "if you haven't seen it, it's new to you" slogan NBC used to play back in the day.

Whoo hoo!

But enough jabber! Back to the game!
posted by Josh @ 5:52 PM
War and Cookies
I've been thinking quite a bit about war lately. As you

have

to know by now, this week was the fourth anniversary of the 2003 invasion of Iraq.

Can you believe that it's been four years? That's really quite a long time, four years. I mean, compare a newborn baby and a four year old. Or an eighth grader and a senior in high school! Or me, living in Burbank, California to me married and living in Dubai, U.A.E.

Yep, four years is a long time.

Anyway, as you know, I'm not and have never been a supporter of the Iraq War. But I don't feel like rehashing that right now. I don't feel like poking holes in the rationale of the attack, I won't bring up the "weapons of mass destruction" or our "promoting freedom and democracy". Nor will I bring up Kofi Annan and his remarks from September 2004 when he said of the attack, "From our point of view and the UN Charter point of view, it was illegal."

I'm going to look at it from my current point of view.

Because, hey, I know a few Iraqis now. That's a pretty big change for me since 2003. I mean heck, every Monday night I sit behind this one Iraqi dude in Economics class. We share cookies that we buy during the break, because, yes, Iraqis like cookies just like Americans like cookies.

What would George Bush say about my sharing cookies with the enemy, I wonder?

(Well, quite honestly, I don't share cookies with this fellow anymore. Recently his wife persuaded him to go on a diet - so no more cookies for him. See, Iraqis go on diets, too. They like cookies, and hate diets, just like us.)

I've met so many people from so many different countries over here in the Middle East. People from Iran, Lebanese people, people from Jordan, I must know someone from Syria but I can't think of anyone off the top of my head right now.

Oooh, but those cookie I eat during class? They're made in Syria.

Yes, I eat cookies made by a country in the Axis of evil.

And they're good, too. They're kinda like vanilla Oreos.

But what would George Bush say about eating the enemy's cookies?

It's interesting to me, almost like living in someone else's neighborhood. But kind of a rival neighborhood. Say if a Red Sox fan moved to the Bronx, or a Redskin fan moves to Dallas, or even a Manchester bloke moves to Liverpool...

(God, I hope that last one is nearly as accurate as the first two. I was going to use a reference to the Simpsons' Springfield and Shelbyville, and quote the "Lemon of Troy" episode, but I'm trying to branch out ...)

Anyway, not that I've ever been a flag-toting, gun-slingin', NASCAR watchin' American, per se, heck, in Boy Scouts we used to wear Hawaiian shorts instead of drab olive and replaced our boring red neckerchief with a day-glow yellow (hey, back off, it was the 1980s). But it's really been quite an experience to live in part of the world that is sort of being bullied by my home country.

Luckily most everyone here is global enough to know that just because a person is a citizen of a nation, that doesn't make him or her a fan of the nation's current regime. Actually, I bet the folks from these Axis of evil nations understand that more than anyone else. The majority of them just want to go about their lives, eating their cookies.

That's why I find it so sad that the 600,000 to 700,000 Iraqis and the 3230 Americans will never get to share cookies with anyone ever again.
posted by Josh @ 10:05 AM
2007-03-22
Tetra Brik
So this is something I've meant to write about a few times, especially since I've written so many times about grocery shopping (most recently with Hypermarkets).

See, in Dubai we buy our milk non-refridgerated.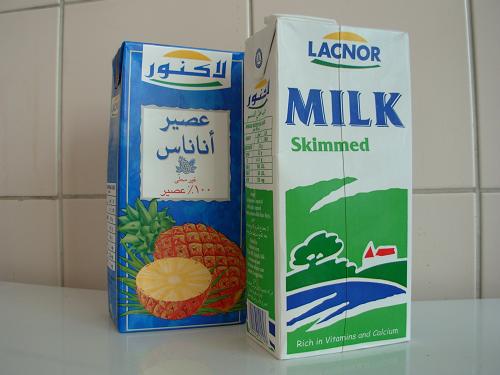 Juice too. They both come in one liter cartons called a Tetra Brik. They're paperboard, but coated with plastic, which makes them fully airtight. That way the milk is for up to about six months without refridgeration. Once you open it, the milk's good for about a week.

It's pretty creepy to me to buy milk off of the shelf and not from the refridgerated cooler. But I guess these Sweedes know what they're doing.

I hope.

For the last thing I want is my milk recalled, along with my Diet Pepsi and my peanut butter ...
posted by Josh @ 7:58 AM
2007-03-21
Skywalk Grand Opening
I don't know why, maybe because I'm not the biggest fan of heights, but this Grand Canyon Skywalk that the Hualapai Indians have built just interests the heck out of me.

Apparently they just had their grand opening ceremony on Tuesday.

Here are some photos: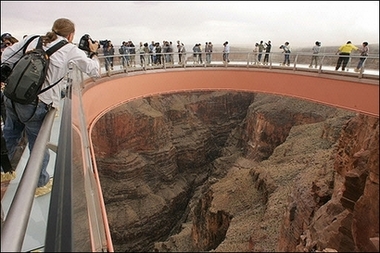 © AFP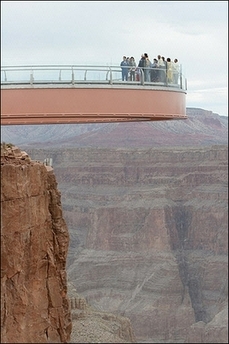 © AFP



© AP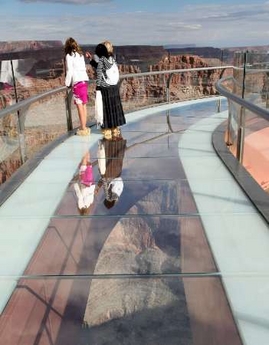 © Reuters
posted by Josh @ 9:54 PM
Al Burj Concept Painting
Here's an interesting concept painting for the Al Burj.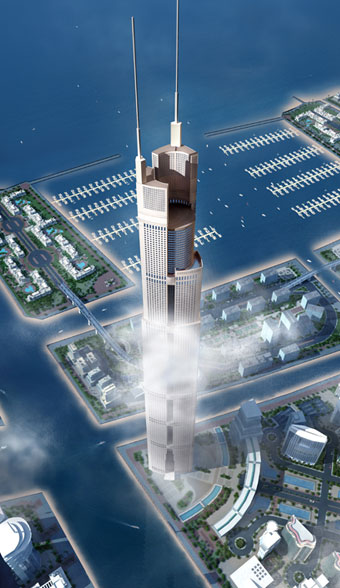 That's the other world's tallest building they're planning to build over by the Palm Jebel Ali, actually part of the artificial islands called the Dubai Waterfront. Where we tried to go camping the other day.

Obviously this is different than the Burj Dubai, which is already half-way constructed, and is planned to be Dubai's first world's tallest building.

It's also not to be confused with the seven star Burj al-Arab hotel.

But I can see where you might be confused.

Still, it's a cool painting ...
posted by Josh @ 3:46 PM
Meet the Robinsons Art of Book
So I've mentioned a few dozen times that the last Disney animated movie I worked on, Meet the Robinsons, is being released in theaters next week.

Well, my former boss and very close friend (pretty much big sister, really) had the chance to write the "art of" book for the movie. You know how most Disney or Pixar animated films have a book dedicated to the design, pre-production, and art direction of the movie? Well, Tracey assembled and wrote that book for "Robinsons".

I can't wait to see it, I'm so proud - and quite honestly a little jealous, as I always wanted to write the "art of" books ...

Anyway, here's a pretty great review of the book at Jim Hill Media.

Lastly, here's the book on barnesandnoble.com (can't find it on amazon.com anywhere!) Making of Meet the Robinsons.
posted by Josh @ 8:48 AM
2007-03-20
News: Marvel Comic Theme Park ... in Dubai
Special thanks to reader B. from Emeryville, California who sent this story in.


Source: Marvel Entertainment, Inc.
Marvel Theme Park Coming to Dubai
March 20, 2007

United Arab Emirate-based Al Ahli Group and Marvel Entertainment, Inc. announced today a partnership that will bring Marvel's full library of Super Heroes -- including Spider-Man, Iron Man, The X-Men, Incredible Hulk, The Fantastic Four and Silver Surfer -- to Dubai for a major new theme park destination being developed by AAG. The development is in line with the vision set by HH Shk. Mohammed Bin Rashid Al Maktoum, Vice President and Prime Minister of the UAE and Ruler of Dubai, through his innovative entertainment and hospitality driven expansion projects for Dubai and the UAE.

The Al Ahli Group, under the leadership of Chairman Nasser Ali Khammas and driven by the idea and dedication of CEO Mohamed Khammas, is poised to bring the region's first and only global theme park destination directly to the heart of the Emirates. AAG and Marvel are also in initial stages of discussions about additional projects throughout the greater Pan Arabia region.

AAG has been in discussions for more than two years with the owners of the world's top intellectual properties in the entertainment arena and is extremely proud of its new long-term partnership with the world renowned Marvel brand. The Project will open in 2011 with a direct investment of over $1 billion USD. The creative team, which consists of some of the most spectacular creative minds from around the globe, will be based in Hollywood, Orlando and Dubai throughout the four year development process. New technology and unparalleled visitor experiences will be the hallmark of the theme park, creating a new standard for theme parks around the world.

David Maisel, Chairman of Marvel Studios and a member of the Office of the Chief Executive, Marvel Entertainment, said, "We are launching a long term relationship with the Al Ahli Group to bring the Marvel Universe to Dubai with this exciting new theme park development. Al Ahli Group has both an impressive team of theme park, entertainment and hospitality executives and the financial strength to leverage that expertise into a world-class destination resort experience unparalleled in the region. We are very pleased to be a part of this exciting initiative and look forward to a successful partnership with Mohamed Khammas and the Al Ahli Group."

Mohamed Khammas, CEO of Al Ahli Group commented "Al Ali Group's partnership with Marvel Entertainment serves a long pursued quest of creating the ultimate entertainment destination for families and children of the region and the world, a destination where they can live their childhood fantasies and create new memories for the entire family to cherish and remember. Family destinations have not evolved in Pan Arabia and thus it's time that we cater to that demand and make the investment required for global tourism.

"Marvel is a brand that is recognized globally via its ever expanding list of 'Super Hero' characters. Now, it won't be much longer until the children in Pan Arabia and the world can experience new and exciting rides with Marvel's Spider-Man, the Incredible Hulk, the Fantastic Four and many other Super Heroes right here in the UAE.

"This partnership is a result of the appreciation and loyalty that Marvel has internationally, and was realized through the dedication and management of the Marvel team led by my friend David Maisel. Without his personal efforts and dedication, it would have been a long time before the world would be able to experience the Marvel Super Heroes in what we aim to be the best entertainment destination in the world. In 2011, Spider-Man and the rest of the Marvel Super Heroes will set their first steps in Dubai."
posted by Josh @ 9:48 PM
News: NBC Buys Out Blog Critic
Hmmmm, after reading this article I think maybe I should keep writing about Tim Kring and his stealing of the idea for NBC's "Heroes". Seems like there could be some money in it for me.

"NBC/Universal presents Newlywed in Dubai" ...

Ooh, maybe I could even get a TV show like Donald Trump!


The New York Times
A Division of NBC Buys Out One of Its Harshest Online Critics
By Maria Aspan
March 19, 2007

In a review of "Top Design," the reality show on Bravo Networks, a staff writer for the Web site Televisionwithoutpity.com mused that in the future, the show would be "just another filthy memory whose outcome I've long since forgotten."

He can thank his new employers for the memories. Bravo, a division of NBC Universal, announced its acquisition of Television Without Pity on Tuesday. The television review Web site joins the network's other online outlets, including the broadband channels BrilliantButCancelled.com, OUTzoneTV.com and getTRIO.com.

Television Without Pity, which provides reviews and commentary on television shows ranging from "American Idol" to "Ugly Betty," has become well known in the television industry and the online community for its sharp, witty reviews.

In an interview, Lauren Zalaznick, the president of Bravo, praised the "agnostic editorial voice" of Television Without Pity. "We wanted to be associated with people who love television, and who love to hate television," she said.

That hatred, in the form of the site's trademark sarcasm and intense criticism, is often directed at Bravo and NBC programs, including "Project Runway," "Top Chef," "Heroes," "Friday Night Lights" and "Studio 60 on the Sunset Strip." (The best one reviewer could muster about "Studio 60" was: "If it gets a little better, it might actually be as good as your average, entirely pedestrian television drama.")

And Aaron Sorkin, who created "Studio 60" and "The West Wing" for NBC, is one of the site's favorite targets. After a scuffle on the message boards, he wrote a storyline into a 2002 episode of "The West Wing" that criticized "hysterical" Internet communities.

An announcement on Television Without Pity promises that the Web site will "continue taking shots at Aaron Sorkin."

Representatives from Bravo and Television Without Pity declined to disclose the purchase amount, although Tara Ariano, the Web site's co-editor and co-founder, described it as "very generous."

The Web site, which began in 1998 under the name Dawsonswrap.com, has over one million unique monthly visitors, according to ComScore MediaMetrix and Bravo; Bravo's other Web properties have about 1.5 million visitors.

If the Web site's editorial content changed after the acquisition, "Bravo would have bought something with no value," Ms. Ariano said. Bravo's relationship with Television Without Pity is meant to be "more curatorial than censorial," according to Ms. Zalaznick, who added that NBC had fully supported the acquisition.

"It's certainly not the job of a network or a company that owns a Web site to have opinions," she said. "But it is my mandate to provide a set of forums inside which strong opinion lives."

&copy The New York Times Company
posted by Josh @ 9:37 PM
Heroes, pt. 2
So yesterday I was going on about how NBC's "Heroes" liberally rips off Marvel Comics' "X-Men", right? And I couldn't think of an X-Man that has the same powers as that kid Micah.

Well, I just thought of him - Forge.

"Forge can intuitively create almost any device imaginable using his mutant ability - an uncanny and almost empathic ability to understand machines and to perceive "mechanical energy." He has created fantastic futuristic devices including cybernetic systems (to replace his lost hand and leg), sophisticated holograms, and elaborate computer and fiberoptic systems."
Gotcha, Tim Kring, gotcha.
posted by Josh @ 3:53 PM
News: Diet Pepsi Cans Recalled
Aw geesh, first my peanut butter, now this?!?


Gulf News
Diet Pepsi cans withdrawn over manufacturing defect
By Nissar Hoath and Ashfaq Ahmed
March 19, 2007

Abu Dhabi/Dubai: The Food Control Authority in Abu Dhabi has withdrawn some Diet Pepsi Cola cans from the market to safeguard public health, WAM reported.

"A particular series of Diet Pepsi Cola cans has been withdrawn from the market after a manufacturing fault was detected in the cans, which were peeling off from inside," Mohammad Jalal Al Reyaysa, Manager of Communication at the FCA, told Gulf News. He said the FCA took action after a resident in Al Ain complained that he had found a plastic-like substance when he poured Diet Pepsi in the glass. "A resident complained to the FCA office in Al Ain. Our inspectors went to the same shop and bought another can of Diet Pepsi. He also found the same substance in the beverage," he said.

He said the can was examined at the FCA laboratory in Abu Dhabi and it was confirmed that the substance was the inner lining of the container that had peeled off. "It was a manufacturing fault of the container and there was nothing wrong with the beverage itself," he said.

Faulty batch

He said the matter was reported to the Pepsi Cola company and they also confirmed the manufacturing fault of the can produced last January 22.

"They extended full cooperation and immediately withdrew the cans in question from the market on the orders of the FCA," he added.

He said the company said the manufacturing fault occurred due to a sudden electricity cut during production.

He advised the public to report any complaints on the FCA's telephone number 8006565.

Meanwhile, Khalid Sharif, Assistant Director at the Public Health Department at Dubai Municipality, said that the municipality was not aware of the problem.

"Sometimes, such problems happen on a very small scale and are tackled by the authorities concerned," he said.

© Al Nisr Publishing LLC
posted by Josh @ 11:34 AM
2007-03-19
More Giant Money
So a few weeks ago I found a dirham coin that was much larger than normal (See Giant Dirham.)

And now in change this weekend I got a ginormous 50 fil coin!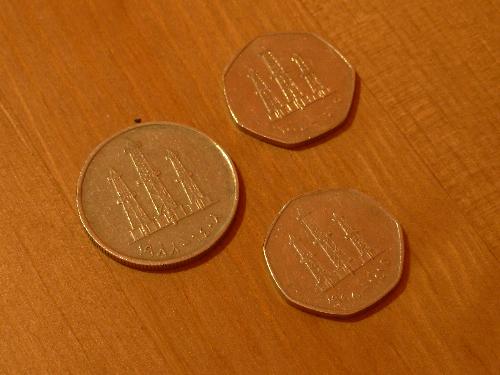 I seriously looked around when the clerk handed it to me, just waiting for some Arabian Allan Funt to surprise me.

Nope.

But I'm onto their scheme now, I tells ya.
posted by Josh @ 11:01 AM
Bootleg Heroes
Do any of you watch that NBC show Heroes?

We just ... came across a pirated DVD set of the first ten episodes. Some ... friends bought them. (As you can imagine, Liz and I would never buy illegal DVDs of movies or TV shows, for Dan Glickman and the Motion Picture Association of America tell us that is wrong and it hurts the hard working people in Hollywood.)

It's pretty amazing, though, these bootleg DVDs. It appears that someone in the States or Canada has TiVoed or DVRed the shows off of broadcast TV, then sent them to some factory in Asia somewhere, because the discs are pressed, not burned one at a time (with the blue/purple underbelly). In fact, the discs artwork is all full color screenprinted, too. It's a big business, this illegal DVD production.

Anyway, Heroes. I'm kind of on the fence about this show. It's well put together, has some compelling characters, but overall I'm a little upset because every single character's superpower is stolen from comic books. Seriously, I think this "Tim Kring" guy who created the show just walked into House of Secrets in Burbank, or Meltdown Comics in Hollywood and stole all of his "ideas" from already established characters!

Now, I know I'm late to the party, because the show came out many months ago and I'm sure comic fandom was up-in-arms for most of the autumn. And I know that it doesn't really matter, that, if anything, this might drive a few people to comics. But still, it upsets me because, well, heck, I feel like I could have "created" and "written" this show as well as Tim Kring has.

Let's briefly look at the characters from Heroes and their superpowers:

Claire the Cheerleader has a healing factor, not unlike quite possibly the most famous X-Man and Huge Jackman's raison d'etre - Wolverine. Sure, she doesn't have the Adamantium claws or the penchant for smoking cigars, but those aren't powers, they're just handy character builders.

Peter, our main character, has the ability to absorb the powers of others he has been near, similar to the X-Man - Rogue, who was played by the charming Anna Paquin in Bryan Singer's epic X-Men film from 2000.

Hiro from Tokyo can to manipulate the space-time continuum, not unlike our favorite X-Man from Austrailia - Gateway. (It's actually a little like that show from the late 1980s Out of this World, where the main character could stop time by touching her index fingers, or teleport by snapping her fingers. But since she wasn't an X-Man, I'll move on ...)

Matt the LAPD officer is a telepath, and gosh, the list of X-Men who are telepaths is as long as Sheikh Zayed Road - Jean Grey, Psylocke, Emma Frost and that Professor X guy, too.

Nathan the Congressional candidate can fly, and, quite honestly, it'd be easier to list the X-Men who can't fly than those who can.

Isaac Mendez, the artist who can paint the future, well, at least when he's high on dope, is similar to the villian - Destiny - who's a little random, yes, but heck, she "possessed the psionic power of precognition by mentally scanning alternate futures and perceiving probable events", albeit without heroin.

Niki the ... exotic dancer ... has an alternate evil personality, Jessica, with superhuman strength. Gee, what X-Man has had a superpowerful alternate personality? Phoenix anyone? 1980's Dark Phoenix Saga is probably the most famous X-Men storyline ever, and was heavily alluded to at the end of the second X-Men movie. Then Brett Ratner made the third movie, and screwed it all up.

DL, Niki's ex-husband, can phase parts of his body through solid objects just exactly like X-Man - Kitty Pryde.

Micah, DL and Niki's son, can control machines and electronic devices, just like ... well, what do you know, no specific X-Man has that power! Wow, Tim Kring, you original bastard you! You thought up a character on your ow-- wait, wait, no. Maybe he just read Bryan K. Vaughn's Ex-Machina where the main character has the ability to communicate with and command mechanical devices.

And he's a politician.

Just like Peter's brother.

Kring!!
posted by Josh @ 9:44 AM
2007-03-18
News: "Whatever it takes"
I just found a completely fascinating article at the New Yorker about the tv show "24" and how might influence torture by U.S. military agents, and the concern it's causing inside the government. But the big point of the article is that co-creator Joel Surnow is pretty much a pompous jerk.

It's quite long (as is the New Yorker's standard operating proceedure) but if you're a fan of "24" you have to read: "Whatever it takes".
posted by Josh @ 10:06 AM
2007-03-17
Top o' the mornin'!
Hey everyone, Happy St. Patrick's Day!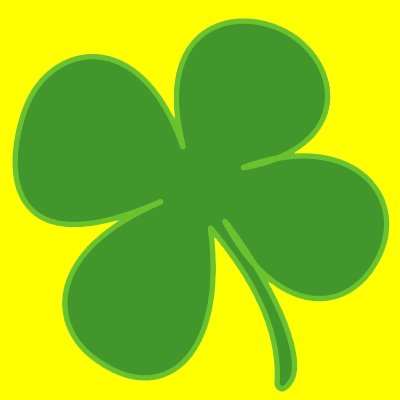 posted by Josh @ 3:40 PM
2007-03-16
Wish I was in LA
So this weekend I really wish I was in Los Angeles.

I know, I know, wishing you were in LA is pretty rare, and somewhat foolish (unless, of course, you like traffic ...)

But this weekend is the cast and crew premiere of the last movie I worked on at Disney - Meet the Robinsons.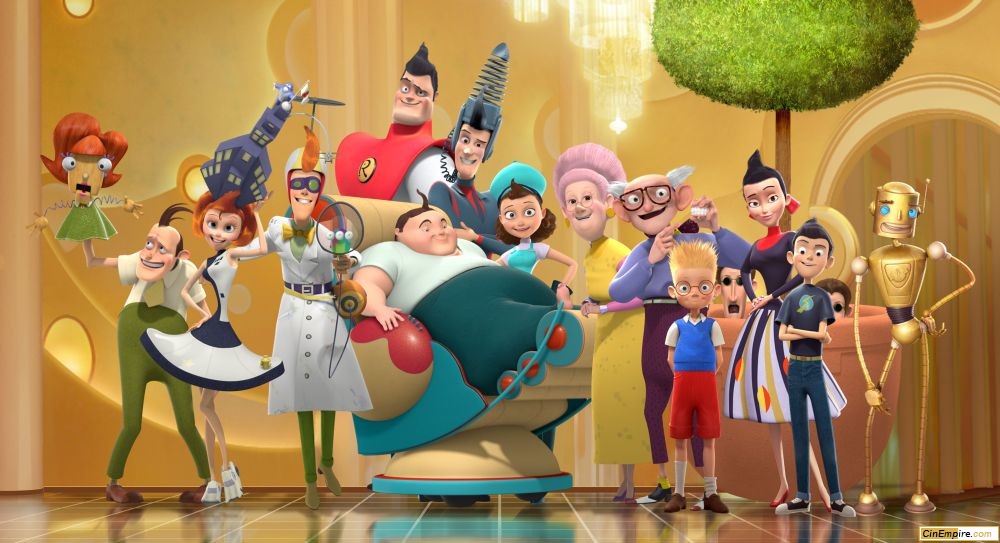 I wish I could hang out with my former co-workers, and also see the movie, as the last time I saw it was in June of 2004 ...

Either way, I'm sure it's fun, clever and pretty. You should check it out when it's released on March 30 (don't worry, I'll remind you a few dozen more times before then ...)
posted by Josh @ 1:08 PM
Camping Schmamping
So yeah, that didn't work out. We're home now.

Yesterday after work seven of us carpooled up to Jebel Ali to go camping.

Jebel Ali is part of the Emirate of Dubai, but not part of the city of Dubai, which gets tricky. It's about 20 miles south-southwest of Dubai Creek, the older part of town, but is really just around the corner for us. In fact, some stores at Ibn Battuta Mall refer to themselves as in Jebel Ali.

Anyway, Jebel Ali is mostly known for shipping. It's the world's largest person-made harbor and the biggest port in the Middle East. In fact, the port of Jebel Ali has become the port most frequently visited by ships of the United States Navy outside the United States, due to the fact that the port can accommodate Nimitz Class supercarriers, and the fact that for some reason the U.S. has had lots of boats in the Arabian Gulf as of late ...

But continuing south past the port there's just nothing. Desert to the left of Sheikh Zayed Road, desert to the right. Well, desert, and eventually the Gulf. So we took a right, and caravanned across the sand to the beach.

Of course, there's nothing around us at all, except for out in the Gulf, as that's where they're building the Palm Jebel Ali.

Yep, another Palm. This one is actually going 50 percent larger than the almost-completed Palm Jumeriah, too.

But that's not the craziest part. They're actually building a whole cluster of artificial islands around the Palm Jebel Ali called the Dubai Waterfront, which will be larger than the the island of Manhattan.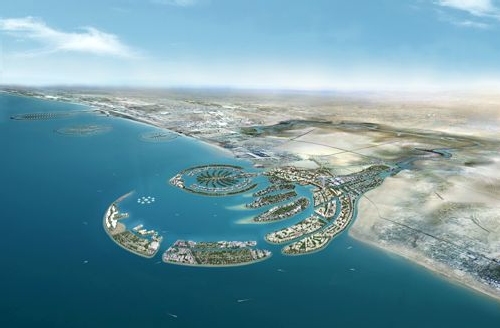 Of course, this being Dubai, the Dubai Waterfront isn't the end. Nope. That's just phase one of an even bigger plan - the Arabian Canal, an artificial canal that runs inland, similar to the Dubai Creek but bigger, gaudier and of course, artificial.

As part of the Dubai Waterfront they're also planning to construct one of the world's tallest buildings Al Burj.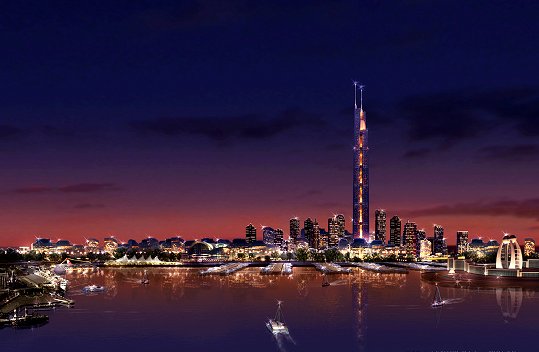 This shouldn't be confused with the Burj Dubai, which is planned to be the world's tallest building, and is currently being constructed, and already taller than the Empire State Building.

(see my Flickr gallery for some photos of the construction from last weekend.)

Oh, one last thing. They're also building the world's busiest airport - Dubai World Central (formerly "Jebel Ali International Airport").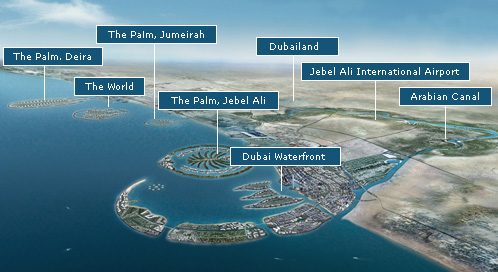 So yeah, Jebel Ali is not going to be so sleepy when it's done in a few years.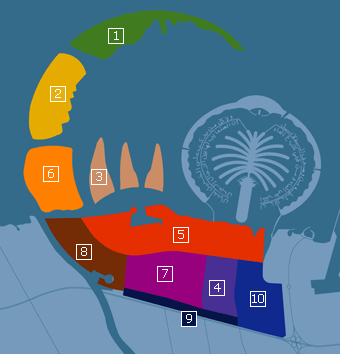 1 Al Ras
2 Corniche
3 The Rivera
4 The Palm Boulevard
5 Madinat Al Arab
6 The Peninsula
7 Uptown
8 Downtown
9 Boulevard
10 The Exchange


As far as I can tell, we camped yesterday in the red area, somewhere just to the right of the number five. Heck, that could be where the Al Burj is someday going to end up!

Here's another view of where we were on the Dubai Map that we found in October (see Map of Dubai).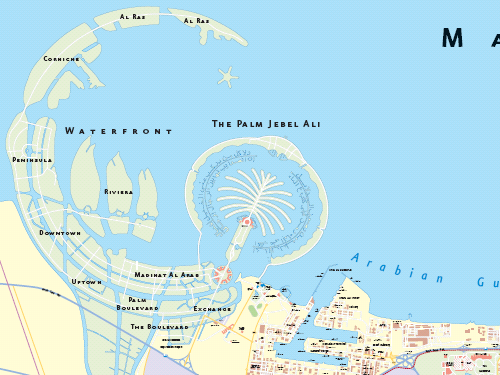 Since none of these canals exist yet, it's tough to determine exactly where we were, but I'd guess somewhere around the "Al" in "Madinat Al Arab".

Anyway, from our camping site we had a fantastic view of the Palm Jebel Ali construction (if any of you have the chance to see the Discovery Channel "Mega Builders" about the construction of the island, watch it! Very interesting stuff.) Further up the coast we had a view of the lights of Dubai.

We made a fire, set up the tents, cooked some hot dogs, made s'mores (albeit without graham crackers, as I couldn't find them in Carrefour).

It was a nice night, as yesterday was really muggy. It was also quite sandy yesterday. Sandstorms are a weird thing - it's not like in The Mummy when you see it rolling across the desert at you only to be blinded by sand immediately after it hits - or, at least the ones I've experienced haven't been like that. It's more like a windy day in winter when the already-fallen snow is being blown around.

But it's not sunny, in fact, the whole day takes on a red color-scheme, like when they have wildfires in Southern California. The light is tremendously blocked out.

Anyway, we should have thought about this before we went camping. Heck, had we read the somewhat unreadable Gulf News we'd have seen this gem: People stay indoors as sandstorms hit UAE.

Apparently wind speeds reached up to 30 knots (35 mph) yesterday, which might not sound like much, but sand pelting you at speeds faster than cars travel through a school zone ... that's not cool.

Needless to say, last night the tents started shaking as if there were four Boy Scouts outside angry that you used up the last of their toilet paper. We tried to stick it out, but at quarter-past midnight we made the call to pack it up. At that point the lights from both Dubai and the Palm Jebel Ali were obscured by sand.

It's probably a good thing we left, too. Right now the wind is howling outside and the sky has a rather orange pallor.

But still, it was cool to hang out on an abandoned beach where soon hundreds of thousands of people will live ...
posted by Josh @ 10:44 AM
2007-03-15
Going camping ...
So this afternoon we're heading out camping for the next night or two. Stories (and hopefully photos) on our return ...
posted by Josh @ 1:55 PM
News: Dubai gets Krispy Kreme
Cripes, Dubai is getting Krispy Kreme donuts.

Apparently this "Americana Group" has franchised KFC, Pizza Hut, Hardee's, Baskin Robbins, TGI Friday's and now Krispy Kreme for Dubai. Talk about your all-American lineup.

It total they have 730 restaurants across 12 Arab countries. Well, I guess if you call Americanized fat dispensing locations "restaurants" ...


Press Release
Krispy Kreme sweetens Dubai's life
Thursday, 15 March 2007

Americana Group, the Middle East's most successful group of companies operating consumer foods, restaurants, and food-related products, once again leads the way, by outstandingly adding the legendary Krispy Kreme brand of doughnuts to its fleet, announcing the official opening of a dedicated outlet in Dubai's Deira City Centre Food Court, scheduled to be on March 16th 2007.

After the tremendous appeal of its opening in Kuwait last October, and complimenting the huge success of Americana's franchises for KFC, Pizza Hut, Hardee's and TGI Friday's, in addition to Americana Meat, Americana Cake and California Gardens, Krispy Kreme comes to Dubai to prove once again that it is the world's favorite doughnut.

Commenting on the event, Ayman Wagdi, CMO, Americana, stated: "For the last forty years, Americana Group has been an innovative pioneer in the food industry in the Arab World, and through our partnership with Krispy Kreme, we will continue the great story of success of our unique company. We are confident that our understanding of the food business in this geographic region helps us in promoting Krispy Kreme's success in this marketplace."

"During the next five years, we have put forward an extensive growth map, aiming to open 100 Krispy Kreme franchise outlets across the region, with 7 more outlets in the UAE itself by the end of 2007, confirming once again our worldwide leadership, significantly raising the benchmark higher in terms of great food, quality and diversity," continued Wagdi.

For his part, Mr. Fareed Abdel Rahman, General Manager of Deira City Centre said, "Today marks another landmark occasion for Deira City Centre. We're very pleased to welcome one of the world's most popular doughnut makers to the UAE, here in our centre. Krispy Kreme is an innovative and exciting company that has a unique business proposition and they're a perfect fit in the centre's renovated food court."

Since its foundation in 1937 in Winston-Salem, NC, USA, Krispy Kreme has been renowned as the world's most loved hot doughnut, producing more than 3 million doughnuts a day, and literally invading the world with stores in the US, Canada, Australia, the United Kingdom, South Korea, Mexico, Japan, Indonesia, Hong Kong, the Philippines and Kuwait.

Jim Rogers, International Marketing, Krispy Kreme said:" Being in one of the most rapidly growing markets in the region as Dubai is very exciting for Krispy Kreme. And our partnership with Americana group, our natural partner, gives us the enthusiasm to widely expand and give people throughout the region the chance to enjoy the unique Krispy Kreme experience."

Krispy Kreme is a leading branded retailer of high-quality doughnuts with its signature Hot Original Glazed. And it is no wonder how people wait in queues for hours waiting for the "HOT NOW" sign to get the tastiest and freshest batch of doughnuts rolling straight off the line!

Illustrious with freshness, Krispy Kreme is the world's doughnut-making theatre, the one and only company offering second-to-none quality, as the customers can see their doughnut being made right in front of their eyes. Customers can see their Krispy Kreme doughnut made from start to finish - cut into shape, proofed, cooked, and glazed. With a glass exterior around the cooking process, Krispy Kreme gives everyone an outstanding chance to experience the entire doughnut-making process and take a bite into one before it cools.


Contact Details
NameSweety Darwish
Job TitleSenior Account Manager
CompanyInterone Resonance
Telephone971 4 3458005
EmailSweety.Darwish@interone-me.com
posted by Josh @ 1:47 PM
2007-03-14
Unity Unity Unity!
Have you guys seen anything about Unity08?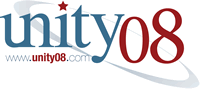 It's an internet-based group that's trying to create a bipartisan presidental ticket in 2008, formed by a group of former presidental aides and former Maine governor Angus King.

Unity08 will run an online convention this year in order to nominate a man or woman from each party running for President and Vice President.

Their claim is that the two parties really only listen to their base audience, which is in turn only a fraction of the population of the U.S. By creating this candidate, they intend to shift the debate towards the center, where they believe that something like 73% of Americans are politically.

It actually doesn't sound like a bad idea, it'll be interesting to follow.
posted by Josh @ 6:33 PM
News: Dubai on a Budget
I missed this the other day, the New York Times "Practical Traveler" had a bit about Dubai:


The New York Times
A Bargain Emirate
Dubai on a Budget? No, It's Not a Mirage
By Michelle Higgins
March 11, 2007

DUBAI on a budget sounds like an oxymoron. The most ostentatious of the seven city states of the United Arab Emirates, Dubai is where travelers go to find a self-proclaimed seven-star hotel, indoor skiing and artificial islands springing up from the seas in the shape of palm trees. A stay at that "seven-star" hotel, the sail-shaped Burj Al Arab, starts at more than $2,000 a night.

Yet now a number of budget hotel chains are moving into this playground for the rich. Sir Stelios Haji-Ioannou, the serial entrepreneur who founded the budget airline easyJet, was in Dubai two weeks ago to break ground on the first of six easyHotels to be built in the emirate.

The hotels, based on the easyHotel model introduced in Europe in 2005, will have rooms a little bigger than those in existing easyHotels — but still small, around 160 square feet, with just the basics, including a bed, a shower, a flat-screen television and an Internet connection. Prices won't be announced until the opening, but are expected to be around 250 to 300 dirhams, or about $67 to $80 a night at 3.75 dirhams to the dollar.

InterContinental Hotels plans to open its first Holiday Inn Express in Dubai this summer; with 244 rooms, the hotel will be significantly larger than its counterparts in the United States.

Ibis, an economy brand of Accor, the giant French hotel company, which already has one hotel in Dubai, plans to expand with a 480-room hotel there in December and a 365-room hotel in 2008. The existing Ibis World Trade Center Dubai, linked to the International Exhibition Center and Convention Center of Dubai, has rooms from around 70 euros, $95 a night at $1.35 to the euro. And Whitbread's budget brand, Premier Travel Inn, Britain's biggest hotel chain, is building a 300-room hotel at the Dubai Investments Park. Room rates are expected to be in the 400-dirham range.

The extreme emphasis on luxury in Dubai over the last decade is precisely why the market for budget travel is wide open. While most hotel guests continue to stay at high-end places, statistics show a growing demand for lower-priced accommodations.

The number of guests who stayed in five-star luxury hotels in Dubai increased just 10 percent, to nearly 2 million, in 2005 from the previous year, according to the latest statistics available online from the Dubai Department of Tourism and Commerce Marketing. By contrast, the number staying in one-star, limited-service hotels jumped 32 percent in that same time, to about 600,000.

It's not only hotels that have taken notice of the budget traveler. Anticipating a shift toward more economical vehicles in the next few years, Hertz is adding small cars like the Honda Jazz hatchback and Toyota Yaris to its Dubai fleet — cars that rent for about $55 a day, compared with $110 for a mid-size vehicle or $220 for an S.U.V.

"The place has gotten very expensive," said Bob Farrow, general manager of Hertz Car Rental in Dubai. "Everybody would love to drive a big car on vacation, but they want to pay for a small one."

Five years ago, small cars made up just 10 percent of the fleet at his outlet, but in the next year or so, Hertz plans to increase that to about 25 percent.

While more travel companies are catering to budget travelers in Dubai, for now it can still be difficult to find the cheaper alternatives. A call asking about budget options a couple of weeks ago left a spokeswoman flummoxed at the New York office promoting Dubai tourism.

"We really focus on the high end," she said. "Truly, it's a luxury market."

The head office in Dubai wasn't much more help. Asked by e-mail about typical rates and recommendations for travelers on tight budgets, Mohamed Abdul Mannan, a spokesman for the Dubai Department of Tourism and Commerce Marketing, replied with just one line — a Web address for an online article about the recent easyHotels announcement of plans to build there.

The spectacle of modern Dubai is a product of many years of intensive development. Once a fishing and pearl-diving village, it grew into a modest commercial city in the 19th century and wasn't transformed into a metropolis until the last couple of decades. Even as Dubai's reputation as a luxury travel destination took off, savvy travelers continued to score deals — although less remarkable ones as time went on — even without the new influx of budget chains.

"My wallet has seen the changes," said Jesse Long, 34, a photographer in Brooklyn who has been traveling to Dubai on business for the last five years. Hotels where he used to stay for $30 or $40 a night are now charging four times more, he said, "and they haven't really improved anything."

To get the best deal, Mr. Long stays in the central Bur Dubai district, where modestly priced accommodations can still be found, particularly along Khalid Bin Waleed Road. Last month, he stayed at the Hotel Ascot (www.ascothoteldubai.com) in that area for about $130 a night and dined at nearby Indian restaurants for less than $5 a meal.

For discounted hotel accommodations, he recommends www.wired-destinations.com.

It's also possible to find a bargain by consulting the tourism desk at the airport, but to avoid any confusion later, be sure to get the terms in writing, including the rate and any incentives, like free breakfast.

Ramadan, the ninth month of the Muslim lunar calendar, when people of Muslim faith fast from dawn to dusk, can be a good time to find bargains since hotels tend to be less crowded and may be more willing to negotiate on price. (This year, the start of Ramadan, which varies slightly by region, begins around Sept. 12.)

While working hours are slightly altered and many restaurants are closed much of the day, there is an air of festivity after dark, said Daniela Bonanno, a sales manager at Absolute Travel in New York who has visited Dubai during Ramadan. "After sunset, everyone celebrates because that's when they can eat," Ms. Bonanno said.

Shops and malls stay open longer, and hotels and restaurants offer special Iftar buffets to break the fast.

If you're on a budget, you might want to avoid traveling during the wildly popular Dubai Shopping Festival, which typically runs from late December through January, when you'll face high rates as you compete for rooms with crowds of well-heeled travelers.

&copy The New York Times Company
posted by Josh @ 6:29 PM
News: Haliburton motives questioned
This Iran business is interesting ...

The Houston Chronicle
Democrats question Halliburton motive
By David Ivanovich and Brett Clanton
March 13, 2007

WASHINGTON — Democrats on Capitol Hill openly challenged Halliburton Co.'s explanations Monday as to why Chief Executive Officer Dave Lesar is relocating to the United Arab Emirates.

Halliburton announced Sunday that it plans to open a new corporate headquarters in Dubai. It said such a move would strengthen its presence in a part of the world where the oil-well-service business is growing substantially.

Several lawmakers voiced suspicions Monday about the oil-field service and military contracting giant's "bizarre announcement," as Sen. Byron Dorgan, D-N.D., described it. They asked whether it might really be a back-door way to enable Halliburton to expand its business dealings with Iran or avoid paying U.S. taxes.

"I think Congress ought to hold hearings to try to determine why one of this country's major defense contractors has decided to move its principal offices offshore," Dorgan said. "What's behind it?"

Halliburton spokeswoman Melissa Norcross said lawmakers were making "assumptions and suppositions" that are "absolutely untrue and unfounded."

The company said, and legal experts agreed, that the plans it has announced would not change its standing under the U.S. tax or trade sanction laws.

And it is in the process of cutting its ties to KBR, the subsidiary that holds the military support contract in Iraq. KBR is expected to soon be an independent, publicly traded company.

'Alarm bells'

But Halliburton's protestations were largely drowned out Monday, as Vice President Dick Cheney's one-time employer took a verbal drubbing.

Democratic presidential hopeful Sen. Hillary Rodham Clinton of New York called it "disgraceful" that an American company would take the kind of military contracts Halliburton has received "and then turn around and say we are not going to stay with our chief executive officer or the president of our company in the U.S. anymore."

Sen. Frank Lautenberg, D-N.J., one of Halliburton's most vociferous critics in Washington, called on the Treasury Department to investigate whether the company is trying to broaden its dealings with Tehran.

"Halliburton has gone to extraordinary lengths in the past to do business with the terrorist government in Iran," Lautenberg said.

"Given Halliburton's past dealings with Iran, the company's odd announcement this week certainly sets off alarm bells about its intention to do business with state sponsors of terrorism."

A Treasury spokeswoman could not say if Lautenberg's letter would prompt an investigation.

Federal law prohibits U.S. companies from trading directly with Iran.

However, foreign units of American firms can operate there, as long as that entity remains truly independent of the U.S. operation.

Subsidiary works with Iran

Halliburton has been doing business with Iran for years through a Cayman Islands-registered company called Halliburton Products & Services Ltd., which is based in Dubai.

More than two years ago, Lesar announced the company would pull the plug on its Iranian business.

In January 2005, Halliburton officials said they would wind down their operations in Iran once they had fulfilled all of their obligations.

On Monday, Norcross said "Halliburton and its subsidiaries are currently in the process of winding up our work in Iran and will exit upon the completion of existing commitments."

She would not say how long that process is expected to take.

In a letter to Treasury's Office of Foreign Assets Control, Lautenberg argued that "if Halliburton were to move the corporate headquarters, incorporate in Dubai, and cease to be a U.S. company, it would no longer be covered under the relevant U.S. terror sanctions laws."

But Norcross said Halliburton will remain a U.S. company, incorporated in Delaware, with its principal executive office in Houston.

And under those assumptions the same sanctions rules would apply.

Lesar is a U.S. citizen. And whether an American is sitting in Houston or Dubai, "you still have the same rules," said Peter Fitzgerald, a law professor at Stetson University.

The Halliburton CEO would run afoul of U.S. sanctions laws if he were to try to direct activities at the Cayman Islands-registered entity while it was still active in Iran.

Other lawmakers raised concerns that Halliburton, which as the Pentagon's largest contractor in Iraq holds a logistics contract valued at more than $25 billion, might be able to reduce its tax burden by moving its headquarters to Dubai.

Halliburton spokeswoman Norcross said the company expects "absolutely no tax benefits from this decision."

Iowa Sen. Chuck Grassley, ranking Republican on the Senate Finance Committee, said he will look into whether Halliburton will receive "any inappropriate tax benefits" from this action.

Taxed on all earnings

Chris Kolenda, a tax attorney with the Financial Advisory Group Houston, said as long as Halliburton remains incorporated in the United States, it will be required to pay taxes on what it earns here and abroad.

He said some energy firms have established dual headquarters in the U.S. and in regions such as Bermuda to cut their taxes on profits overseas.

Other lawmakers already seemed convinced Monday that the company would benefit from a tax perspective.

"At the same time they'll be avoiding U.S. taxes, I'm sure they won't stop insisting on taking their profits in cold hard U.S. cash," said Sen. Patrick Leahy, D-Vt.

As for Lesar, Kolenda said he can only avoid paying personal income taxes if he becomes a citizen of the United Arab Emirates.

&copy Houston Chronicle Washington Bureau
posted by Josh @ 7:01 AM
2007-03-13
Flickr update
I took a few photos of the Burj Dubai construction this weekend. Check them out over at my Flickr page: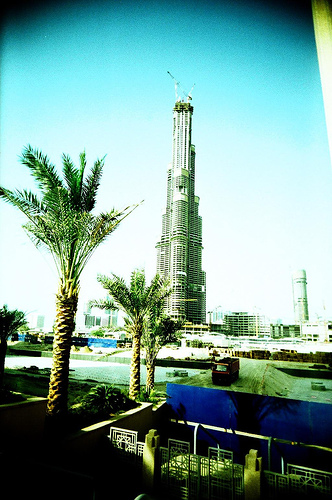 The coloring is odd because I cross-processed slide film like it was a negative. All photos shot on my cool new Vivitar Ultra Wide and Slim camera.
posted by Josh @ 11:35 AM
U.S.A. Cricket?
Bet you all didn't know that the Cricket World Cup starts today.

I just saw a list of the sixteen teams playing:


Australia
Bangladesh
England
India
New Zealand
Pakistan
South Africa
Sri Lanka
West Indies
Zimbabwe

Bermuda
Canada
Kenya
Ireland
Netherlands
Scotland

No United States.

I wonder if the U.S. even has a International Cricket Council team ...
posted by Josh @ 7:07 AM
2007-03-12
News: Halliburton Moving to Dubai
I'm pretty sure everyone's seen this by now, it looks like Liz and I are getting some new neighbors ...


The Associated Press
Halliburton will move HQ to Dubai
By Jim Krane
March 11, 2007

DUBAI, United Arab Emirates - Oil services giant Halliburton Co. will soon shift its corporate headquarters from Houston to the Mideast financial powerhouse of Dubai, chief executive Dave Lesar announced Sunday.

"Halliburton is opening its corporate headquarters in Dubai while maintaining a corporate office in Houston," spokeswoman Cathy Mann said in an e-mail to The Associated Press. "The chairman, president and CEO will office from and be based in Dubai to run the company from the UAE."

Lesar, speaking at an energy conference in nearby Bahrain, said he will relocate to Dubai from Texas to oversee Halliburton's intensified focus on business in the Mideast and energy-hungry Asia, home to some of the world's most important oil and gas markets.

"As the CEO, I'm responsible for the global business of Halliburton in both hemispheres and I will continue to spend quite a bit of time in an airplane as I remain attentive to our customers, shareholders and employees around the world," Lesar said. "Yes, I will spend the majority of my time in Dubai."

Lesar's announcement appears to signal one of the highest-profile moves by a U.S. corporate leader to Dubai, an Arab boomtown where free-market capitalism has been paired with some of the world's most liberal tax, investment and residency laws.

"The eastern hemisphere is a market that is more heavily weighted toward oil exploration and production opportunities and growing our business here will bring more balance to Halliburton's overall portfolio," Lesar said.

In 2006, Halliburton — once headed by Vice President Dick Cheney — earned profits of $2.3 billion on revenues of $22.6 billion.

More than 38 percent of Halliburton's $13 billion oil field services revenue last year stemmed from sources in the eastern hemisphere, where the firm has 16,000 of its 45,000 employees.

Cheney was Halliburton's chief executive from 1995-2000 and the Bush administration has been accused of favoring the conglomerate with lucrative no-bid contracts in Iraq.

Federal investigators last month alleged Halliburton was responsible for $2.7 billion of the $10 billion in contractor waste and overcharging in Iraq.

Halliburton last month announced a 40-percent decline in fourth-quarter profit, despite heavy demand for its oil field equipment and personnel.

&copy The Associated Press
posted by Josh @ 10:21 PM
"The Long War"
I don't know if anyone caught "Meet the Press" yesterday, but it was, per usual, very interesting.

Ted Koppel was on to talk about Iraq, Iran and other nations in my 'hood, and to also promote his Discovery Channel special "Koppel on Discovery: Our Children's Children's War" that was on last night.

Sadly, although we get "Meet the Press" live, our Discovery programming is weeks / months behind. Who knows if (or even when) we'll see this show.

Anyway, Koppel had a fascinating point, which I'm sure he delved into in his special. Although the US declared the War on Terror post-September 11, the war itself can be traced back to events such as the 1979 Iran hostage crisis or even 1972's Munich massacre.

But the pivotal year of the war on terror was 1983 with the April Embassy bombing in Beirut and the October Beirut barracks bombing.

It's always facinating to me to put recent historical events into a context that our children and our children's children will read about. I just hope that Mr. Koppel is wrong, and this current war won't still be raging when they read about it ...

To download a free video podcast of yesterday's "Meet the Press" visit the Apple iTunes Store: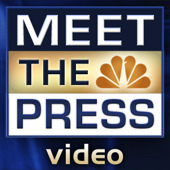 NBC Meet the Press (video)
posted by Josh @ 2:18 PM
So Much For Rock 'n Roll
I forgot to mention that this weekend was the Dubai International Jazz Festival at Dubai Media City - right in our backyard.

The lineup included Freddy Cole, Dee Dee Brigewater, Sergio Bekhazi Blues Trio, Acoustic Alchemy and Jamie Cullum ... and Toto.

Yes, Toto of "Africa" fame.

Toto who won the 1982 Grammy Awards for Album of the Year.

Toto of ... jazz fame?

Well, no.

But were they available?

Um ... yeah.

Considering this weekend was also the two day heavy metal festival Dubai Desert Rock, well, there was lots of washed up talent in Dubai this weekend.


Iron Maiden
The Prodigy
Stone Sour
Robert Plant and the Strange Sensation
Incubus
the Bravery

Yeah, washed up and not really my crowd.

Sadly, last year one of my favorite bands, Reel Big Fish played. I was actually in town visiting, too. But I didn't care about seeing Megadeth, 3 Doors Down or Testament. So I skipped it.
posted by Josh @ 9:50 AM
2007-03-11
News: Eastern Maine
Happy Daylight Saving day!

Here's a fun article for you all. Somehow this sounds like a TV show to me, something with an Northern Exposure-y feel to it...


The Associated Press
Extreme eastern Maine awaits more light
By Clarke Canfield
March 07, 2007

LUBEC, Maine - As the easternmost point in the United States, Lubec gets some of the earliest sunrises in America. But it also gets some of the most depressingly early sunsets, with the sun slipping below the horizon before 4 p.m. for weeks on end in early winter.

Which is why, after months of leaving work and eating dinner in dreary darkness, the people of Lubec are eagerly awaiting the earlier-than-usual arrival of daylight saving time this year.

By order of Congress, daylight saving time will start on March 11, three weeks early. Across the country, the sun will set an hour later. In Lubec, that will be 6:29 p.m.

It can't happen soon enough for Jed Coggins, who said he will use the extra sunlight to dig clams, take walks or simply take in the sun.

"It signals the start of spring in my mind, and I need it," Coggins, 78, said at McFadden's Variety store and deli.

Lubec, situated a grim 180 miles northeast of Portland, has seen brighter days, back when fish were plentiful and fish plants were bustling. Nowadays, its main drag is mostly empty storefronts. Just a few fishing boats are moored in the harbor. The nearest traffic light and movie theater are 50 miles away.

Because Lubec is so far north and east, from mid-November to early January the sun goes down on the town's famous candy-striped lighthouse before many of its 1,600 inhabitants get out of work or get home from school. The earliest sunset is the second week of December, at 3:47 p.m. The shortest day of the year, Dec. 21, has just 8 hours and 48 minutes of daylight.

Those early sunsets can make Maine residents crazy, Betsy Anderson joked at Broomstick Creations gift shop. "If you work all day, the worst part is getting off work and it's still dark," she said. "I'm one of those people who need more daylight."

To the east, just across the bridge over Lubec Narrows on Campobello Island, New Brunswick, Canadians are in the Atlantic time zone. Over there, just a few hundred yards away, the sun sets an hour later than in Lubec, which is in the Eastern time zone.

Erik Lookabaugh, owner of Lubec Hardware, said that daylight saving should be year-round or Maine should join the Atlantic time zone, something the Legislature considered doing two years ago.

"It's a psychological boost," Lookabaugh said. "The early sunsets are extreme up here."

In 2005, Congress decided to expand daylight saving time in the hope that more daylight in the evening will reduce energy consumption.

Because Lubec is situated so far east within the Eastern time zone, the town is often the first place in America to see the rays of the rising sun. The earliest sunrise of the year is in mid-June, at 4:41 a.m. The longest day tops 15 1/2 hours of daylight.

During the turn of the millennium, many people traveled to Lubec to be the first in America to welcome the year 2000. In Washington County, known across Maine as "sunrise county," residents are clearly proud of their early sunrises. Here, you'll find Sunrise Realty, Sunrise Apartments, Sunrise Canoe and Kayak, Sunrise County Veterinary Clinic and Sunrise Day Care.

In milder climes, people will no doubt use the extra hour of daylight to get in a little more golf. For Lubec residents, there is still snow at the nearby Herring Cove Golf course.

Karlene Hood, office manager at a former sardine cannery that now houses small businesses that process sea salt and sea cucumbers, intends to use the extra daylight to take rides with her husband on their motorcycle.

"We're all happy about it. The sooner it stays light later, the better," she said.

&copy The Associated Press
posted by Josh @ 3:25 PM
News: Maya and Bush
Thought this was interesting as I'm generally fond of the Maya anyway ...


The Associated Press
Priests to purify site after Bush visit
By Juan Carlos Llorca
March 09, 2007

GUATEMALA CITY - Mayan priests will purify a sacred archaeological site to eliminate "bad spirits" after President Bush visits next week, an official with close ties to the group said Thursday.

"That a person like (Bush), with the persecution of our migrant brothers in the United States, with the wars he has provoked, is going to walk in our sacred lands, is an offense for the Mayan people and their culture," Juan Tiney, the director of a Mayan nongovernmental organization with close ties to Mayan religious and political leaders, said Thursday.

Bush's seven-day tour of Latin America includes a stopover beginning late Sunday in Guatemala. On Monday morning he is scheduled to visit the archaeological site Iximche on the high western plateau in a region of the Central American country populated mostly by Mayans.

Tiney said the "spirit guides of the Mayan community" decided it would be necessary to cleanse the sacred site of "bad spirits" after Bush's visit so that their ancestors could rest in peace. He also said the rites — which entail chanting and burning incense, herbs and candles — would prepare the site for the third summit of Latin American Indians March 26-30.

Bush's trip has already has sparked protests elsewhere in Latin America, including protests and clashes with police in Brazil hours before his arrival. In Bogota, Colombia, which Bush will visit on Sunday, 200 masked students battled 300 riot police with rocks and small homemade explosives.

The tour is aimed at challenging a widespread perception that the United States has neglected the region and at combatting the rising influence of Venezuelan leftist President Hugo Chavez, who has called Bush "history's greatest killer" and "the devil."

Iximche, 30 miles west of the capital of Guatemala City, was founded as the capital of the Kaqchiqueles kingdom before the Spanish conquest in 1524.

&copy The Associated Press
posted by Josh @ 3:22 PM
2007-03-09
News: Wikiscandal
Oh, my poor beloved Wikipedia ...


ABC News
Wikiscandal
A Prominent Editor at the Popular Online Encyclopedia Is a Fraud
By Russell Goldman
March 6, 2007

Wikipedia, the online encyclopedia, which allows anyone in the world to contribute and edit content, has found itself in the midst of another controversy, and its critics are not at all surprised. This latest scandal, at one of the Web's most viewed sites, involves a prominent editor who forged his credentials and faked having a doctorate.

The editor, known by the moniker Essjay, described himself on his user profile as "a tenured professor of theology at a private university in the eastern United States." In reality, Ryan Jordan was a 24-year-old community college dropout from Kentucky who relied on sources like "Catholicism for Dummies" when correcting articles.

Wikipedia prides itself on being an open-source encyclopedia that allows users to vet and edit content, but apparently no one vets its editors.

The encyclopedia also made headlines last month when the history department at Middlebury College announced that it had banned students from citing articles found on the Web site in academic papers.

Don Wyatt, chairman of Middlebury's history department, said he was not surprised to learn of the scandal at Wikipedia.

"The main reason we distrust it," said professor Wyatt, "is that it's an open source. It's subject to too many hands in its editing and, as such, errors abound."

"People like Jordan," he said, "can create whole personas that are distortions and misrepresentations of who they really are. Hopefully, this sort of incident will lead to greater professionalization in terms of screening individuals."

But according to Charles Matthews — a volunteer editor who estimates he has worked on some 100,000 articles — the lack of professionals is the site's greatest strength.

Speaking from London, Matthews said those volunteers who come to the site to edit and contribute are assumed to be acting "in good faith."

"The success of Wikipedia," he said, "disproves its critics. It grows in size at 1 percent a week and is the No. 10 Web site in the world."

Matthews said he considers Jordan's deception "unfortunate but comprehensible" and that the use of handles and anonymous postings is par for the Internet. He said there was mixed reaction among users, with many feeling deceived but others willing to forgive an editor he described as "a good guy and hard worker."

Despite the open door policy for new editors, Sandra Ordonez, a spokesperson for the site, told ABCNEWS.com, "In the future, we will do more inquiring into the identity of people of trust."

The controversy recently came to light when The New Yorker magazine wrote an addendum to a piece it ran in July 2006 profiling Essjay. When later pressed by the magazine, Jordan revealed he was "24 and holds no advanced degrees, and that he was never taught."

Soon after he was outed, Jordan resigned as a contributor to the site. His user page now has a black banner that reads "retired." A posting signed by Essjay reads, "My comments here will be short and to the point: I'm no longer taking part here. I have received an astounding amount of support, especially by e-mail, but it's time to go."

In a statement posted to his own user page, Wikipedia co-founder Jimmy Wales accepted Essjay's resignation and apology and wrote: "Wikipedia is built on (among other things) twin pillars of trust and tolerance. The integrity of the project depends on the core community being passionate about quality and integrity, so that we can trust each other. The harmony of our work depends on human understanding and forgiveness of errors."

&copy 2007 ABCNews Internet Ventures
posted by Josh @ 9:23 PM
Burj Dubai Update
Here's an update on the Burj Dubai construction, that I stole borrowed from a local magazine.

The building is at 110 levels now, which is 380 meters (1,246 feet) tall.

That already makes it the tenth tallest building in the world.

It will soon overtake the Empire State Building, which stands at number nine.

In fact, here's a list of the tallest completed buildings in the world:


#1
Taipei 101
Taipei, Taiwan
509 m (1,671 ft)

#2 & #3
Petronas Twin Towers
Kuala Lumpur, Malaysia
452 m (1,483 ft)

#4
Sears Tower
Chicago, IL
442 m (1,451 ft)

#5
Jin Mao Building
Shanghai, China
421 m (1,380 ft)

#6
International Finance Centre
Hong Kong
415 m (1,362 ft)

#7
CITIC Plaza
Guangzhou, China
391 m (1,283 ft)

#8
Shun Hing Square
Shenzhen, China
384 m (1,260 ft)

#9
Empire State Building
New York City, NY
381 m (1,250 ft)

#10
Central Plaza
Hong Kong
374 m (1,227 ft)

Here are a few other important buildings on the list:

#12
Emirates Tower One
Dubai
355 m (1,163 ft)

#21
Burj al-Arab
Dubai
321 m (1,053 ft)

#22
Chrysler Building
New York City, NY
319 m (1,046 ft)

#26
Library Tower (a/k/a U.S. Bank Tower)
Downtown Los Angeles, CA
310 m (1,018 ft)

#28
Emirates Tower Two
Dubai
309 m (1,014 ft)

#79
GE Building (a/k/a Rockefeller Center)
New York City, NY
259 m (850 ft)

#131
Hancock Building
Boston, MA
241 m (790 ft)

#173
Prudential Building
Boston, MA
229 m (750 ft)
posted by Josh @ 10:02 AM
Dubai PR Stunt
So earlier this week I was talking about PR stunts we've seen for the Dubai Tennis Championships in the years past. Well, I neglected to mention the first big stunt, the one that the London Times called 'the publicity stunt to top all publicity stunts'.

In 2004 golfer Tiger Woods was in town for the Dubai Desert Classic. On March 2 the organizers, along with the Jumeirah International hotel group, got him to hit a few golf balls off of the helipad of the Burj al-Arab hotel into the Arabian Gulf.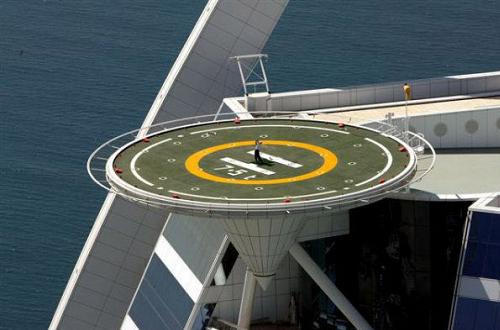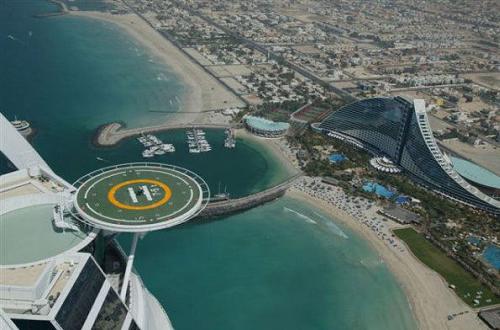 Pretty big.

Oh, and I found out that the helipad is 211 meters (692 feet) tall, in the last article I mentioned the top of the hotel being 321 meters (1,053 feet). But obviously the helipad isn't on the tip-top of the hotel ...

Anyway, in 2005 Jumeirah International, the owner of the Burj al-Arab, was highly commended at the Gulf Marketing Review Marketing Effectiveness Awards for the Tiger Woods publicity shots in the Public Relations category at the 2005 .

Anyway, the next year Jumeirah International won a commendation at the Gulf Marketing Review Marketing Effectiveness Awards for the stunt. And really, any award show that has the word "marketing" in the title twice, well, that's a big award...
posted by Josh @ 8:45 AM
2007-03-08
News: Grand Canyon Skywalk
I remember this from a few years ago, but I had no idea that they were actually building it - it's a skywalk over the Grand Canyon.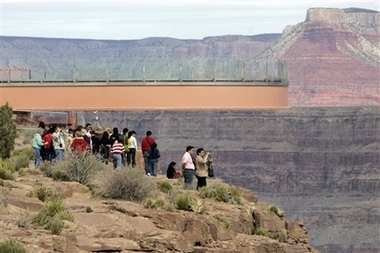 Apparently the Hualapai indian tribe wanted to do something a little different on their land than just another generic casino. Pretty crazy.

Here are some crazy concept paintings over at the architect's website, to: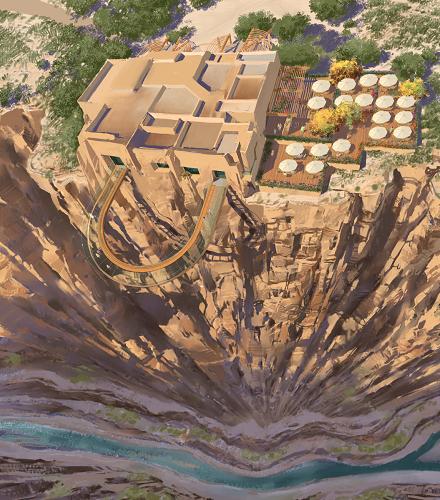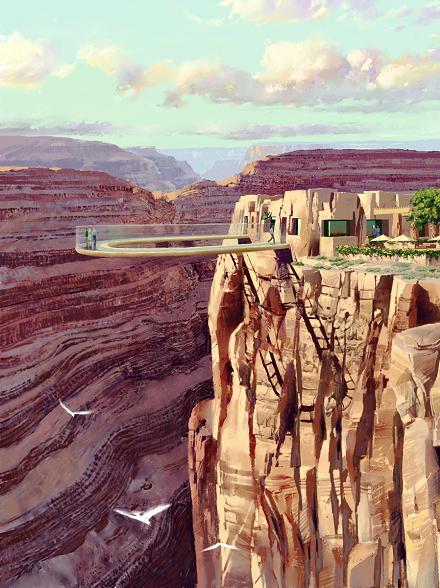 The Associated Press
Skywalk fastened to side of Grand Canyon
By Chris Kahn
March 07, 2007

PHOENIX - An Indian tribe fastened a massive glass-bottomed walkway to the edge of the Grand Canyon on Wednesday as part of an ambitious tourism attraction that has angered environmentalists and some tribal members.

The Hualapai (pronounced WALL-uh-pie), an impoverished tribe of about 2,200 people at the canyon's remote western edge, allowed a private developer to construct the $30 million Skywalk in hopes of luring tourists to the region.

The tribe will open it to the public later this month, charging $25 per person in addition to other entry fees. Organizers expect the Skywalk to become the main draw in a community of tribal attractions that includes a cowboy town, an Indian village, helicopter tours and Hummer rides through the outback.

"The Grand Canyon has name appeal, and since part of the reservation lies in that, it only seems natural that we use the attraction to the benefit of the tribe," Hualapai Chairman Charlie Vaughn said.

At 1.07 million pounds, the Skywalk is about as heavy as four Boeing 757 jets stacked on top of each other. It was perched at the canyon's edge using an elaborate system of pulleys connected to four tractor-trailers.

Underneath, hydraulic "shoes" lifted the Skywalk above a cement track, rolled it across a bed of metal rods, and set it onto four steel anchors that were drilled deep into the canyon rock. Workers then welded the walkway to the anchors.

While it was pushed out, the walkway was not anchored to the canyon wall. To keep it from tipping over the side, engineers loaded the back end with a half-million pounds of steel cubes as counterweight.

Debra Wilkerson, an assistant operations manager for Grand Canyon West, the agency that supervises the Skywalk, said Wednesday that the rollout was finished without any problems. "Just smooth as glass," she said. "It's awesome."

The Skywalk extends about 75 feet over the rim and about 4,000 feet over the canyon floor. It's designed to withstand 100 mph winds and has shock absorbers to keep the walkway from wobbling as people walk through.

Construction began in April 2005.

David Jin, a Las Vegas developer, came up with the idea for the Skywalk a decade ago. He approached the Hualapai in 1996 with a plan to build it using his own money.

The tribe agreed on the condition that it will own the walkway. Jin will get a cut of the profits.

As it was being built this year, some Hualapai elders said they began to question the wisdom of the project. The tribe considers the canyon sacred ground, and the construction cut into land scattered with Hualapai burial sites.

"You have to be real gentle with the land," said Hualapai spiritual leader Frank Mapatis. "It's a living being, and it can feel those things."

Environmentalists also have criticized the project for diminishing the canyon's majesty.

Kieran Suckling, a policy analyst for the Center for Biological Diversity in Tucson, Ariz., called the Skywalk a "tacky tourist attraction."

If the Hualapais need to boost their economy, they should follow the national park's example and build their attractions away from the rim.

"The tribal leadership is turning the Grand Canyon into a zoo," Suckling said. "It's unbelievable."

© The Associated Press
posted by Josh @ 6:17 PM
Spidey (cont)
Hey, here's the wikipedia entry on that guy Spiderman.

Because, as we all know, wikipedia is the best, most un-biased news source ever.
posted by Josh @ 3:45 PM
Spiderman in Abu Dhabi
So my buddy Karl sent this in the other day. Seems this "Spiderman" guy climbed one of the tallest buildings in our neighboring Emirate of Abu Dhabi.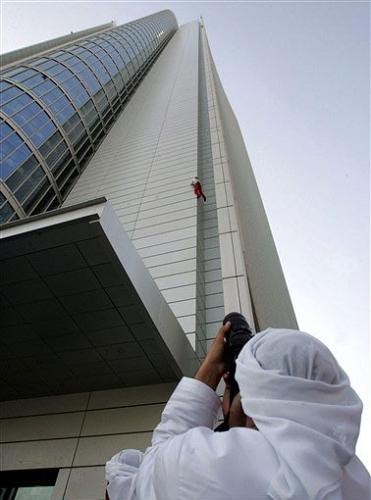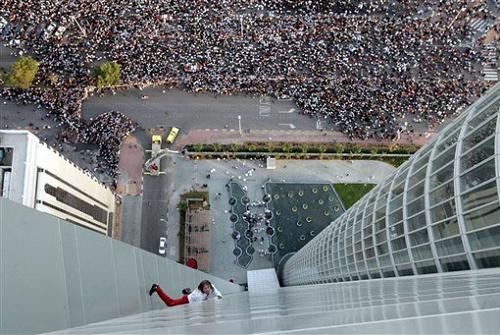 "French Alain Robert known as Spiderman climbs the facade of the Abu Dhabi Investment Authority tower with his bare hands, in the United Arab Emirates (UAE), on February 23, 2007, in front of a crowd of about 100,000. Alain Robert completed the climb in only 20 minutes. Alain Robert also climbed the Sears Tower in Chicago, Petronas Twin Towers in Kuala Lumpur, Eiffel Tower in Paris and Empire State Building in New York City."

&copy Popular-Pics.com
posted by Josh @ 3:25 PM
2007-03-07
Giant Dirham
So the other day in change I got a giant dirham.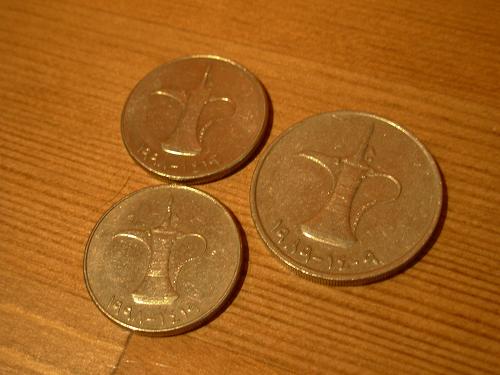 Seriously, look at it - it's 150% bigger than a normal dirham (which is the size of a U.S. Quarter).

(For my introduction to money in the U.A.E., see It's all about the Dirhams, baby).

Anyway, I've scoured the internet looking for clues to just why this one is that much bigger - but nothing.

All I know is that the dirham was introduced in 1973, and that the term "dirham" is indirectly from the Greek Drachma by way of the Ptolemaic Empire and the Sassanid Empire.

But I can't find anything about the U.A.E. changing the size of the coins.

Oh well. Hey, does anyone else think that it's kind of cool that even though the Drachma has been replaced by the Euro, its name kind of lives on?
posted by Josh @ 4:45 PM
2007-03-06
Tennis Stunts - video
Wow, so I didn't even think to check YouTube for videos of the tennis stunts I was talking about yesterday.

Of course, they have them.

Here's Lindsay Davenport and Maria Sharapova playing tennis at Ski Dubai in February 2006: YouTube video.





And here's Andre Agassi and Roger Federer playing tennis on the Burj al-Arab helipad in 2005: YouTube video.


posted by Josh @ 10:06 AM
End of The O.C.
Wow, forget Anna Nicole Smith, Elton John should write a "Candle in the Wind" version for the passing of The O.C.



Talk about "dry up and fade away". That show was red-hot ... well, in the summer of 2003.

Guess a lot has changed since then. I know my life has ...
posted by Josh @ 10:01 AM
2007-03-05
No Tennis Stunts
So I'm kind of bummed. The Dubai Tennis Championship ended on Saturday (Roger Federer won) and for the last two years my fair city has put on some kind of goofy public relations stunt in conjunction with the event, but this year, as far as I know, nothing happened.

Last year for the Dubai Duty Free Women's Open Lindsay Davenport played Maria Sharapova in a game of tennis ... at the indoor alpine ski resort Ski Dubai.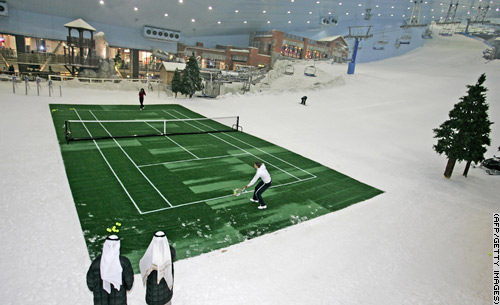 I'd love to see the line in the players' contract that mentions a 'practice session' at zero degrees Celcius...

The year before that, 2005, saw Andre Agassi and Roger Federer play a game on the helipad atop of the Burj al-Arab.

The top of the hotel is 321 meters (1,053 feet) by the way.**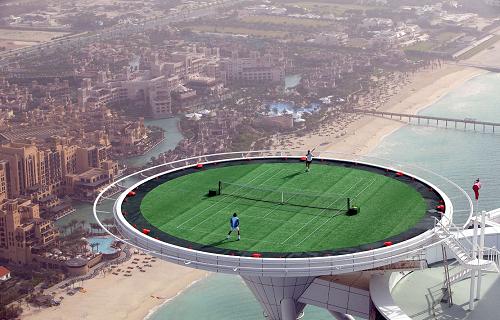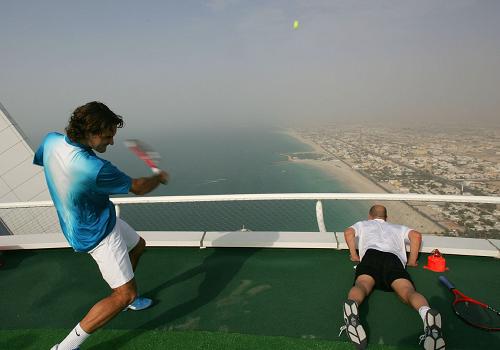 But this year ... nothing. Maybe they think that people have already heard enough about Dubai with the Burj Dubai and the Palm Jumeirah?

Still, it's not quite like Dubai to have a lost opportunity for free publicity ...

**UPDATE: The helipad of the hotel is at 211 meters (692 feet).
posted by Josh @ 10:50 AM
2007-03-04
News: Dubai group buys another hotel
A branch of the Dubai government just bought a majority stake in yet another NYC hotel. You won't let them run the ports but you'll let them buy all the hotels on Manhattan Island, eh?

Anyway, this article is really interesting for the paragraphs about what Dubai owns - mostly the third paragraph and the last two.

You have to give Jumeirah International a little more credit, though. They put their name on everything they own, like the Jumeirah Essex House, the Jumeirah Carlton Tower, the Jumeirah Lowndes Hotel and, of course, the Jumeirah Beach Hotel.

If Istithmar was smart they'd make it the "Istithmar Mandarin Oriental", the "Istithmar W Hotel", the "Istithmar Knickerbocker Hotel", the "Istithmar Hotel Washington" and maybe even "Istithmar Loehmann's".

Although, and this could be my somewhat Americanize tongue here, but how exactly do you pronounce "Istithmar"??

"Ju-mehr-ah" is a little easier to say.

The Associated Press
Dubai's Istithmar buys Manhattan hotel
March 04, 2007

DUBAI - Dubai's government bolstered its holdings of New York City real estate, announcing on Sunday that its Istithmar PJSC holding company had purchased a majority stake in Manhattan's five-star Mandarin Oriental hotel.

The US$340 million (euro260 million) purchase of the Mandarin Oriental, part of the Time Warner Center on Manhattan's Columbus Circle, adds to the growing US real estate portfolio held by the Arab world's financial powerhouse.

Istithmar's previous New York properties include the W Hotel on Union Square, the Knickerbocker Hotel on Times Square and commercial buildings at 280 Park Avenue, 230 Park Avenue and 450 Lexington Avenue. The firm also owns the Hotel Washington in Washington D.C.

"We're building a portfolio of both luxury and budget hotels in key target markets around the world," said Joe Sita, chief executive of Istithmar's hotels group.

Another Dubai government-held firm, Jumeirah International, owns the Jumeirah Essex House hotel on Manhattan's Central Park South.

Istithmar said in a prepared release that it bought a 73 per cent share of the Mandarin Oriental, buying 25 per cent from Mandarin Oriental Hotel Group and 48 per cent from a joint venture between New York-based developers Apollo Real Estate Advisors LP and Related Cos.

Istithmar already holds 2.4 percent of Time Warner shares and options.

Dubai, one of seven city-states that form the US-allied United Arab Emirates, has grown into a global financial capital despite its lack of petroleum reserves. The city has instead lured energy revenues from neighbouring states through liberal investment and residency laws, booming financial and real estate sectors, and the Mideast's largest port and airport.

Istithmar is a sister company to the Dubai government-owned DP World, one of the world's largest ports operators. DP World's purchase last year of operations in six US ports touched off a political firestorm in the US Congress, which cited security reasons for voting to force the Dubai company to sell its US holdings.

The imbroglio damaged relations between Washington and the Emirates, where many said US opposition to the deal smacked of anti-Arab bias.

American International Group Inc., an insurance conglomerate, received approval last month from US federal antitrust authorities to complete its purchase of the ports.

Last July, Istithmar paid US$300 million (euro230 million) for New York-based specialty retailer Loehmann's. Istithmar said it planned to increase the number of Loehmann's stores to 100 from 60 over the next five years and open a flagship on Manhattan's Upper West Side.

Elsewhere, Istithmar bought a US$1 billion (euro760 million) stake in London-based bank Standard Chartered Plc and acquired London's Adelphi building for US$567 million (euro430 million).

Istithmar Hotels, founded less than a year ago, has already amassed a US$3 billion (euro2.3 billion) portfolio of hotels and resorts. Besides those mentioned, it holds a portion of Kerzner Group, the developer and operator of Atlantis Resorts and luxury resort One and Only; as well as the franchise for budget hotel chain easyHotels in the Middle East, North Africa and South Asia.

Jumeirah's other properties include a pair of luxury hotels in London, the Jumeirah Carlton Tower and the Jumeirah Lowndes Hotel. Jumeirah is building a luxury resort in Bermuda as well as hotels and resorts in China, Thailand and the Middle East.

&copy The Associated Press
posted by Josh @ 9:40 PM
News: Abu Dhabi Louvre
Just saw this story in Bahrain's Gulf Daily News:


Gulf Daily News
'Desert Louvre' deal on way
March 04, 2007

PARIS: French Culture Minister Renaud Donnedieu de Vabres will sign a controversial agreement on Tuesday to build an annexe of Paris' famed Louvre art gallery in Abu Dhabi, his ministry said yesterday.

A spokesman refused to give any more details of the project, which according to France's Le Monde newspaper will earn the French state up to $900 million (700m euros ).

The new museum satellite, designed by French architect Jean Nouvel and planned for 2012, is one of five to be built as part of a "culture district" on Saadiyat Island, the future site of a multi-billion-dollar tourist resort just off the coast of Abu Dhabi.

Under the terms of the contract, Abu Dhabi would reportedly pay France 150m euros to provide it with four exhibitions per year, for 10 years, drawn from major French museums including the Louvre.

During that time, Abu Dhabi plans to spend an annual 40m euros on establishing its own collection, the report said.

For 200m euros, a certain number of artworks would also be provided on extended loans, for a maximum of 10 years, and gradually replaced by Abu Dhabi's own collection.

France's international museum agency would be in charge of managing the new museum, at a cost of 70m euros.

For the right to use the Louvre brand name for 20 years, the Emirate would be expected to pay between 200 and 400m euros, Le Monde said.

The project, modelled on an initiative pioneered by New York's Guggenheim museum, has sparked outrage in France where some 4,650 people - including dozens of museum directors, curators and art historians - have signed a petition in protest.

Critics accuse the Louvre of "selling its soul" by loaning out its prized collections overseas, and dismiss the Abu Dhabi project as a gimmick that will deprive the Louvre's 7.3m annual visitors in Paris.

But the head of the art gallery, Henri Loyrette, and his department heads say it will contribute to the spread of French culture and benefit museums in France financially.

© Gulf Daily News
posted by Josh @ 12:26 PM
News: John Lasseter article
So last week Variety had an article about Ed Catmull, and now today the Sunday New York Times has an interesting story about John Lasseter.

It seems you can't go anywhere these days without reading an article about my old employer Walt Disney Feature Animation (which now apparently has been renamed "Walt Disney Animation Studios").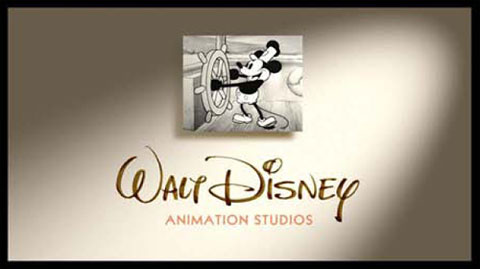 The New York Times
He Runs That Mickey Mouse Outfit
John Lasseter, founding father of Pixar, and now chief creative officer of animation for the Walt Disney Company.
By Laura M. Holson
March 04, 2007

BURBANK, Calif. - It wasn't the first time John Lasseter, the director of "Toy Story" and "Cars," had sat through the screening of a not-quite-ready animated film. But when he saw an early cut of Disney's "Meet the Robinsons" last March, he watched it with a new eye. He wasn't just a fellow director, and a founder of Pixar Animation Studios. This time he was the boss, the chief creative officer of animation for the Walt Disney Company, which had agreed to acquire Pixar two months before.

As he sat in a dark theater on the first floor of Disney's animation studio here, something bothered him about the villain. Almost all of Pixar's animated movies had an evil foil. In "Toy Story" Buzz Lightyear and Woody escaped a cruel neighborhood bully. In "A Bug's Life" an ant saved his colony from a menacing grasshopper and his thuggish crew. By contrast the lanky villain in "Robinsons," the story of an orphan who builds a time machine in order to find his mother, was neither threatening enough nor scary.

After the screening Mr. Lasseter and his colleagues from Pixar and Disney met with the director, Stephen Anderson, and told him so. For six hours.

Ten months later Mr. Lasseter was back in the screening room, watching Mr. Anderson's new version of "Meet the Robinsons," which is set for release on March 30. Nearly 60 percent of the original film had been cut. A diabolical sidekick had been added. And in one thrilling scene the orphan, Lewis, is chased by an oversize dinosaur. Later, when asked about the movie's ending, Mr. Lasseter's rubbery smile turned upside down and he pretended to cry.

"The audience is going to be sobbing," he said, dragging his index fingers down his cheeks. "It is really going to get them."

A Hollywood outsider whose independent shop popularized computer animation, Mr. Lasseter, 50, might seem an odd fit for a studio built on old-school cartoons and the mythology of Snow White and Cinderella. But since Pixar was acquired, Mr. Lasseter has been heralded as a latter-day Walt Disney, a cultural arbiter who can rekindle the spirit of Disney's famous animation at its theme parks, on store shelves and in a theater near you.

Since the days of the 1928 Mickey Mouse classic "Steamboat Willie," animation was Disney's undisputed long suit. But after a recent decade-long parade of disappointments, most famously the 2002 bomb "Treasure Planet," the studio was desperate for a change of fortune. It abandoned its hand-drawn tradition in favor of computer-generated fare. In the process the keepers of the Magic Kingdom lost much of their cultural cachet.

Enter Mr. Lasseter who, along with a close team of handpicked animators had made Pixar this generation's premier storyteller with an unbroken string of hits including "Monsters, Inc.," "Finding Nemo" and "The Incredibles." The first filmmaker to run Disney's animation operations since Walt Disney died in 1966, he said he wants to reclaim the studio's golden era.

Since those early days, though, almost everything has changed. On the Disney campus, the creative culture is tattered still from years of cost-cutting and political infighting. And in the world at large audiences have moved on. The sweet wholesome tales of Mickey Mouse and friends don't have the same relevance for a generation raised on violent video games, distracted by 500 cable channels and preoccupied with Web diversions like MySpace.

"I'm not sure it's a trivial challenge," said Jim Morris, a Pixar producer who is working on the forthcoming "Wall-E." "As charismatic as John is, he can't do everything."

Long-time colleagues say the force that will guide the coming changes — to the studio's offices, to the films at the multiplex, to Christmas toys and rides that can make vacationing families queasy — is Mr. Lasseter's own unique sensibility. He gets his inspiration from real life — his own. "Cars," which lost the animated feature prize to "Happy Feet" at last Sunday's Oscars, was the byproduct of a cross-country road trip he took with his wife and five sons. The idea for "Toy Story 2" was hatched when his children sought to play with toys he stored in boxes. And the die-cast collectibles he had issued for "Cars" were similar to the Hot Wheels he played with growing up in Whittier, Calif., in the 1960s.

That said, his greatest test may be getting Disney's battle-worn animators to embrace the new culture he is trying to create while at the same time churning out a movie a year. "John doesn't really change," said Andrew Stanton, the director of Pixar's "Finding Nemo," who is a close friend and frequent collaborator. "People change around him."

MR. LASSETER rarely sits still. His hands dance and wave in the air in front of him as he rattles off ideas, a sometimes artful stream of consciousness that can range from the shape of a tree he saw that morning to the laws governing wheelchair ramps under the Americans With Disabilities Act. Even during a lunch interview at Disney's studios after several days of being shuttled between hourly meetings and nightly screenings, he is alert and focused.

How then, he was asked, did he plan to restore Disney animation's cultural prominence?

He seemed almost dumbstruck by the question. He sat mute for a moment then turned to two attentive publicists sitting close by, searching their faces for an answer.

"I don't know what to say," he uttered, sounding mildly annoyed. "I don't think like that. I trust in my instincts. I'm a product of what this company has created. I do what I do because of Walt Disney. Goofy. Mickey Mouse. I never forgot how their films entertained me. I also love my toys. My Hot Wheels, my G.I. Joes."

But of course he has a plan.

Mr. Lasseter and Edwin Catmull, a Pixar founder who was named president of the combined animation groups of Disney and Pixar and who oversees operations, have designs for a new headquarters in nearby Glendale. While the building will have Silicon Valley-style comfy couches, coffee stands and open spaces for animators to gather, it won't be a replica of Pixar's 16-acre campus in Emeryville, Calif., where artists play afternoon badminton games and executives zip between in-house meetings on scooters. "When we came to work here, we said Pixar is Pixar, Disney is Disney," Mr. Lasseter said. "We did not want to come here and turn it into Pixar."

Still, the cultural shift they are devising seems more like Pixar than not. For one thing, Mr. Lasseter and Mr. Catmull are encouraging animators to experiment more with their craft. For another, they hope to reintroduce hand-drawn movies. Simply put, the two do not want to see the art form lost. "One of the things I find distressing is that when money gets tight, the money for drawing dries up," Mr. Catmull said. "When people draw, they are learning to see."

Since taking over, Mr. Lasseter and Mr. Catmull have instituted a program to revive the hand-drawn animated short. "The whole purpose is to get these artists ready for feature films," Mr. Lasseter said.

The day after he won a Golden Globe for "Cars," Mr. Lasseter and 13 animation executives gathered in Story Room 1 on the second floor of the studio in Burbank to hear an art direction pitch for a new short film featuring Goofy titled "How to Hook Up Your Home Theater." On one wall were nine boards with images of Goofy drawn by Disney artists between 1942 and 1948. Looking at one image, Mr. Lasseter said: "What I love about Goofy is the flesh on his cheeks. You can almost feel it. That is something to make sure you have. Do the pupils have different shapes for expression?"

"Sometimes they change size," answered Dale Baer, an animator.

"I like it when they are a little bigger," Mr. Lasseter said.

"I love this stuff," he said later, reflecting on the 60-year-old Goofy drawings and the animation division's new logo, a short scene from "Steamboat Willie." "We want to look back and look forward at the same time. This stuff lasts forever, every single movie. 'Dumbo' gets me every time. That moment when, at the same time, their trunks are touching? Long after I am gone they will make audiences cry."

Mr. Lasseter talks a lot about making audiences cry. "John will go straight to as much emotion as possible," said Lee Unkrich, the director of the recently announced "Toy Story 3" from Pixar. "It can become sappy."

But as much as Buzz Lightyear had Woody, Mr. Lasseter has a creative foil in Andrew Stanton, whom Mr. Unkrich described as having "a more biting way." Mr. Unkrich said, "You never felt them slip sliding into something emotionally shallow." (Mr. Stanton has stepped into a leadership role at Pixar now that Mr. Lasseter spends two days a week in Burbank.)

"I am, by nature, an honest person," Mr. Lasseter said. "I wear my emotions on my sleeve. There is no 'behind closed doors' with me. It's the nature of Hollywood that there are the people in power and the people who tell them what they want them to hear. We choose to be honest and open."

So much so that Mr. Lasseter established a "story trust" at Disney, a mirror of the "brain trust" at Pixar where directors and story editors criticize a movie's flaws more than any filmgoer might. "They are not back-patting sessions," Mr. Catmull said. The six-hour meeting about "Meet the Robinsons" was one such session. Mr. Anderson later called it "one of the hardest days of my life."

Harder still for those animators who don't adapt. Chris Sanders, a longtime Disney animator who was a director and writer of the hit "Lilo and Stitch," had developed a movie called "American Dog," the tale of a Hollywood dog star who gets lost in the desert. Last year Mr. Lasseter and directors from both Pixar and Disney attended two screenings of the movie and gave Mr. Sanders notes on how he might improve the story, Mr. Unkrich said. Mr. Sanders resisted the suggestions, Mr. Lasseter said. So in January he was replaced by another director.

Asked about the episode, Mr. Lasseter abruptly interrupted an interview to confer with publicists, asking "What can I say here?"

After a brief discussion Mr. Lasseter explained that Pixar often added or replaced a director if a film needed help. "Chris Sanders is extremely talented, but he couldn't take it to the place it had to be," he said carefully.

Mr. Sanders, who is negotiating his exit from Disney, declined to comment. "John doesn't force his solutions on you," said Brad Bird, who directed "The Incredibles" and is close to Mr. Lasseter. "But that doesn't mean he is going to go quietly."

MR. LASSETER was born in Hollywood in 1957 and raised in nearby Whittier. His mother was an art teacher and his father a parts manager at a car dealership. After graduating from the prestigious California Institute of the Arts in 1979, Mr. Lasseter became a Disney animator for five years before joining Pixar in 1986. As a youth he was a ride operator on the Jungle Cruise at Disneyland. It remains a favorite.

In the early 2000s Disney's theme parks were derided for being shabbily maintained, and when Mr. Lasseter joined Disney, the chief executive, Robert Iger, made him a creative adviser to the theme parks, in part to oversee the quality of Disney's attractions.

"No jokes today," Mr. Lasseter said as he suppressed a smile halfway through a recent 8 a.m. meeting with a design team from Walt Disney Imagineering that was showing him a prototype of the new Toy Story Mania theme park ride based on "Toy Story." "I want to play!"

Toy Story Mania is a video-game-style attraction designed by Disney in which riders seated in moving cars earn points when they shoot targets on a 3D screen. Mr. Lasseter climbed into a makeshift seat propped up on a plywood platform and hunkered down, ready for a test run. As the design team yelled, "Go! Go! Go!," he concentrated, his tongue darting out the side of his mouth while his finger quickly grazed the trigger.

"I got a little confused as to which color was mine," said Mr. Lasseter as he climbed out of his seat after earning 32,500 points, 1,700 more than his opponent. When one executive suggested rewarding high scorers by having a treat like an ice cream cone or a cookie show up onscreen, he said, "I have a diabetic son, and I don't think we want to give food as a reward."

But what concerned him more was when he was told that an outsider had been hired to animate some of the characters on the screen, including Woody.

"Are we making the right decision to have the characters animated by another company?" he asked the game's designer, Sue Bryan. "I'm not comfortable with these people animating the characters, especially if we are dealing with Buzz Lightyear and that clear helmet and the reflection. We want to that to be right."

"We've got the groundwork laid," she replied.

Mr. Lasseter remained firm. He instructed a Pixar colleague, Roger Gould, to talk to the outside company. "I really want to control quality," he said. "I don't want outsiders rendering the characters."

Mr. Lasseter has an executive from Disney's consumer products division, Mary Beech, assigned to work with him on merchandising ideas.In addition to toys, he wants to expand Disney's offerings for adults. Pixar's coming film "Ratatouille" is about a rat named Remy who lives in a French restaurant and adores good food. That gave Mr. Lasseter an idea. "We had our people over to the kitchen of Thomas Keller at the French Laundry restaurant and we camcorded him cooking ratatouille," he told Ms. Beech when she stopped by the Burbank office recently. "Thomas Keller went nuts for Hanley china," he said, referring to the British china maker. "That got me thinking about the high end. It's really elegant, but slightly cartoony. Maybe we could do the same idea for china."

"Sur La Table is talking a real soup pot and ladle," Ms. Beech said, referring to the upscale gourmet cooking store.

"One of our favorite gifts we've given out at Christmas is the cheese of the month club," Mr. Lasseter said of himself and his wife, Nancy. "What if we used 'Ratatouille' to do that? What if we did with Costco the cheese of the month club? We could have Remy writing about cheeses. We could have an in-store display."

Ms. Beech smiled as two onlookers in the office laughed. Mr. Lasseter's notions about cheese and china sounded a little un-Disney-like.

But then again, maybe not. Disney recently announced a new line of wedding gowns inspired by Sleeping Beauty and Cinderella that sell for as much $2,900. And, as every wedding-goer knows, brides want new china too.

© The New York Times Co.
posted by Josh @ 9:04 AM
2007-03-03
Full Moon Fever
Tonight the moon turns red. It's the first total lunar eclipse since 2004.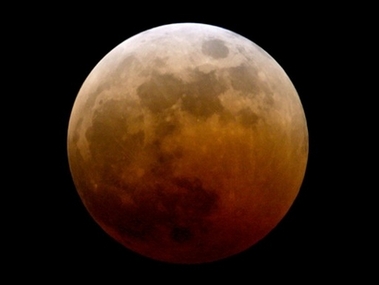 A lunar eclipse occurs whenever the full moon passes through some portion of the Earth's shadow (umbra). A total lunar eclipse is when the Moon travels completely into the Earth's umbra.

The last total lunar eclipse was on October 27, 2004.

Some folks might remember that night.

Here's what happened that night in St. Louis, MO:


At 5:57 pm CST the moon rose over the horizon.
At 7:05 pm CST the moon entered the penumbra.
At 8:14 pm CST the moon entered the umbra.
At 9:23 pm CST the moon entered totality.
At 10:40 pm CST the Boston Red Sox beat the St. Louis Cardinals in the 100th World Series.
At 10:44 pm the moon left the totality.
At 11:53 pm CST the moon left the umbra.

Yeah. Memorable.

For more on that night, see the one good article Dan Shaughnessy has ever written.
posted by Josh @ 8:35 AM
2007-03-02
News: Jeter's '07 Topps card
I hadn't seen this until today.

Someone at Topps baseball card company photoshopped President Bush and Mickey Mantle into Derek Jeter's 2007 baseball card.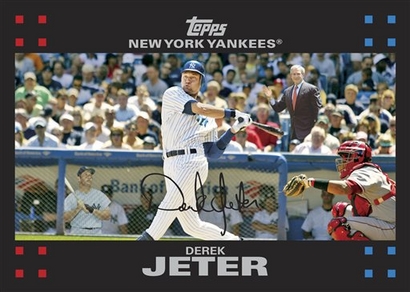 Does this remind anyone else of my Ochs in History gallery that I made last September, when I put my buddy Mike into famous photos and illustrations through history?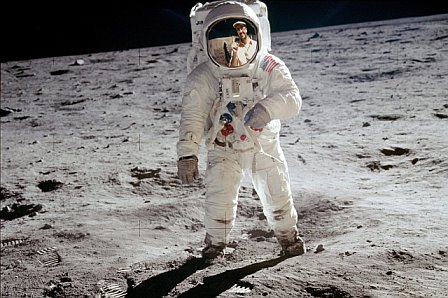 But I didn't do the Jeter one, obviously. Yeah, if I were to tweak Jeter's baseball card, well, it'd be a little worse than adding Mantle and King George.

Anyway, here's the article ...

The Associated Press
Baseball card of Jeter shows President Bush, Mickey Mantle
February 27, 2007

NEW YORK - As President Bush smiled and waved from the stands and Mickey Mantle looked on from the dugout, Derek Jeter swung his bat. Talk about pressure.

The game never happened, of course. It was just someone's idea of a visual gag - pulled off in a recent Topps baseball card through digital manipulation.

"We saw it in the final proof and we could have axed it," Topps spokesman Clay Luraschi told The Associated Press on Tuesday. "But we decided to let it run, we wanted to print it. We thought it was hilarious."

The card will be changed when Topps issues a complete set at midseason, Luraschi said.

Jeter said he had not seen the card.

"I don't know anything about it," the All-Star shortstop said after New York's workout Tuesday in Tampa "I can't tell you anything."

Luraschi did not identify the person at Topps who made the alteration on Jeter's card, No. 40 in the set. Luraschi said that fixing it before it was released would have caused shipping delays.

It's not the first card to have silly errors or odd prints, said T.S. O'Connell, the editor of Sports Collector's Digest.

"For collectors, there's a real giggle factor for something like this," he told the Daily News.

The Daily News put the story on its front page Tuesday and Newsday also reported it.

The Jeter card could join other famed oddball cards, like the 1969 Topps of Aurelio Rodriguez. That card featured a photo of a bat boy instead of the infielder.

Another collector said the joke would raise the price of the card, which currently goes for $2 on eBay.

&copy 2007 The Associated Press
posted by Josh @ 6:58 PM
Men's Tennis
Sorry about not posting yesterday, I was busy during the day and started feeling ill at night. Nothing serious, just a stuffed up head really.

Anyway, on Wednesday night we went to the Dubai Duty Free Men's Open part of the Dubai Tennis Championships.

But, more importantly, I've learned a bit more about tennis. From our friends at Wikipedia: "A tennis match usually comprises one to five sets. A set consists of a number of games, and games, in turn, consist of points."

To put it in American terms, a match is like a baseball game. It can be an hour long, or three hours long. But where baseball is broken down into innings, tennis is broken down into sets. But instead of nine innings, a tennis match only lasts until someone hsa won the best-of-three sets. So the longest it can go is three sets. Maybe only two sets.

Sets are broken down into games, which are sort of like outs. To win a set one has to win "at least six games and at least two games more than his [or her] opponent". So a set is going to go six games, maybe even seven or eight.

Lastly "a game is won by the first player to have won at least four points and at least two points more than his [or her] opponent".

Um, maybe games are like strikes?

Yeah, it's a tough analogy. I think I used it mostly because (a) I'm psyched that baseball spring training is started and (b) I'm still a little stuffed up and delirious.

So to recap:


match = baseball game
set = baseball innings
game = baseball outs
josh = insane

Anyway, the first match was saw on Wednesday was Roger Federer vs. Daniele Bracciali.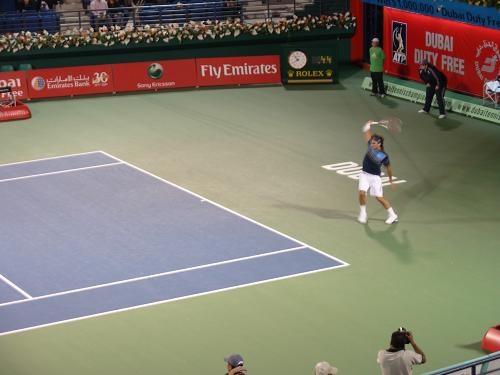 Roger Federer


Federer, a Swiss, is the number one player in the world, and has been since February 2, 2004. Thus he holds the all-time record for most consecutive weeks as the top-ranked male player.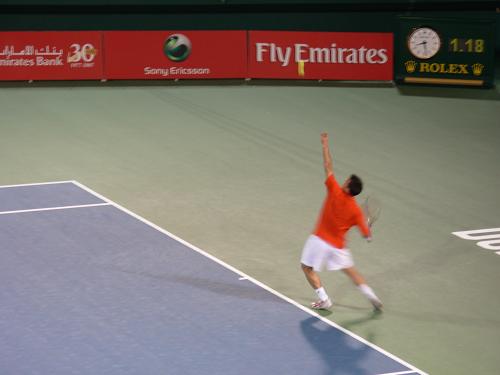 Daniele Bracciali


Bracciali is Italian, and pretty bad-ass. His serves were in the low 200 kilometers per hour, one reached 234 km/hr. That's something like 145 miles per hour.

Yeah.

The best part of the night was this one shot Federer made. I don't know much about tennis, but this seems like it should be a highlight for years to come.

The two players were getting closer and closer to the net, and it gets pretty intense. Bracciali then wails on the ball, Federer has to turn and run to try and catch up with it. He does, but can't turn around in time, so back to the net he kind of straddles the ball, lifts his leg and hits it between his legs.

Bracciali can do nothing but watch the ball and pray to his Italian Gods that it doesn't land in fair territory.

But it does, about a foot safe (sorry, that's twelve inches in the metric system).

The place erupted. Or, as much as a tennis stadium can "erupt".

Bracciali bowed on one knee to Federer.

Federer went on to win the match.

(Oh yeah, that's why they always say, "Game, set, match.")

The second match we saw the beginning of was Rafael Nadal vs. Igor Andreev.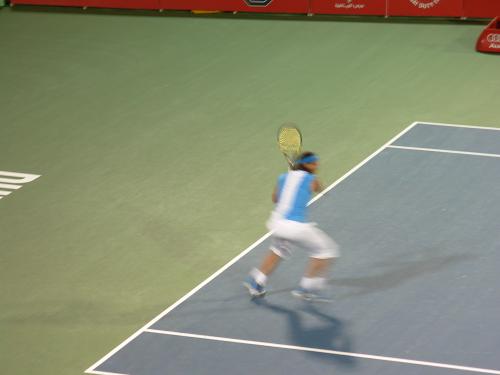 Rafael Nadal


Nadal is the defending champion of the Dubai Championship, after beating Roger Federer last year. He's second ranked in the world.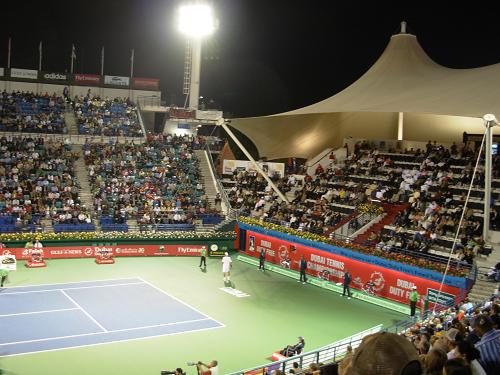 Igor Andreev


Andreev is a Russian, and held off Nadal for two sets before going to the tie-breaking set, that ended close to midnight. I'm glad we didn't stay for the entire match, imagine how sick I'd probably be if we didn't get home until 1 am ...

Sadly last night Nadal lost, for full coverage check out: Article about Thursday's games.
posted by Josh @ 10:50 AM
Josh and Liz are two American kids who got married in August. Liz has lived in Dubai since 2003, Josh since August of 2006.

Follow along in the culture shock of being recently married and (for Josh, at least) recently transplanted to Dubai.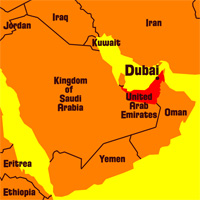 Right now in Dubai
Videos
Pictures
Previous Words
Favorite Recipes
Currency Converter
The easy way to convert Dirhams to Dollars!

Enter a number in either field, then click outside the text box.
Archives
Links We Like
Visitor Counter: