2007-02-28
Men's tennis tonight
Going to the Men's Tennis tonight, Roger Federer is playing!

I'll tote along my digital camera, too, so look for photos and a story tomorrow.
posted by Josh @ 3:48 PM
News: Conservapedia
Hmmm ...

Wired.com
What Would Jesus Wiki?
By Michael Calore
February 28, 2007

An alternative Wikipedia written by conservative Christians has become a major target of mockery on the web.

Conservapedia, a wiki-based encyclopedia that offers the historical record from a conservative perspective, is attracting lots of derisive comments on blogs and a growing number of phony articles written by mischief makers.

Conservapedia "is a gold mine of unintentional hilarity," wrote Mark Frauenfelder on Boing Boing last Monday.

The Wonkette political blog encouraged its readers to contribute to "this fast-growing, Jeebus-and-America-friendly online resource." So did the ScienceBlogs network, which said, "There's much fun to be had."

Even conservative commentators like Andrew Sullivan are bemused.

Conservapedia brands itself on its main page as "a much-needed alternative to Wikipedia, which is increasingly anti-Christian and anti-American."

"The site is intended as a resource for the general audience, but without the defects of Wikipedia," says Conservapedia's project leader, Andy Schlafly, a conservative writer and attorney.

Schlafly argues that Wikipedia's content displays a liberal bias, and that the site is rife with so much gossip, vulgarity and long-winded writing that it has become unusable as an educational resource.

In fact, creating a conservative-minded online encyclopedia for students was Schlafly's prime motivation for launching Conservapedia. He started the site in late November 2006 in conjunction with 58 high-school-level, home-schooled students from the New Jersey area.

Wikipedia's content, which is maintained and edited by its readership, has spurred a rash of criticism lately for perceived inaccuracies, bias and vandalism. The Wikipedia community polices itself, weeding out inaccurate content whenever possible, but Schlafly contends that's not enough.

"Wikipedia does not poll the views of its editors and administrators," Schlafly says. "They make no effort to retain balance. It ends up having all the neutrality of a lynch mob."

Using the same open-source software as Wikipedia, Conservapedia's entries are written in a manner sympathetic to the views of the religious right, social conservatives and creationists. The Conservapedia entry on homosexuality, for example, begins with four biblical citations decrying same-sex relationships.

"We have clear principles that we display, whereas Wikipedia pretends to be neutral and ends up biased," says Schlafly, who is the son of famous conservative politician and activist Phyllis Schlafly.

Conservapedia's entry on kangaroos says that, "like all modern animals ... kangaroos are the descendants of the two founding members of the modern kangaroo baramin that were taken aboard Noah's Ark prior to the Great Flood."

The site's entry on George Washington identifies the first U.S. president as "the person other than Jesus who declined enormous worldly power ... by voluntarily stepping aside as the ruler of a prosperous nation."

After it launched, the site quickly found itself picked apart by bloggers of all stripes. Conservapedia was lampooned by conservative blogger Jon Swift for its brash denial of scientific facts in favor of biblical rhetoric.

Science blog The Loom and liberal blog Daily Kos also pointed to some of Conservapedia's more unconventional entries.

With all of the attention, vandals quickly followed. The site's entries were edited to include parody-style riffs on topics and bogus source citations. Schlafly says most of the vandalism was edited out or under control within a week, and that the site will continue to thrive.

"All they accomplished was to give us enormous publicity," he says.

Even so, many have pointed out that while the vandalism on the site is easy to spot, some of the parody on the site is more nuanced, and thus more difficult to identify.

Conservapedia isn't the first example of the religious right turning to social software to reach a wider web audience - there's also CreationWiki, an encyclopedia of creation science written from a Christian perspective.

While CreationWiki remains mostly unscathed by the web's parodists, Conservapedia has fallen victim to countless attacks. One entry in particular has gotten a great deal of attention: the page about a tree-dwelling mollusk called the Pacific Northwest arboreal octopus.

Schlafly is amused by the page and its references to the endangered species falling victim to the ravages of logging and suburban encroachment. He sees it as a parody of environmentalists, and he plans to leave it up.

"Conservatives have a sense of humor, too," he says.

Wikipedia co-founder Jimmy Wales and Andrew Sullivan failed to respond to requests for comment for this story.

&copy 2007 CondéNet Inc.
posted by Josh @ 3:43 PM
News: Ed Catmull article
I know, I know, it has nothing to do with Dubai, but this is a pretty interesting article to me about my friends and former co-workers over at Mickey's house. Well, technically I should say over at Buzz & Woody's house, as it's pretty obvious that Pixar is really in control.

Interesting how they're pushing this "director-driven" bit, yet people like Chris Sanders (who made what can only be called the most director-driven Disney movie ever) gets canned ...

Interesting ...


Variety
Disney animation gets Pixar-ization
By Ben Fritz
February 26, 2007

Walking up the stairs of the Disney Animation Studios building, Ed Catmull talks about change.

"We took down as many walls as we could," he says, showing off a bright and open second floor - a stark contrast to the narrow hallways and separate rooms on other floors.

Entering his modest office in a structure that only opened in 1994, he adds: "We are planning to build an entirely new building."

There's no hiding that the new president of Walt Disney Feature Animation thinks a radical shift is needed both physically and psychologically at the venerable toon unit, which has been struggling since the late '90s.

That attitude is exactly why Bob Iger brought on Catmull, a computer science Ph.D. who started Pixar as a division of LucasFilm in 1979 and led the company from the time Steve Jobs bought it in 1986 until its acquisition a year ago, when he acquired Pixar last year.

Together with chief creative officer John Lasseter, his much better known partner, Catmull is charged with reviving the biggest name in animation while simultaneously keeping up the creatively and commercially unblemished track record of Pixar, which the two continue to head under the combined rubric of WDFA.

It's a monumental task, but Disney CEO Iger bet $7.4 billion that Catmull and Lasseter can handle it when he decided to acquire Pixar last year.

"More than anything else, the impetus for the Pixar deal was getting two experienced leaders who can give a shot of adrenaline to Disney Animation," says studio topper Dick Cook. "You can't come close to calculating what that means in the long term for the company in terms of new characters, stories, and lands for films and parks and publishing and more."

Former Pixar CEO and current Disney board member Steve Jobs is also modestly involved, as he sits on a six-person animation oversight committee for the Mouse that also includes Catmull, Lasseter, Iger, Cook and chief financial officer Tom Staggs.

The hope is that the Pixar team will create and maintain properties to flow throughout Disney's many ventures, such as a "Finding Nemo" ride set to open this summer at Disneyland and a new "Cars" section on Disney.com.

But their top priority is reviving Disney Animation Studios. From new offices to new talent, a new development process, and an openness to the formerly shunned technique of hand-drawn toons, WDFA is in the midst of its biggest changes since the late '80s, when Jeffrey Katzenberg re-energized the then-ailing unit that was turning out only one film every four years.

The problem these days isn't quantity, but quality. In the past six years, WDFA released seven toons, only two of which made more than $100 million domestically and only one of which, 2002's "Lilo and Stitch," was also positively received by most critics and the animation community.

Disney artists felt that lack of success acutely, which is why morale was particularly low in 2005. But insiders say that feeling changed almost overnight when Catmull and Lasseter, two of the most respected figures in the industry, took over.

Disney animators use words like "euphoria" to describe what they felt at the time. Today, those feelings are more tempered, thanks to an unexpected round of cutbacks in December that saw Disney Animation lay off 160 employees, or about 20% of its staff.

"Everybody recognizes the fact that they're trying to change the culture down here for the better, but it's safe to say that the pixie dust that surrounded their arrival has pretty much disappeared," says one source close to Disney Animation.

Catmull says the layoffs weren't a result of corporate pressure, but his and Lasseter's decision to move Disney Animation from putting out one pic per year to one every 18 months.

"It took Pixar 10 years to get to one movie per year," Catmull notes. "We had to get things back in balance and then grow from there."

Such sentiments, while reasonable, underline why many in the animation community say Mouse House artists are struggling with an inferiority complex: Pixar kept its leadership, didn't experience any layoffs, and is putting out one pic per year.

In other words, the 72-year-old Disney Animation has to follow the example of its 20-year-old sibling.

That doesn't mean that the younger studio feels totally comfortable with its new relationship either. In the two years leading up to the acquisition, Catmull, Lasseter and then-CEO Steve Jobs were psyching their company up for a future without the studio that had distributed all their movies. Due largely to a dismal relationship with Michael Eisner, the three Pixar principals frequently bashed the Mouse at company-wide meetings.

"A lot of people felt betrayed when they all suddenly took jobs there," notes one source close to Pixar.

The two execs face a balancing act as they try to alleviate concerns and foster creativity in two places at once. To do that, they split time equally between Burbank and Emeryville and endeavor to keep the two studios unique and separate. They're keeping distinct names and while directors from DAS and Pixar sometimes give each other notes, animation work isn't shuffled back and forth between the two.

They're also giving each studio ownership of the characters they create. Lasseter recently said that the "greatest part of the merger" was that Disney abandoned its plans to make "Toy Story 3" and that Pixar is now making the film in-house.

Similarly, though they don't directly control the unit, Catmull and Lasseter clearly influenced the Mouse to stop direct-to-DVD unit DisneyToon from making sequels to animated theatrical features. It's now focused on spinoffs like "Tinkerbell" and a "Disney Fairies" pic.

But there's no denying that many of the changes being instituted at Disney Animation look very Pixar-esque.

Execs note repeatedly that they're trying to make the Mouse "a director-driven studio," a mantra that has served Pixar well with a braintrust of talented helmers that includes Lasseter, Brad Bird ("The Incredibles"), Pete Docter ("Monsters, Inc.") and Andrew Stanton ("Finding Nemo"). Catmull repeatedly states that the days of studio exec interference are over.

"It used to be that there were three levels of executives giving notes," he says of Disney Animation under its former prexy David Stainton. "Now John and the directors give notes to each other, but they're all suggestions and nothing is mandatory. We judge progress based on how well the team is working together."

First Disney toon to get at least some of that treatment is "Meet the Robinsons," which comes out next month. Though it was partway through production when Catmull and Lasseter came on, one of their first tasks was a six-hour notes session involving them, Stanton, and the film's director, Steve Anderson, last March that resulted in the pic being delayed by three months to allow for changes.

"At the time it felt like one of the hardest days of my entire life," says Anderson. "But what's amazing is that at the end, they put the control back in my hands and said it was up to me to figure out what I wanted to implement and how. John and Ed immediately stressed that the people responsible for the movie, whether it succeeds or fails, are the filmmakers."

Though the pic was too far along for radical restructuring, Anderson ended up making major changes to the villain, the Bowler Hat Guy, after the Pixar brain trust told the director that they didn't find the character menacing.

The next pic on Disney's slate, "American Dog," which will likely bow in late 2008, shows that even at a director-driven studio, filmmakers aren't sacrosanct. Helmer Chris Sanders, who also directed "Lilo and Stitch," recently left the studio over what insiders say were irresolvable creative differences with Lasseter on the pic's direction. Vet story artist Chris Williams is now directing.

Similarly, this summer's Pixar release "Ratatouille" is the first film from that studio to see a director ankle after years of development. Jan Pinkava, who was set to make his feature debut after winning an Oscar for Pixar short "Geri's Game," was replaced in 2005 by Bird.

Despite some tumult, Catmull and Lasseter are clearly believers in developing a brain trust of directors they charge with developing and overseeing projects at both studios. At Disney, they're not only relying on existing talent, but bringing on respected directors who left amid the studio's problems in the past year.

First to come back were Ron Clements and John Musker, the team who directed "The Little Mermaid," "Aladdin," "Hercules" and "Treasure Planet." They're developing "The Frog Princess," which has a very good shot at becoming the first hand-drawn project released by Disney under its new regime.

Catmull says there are other Disney vets he hopes to bring back soon.

Whatever combination of vets and new talent end up heading Disney's slate going forward, Catmull says his No. 1 goal, the one that will make him feel he made a difference in his new job, will be seeing them come together.

"Ultimately you are judged by your films," he grants, "but the only way I know to make sure you make good films is to create a healthy and vibrant community of filmmakers."

&copy Variety
posted by Josh @ 2:13 PM
News: Prince Charles wants to ban McDonald's
So yeah, Prince Charles and not-Diana are in the U.A.E. this week on some kind of "goodwill" tour, and the pervert prince made an off-the-cuff suggestion of banning McDonald's fast food.

Now, I've never really been a fan of old Chuck, he seems to me the epitome of stuffy snivly British stuckupatude. I mean, why's he even on a goodwill tour? Does Britain even play any sort of roll in the world situation these days?

Granted, it's not like he has much of anything else to do, being the crown prince to a failed empire is kinda like being the ... well, something lame. The king homeless guy in bumtown.

Anyway, here's the scoop.

The Associated Press
Prince Charles says ban McDonald's food
February 28, 2007

LONDON - Prince Charles suggested Tuesday on a visit to the United Arab Emirates that banning McDonald's fast food was crucial for improving people's diets, a British news agency reported.

Charles made the comments while visiting the Imperial College London Diabetes Center in Abu Dhabi for the launch of a public health campaign, The Press Association reported.

"Have you got anywhere with McDonald's? Have you tried getting it banned? That's the key," Charles was quoted as asking one of the center's nutritionists.

A McDonald's spokesman, Nick Hindle, called the remark disappointing. He said other members of the royal family "have probably got a more up-to-date picture of us," alluding to reports that Charles' son, Prince Harry, was spotted eating a chicken burger at McDonald's in 2005.

"This appears to be an off-the-cuff remark, in our opinion," Hindle said. "It does not reflect our menu or where we are as a business."

The Oak Brook, Illinois-based McDonald's Corp. took steps last year to display nutrition facts on its packaging and vary its menu to counter charges that its food is unhealthy and contributes to obesity. There are 25 McDonald's franchises in the United Arab Emirates.

Charles, who is first in line to the British throne, is an active advocate of organic food and in 1986 set up a farm on his Highgrove Estate that does not use artificial pesticides or fertilizers.

The prince was in the United Arab Emirates with his wife, Camilla, as part of a tour of Gulf countries.

The United Arab Emirates has the world's second highest number of diabetes cases per capita, with more than 20 percent of those aged 20 to 79 already diagnosed with the illness, while 40 percent of the population are at risk.

&copy The Associated Press
posted by Josh @ 11:39 AM
2007-02-27
Dunkin' truck
Here's a fun photo I snapped the other day with the ol' camera phone whilst sitting in traffic.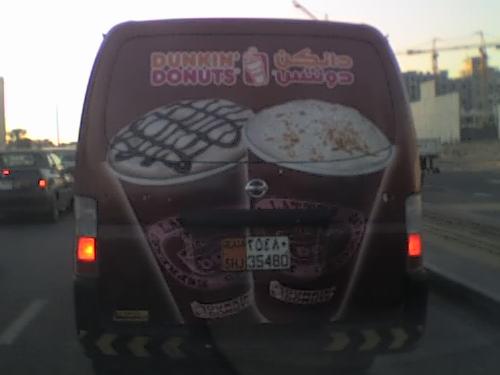 It's a van with a Dunkin' Donuts wrap. Check out the Arabic Dunkin' Donuts logo, too.

It's actually not a bad wrap. Most of them in Dubai are pretty good. Yeah, I'm a little bit of a connoisseur of car wraps.

Seriously, I am! I was kind of in charge of wraps (among other things) at my last job. On our second day in Dubai (when we were going to the U.S. Consulate to get Liz a new passport (see Taken to the Cleaners and Your Tax Dollars at Work ...)) we saw a wrapped Jeep Commander - but not the regular version, they wrapped the Limited. It looked really crummy, because the Limited has these allen bolts all along the rim of the fenders and wheel wells that they can't apply the vinyl to, so the bolts really stand out.

Yeah, I pointed it out to Liz - there's nothing like impressing your new bride with fun facts about printed vinyl decals.

Anyway, you'll also note that the license plate on the truck from the Dunk is from the Emirate of Sharjah, which is next door to Dubai.

Lastly, I want to point out this Boston Globe article from last june, apparently there are 1100 Dunkin' Donuts within a 50-mile radius of Boston.

Crazy.
posted by Josh @ 3:38 PM
Thai Recipes
Hey, so I was looking for some funky Thai Pizza recipes online to surprise my wife with tonight (don't worry, she never reads the blog, I could tell you what I'm getting her for her birthday in May and it'd still be a surprise in three months). I didn't find any particularly good recipes, but I found this site that sounds neat: Appon's Thai Food Recipes.

Yeah, the main page looks to have lots of sausages, but if you scroll down and check out the left-hand side, there are categories and groupings that aren't as processed-meaty.

Some of the ingredients might be tough for me to track down in Dubai, but if I get any good recipes out of this page, I'll let you know ...
posted by Josh @ 1:18 PM
Obama Shirt
I want one.

Saw this last week, forgot to write about it.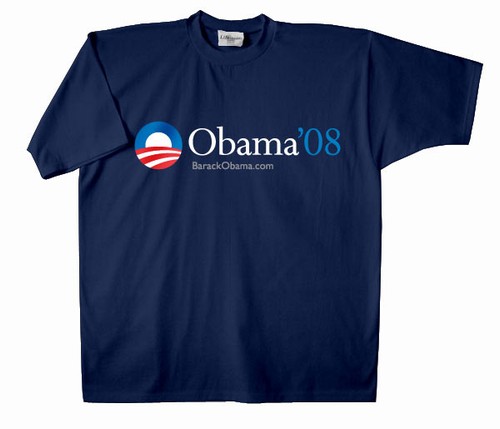 Presidential hopeful Barack Obama finally has a online store open! And I so want a shirt.

As you might recall, I'm a fan of his (see Obama '08 and Obama is a lefty!).

Sadly, his store doesn't ship to the U.A.E.

My birthday's coming up you know, in a month, and I'm a size large, just in case ...
posted by Josh @ 12:07 PM
2007-02-26
1000 hits
Wow, so about three hours ago (7:31 pm local time) we had our 1000th visitor since January 23!

Sweet!
posted by Josh @ 10:31 PM
View of the Palm
Over the weekend we went out with some friends to the rooftop bar at the One and Only Royal Mirage Hotel.

Where's that, you might ask?

Check this photo out: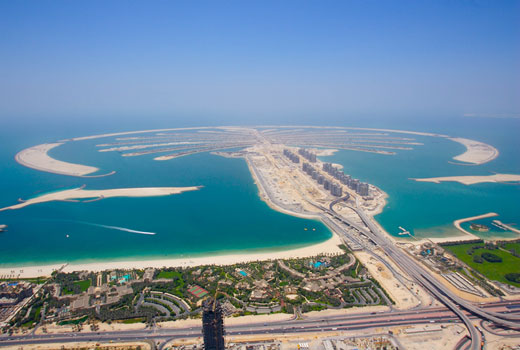 Aerial View of The Palm Jumeirah, May 2006


No, it's sadly not on the Palm Jumeirah, but it was on the land right outside of it - somewhere between the middle and right-hand-most of the three swimming pools.

Here's another view of where we were on the Dubai Map that we found in the autumn (see Map of Dubai).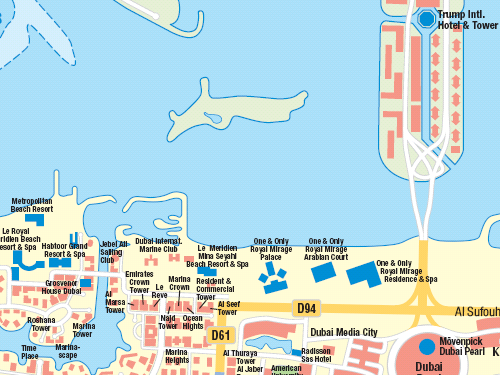 Of course, it was dusk, so the camera phone was pretty useless in trying to take a photo. But the view was, quite simply, amazing. The island is open now, but there's still a ton of construction, so as the sun went down, the huge klieg lights made it look like a warped Christmas display.

We'll go back there someday and I'll make sure to get some photos of the Palm and share them here. It was amazing.

(Check out more photos of the Palm Jumeirah at the Nakheel corporate website.)
posted by Josh @ 2:23 PM
2007-02-25
News: Muslim Math
I saw this online the other day, it's pretty interesting.

Reuters
Medieval Muslims made stunning math breakthrough
By Will Dunham
February 22, 2007

WASHINGTON - Magnificently sophisticated geometric patterns in medieval Islamic architecture indicate their designers achieved a mathematical breakthrough 500 years earlier than Western scholars, scientists said on Thursday.

By the 15th century, decorative tile patterns on these masterpieces of Islamic architecture reached such complexity that a small number boasted what seem to be "quasicrystalline" designs, Harvard University's Peter Lu and Princeton University's Paul Steinhardt wrote in the journal Science.

Only in the 1970s did British mathematician and cosmologist Roger Penrose become the first to describe these geometric designs in the West. Quasicrystalline patterns comprise a set of interlocking units whose pattern never repeats, even when extended infinitely in all directions, and possess a special form of symmetry.

"Oh, it's absolutely stunning," Lu said in an interview. "They made tilings that reflect mathematics that were so sophisticated that we didn't figure it out until the last 20 or 30 years."

Lu and Steinhardt in particular cite designs on the Darb-i Imam shrine in Isfahan, Iran, built in 1453.

Islamic tradition has frowned upon pictorial representations in artwork. Mosques and other grand buildings erected by Islamic architects throughout the Middle East, Central Asia and elsewhere often are wrapped in rich, intricate tile designs setting out elaborate geometric patterns.

The walls of many medieval Islamic structures display sumptuous geometric star-and-polygon patterns. The research indicated that by 1200 an important breakthrough had occurred in Islamic mathematics and design, as illustrated by these geometric designs.

"You can go through and see the evolution of increasing geometric sophistication. So they start out with simple patterns, and they get more complex" over time, Lu added.

ISLAMIC ACHIEVEMENTS

While Europe was mired in the Dark Ages, Islamic culture flourished beginning in the 7th century, with achievements over numerous centuries in mathematics, medicine, engineering, ceramics, art, textiles, architecture and other areas.

Lu said the new revelations suggest Islamic culture was even more advanced than previously thought.

While traveling in Uzbekistan, Lu said, he noticed a 16th century Islamic building with decagonal motif tiling, arousing his curiosity as to the existence of quasicrystalline Islamic tilings.

The sophistication of the patterns used in Islamic architecture has intrigued scholars worldwide.

Emil Makovicky of the University of Copenhagen in Denmark in the 1990s noticed the relationship between these designs and a form of quasicrystalline designs. Makovicky was interested in particular in an 1197 tomb in Maragha, Iran.

Joshua Socolar, a Duke university physicist, said it is unclear whether the medieval Islamic artisans fully understood the mathematical properties of the patterns they were making.

"It leads you to wonder whether they kind of got lucky," Socolar said in an interview. "But the fact remains that the patterns are tantalizingly close to having the structure that Penrose discovered in the mid-70s."

"And it will be a lot of fun if somebody turns up bigger tilings that sort of make a more convincing case that they understood even more of the geometry than the present examples show," Socolar said.

&copy Reuters
posted by Josh @ 3:34 PM
2007-02-23
Dubai Towers - Dubai
I guess this was released in November of last year, but I hadn't seen it until we picked up a local magazine at the grocery store the other day.

Here's an artist rendering of one of Dubai's upcoming developments: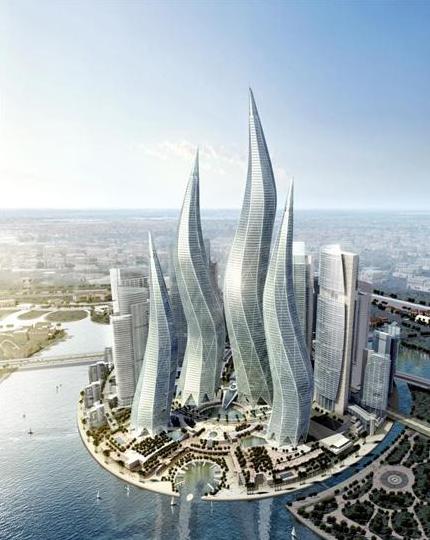 They are know as the Dubai Towers - Dubai, to distinguish it, of course, from Dubai Towers - Doha, Dubai Towers - Casablanca and Dubai Towers - Istanbul.

What? You think I'm kidding? They're really building "Dubai Towers" in all of those cities. That's kind of like building "Chicago Tower - New York" and "Chicago Tower - Miami". Crazy.

Anyway, these towers are in The Lagoons, which are seven person-made islands in Dubai Creek, right next to a wildlife sanctuary. But don't worry, the press release states "'The Lagoons' will ensure harmonious existence with the surrounding eco-systems".

Because nothing says "harmonious existence" with a wildlife sanctuary more than person-made islands.

The design, by Atlanta-based TVS International, is meant to "metaphorically represent the movement of candle light".

What?

"The design represents the enlightenment of the region," says Behr Champana, vice president in charge of the project for TVS International. Sounds like someone at TVS International is sucking up just a tad. What do you want to bet they have another deal pending with Duabi Holding? Lord.

Anyway, the four towers have your standard mixed-use residential / commercial / retail / hospitality, and range from 57 to 94 floors. The whole shebang is due to be complete sometime in mid-2010.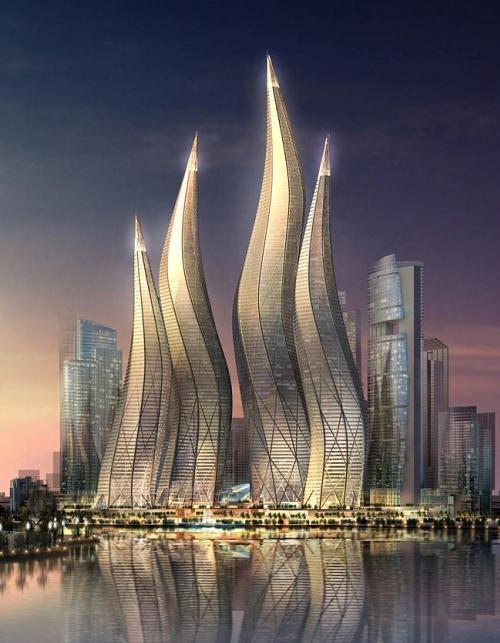 "The enlightenment of the region". Sheesh!
posted by Josh @ 11:33 AM
2007-02-22
"Hey, Justine"
As I mentioned yesterday, we went to the Dubai Tennis Championship last night. And we saw the most amazing tennis game I've ever seen.

Yeah, I know, it was the first one I've ever seen, too, but we almost saw a ridiculous upset.

Justine Henin has won the Dubai Women's Open for the last three years, and hasn't lost one game yet - she has twelve consecutive victories in Dubai.

Her opponenent was this random Austrian lady, Tamira Paszek. Well, "child" actually, because Paszek is sixteen years old.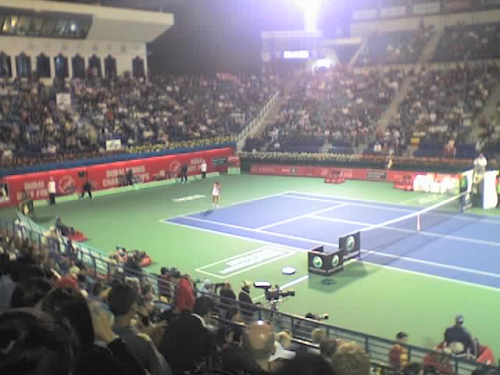 Here's sixteen year old Paszek (via my camera phone)


We joked with our friends that this would be a quick game, but boy were we wrong. Two hours and twenty-eight minutes later Henin won, but it was so close at a few points, I don't know who this Paszek lady is, but she should be damn proud.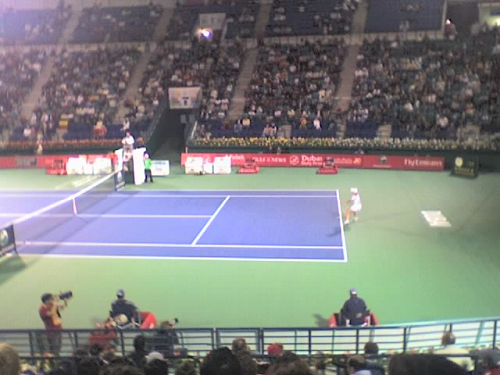 Here's defending champion Henin


And now, for my American take on tennis.

I've been to Major League Baseball, I've been to Minor League Baseball. I've seen National League Football, National Basketball Association, National Hockey League. I've seen American Hockey League, too. You know the one thing that all of these have in common? Cheering. Yelling. Loud Americans. Loud Canadians.

This tennis thing is freaky.

"Quiet" isn't the right word. To have a stadium three-fourths full but damn-near silent is just ... just unnatural.

About half-way through the game (match? set? whatever it's called?) there was a squad of Belgians who started yelling, "Hey, Justine" to Henin. Not during play, mind you, but between games (matches? sets?)

No hooting, hollering or cheering, just, "Hey, Justine".

Like if I saw my buddy Rae at Fenway Park and went, "Hey, Rae".

At the very end they started singing a song, something with, "Allez vous, tout vite, j'aime le fromage, tout vite, la boule verte est mon ami, tout vite, je sens comme le fromage, tout vite, vous sentez comme le fromage, tout vite, vous aimez une gaufre?"

But honestly, it was fun. I am, of course, a sucker for anywhere that sells beer and popcorn, however.

Lastly, the legality of the popcorn buckets at the arena are a little suspect, though. While I know Sylvester and Tom & Jerry are all part of the Warner Bros. empire, last I checked Mickey Mouse was still with Disney. Maybe the two rival studios have teamed up to bring slightly-burnt popcorn to the Middle East?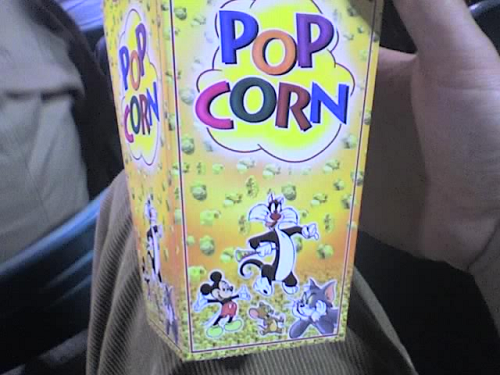 Anyway, for a slightly more official run-down of the game (match? set?) we saw, check out the article in 7 Days.
posted by Josh @ 3:29 PM
Dubai Tennis Championships tonight
Hey everyone!

Tonight we're going to the Dubai Tennis Championships!

I've never seen live tennis before, and, although I'm not a big tennis fan, the Dubai Tennis Championships is pretty well known, even if Maria Sharapova and Serena Williams both withdrew from the tournament last week.

Oh, yeah, it's womens tennis we're going to.

Full report tomorrow.
posted by Josh @ 11:04 AM
2007-02-20
Another Close Call
Wow, so last night we had a total scare. Liz's laptop started freaking out - something about a disc error.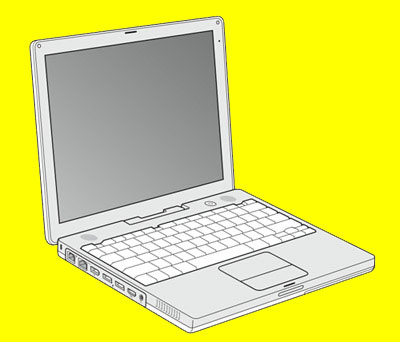 Of course it was three weeks ago tomorrow that my computer died (see My iBook is Dead).

Yeah, imagine how much fun I'd be right now if Liz's BENQ Joybook 5100 wasn't operational? You might actually hear me screaming all of the way from Dubai.

Anyway, it's working for now, so no worries. I'll leave you with this photo I took the other day, it shows the keyboard to Liz's Joybook: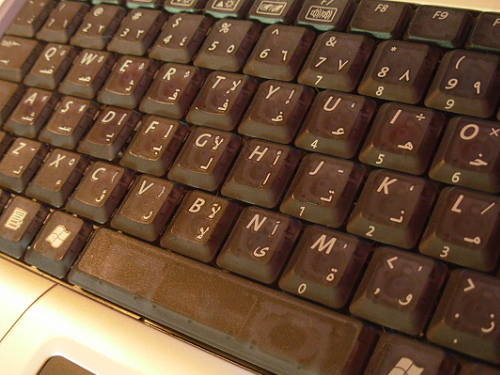 You can see it has both the Latin alphabet and the Arabic alphabet.

The numbers, well, that's tricky. In the States we'd call our numbers (0123456789) Arabic Numerals, but here they'd call them "Indian numerals". Have I talked about this before? I feel like I have.

Arabic uses the Eastern-Arabic numerals, or Arabic-Indic numerals.

There's a good photo on wikipedia of an Arabic telephone keypad.

Like I said, tricky.
posted by Josh @ 9:40 PM
Hypermarkets
So I was going to write something about our neighborhood local grocery store Carrefour today, and I wanted to find a logo of theirs. (Why? Well, I like accentuating my words with colorful pictures, in hope that you return often to my sporadic ramblings.)

Anyway, first I went to their U.A.E. website but that was in Flash, so no jpegs. Then I found their wikipedia page.

And you know what?

I finally found out what a "Hypermarket" is.

As I mentioned last week (see L.L. Bean in Dubai. Kinda.) and probably way back in the fall when I talked about groceries (see Groceries in Dubai and Grocery Shopping in Dubai), the grocery stores here are called "hypermarkets". And they're huge. They sell groceries, but also electronics, clothing, appliances, rugs, everything.

(Well, Géant, doesn't have a "Pork for Non-Muslims" section like other grocery chains do, sadly.)

Anyway, apparently selling all that stuff is the very definition of "hypermarket"!

wikipedia says:


"In commerce, a hypermarket is a superstore which combines a supermarket and a department store. The result is a gigantic retail facility which carries an enormous range of products under one roof, including full lines of groceries and general merchandise. When they are planned, constructed, and executed correctly, a consumer can ideally satisfy all of his or her routine weekly shopping needs in one trip to the hypermarket."

Huh.

So that would make Wal-Mart Supercenters and Target Greatlands "hypermarkets", too!

Another fun fact? Carrefour is the second largest retail group in the world in terms of revenue and sales figures after Wal-Mart.

Anyway, at some point remind me to take a photo over at Dubai Festival City (where Ikea is) of the hypermarket named Hyper Panda.

That's such a cool name for a store ...
posted by Josh @ 10:47 AM
2007-02-19
"Goodbye Vickie Lynn ..."
Wow, so last night on the radio we heard Elton John's new Candle in the Wind 2007 for Anna Nicole Smith.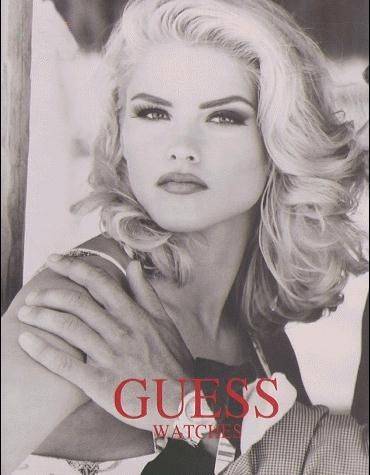 It was actually oddly touching, in a red-neck kind of way.

Though the dueling banjos were a bit much, I felt ...

Here's a link to it on the iTunes Music Store, too.




Haha, I'm actually just kidding! There's no such song as "Candle in the Wind 2007". I mean, Elton John wouldn't be that presumptious to redo the lyrics to one of his - well, I guess two of his - most famous songs, would he?

I was actually going to write fake lyrics for it and everything, but finding good images for this entry took the better part of an hour, and honestly that's a little more time I wanted to spend with Anna Nicole in this lifetime to begin with.
posted by Josh @ 1:08 PM
News: Keith Foulke retired!
Wow, I just saw the news that former Boston Red Sox pitcher Keith Foulke retired the other day.

Foulke, a closer, was pivotal in the 2004 World Series win. That year he appeared in eleven of fourteen post-season games, in fourteen innings he had nineteen strikeouts, and allowed only one earned run.

Foulke was the closer in 2005, too, but things didn't quite gel for the whole team as much that year.

And after a crummy 2006 pre-season, in the second game of the season the Red Sox went with rookie Jonathan Papelbon as their closer. And, to use another New England sport analogy, Papelbon was to Tom Brady as Foulke was to Drew Bledsoe.

But still Foulke will be remembered by the Red Sox Nation for his three (two and a half?) years in Boston. And hey, what fan doesn't know this quote from WEEI's Joe Castiglione:


"Foulke to the set, the 1-0 pitch, here it is ... swing and a ground ball, stabbed by Foulke. He has it. He underhands to first, and the Boston Red Sox are the World Champions. For the first time in eighty-six years, the Red Sox have won baseball's world championship. Can you believe it?"

Anyway, here's the article. I assume that WJLA is in Cleveland (where Foulke signed this year), though perhaps it's the news channel of the Justice League of America?


WJLA.com
Keith Foulke Retires
February 17, 2007

Keith Foulke unexpectedly announced his retirement on Friday.

Signed by Cleveland in the offseason, Foulke was expected to be a key contributor in the Indians' revamped bullpen. However, Foulke, who had knee surgery before last season and was bothered by elbow, shoulder and back problems throughout his career, notified the team of his decision before taking the Indians' official physical.

"Over the last few weeks, while preparing for the 2007 season, my body has not responded as it has in years past," said Foulke. "I feel strongly I will not be able to perform at the level where I need to be to help the Indians this season."

The 34-year-old Foulke pitched in 44 games last year with the Red Sox and just 43 the season before after his stellar 2004 campaign.

Foulke saved 32 games and had a 2.17 earned run average in 2004, a season that culminated in Boston winning the World Series. However, his ERA rose to 5.91 in 2005 as Foulke saved just 15 games that season.

He failed to save a game last year as rookie sensation Jonathan Papelbon assumed Boston's closer role. Foulke then left the Red Sox this offseason when both parties decided not to exercise his 2007 contract option.

In 588 career games with the White Sox, San Francisco, Oakland and Boston, Foulke is 41-34 with a 3.30 ERA and 190 saves.

Foulke was expected to compete with Joe Borowski, who Cleveland also signed this offseason, for the closer's spot. The Indians traded longtime closer Bob Wickman to Atlanta last July.

© WJLA/NewsChannel 8, a division of Allbritton Communications Company
posted by Josh @ 8:49 AM
2007-02-17
News: Salmonella outbreak due to peanut butter
I was going to wait on this story until Monday, since I usually don't post on Saturday, but this was too funny.

Here's a photo of the Peter Pan Peanut Butter jar lid that my wife made me throw out yesterday, followed by an article about said peanut butter. Emphasis mine.


Associated Press
Salmonella outbreak due to peanut butter
By Mike Stobbe
February 14, 2007

ATLANTA - A salmonella outbreak that has slowly grown to nearly 300 cases in 39 states since August has been linked to tainted peanut butter, federal health officials said Wednesday.

It is believed to be the first salmonella outbreak associated with peanut butter in U.S. history, said officials with the Centers for Disease Control and Prevention.

About 20 percent of the 288 infected people have been hospitalized, but none has died, said Dr. Mike Lynch, a CDC epidemiologist.

About 85 percent of the infected people said they ate peanut butter, CDC officials said.

How salmonella got into peanut butter is still under investigation, Lynch said.

The Food and Drug Administration warned consumers not to eat certain jars of Peter Pan or Great Value peanut butter because of the risk of contamination.

The affected jars have a product code on the lid that begins with the number "2111." The affected jars are made by ConAgra in a single facility in Sylvester, Ga., the FDA said.

Great Value peanut butter made by other manufacturers is not affected, the agency said.

ConAgra said it is recalling all Peter Pan and Great Value peanut butter beginning with product code 2111.

"Although none of our extensive product tests have indicated the presence of salmonella, we are taking this precautionary measure because consumer health and safety is out top priority," spokesman Chris Kircher said. "We are working closely with the FDA to better understand its concerns, and we will take whatever additional measures are needed to ensure the safety, quality and wholesomeness of our products."

The largest number of salmonella cases were reported in New York, Pennsylvania, Virginia, Tennessee and Missouri.

Salmonella infection is known each year to sicken about 40,000 people in the United States, according to the CDC. Salmonellosis, as the infection is known, kills about 600 people annually.

Symptoms of salmonella can include diarrhea, fever, dehydration, abdominal pain and vomiting.

The new outbreak began in August, but just two or fewer cases have been reported each day, CDC officials said.

It was only in the past few days that investigators were able to hone in on a particular food, Lynch said.

ConAgra is destroying all affected products the company still has, the FDA said.

The company will cease production until the exact cause of contamination can be identified and eliminated. Meanwhile, ConAgra advised consumers to destroy any Peter Pan and Great Value brand peanut butter beginning with product code 2111.

The FDA sent investigators to ConAgra's processing plant in Sylvester where the products were made to review records, collect product samples and conduct tests for salmonella.

© Associated Press
posted by Josh @ 9:15 AM
251 posts!
The last photo of Mall of the Emirates was our 250th post since August 13th! Crazy!
posted by Josh @ 9:12 AM
2007-02-16
Photo of Ski Dubai
I took this photo yesterday of the Mall of the Emirates, home of Ski Dubai.

Hope it gives you a pretty good idea of the 25 story structure.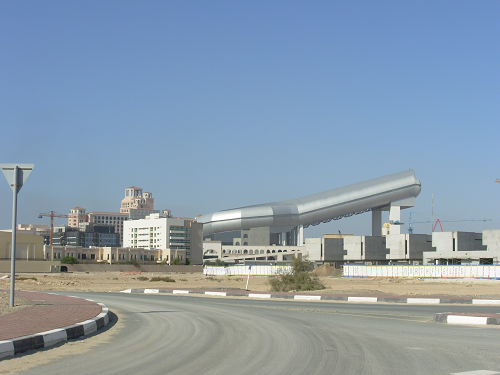 Here are photos from our trip to Ski Dubai last autumn: Ski Dubai Gallery
posted by Josh @ 9:06 AM
News: Urban Disney
So somehow this story slipped under my radar last week. Apparently the Walt Disney Company has floated around the idea of building hotels and possibly water parks in cities and states where they don't have theme parks.

This might remind some (okay, okay, only the die-hard Disney geeks) of Disney's 1987 plans to build a shopping and hotel complex in Burbank, CA called The Disney-MGM Studio Backlot.

This complex would have been on about 40 acres of property north of the Five freeway: Burbank Blvd to the north, Olive Ave to the south, First St to the west, and Glenoaks Blvd to the east.

This is the current home of Ikea, the Media City Center mall, the AMC movie theater complex, and all of the restaurants that I miss so dearly (Islands, Elephant Bar, the Japanese place, and the long-gone Spoons).

Whereas most of America knows about Disney's battle over the early 1990s Disney's America theme park in Virginia, the smaller-scale battle over the Disney-MGM Studios Backlot in Burbank hasn't really been explored in any books, articles or websites. At some point in the past, I was thinking of researching it more and writing about it. Maybe I still will.

So anyway, I think that a Grand Floridian Resort in Topeka is a horrible idea. Hopefully this plan will die on the vine ...


Orlando Sentinel
Disney may expand into urban frontier
The company talks of themed hotels and entertainment districts across U.S.
by Scott Powers
February 8, 2007

Walt Disney Parks and Resorts is considering putting Disney-themed hotels and nightlife districts into downtown areas of major cities that don't currently have Disney properties.

Disney is not yet making any commitments to "urban Disney hotels" or stand-alone Disney entertainment districts, Disney Parks and Resorts Chairman Jay Rasulo told investors Wednesday night. But he outlined them as "some of the ideas our business team and Imagineers are thinking about" as ways to expand Disney's tourism business into new locales. Imagineers are Disney designers and engineers.

In addressing investors, Rasulo said Disney is thinking about developing major "flagship" hotels - such as the Disney Grand Floridian at Walt Disney World - or themed hotels that could be built in large cities that already are tourist draws. He did not cite examples.

He also said the Downtown Disney concept has been so successful at both Disney World and Disneyland in California that the idea could be transplanted into major urban areas.

Disney's also considering increasing the Disney Cruise Line fleet, its Disney Vacation Club properties and its Adventures by Disney vacation-package programs.

Disney also is contemplating small, immersive "niche theme parks" and water parks in other cities, Rasulo said.

"Our relationships with millions of families will enable us to expand to new businesses and new markets," Rasulo said. "We will never stop dreaming."

Scott Powers can be reached at spowers@orlandosentinel.com or 407-420-5441.

© Orlando Sentinel
posted by Josh @ 8:34 AM
2007-02-15
Recipe - Baked Dijon Salmon
So last night was Liz and my first Valentine's Day spent together. We wanted to do something nice, memorable, and fun.

It seemed that lots of restaurants around Dubai were having special dinner selections (i.e. rip-off prices) for the night, so I decided to make something new and different for dinner.

(Plus, as you're all well aware of by now, my recipes are all unretrivable on my iBook until I can get the screen fixed.)

Liz has mentioned that she wanted more fish in the menu, I think her exact words were, "Are you going to cook chicken every night?!" So I found a recipe for salmon yesterday.

It turned out great, so I wanted to share it with you all.

Baked Dijon Salmon

1/4 c butter, melted
3 T Dijon mustard
1 1/2 T honey
1/4 c dry bread crumbs
1/4 c finely chopped pecans
4 t chopped fresh parsley
4 (4 ounce) fillets salmon
salt and pepper to taste
1 lemon, for garnish

Preheat oven to 400 degrees F.

In a small bowl, stir together butter, mustard, and honey. Set aside. In another bowl, mix together bread crumbs, pecans, and parsley.

Brush each salmon fillet lightly with honey mustard mixture, and sprinkle the tops of the fillets with the bread crumb mixture.

Bake salmon 12 to 15 minutes in the preheated oven, or until it flakes easily with a fork. Season with salt and pepper, and garnish with a wedge of lemon.
posted by Josh @ 3:49 PM
New Dollar Coin
(or, "I'm going to have to wait all of the way until 2009 to get a William Henry Harrison coin?!?")

So today is it! Today you guys in the States finally get to use the replacement to the failed Golden Dollar Coin (Sacagawea), which in turn replaced the failed Susan B. Anthony Dollar. Yep, today starts the Presidential $1 Coin Program.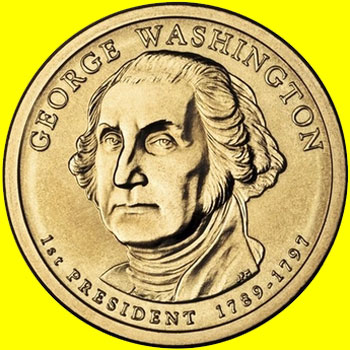 I'm not a fan at all of this, as I mentioned back in November ( see Dollar, Dollar Coin, Y'all!).

I don't like the 50 State Quarters Program or the (now finished) Westward Journey Nickel, either. It seems hokey and pandering to collectors.

Interestingly enough, this new dollar coin series has an odd twist. There's an act that directs the Mint to continue to issue Sacagawea coins during the Presidential series - at least one-third of the dollar coins issued in each year of the program must be Sacagawea dollars, and the Sacagawea design is required to continue after the Presidential program ends.

And no, we don't have to worry about a George W. Bush dollar yet, the former Presidents have to be dead for at least two years before being honoroed on the coin. Jerry Ford and Ronald Reagan are both set for 2016 releases, but Carter and Bush Sr. are not, and won't be unless they pass away in the next seven years.

Lastly, I just found out of another coin getting rejiggered. The Lincoln cent piece is going to be altered in 2009 to honor the bicentennial of his birth. The flip side of the coin will have scenes of:


his birth and early childhood in Kentucky
his formative years in Indiana
his professional life in Illinois
his presidency in Washington, D.C.
And then, like the creepy Jefferson Nickel (is his face all warped, or is it just me?) Lincoln Cent will be redesigned too.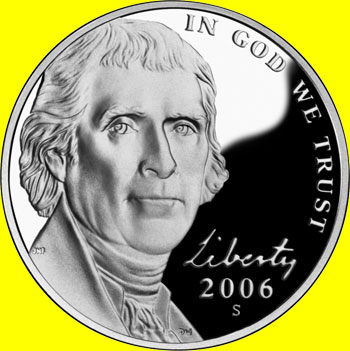 Anyway, one last thing. My parents will be happy to know that on January 29 the Montana quarter comes out. They love that Montana.
posted by Josh @ 3:45 PM
Maine Snowstorm
Back home in Maine just got a huuuuuge snowstorm, which probably isn't news to you if you live in Maine right now. (Unless you're a shut-in and haven't looked out the window in the last day or two. And that would be really sad ...)

The Portland Press Herald has this forecast right now:


Blizzard warning in effect until 5 am est thursday.

Today: Snow heavy at times ... with freezing rain ... sleet and a chance of thunderstorms this afternoon. Near zero visibility at times in blowing and drifting snow. Snow and sleet accumulation of 4 to 8 inches. Windy with highs in the mid 20s. Northeast winds 10 to 20 mph ... increasing to 20 to 30 mph with gusts up to 40 mph this afternoon. Chance of precipitation near 100 percent. Wind chill values as low as 4 below.

Yikes. Sounds rough. "Near zero visibility at times". Huh.

I'm sure before the weekend I'll be getting an e-mail from Shawnee Peak saying how much snow they got, and how great the skiing / riding will be this weekend.

UPDATE: Just checked my e-mail, Shawnee Peak already sent a mail eight hours ago, projecting 20-26 inches of snow. That's around two feet, for those of you who use the metric system ...
posted by Josh @ 6:54 AM
2007-02-14
Happy Valentine's Day!
A little of our love out to you ...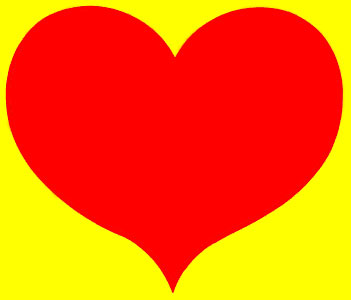 posted by Josh @ 4:25 PM
L.L. Bean in Dubai. Kinda.
So the other day I was complaining about Dubai's lack of some of my favorite brands.

Then today I found some L.L. Bean pants here.

As I've mentioned here before, the grocery stores are almost more like Wal-Mart than a typical grocery store in the States. Géant and Carrefour both sell groceries, electronics, home goods, and clothing. Like a Wal-Mart Super Center, or whatever they're called.

The difference, however, is that the clothing is sometimes real brands. Don't ask me how, don't ask me why, but some facet of international trade lets these stores sell overstock or factory rejects or some kind of left overs from places like the Gap, Old Navy, and apparently a little taste of Maine, L.L. Bean.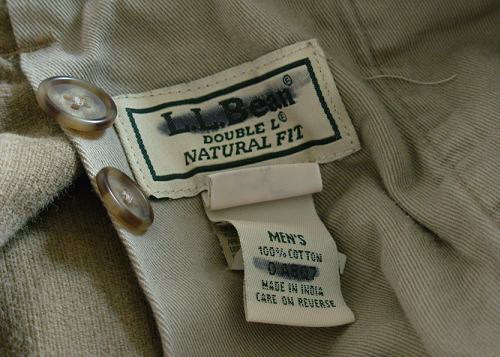 Well, I guess technically this would be the "L.L. Bean" brand.

Yeah, the labels are always blacked over or cut out.

But you want to hear the best part? The pants cost AED 29.95.

That's like eight bucks.

Sure, they're courdoury, which will be a little foolish in Dubai in about a month, but hey, they're eight bucks.

I had to buy three pairs.
posted by Josh @ 4:13 PM
2007-02-13
Counter
Wow. Since installing the counter on this page three weeks ago we've already had over 700 hits. That's insane. I guess there are a few more people than our parents, cousins and aunts reading this. (Not that there'd be anything wrong with only our parents, cousins and aunts were reading this...)

But how are people finding this page? Luckily with the counter we also get some stats. You know, where people linked from, or what they typed into what search engine to find us.

Obviously because gulfnews.com linked to us, we've had a bunch of readers from the entry I wrote about the Dubai fire. Then cartoonbrew.com linked to us, so we've also had a bunch of hits from that story about Chris Sanders being fired. It looks like some people were interested about that whole Disney's Bahrain when Saudi billionaire Prince Alwaleed bin Talal said he was building a Disney theme park in the Middle East. Lastly, a few hits from my Flickr photos. Interesting.

The stats also tell us where our readers are in the world. Since January 23rd we've had hits from: Germany, India, Australia, Canada, the Netherlands, France, United Kingdom, Chile, Singapore, South Africa, Lithuania, Czech Republic, Poland, Finland, Slovak Republic, Uruguay, Greece, the UAE and of course the States.

So to all of those readers: Guten Tag, Namasté, G'Day, Hey Buddy, Goedendag, Bonjour, 'Ello Gov'nor, Hola, Ho bo, Khotsong, Sveiki, Ahoj, Czesc, Moikka, Zhivjo, Buenos días, Geia, Salaam and Howdy!

I also can see what keywords people are using if they search for us. Here's a short random selection:


vivitar ultra wide slim
sevendays.ae
quidam dubai
my curriculum vitae pm
dubai burj dubai behind schedule
al badia hillside village
how much does dubai pay tiger
companies doing computer generated golf course fly overs --???
ibn battuta mall phone number
dubai cat breeders that have kittens for sale
artists impression of dubai tower shaped like a man
barracuda alcohol umm al quwain
disney's year of a million dreams david beckham
year of a million dreams disney park david beckham
year of a million dreams disney beckham
year of a million dreams beckham

Wow, someone really wanted to see the Annie Leibovitz photo of David Beckham for the new Disney ads. Have I ever even talked about him before?

Either way, here's the photo: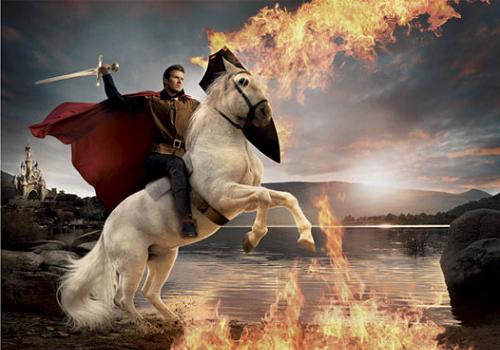 It's kind of funny the other entries, about my new camera, Cirque du Soleil's Quidam, Tiger Woods, and, of course, The Barracuda.

We also can see what operating system people are using. So far no Vista. (I guess its only been out for two weeks, eh?)


Windows XP - 80%
Mac OS - 13.6%
Windows 2000 - 4.4%
Windows 98 - 0.9%
Windows NT - 0.7%
Linux - 0.2%

So it appears that our readers are ahead of the curve when it comes to Apple's Macintosh OS X. What's their market share of computers? Something like six percent?

Anyway, lastly, I can see what domains people are coming from. Mostly they're Maine domains, but there are a few others, Time-Warner Cable NY, Southern California Road Runner, my former co-workers at Disney (or perhaps not ONLY my friends, but maybe even the investigative unit put together in the Disney Studio Publicity unit after the whole Chris Sanders story ... s'up guys?) and lastly, someone in Dallas who has Verizon FiOS.


unet.maine.edu
maine.gov pivot.net
maine.res.rr.com
twcny.res.rr.com
socal.res.rr.com
irvnca.sbcglobal.net
proxy-ce3.disney.com
dllstx.fios.verizon.net

What's big deal with Verizon FiOS, you ask? Well, this isn't even a real story, but my last job in the States handled some of the marketing for Verizon FiOS last year.

Yikes.

So yeah, thems the stats. I think they're pretty interesting. But then again, I'm a nerd.
posted by Josh @ 4:21 PM
Beanpot
Go BU!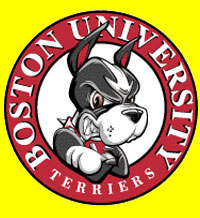 It confused me a little today when I kept checking the Beanpot Hockey Championship website and the "live" game stats were stuck at 1 to 1 in the 3rd period.

Apparently the game ended with a tie, so they went into overtime.

I finally googled the news and found the AP story from the Houston Chronicle, of all places.

Luckily the Boston University Terriers won.

"Beating BC after one period, or two periods, or three periods or five periods in overtime is always rewarding," coach Jack Parker said after BU won for the 28th time in the tournament's 55 years. "That means we've won more than all the other schools combined."

in honor of my school, I did I little research on famous Alumni. Here's a random list, although I've left off the majority of the NHL players as well as the players on the 1980 U.S. Olympic Hockey team because that there'd be a lot of typing ...

Harry Agganis - professional baseball player
Carolyn Bessette-Kennedy - late wife of John F. Kennedy, Jr.
Edward Brooke III - first African-American U.S. Senator since Reconstruction
John Cazale - actor ("Fredo" in The Godfather)
William Cohen - former U.S. Secretary of Defense, Senator, Congressman
Geena Davis - actress
Rocco DiSpirito - Chef, restauranteur, television personality
Bill Duke - actor ("Mac" in Predator), director
Mike Eruzione - Captain, 1980 U.S. Olympic Hockey Team
Kenneth Feld - CEO, Ringling Brothers Barnum and Bailey Circus
Tipper Gore - Former 2nd Lady of the United States
Mike Grier - NHL hockey player
Martin Luther King, Jr. - Civil Rights Leader
Ted Harbert - President, E! Networks
Mariel Hemingway - actress
Yunjin Kim - actress ("Sun Kwon" in Lost)
David E. Kelley - television producer
Tom Magliozzi - co-host of Car Talk
Elizabeth (Sadie) Holloway Marston - co-creator of Wonder Woman
Stephanie McMahon - Senior VP, World Wrestling Entertainment** (in my class!)
Julianne Moore - actress
Bill O'Reilly - Radio & Television personality
Rick Pitino - Basketball Coach
Kim Raver - actress ("Audrey Raines" in 24)
Scott Rosenberg - screenwriter (Con Air, Gone in Sixty Seconds)
Jeffrey Ross - actor, comedian
Howard Stern - radio & TV mogul
Nina Tassler - President, CBS Entertainment
Dorothy West - author, member of Harlem Renaissance
Helen Magill White - first woman to earn a Ph.D.
posted by Josh @ 3:31 PM
Beanpot Live
So I just woke up and figured I'd check the score of last night's Beanpot Hockey game between Boston University and Boston College.

With the wonders of the time zone difference, it's still only 9:11 pm over there, and the game is in the second period, BU 1 to BC 0.

Oops.

Get the live broadcast at: http://www.beanpothockey.com/broadcast.html .
posted by Josh @ 6:11 AM
2007-02-12
Beanpot Tonight!
Whoa! I totally forgot to mention this, tonight is the finals for the annual Beanpot hockey game in Boston.

Northeastern will play Harvard in the Consolation Game at 5 pm EST and Boston University will play Boston College in the Championship Game at 8 pm EST. Both are scheduled to air on NESN.

I generally don't get too fired up about being an Alum of Boston University, but I'm a fan of the Collge of Communication. And Hockey.

So here are some fun facts:


Did you know that every Beanpot championship game to date (since 1954) has featured either Boston College or Boston University, or both?


Did you know Boston University has won 27 Beanpot titles, half of all 54 Beanpot Championships thus far?


Did you know that Boston University won all four Beanpots when I was in school?

Anyway, if you get NESN, you might want to check it out. Should be a good game ...
posted by Josh @ 9:36 PM
Blocked!
As I've mentioned here before, we get our internet service at home through Dubai Media City, which is one of the free zones. That means that Etisalat doesn't block our internet, as it does the rest of Dubai.

Thus yesterday when I was using the internet OUTSIDE of the free zone, I was surprised to find a blocked website. This is what popped up on my screen: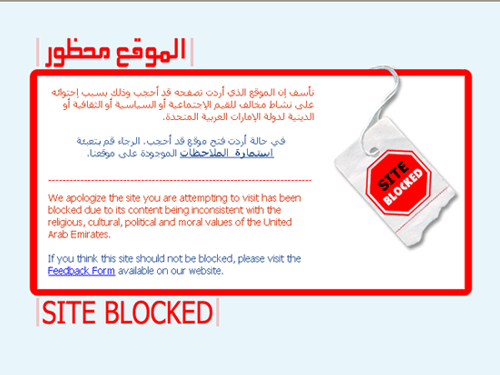 Coming from the States, it's always amazing to me to see censorship.

The ironic part? Apparently it's an American company, SecureComputing that maintains and provides the list of websites that should be blocked.

Huh.
posted by Josh @ 3:24 PM
Monday Morning Migration
Well, technically it's Monday afternoon for me - but the title sounded better using Eastern Standard Time.

Anyway, when I just logged in to blog right now I was forced to upgrade my blogger account, which I had been avoiding for a few weeks now. Apparently starting today there's no other choice. Either way, you shouldn't notice anything different, but if you do, can you let me know?

For as much as I am a fan of my own voice, I spend a surprising lack of time reading my own blog.

Thanks!
posted by Josh @ 3:20 PM
2007-02-09
Price Gouging
I was going to write about this last month, and then I calmed down and gave up. But now my ire is up again, and there's no stopping me.

I've gotten used to being in Dubai - it's been just under six months now, and I'm cool with the fact that there's no such thing as ham, baloney or bacon here. I'm fine with the fact that there's no Diet Mountain Dew, either. (I mean, heck, when I moved back to Maine from California it took me a few months to get used to not having Diet Mountain Dew Code Red.) We don't really get mail, or magazines, which is a pain but I'm used to it. In our endless array of malls in Dubai we have no J.Crew, Gap or Old Navy. There's no butter (or artificial butter flavor) on your popcorn at the movie theater. And not a company who can develop slides or black and white film in the whole city.

And no, I still haven't found any good Mexican food, either.

But I'm cool with this lack of products, services or brands. In exchange we have Japengo Café, Ski Dubai, shawarma, Mountain Dew in the glass bottles with a really really cool Arabic logo, Insha'Allah to get us out of jams, the Dubai International Film Festival, and, of course, Cricket video games.

Okay, the last one is a joke, but it's true to say I've found some neat things here in Dubai. But I'd say that's mostly because Dubai is ridiculously Westernized. I mean, besides the street signs being in Arabic and English, and the massive construction, Dubai kind of feels like it could be in the South-Western United States. Maybe somewhere between Los Angeles and San Diego. Or perhaps near Las Vegas.

Anyway, last month one of my professors added two books to the syllabus for my marketing class. How Brands Become Icons retails for $32.95, but amazon.com sells it for $22.74. How Customers Think retails for $29.95 but amazon.com sells it for $19.77.

Sadly the professor didn't tell the school bookstore to order the books.

But since Dubai has MacGrudy's and Borders and a couple of other chain bookstores, you'd think I could find these two books here, right?

Nope.

Oh, and of course amazon.com doesn't ship to Dubai.

Luckily I found out that the publisher of the two books does ship overseas, so I bought both from that company (at full retail value) and spent $50 on shipping to Dubai.

Total price? Over $112.

If I had bought them in the States from amazon.com with free shipping?

$42.51.

Ouch.

But that's not the kicker. Over the last week I've been trying to figure out a way to get a new computer to replace my iBook with the non-functioning screen. The other day I found just what I want on the Apple Store online:


17-inch iMac
2.0GHz Intel Core 2 Duo
1GB 667 DDR2 SDRAM - 2x512
160GB Serial ATA drive
SuperDrive 8X (DVD+R DL/DVD±RW/CD-RW)
Keyboard & Mighty Mouse + Mac OS X - U.S. English
ATI Radeon X1600 128MB SDRAM
17-inch widescreen LCD
AirPort Extreme
Bluetooth 2.0 + EDR

The whole total comes to $1,199, with free shipping in the USA. But if you add in the Educator discount, it drops to $1,099.

But they don't ship to Dubai.

Crap.

But in Duabi over at the Ibn Battuta Mall there's a store that sells Apple computers, although it's not an official Apple Store. They try and make it look at white and plastic-y and hip, though.

Anyway, the other day I went in and found the exact same computer. The sales clerk wrote down the price - 6199 AED.

As I've never converted Dirhams to Dollars at quite that rate, I smiled, nodded my head, said "Thank you" and ran out of the store to do the math on my calculator phone.

You know how much it is in dollars?

$1686.13.

Almost a FIVE HUNDRED DOLLAR MARK UP.

Six hundred, if you count the discount.

Shoot, for six hundred dollars I could almost fly to the States and buy my own computer!!

Needless to say, barring any visitors this spring who want to schlep a computer over here for me, it looks like I'm Apple-less until mid-July when we get home.

Maybe by then there'll be a newer, faster model out, anyway ...
posted by Josh @ 11:22 AM
News: Disney Rescues Hand-Drawn Animation
More on this as it happens, but I just saw this article. I think it's fantastic news, however, I fear that Disney will have to lay-off some of their current staff in the process of switching back to traditional, hand-drawn animation.

I guess we'll see ...


Reuters
Walt Disney Rescues Hand-Drawn Animation
February 8, 2007
Filed at 8:14 p.m. ET

LOS ANGELES - Hand-drawn animation, out of fashion in the computer age, experienced a rescue worthy of a fairy tale on Thursday, when Walt Disney animators announced they would bring back the art form to the big screen.

"We will be bringing back hand-drawn films," said Disney's Ed Catmull, the President of Pixar and Disney Feature Animation.

Animators refer to hand-drawn animation as "two dimensional," as opposed to computer-generated animation, referred to as 3D.

Pixar created "Toy Story" and other computer animation hits, but was acquired by Walt Disney Co. last year.

Speculation has swirled since then over whether Catmull and Chief Creative Officer John Lasseter, who took control of the ailing Disney animation facility, would reestablish the art form that made Disney the world's preeminenent animator.

All of Disney's feature animation films in production at the time of the Pixar deal were computer animated.

"Now that's we're a year into it, people want to know how it's going," Catmull told analysts at a Disney conference monitored by Web cast. He said Disney would do both computer animation and hand-drawn animation.

Lasseter spent several years as a Disney animator, but left over creative differences to form Pixar, where he was considered the main creative force. He revered Walt Disney, who with a group of legendary animators known as the 'Nine Old Men,' made such hand-drawn classics as "Cinderella" and "Snow White and the Seven Dwarfs."

When Disney bought Pixar to try to revive its flagging animation program, Catmull and Lasseter took charge of both studios, which are run separately.

At least 300 Disney animation staff were laid off or reassigned in the months following the leadership change.

Catmull and Lasseter gave the first descriptions on Thursday on how they reshaped story lines of Disney films already in production, canceled others and restructured how the Disney artists work.

"Pixar is still Pixar -- nobody left," Catmull said. "At Disney, you have these remarkable artists there ... they were not kneaded together in the right way. At the heart of it there has to be a director and the director has to have a vision."

Catmull said there were no plans to merge the studios or to limit them to a certain type of animation.

"We always believed that quality is the best business plan," he said.

He and Lasseter showed clips from upcoming films, including "Ratatouille," "Meet the Robinsons," Wall-E," "American Dog" and "Toy Story 3."

&copy Reuters
posted by Josh @ 9:02 AM
2007-02-08
Recipe ... of a disaster.
The other fun thing about my iBook being dead is the fact that I don't have access to any of my recipes.

Last night I made a particularly bland-tasting rendition of a calzone with a downright dough recipe that I thought I had memorized.

Guess not.

Sadly, in the last two weeks before my computer disaster I made ALL THREE of the recipes that I've posted online:


Huh. Well, I hope Liz likes those three things, because it looks like that's all I know how to make now.

Well, that, and a particularly lame calzone ...
posted by Josh @ 10:41 PM
2007-02-07
News: Disney's Bahrain
In case any of you saw the articles yesterday about the Walt Disney Company building a theme park in the Kingdom of Bahrain here's the real scoop.

The whole thing seemed dodgy to me when they said the park was to be called "Disney's Bahrain". As you know, Disney theme parks are all named "Disneyland" (Tokyo Disneyland, Disneyland Paris, Hong Kong Disneyland) after the original 1955 park in So. California. The only exception, of course, is the Magic Kingdom at Walt Disney World. When Walt Disney was still alive the whole Florida resort was to be called just "Disney World", but after his passing his brother Roy changed the name to "Walt" Disney World, "so people will know that this was Walt's dream."

(Roy was Walt's older brother and business partner who postponed his own retirement from the Disney organization after Walt's death to make sure Walt Disney World was finished for it's grand opening in October of 1971. He died fewer than three months later.)

Anyway, here's the real deal on "Disney's Bahrain", followed by an article from last March about potential Disney action in Dubai.


Reuters
Disney says not in talks on Bahrain park
By Mohammed Abbas
February 06, 2007

MANAMA/LOS ANGELES - Walt Disney Co. denied on Tuesday that it is in talks to build a theme park in Bahrain, following a newspaper report saying Saudi billionaire Prince Alwaleed bin Talal was negotiating to build an $8 billion Disney park in the heart of the world's biggest oil exporting region.

The project purportedly would be based on Disney's theme parks and could be called "Disney Bahrain," Bahrain's al-Waqt newspaper said, citing an unnamed source.

But a Disney spokeswoman said the company "is not in talks to build a theme park in Bahrain."

Alwaleed, the world's eighth-richest man, is talking to investors including Kuwait Finance House, the Gulf's second largest Islamic bank by market value, and Bahraini institutions, the paper said.

Alwaleed indirectly owns 10 percent of Disneyland Paris operator Euro Disney, and his Rotana Audio Visual Co., signed a deal in November to distribute Walt Disney products across the Middle East and North Africa.

A spokeswoman for the prince could not be reached for comment. A spokesman for Kuwait Finance House in Bahrain declined to either confirm or deny the report.

A spokeswoman for Bahrain's Economic Development Board and a spokesman for the state-owned Mumtalakat Holding Company said they had not heard of the deal.

Disney has 11 theme parks worldwide and has said it wants to build one in Shanghai to tap growing wealth created by China's economic boom.

(Additional reporting by Gina Keating in Los Angeles; Souhail Karam in Riyadh)

&copy Reuters


And now here's the Dubai Disneyland article, which supports the recent story of no Disney parks in the Gulf region:


Khaleej Times
Chairman rules out Disney park in Mideast
By Lucia Dore
March 24, 2006

DUBAI - Disney will not be establishing a park in Dubai or, in fact, anywhere in the Middle East anytime soon, said James Rasulo, chairman of Walt Disney Parks and Resorts speaking to Khaleej Times, during the IAA Congress.

"When deciding on a location, we have to look at the size of economy and the distribution of income. We are a premium tourism product and we need certain characteristics. I don't see the Middle East today as a market that is quite ready for that, but I never say never," he said.

However, India fulfils some of those requirements. He said: "There is a still a fundamental evolution of infrastructure that has to occur so that people can get to a single destination with the footprint that we would like to develop. Today that footprint is not in place." But that will not be the case forever, he added. "If you look at the population and economic realities of India, it is possible one day, but that day is not now."

China is a slightly different matter. Although Hong Kong recently opened a Disney Resort, he sees the establishment of a second resort in China as a real possibility. "Someday I imagine that due to the sheer geography of China, a growing economy and population there may be a second destination in China," he said. But not in coming years. "We look with great anticipation to be able to deliver our very special formula and entertainment to all of the markets that can support it," he said.

Rasulo also spoke about how to manage global brands in a "flat world". This is a world "where media is ubiquitously available, and the definition of what is a local market is being eroded by portability, customisation and personalisation," he said.

As one of the world's most global and successful brands, the reason for Disney's success is simple. "The basic principles of global brands come back, not shockingly, to consumer insights," said Rasulo. "If a brand does not speak to consumer need it will not be a global brand. It will simply be a globally distributed local brand." He said companies that have been successful in establishing a global brand speak to universal human values and the need to belong to communities.

Speaking about Walt Disney Parks and Resorts specifically Rasulo said the concept is successful because it fulfils "the desire to have a transformational experience and to feel as if your own personal dreams are coming true".

He also said; "The principles on which we can manage a global brand are anchored in consumer insights. They have universal principles that have to be consistently expressed and speak to universal values. They speak to what we believe are a market of one, that is so basic in its needs and desires, that that market is replicated by four or five billion people all over the world. This is what Disney does."

Rasulo explained that the branding is so consistent and universal that research shows that people all over the world see the Disney brand in the same way, "whether in a living room in Southern China or in California, where they have grown up with Disneyland," he said. He said the words that are consistently used to describe the Disney experience are magical, wonder and imagination, and phrases like: "Where my dreams can come true." "And we have built our brand around this," he said.

&copy Khaleej Times
posted by Josh @ 9:11 PM
2007-02-06
Goodbye Monkey, Hello Tyler ...
Yesterday I also got word that my brother's coffee shop The Mad Monkey Cafe in Raymond, Maine, USA is closing on February 24.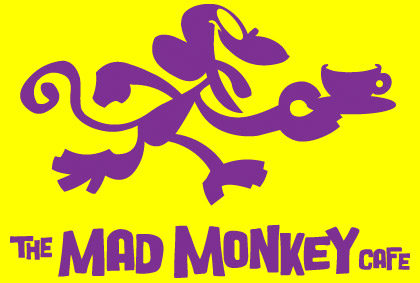 I mentioned it here last in Happy Birthday Mad Monkey!

Anyway, if you're in the Raymond-area in the next three weeks, check it out.

But in happier news, this morning at 8:54 am my brother's business-partner / buddy and his wife had a baby boy! So let's welcome Tyler Nguyen into the world!!

Out with one monkey, in with another ...
posted by Josh @ 10:07 PM
Six Months
Hey, yesterday was our six month wedding anniversary!
posted by Josh @ 10:05 PM
2007-02-03
Lightning, Villas and the Burj
Don't know if you caught this on ESPN, but we had a crazy lightning and thunder storm here in Dubai yesterday, so they suspended play at the Dubai Desert Classic. Probably better for Tiger to go relax in the Burj al-Arab, anyway.

Also in sports, the UAE Soccer team has won the Gulf Cup ( http://en.wikipedia.org/wiki/Gulf_Cup_of_Nations ), beating Oman 1-0.

But, istead of the "I'm going to Disneyland" tradition, there's a slightly different one here. His Highness Sheikh Mohammad Bin Rashid Al Maktoum, Vice-President and Prime Minister of the UAE and Ruler of Dubai, awarded each player of the UAE team with a villa in their respective emirates.

Hmmm, free trip to Disneyland (where you're obligated to ride in a cheesy parade) ... or a villa in Dubai.

Tough choice.

Lastly, the Burj Dubai ( http://en.wikipedia.org/wiki/Burj_Dubai ) has hit a snag in construction. Apparently some Swiss company has gone bankrupt and now they're a couple of months behind schedule. But in the newspaper there's a quote from Greg Sang, Emaar's assistant director of projects and the man overseeing the entire $20 billion Downtown Burj Dubai development, denying the rumors that construction would be complete up to a year later than its scheduled fourth quarter 2008 delivery date.

Guess Sang wants a villa, too ...
posted by Josh @ 9:11 AM
2007-02-02
My iBook is dead
Last night my Apple iBook (G3) died.

I was massively upset.

But now I'm just angry. Really, really angry. I've realized, through the archives of my old blog, that the two other times this happened before were on February 12, 2005 and February 18, 2006.

Somehow, every February, my iBook screen dies.

In theory this is related to the Expanded iBook Logic Board Repair Extension Program, I guess. Of course last time this happened the nice gentleman on the phone reminded me that my model will no longer be supported after calendar year 2006.

Not that I could mail it to them from this mail-foresaken land of Dubai, Anyway.

The worst part is that the computer boots up fine, it's just the screen doesn't work. You can even run applications, if you know how to find them (shortcuts on the screen or whatnot).

And yes, last year I tried hooking an external monitor up - no dice.

This year I tried removing the additional 512 MB RAM in it - last year they said that was the problem, that I had "non-Apple" RAM. So of course in March I ran out and spent $200 on legit Apple RAM. Some good that did me. The bastards.

So until I buy a new Mac I won't be able to get to any of my contacts, any of my old emails, any of my bookmarks (other than the ones I've saved at http://del.icio.us ), or any of my music.

I am really, really angry right now.
posted by Josh @ 1:01 PM
2007-02-01
Tiger Tiger Woods, Y'all
The Dubai Desert Classic golf tournament starts today! I had to mention this, for if I didn't I'd be sure to get an email from my father-in-law. For sure.




This tournament, of course, means that Tiger Woods is in town to defend his championship, so I'm sure you'll see lots of Dubai on ESPN over the next four days.

See, Tiger has a contract with the officials here that says he'll compete in the event at least three times in the next four years. For doing so, he gets $3 million compensation. A year. For winning the whole tournament last year he got a whopping $400,000. In fact, the sum total of the purses was just about $2.2 million.

Really there's no way Tiger can lose!

Plus he also gets to stay in the Burj al-Arab hotel and get helicopter rides to and from the golf course. No waiting in mid-afternoon traffic on Sheikh Zayed Road for him. Lucky punk.

It's interesting, though, apparently it's illegal to pay players on the European Tour, and the Dubai Desert Classic counts as a wing of that. So organizers actually pay Tiger and company to compete in the pre-tournament shootout, the Jumeirah Golf Estates Challenge. Of course Dubai would find a sneaky way around the rules ...

Lastly, you might have heard this two months ago, Tiger Woods is set to design his first course here in Dubai - the Al Ruwaya course at "The Tiger Woods - Dubai" resort.

It's actually more than just a resort, really. It'll be an exclusive golf community that will include a golfing academy, an 80-suite boutique hotel for VIP guests, 300 luxury villas, 20 mansions and - of course this is Dubai - a retail area. It's set to open in 2009 in Dubailand, the as-to-yet fictional extravaganza that's going to be the world's largest theme park. In two years.

Because if it only took Walt Disney and his staff a year and a half to develop an 85 acre (344,000 sq meter) theme park back in the 1950s, I'm sure these folks in Dubai can build a 3 billion square foot (278 sq km/107 sq mile) park in the next two years.

Sure.
posted by Josh @ 10:46 AM
National Geographic
In my travels yesterday I finally found a copy of the January 2007 National Geographic with the cover story on Dubai.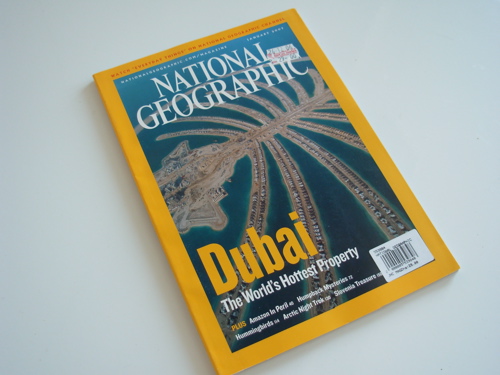 I'd read the exerpt online, and looked at the photo gallery, but still, it was pretty cool to see some familiar sights in the real magazine.
posted by Josh @ 10:12 AM
Josh and Liz are two American kids who got married in August. Liz has lived in Dubai since 2003, Josh since August of 2006.

Follow along in the culture shock of being recently married and (for Josh, at least) recently transplanted to Dubai.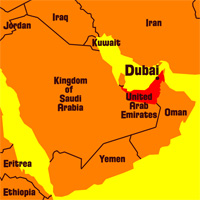 Right now in Dubai
Videos
Pictures
Previous Words
Favorite Recipes
Currency Converter
The easy way to convert Dirhams to Dollars!

Enter a number in either field, then click outside the text box.
Archives
Links We Like
Visitor Counter: