2007-01-31
Britishisms, pt. 3
So duh - I totally forgot the whole reason why I wrote the updated post to the original Britishisms post!

In Dubai it's not a résumé, they call it a curriculum vitae, or CV for short.

Don't ask me what that means, though, as my Latin is just a hair worse than my Arabic.
posted by Josh @ 5:00 PM
Red Sox Key
Quick update today as I've got to run out on a mission in a few.

I wanted to show you possibly the stupidest thing I bought on our vacation back to the States: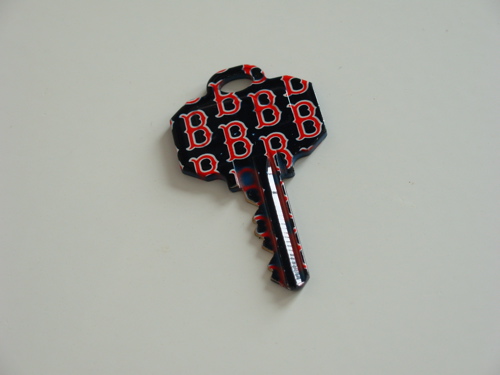 It's a key to our apartment with the Boston Red Sox logo on it.

Stupid, I know, but it makes me smile every time I lock the door ...
posted by Josh @ 10:55 AM
2007-01-30
Britishisms, pt. 2
Whoa, whoa, whoa, full stop!!

Back in September I wrote about the different Britishisms I'd run into here in Dubai. But man, I didn't realize how many I missed.

First off is the aforementioned "full stop". It's a period. You know, the small dot that's placed at the end of a sentence. Like this one right here. That's a "full stop".

It's like they're talking on a telegram STOP

Weird.

Or maybe Americans are weird.

Anyway one thing that I know is weird is that the Discovery Channel narrator is dubbed into British English over here. Seriously. It's pretty freaky to hear a British dude talking about the rough-around-the-edges Teutul family from American Chopper. But I really miss the humorous American voice-over in MythBusters. This British guy just sound too intelligent for the stunts they pull on that show.

Anyway, here are a few more Britishisms I've noticed in Dubai and on the Discovery Channel.


"Advertisement" are still advertisements, but can also be referred to as "adverts".


It's not a "baby carriage" it's a "pram" (which must be short for something, but I don't know what that is).


A "Band-Aid" brand adhesive bandage (which is technically Johnson & Johnson's trademark, however genericized) is a "plaster".


A baby's "diaper" is a "nappy" here (but don't read anything into all of this baby-talk, we have several neighbors who have babies, okay?!?)


Can't believe I didn't mention that "French fries" are known as "chips" here. Unless you're in a Red State, then it's ...


Shee-oot, them there "Freedom Fries" is done called "chips" in Duuu-buy!! Dern it!

Look for my complete Redneck to British Dictionary coming soon.)


Here's another one that I just don't get, it's not "math" it's "maths". Plural. As in, "I'm no good at maths."


What we would call an "overpass" on a highway, they'd call a "flyover".


"Takeout" food is "takeaway".


A big "truck", such as an 18-wheeler, is called a "lorry".


The front window of your car isn't a "windshield", it's a "windscreen".

And of course, it's not a cell phone, it's a "mobile". Still.
posted by Josh @ 3:55 PM
2007-01-29
VoIP
Oh come on!

This is beyond stupid. We only got Skype working again!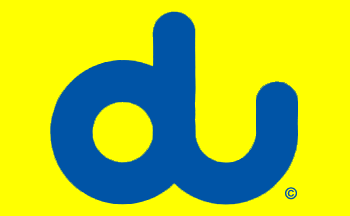 Un-freaking-believable.


Gulf News
du defends blocking of VoIP calls in free zones
By Robert Ditcham
January 29, 2007

Dubai: From next month internet users in Dubai's free zones will be barred from calling phone lines from their PCs using Voice over Internet Protocol (VoIP) in an apparent change of heart by the UAE's telecom regulator.

An announcement banning use of VoIP in Dubai Internet City was made to customers by du-owned DIC Telecom, the telecommunications provider for the free zone, in compliance with instructions issued by the UAE Telecom Regulatory Authority (TRA).

Telecom operator du says its decision to cut VoIP use for Dubai's free zones was made in accordance with guidelines set down by the UAE telecom regulator, the TRA.

EITC, which operates under the brand name du, said the block covers all free zones and all calls from PC to fixed or mobile phone using the public internet.

Osman Sultan, CEO of du, said: "Following specific instructions from the TRA, VoIP calls made from the UAE using du broadband internet to fixed or mobile phones are blocked by the licence operators.

"The TRA determines the VoIP policy within the UAE. du, as a licenced operator, is obliged to abide by these rules and guidelines."

"All calls from PC to fixed or mobile phones using the public internet will be blocked. The impact will be mainly on international calls. Other VoIP calls such as those from a PC to another PC worldwide are not blocked. Calls could also be received from overseas internet users. However, this service could vary depending on other countries' VoIP policies."

TRA general director Mohammad Al Ganem, said the development is not new.

"This is a clear policy of the TRA and is country-wide, including all free zones. This has been made clear for some time," he said.

&copy Al Nisr Publishing LLC
posted by Josh @ 6:59 PM
Weekend photo roundup
I took quite a few photos this weekend, so I'm going to jump right to it.

Actually this morning was pretty foggy outside, so I grabbed this shot, about 9 am: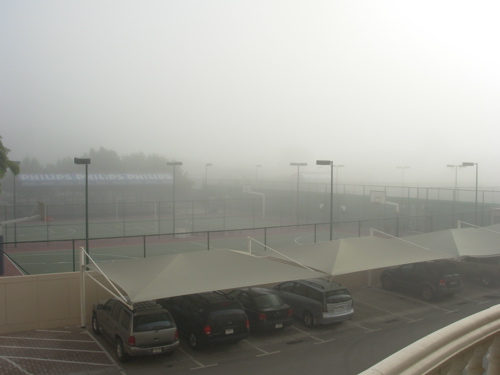 Anyway, this weekend Liz and I drove all over Dubai. Over by Ikea is the Al Badia Hillside Village (crummy Flash website). Of course, this being flat-flat Dubai they have to physically construct the hill in order to make a hillside village. Crazy.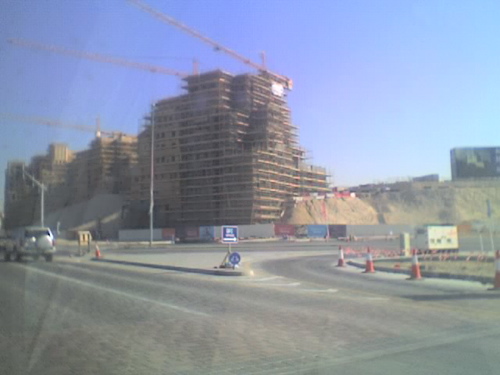 We also went to Karama, an older section of Dubai over by the Creek. In Karama there are lots of cheap low-rise apartments, with first floor shops dealing in all sorts of goods - counterfeit and not.

Anyway, this one shop we went into had some Iraqi dinars on sale. I should have asked how much they were. Instead, I took a picture: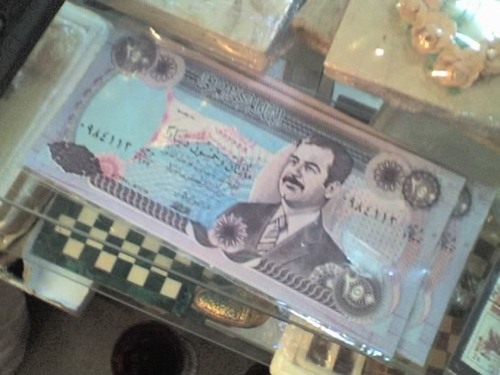 Over the break when we were in the States I bought a new cheapo camera, one with a unusually wide-angled plastic lense. The Vivitar Ultra Wide & Slim. It takes pretty cool photos, which only enboldened me to get even weirder and try cross-processing - taking slide film and developing it like you would negative film, thus getting high contrast and crazy color combinations. You know, kind of like a Tony Scott movie.

Anyway, here's Sheikh Zayed Road: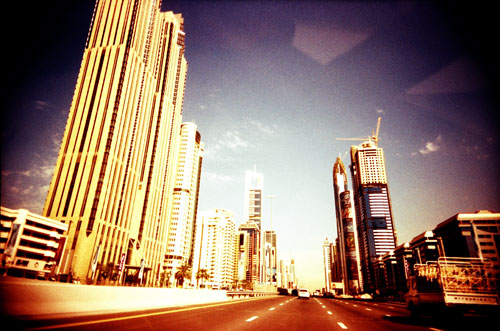 Here's the Burj Dubai construction: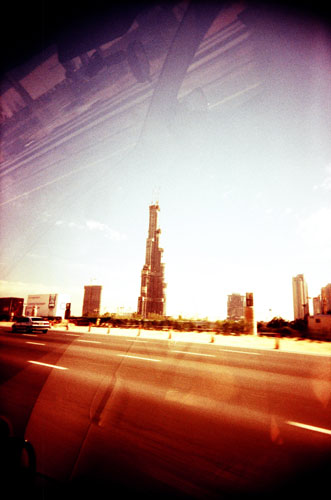 The increase in contrast made the reflections in the windshild all the more apparent. Next time I'll roll the window down.

If you want to see a few more of my cross-processed shots, and a few normal ones with the Vivitar Ultra Wide & Slim, check out my Flickr pages: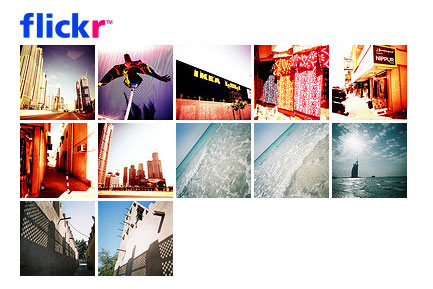 posted by Josh @ 1:48 PM
National Gorilla Suit Day
Hey everyone, apparently this coming Wednesday is National Gorilla Suit Day.





I scoured that website, however, and couldn't find anything about it being international, so I guess I'll just leave my gorilla suit in storage until I hear about the International Gorilla Suit Day.

Or, at the very least, Dubai's Gorilla Suit Day ... which they'd likely declare three days beforehand, as are most holidays annouced here ...
posted by Josh @ 12:46 PM
2007-01-26
Palm Photos
Last weekend we went to the beach, and although it was too chilly to swim, I got a few photos of the Palm Jumeirah.

Here you see the Burj al-Arab hotel, and out in the ocean (well, technically "gulf") you see the construction.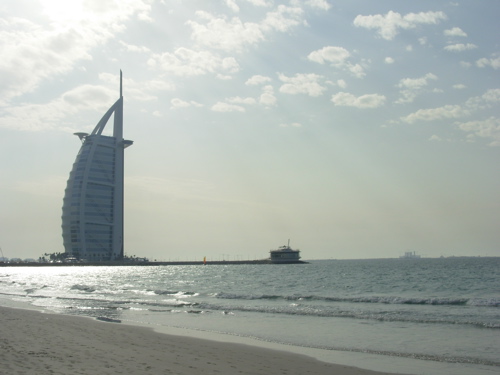 Here you see it a little closer.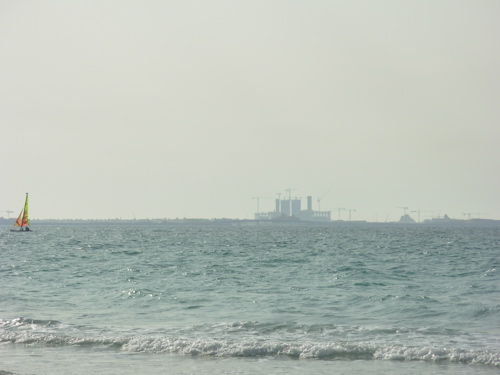 Before I leave Dubai, I swear I'm going to take a helicopter ride and get some fantastic photos ...
posted by Josh @ 1:05 PM
ooh la la
So I guess I made an error yesterday. The giant Cirque du Soleil tent is not called a "chapeau" like I said. I know that means "hat", I just thought they were being clever. Nope.

The real name is "Le Grand Chapiteau" - chapiteau meaning literally "big top" or "circus tent".

I personally like mine better ...
posted by Josh @ 12:59 PM
2007-01-25
Quidam review
Last night we saw Cirque du Soleil's Quidam here in Dubai. And boy, are those French-Canadians crazy!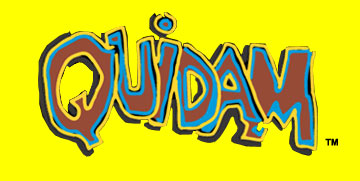 I'd never seen a Cirque show before, but having seen plenty of ads in Las Vegas (where they only have five shows, not one on every corner, like I reported yesterday) and Walt Disney World, I thought I had a pretty good idea of what to expect.

But I have to say, seeing footage of four people being human-yo-yos on video is quite a bit different from seeing them in real life, climbing up forty or fifty feet, then rolling down the rope.

First some backstory on the show, from the official website:


Quidam: a nameless passer-by, a solitary figure lingering on a street corner, a person rushing past. It could be anyone, anybody. Someone coming, going, living in our anonymous society. A member of the crowd, one of the silent majority. The one who cries out, sings and dreams within us all. This is the "quidam" that Cirque du Soleil is celebrating.

A young girl fumes; she has already seen everything there is to see, and her world has lost all meaning. Her anger shatters her little world, and she finds herself in the universe of Quidam. She is joined by a joyful companion as well as another character, more mysterious, who will attempt to seduce her with the marvelous, the unsettling, and the terrifying.

So yeah, there's some freaky weird stuff. The dude with no head but a bowler hat, the rather Pee-Wee Hermanesque ringleader, and my personal favorite, Les Chiennes Blanches - pretty much guys and gals in white ninja outfits.

The website will give you a pretty good idea of the acts, all of which were amazing. My own favorite was the German Wheel - a six foot hamster wheel with a dude inside, rolling, spinning, stopping - it made me dizzy just watching him.

The Human Statue was unreal, too. A man and a woman, both stronger than anyone I've ever met before, balancing on each other in dozens of poses. At one point the guy was standing up straight and the woman was balancing on his neck upside-down, on her neck. Her feet were straight in the air. Just imagine that for a minute. The only place they're touching is neck and shoulders.

Man.

They also broke up the feats of derring-do with this clown act, pulling people from the crowd. We're still not sure if the volunteers were plants or not - if they weren't, they certainly only picked Westerners, which was interesting. No folks in local dress, at least.

Apparently the show has been touring since 1996, with different casts, of course. The only thing dated about it, at least to me, was the score. Although the show has a live band and singer, lots of the music was pre-recorded, which had a mid-1990s, Hans Zimmer / Media Ventures sound. You know, combining traditional orchestral score with modern drums, guitars and choral elements. Like the scores to Bad Boys, The Lion King, Crimson Tide and The Rock.

Anyway, the whole thing was just amazing. I don't even want to know how long it took to set up, luckily the show was extended another three weeks, so that saves somebody from taking it down just yet.

Here's a shot from outside of the tent, or what they call the Chapeau. (Crazy French-speakers!)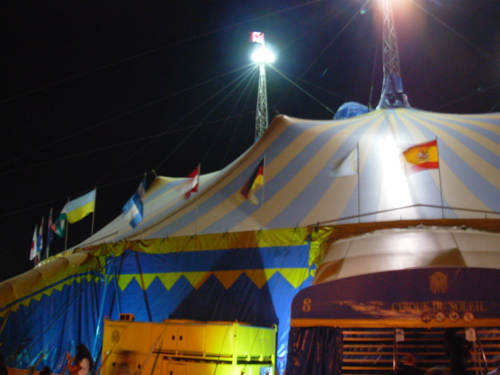 We weren't allowed to take photos inside, I tried a few without my flash during the intermission, and they really didn't come out well at all.

Lastly, for those of you interested, you can purchase the Quidam CD and DVD online, too.
posted by Josh @ 3:19 PM
2007-01-24
Quidam
Tonight we're going to see Cirque du Soleil's Quidam, playing in the Ibn Battuta Mall parking lot.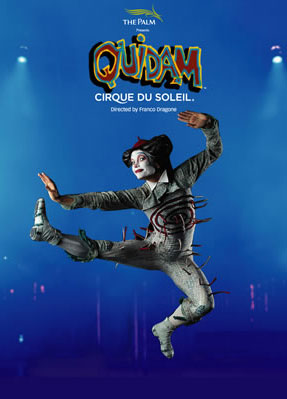 It'll be easier to tell the backstory of the tickets today, so I can comment on the show and tell stories tomorrow.

In the spring of last year I met some of my Los Angeles friends in Las Vegas for a weekend. Actually my brother took me - I was too broke from the crummy job I had in Portland to pay my own way. It was sort of a bachelor party, but my cousin Karen was going, and this is me we're talking about, I'm not the kind of guy who wants a "bachelor party" anyway.

So Liz has never been to Las Vegas, and asked what we had planned and generally what the deal with Vegas is. I told her about the restaurants, the bars, the stupid opulence of the hotels (which are in the same class as Disney and Dubai, really). And I mentioned there's a Cirque du Soleil show on ever corner.

That's when Liz told me she'd always wanted to see a Cirque du Soleil show.

File that away in my brain.

Later in the spring we were talking honeymoon. For a brief nanosecond I was kind of keen on going to the Walt Disney World Resort in Florida, but I knew that wouldn't be Liz's first choice. So I scoured the internet for images of the different resorts that didn't scream "Disney". I ended up finding a dozen good ones of the Grand Floridian Resort & Spa, with it's Victorian-inspired look and fancy spa things. Then the last photo had a much-too-excited adult family eating dinner at one of the posh restaurants at dusk ... with Cinderella's Castle is in the background.

I thought it was clever, like. "surprise, it's Disney!"

We actually considered a honeymoon there for a little bit. I also told Liz that Downtown Disney has its own Cirque show.

That caught her attention the most, I'd say.

Anyway, we ended up going to Mauritius in our honeymoon and had a great time.

Then in December I read in the paper that Cirque de Soleil is coming to Dubai in January.

Can you say, "Perfect first Christmas present to your wife?"

I did, however, get lucky. Liz thought that it was a limited-limited engagement show that was ONLY playing around the new year ... when we were out of town. So while I was trying to play it cool everytime we saw a poster, billboard, banner or ticket booth, Liz had already written off even the possibility of going to the show. So I didn't even have to be tricky, really.

Needless to say, on Christmas morning when Liz opened the present, she was very surprised, and I was pretty happy.

Anyway, tomorrow we'll let you know it all went! See you then!
posted by Josh @ 11:39 AM
310
I'm not one for status symbols, it's part of my Yankee charm. But there's one thing in the world that I always wanted. And it's just about the stupidest thing ever. For the longest time I wanted a cooler area code.

Are you still with me? I hope so, because this is only going to sound stupider and stupider.

See, when I lived in Southern California back in the day, I lived in the San Fernando Valley, north of Los Angeles. It's referred to, often in a derogatory tone, as "The Valley", to distinguish it from Hollywood, Beverly Hills, Westwood, Santa Monica ... the cool places to live.

The Valley, sadly, is not cool.

And, like cars, clothes and physical appearance, area codes are also a status symbol in Los Angeles.

Hollywood, Beverly Hills, Westwood, Santa Monica et al have either the "323" or "310" area codes, while the Valley is "818". (Funny story, I actually witnessed a co-worker cry when she found out they were turning her neighborhood into a "323" from a "310". 100% true. The area code split actually inspired the Simpsons episode A Tale of Two Springfields a few years ago, it was that controversial.)

The Valley is where Alicia Silverstone's character in Clueless goes to the really lame party and then gets mugged at the liquor store with the giant clown sign. In fact, my cousin lived around the corner from there, seriously. When I saw Circus Liquor for the first time it was like seeing a celebrity. It was actually even better than seeing a celebrity, because the clown was taller than I expected.

The Valley was also home to Valley Girl, and the whole "as if", "gag me with a spoon" speak of the 1980s. Apparently this originated from The Sherman Oaks Galleria. Ironically that's the same mall where John Conner meets the Terminator in Terminator 2.

Anyway, the term "818" is also used as slang occasionally. In Doug Liman's film Go a character actually says, "Don't get 818 on me." instead of "Don't wimp out on me." In fact, I think there's a similar line in Liman's other big film, Swingers.

So you can see how a single dude in his early 20s living in Los Angeles might want a cooler phone number.

Alas, I never got that number.

Until this week.

As I mentioned earlier, Skype internet phone service works in Dubai again. And not only can you call computer-to-computer, you can pay extra to call telephone-to-computer or vice versa. We decided to get a telephone number, in case our family or friends can't get Skype to work at home.

But sadly Skype doesn't offer a "207" area code - the one area code for the entire state of Maine, where our family and many of our friends are.

I guess we have to pick a different area code.

Hmmm.

Yup, now I finally have my three-one-oh area code. Even if I'm thirty years old, married, and living in the Middle East ... I feel a little cooler.
posted by Josh @ 10:53 AM
2007-01-23
Counter
After the story about the Gulf News today it appears more people are reading this blog than I though. I mean, not that's there anything wrong if only our cousins, aunts, friends and parents read the blog. But now it got me to wondering just how many people are checking this out every day ...

So I've added a counter to the page, you'll see it in the right-hand column, underneath the ads. It looks like this:





As for how many people have read this since August, well, I have no idea. I checked our Apple iTunes account and they say we've had 30,936 "impressions". Somehow I doubt that almost 31,000 people have visited this page over the last five months, so it must take into account multiple ads per page into "impression". So lets say we have eight Apple iTunes ads on this page right now, for every one viewer we're getting eight impressions.

So instead of 30,936 viewers, we have something in the ballpark of 3800 readers. Over twenty-four weeks that's something like twenty-three readers a day. Still sounds high, but who knows? Maybe we're more popular than we thought ...
posted by Josh @ 3:11 PM
So 'Gulf News' is a Fan ...
Liz just called from work, told me to check the webpage for Gulf News. Apparently I'm in it.

I guess every week they have a section called "Blogosphere" where editor Adam Flinter steals quotes Dubai blogs about a particular topic. This week was about the fire over in Jumeirah Lakes Towers the other day, so they quoted my News: Dubai fire bit about my Dad asking about the fire and rescue in Dubai.

Hey Dad, I guess that was a pretty good question!

Yep, this is right up there with the time that Jerry Beck quoted me in www.cartoonbrew.com or when my letter to the editor was published in Time Magazine.
posted by Josh @ 8:35 AM
2007-01-22
2006 in Review
In honor of this weekend's Islamic New Year I thought I'd do a little Year in Review, Josh style.

That, of course, means no Lindsey Lohan, Britney Spears or Paris Hilton.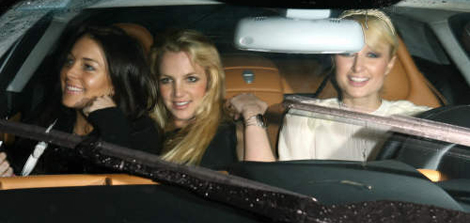 Although the three of them together in one car might be seen in some cultures as the First Sign of the Apocalypse.

Maybe the Maya were wrong about December 21, 2012 ...

Anyway, it always bugs me when the weekly newsmagazines, such as Time and Newsweek, do their Year in Reviews in mid-December. Obviously you're going to miss some stories, oh well. Usually they're only little ones, like say the deaths of James Brown, Gerald Ford and Saddam Hussein.

Oops.

Not that I want them to anticipate the deaths, you know, like in the classic Saturday Night Live sketch with Dana Carvey as Tom Brokaw, pre-taping a winter's worth of news stories so he can go to Barbados. The one with the line, "Gerald Ford shot senselessly dead, at the age of 83."

Wait, bad example.

Anyway, enough mugging. Here's my list:

January 4 - His Highness Sheikh Maktoum Bin Rashid Al Maktoum, the Ruler of Dubai and Vice-President and Prime Minister of the UAE, dies. He is succeeded by His Highness Sheikh Mohammad Bin Rashid Al Maktoum. (Yes, there's a difference. A subtle, subtle difference.)

January 4 - Israeli Prime Minister Ariel Sharon suffers a massive stroke.

January 6 - The record-breaking 2005 Atlantic hurricane season officially ends.

January 7 - Several scandals later, former U.S. House Majority Leader Tom DeLay announces he will not seek to reassume his former post.

January 25 - Hamas, who is listed as a terrorist organization by Australia, Canada, the European Union, Israel, Japan, the United Kingdom, and the United States, wins the majority in the Palestinian Legislative Council elections.

January 31 - Samuel Alito is sworn in as an associate justice of the Supreme Court of the United States.

January 31 - Danish newspaper Jyllands-Posten apologizes over offensive cartoons printed in September 2005 of Prophet Mohammad (PBUH).

February 11 - U.S. Vice President Dick Cheney accidentally shoots Harry Whittington in the face with a shotgun. If this is how he treats his friends ... whoa ...

February 13 - Shareholders of British port operator Peninsular and Oriental Steam Navigation Company vote overwhelmingly in favour of Dubai Ports World's offer to acquire the firm for $6.8 billion.

Uh-oh.

February 16 - Seven U.S. lawmakers demand a committee to thoroughly review the P&O / DP World deal, citing the War on Terror and the fact the British company manages six major U.S. ports. Because we wouldn't want a foreign company managing six major U.S. ports.

February 16 - The United Nations call for the U.S. prison camp at Guantanamo Bay to be shut down. It won't be.

February 22 - The 1 billionth song is purchased from the Apple iTunes Store in a little under three years.

March 1 - Articles of Impeachment Against George W. Bush by the Center for Constitutional Rights is published.

March 2 - Dubai Ports World gains approval of Britain's High Court for its purchase of P&O.

March 3 - The first World Baseball Classic opens in Tokyo, Japan.

March 9 - Dubai Ports World says it will transfer operations of six U.S. ports to an American company if lawmakers allow the sale.

March 11 - Slobodan Milosevic is found dead in his cell in the UN war crimes tribunal's detention centre in The Hague.

March 20 - Boston Red Sox, citing too many pitchers, trade Bronson Arroyo to the Reds for outfielder and slugger Wily Mo Pena.

(Arroyo, as you might recall, had two famous run-ins with Alex Rodriguez in the 2004 season. On July 24 Arroyo hit A-Rod with a pitch, causing a bench-clearing brawl the reinvigorated the Sox for the rest of the season. In Game Six of the ALCS playoffs A-Rod slapped Arroyo, knocking the ball from the pitcher's hand as he ran to first base to tag him out. A-Rod was initially called safe, but the call was overturned, and, well, we know what happened from there.)

March 25 - An estimated 500,000 people take to the streets in downtown Los Angeles to protest a proposed federal crackdown on illegal immigration.

March 30 - The first World Baseball Classic ends in San Diego, California with Japan beating Cuba in the Championship. Some young pitcher named Daisuke Matsuzaka is the MVP.

April 8 - Boston Red Sox centerfielder Coco Crisp, the replacement to Johnny Damon, breaks his finger sliding into third base, pretty much ending his season.

April 11 - President of Iran Mahmoud Ahmadinejad confirms that Iran has successfully produced a few grams of low-grade enriched uranium.

April 11 - Former Red Sox pitcher Bronson Arroyo hits his second home run of the the year (and career) giving him more homers than the power hitter for whom he was traded, Wily Mo Pena.

April 18 - Katie Holmes gave birth to a baby girl, Suri Cruise. She and the father, actor Chris Klein, are doing well.

April 18 - Ready to replace DVDs, the first HD DVD movies are released to consumers. "The Last Samurai", "Million Dollar Baby", "The Phantom of the Opera" and "Serenity" are your only choices, sadly.

April 27 - Construction on the foundation for the Freedom Tower at the site of the former World Trade Center in New York City begins.

April 28 - One of my co-workers in Portland, Maine found a gecko in his Amato's Italian sandwich. Seriously. I'm not making this up.

I took the photos.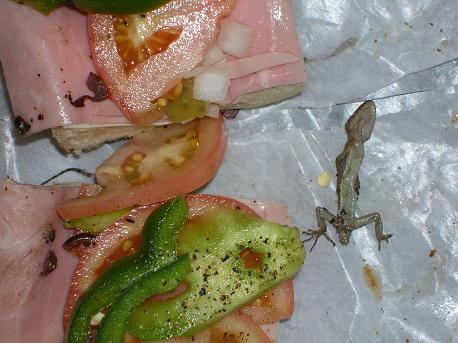 April 29 - The third anniversary of The War in Iraq.

May 1 - The first meeting of the Red Sox and Yankees. It was supposed to be about Johnny Damon's first game in Boston since becoming a Yankee. But instead a last minute trade to reaquire catcher Doug Mirabelli from San Diego took center stage.

Mirabelli was the personal catcher to knuckleball pitcher Tim Wakefield for several years before being traded in the off-season. Young catcher Josh Bard attempted to learn how to catch Wakefield's knuckleball, but it was difficult and painful for all involved. General Manager Theo Epstein finally trades Bard, a young pitcher and the standard "player to be named later" to get Mirabelli back before the Sox played their biggest rivals.

Mirabelli landed at Logan airport at 6:48 pm - with a game time of 7:05 pm. A State Trooper escort got him to the park in 12 minutes, giving him just enough time to change into his uniform in the SUV and make it out for the opening pitch.

Best of all, the Red Sox won the game.

May 2 - The Case for Impeachment: The Legal Argument for Removing President George W. Bush from Office by Dave Lindorff and Barbara Olshansky is published.

May 27 - Red Sox pitcher Curt Schilling earned his 200th career win, and I was there.

June 9 - The 2006 FIFA World Cup begins in Germany. Most Americans don't care.

June 19 - A hockey team from south of the Mason-Dixon line beats a team from Canada for the Stanley Cup. Most Americans don't care. Canadians are furious. Or, at least as mad as they can get. They're just so cute, Candians!

June 20 - Ready to replace DVDs and HD DVD, the first Blu-ray Disc movies are released to consumers. "Hitch", "The Fifth Element", "House of Flying Daggers", "Underworld: Evolution", "50 First Dates", "XXX" and "The Terminator" are the first offerings, leading to wide speculation that the film industry wants Blu-ray to fail miserably.

July 9 - Italy wins the 2006 FIFA World C -- oh who cares?

July 12 - Israeli troops invade Lebanon in response to Hezbollah kidnapping two Israeli soldiers and killing three. War breaks out.

August 5 - Liz and I have a wedding in Waterford, Maine.

August 24 - The International Astronomical Union pulls a recall on Pluto, demoting it from 'planet' to 'dwarf planet'.

August 28 - The Impeachment of George W. Bush: A Practical Guide for Concerned Citizens by Elizabeth Holtzman and Cynthia Cooper is published.

September 2 - Dubai changes the work week to Sunday-Thursday from Saturday-Wednesday.

September 4 - "The Crocodile Hunter" Steve Irwin is killed by a stingray while shooting a documentary called Ocean's Deadliest. Liz will hurt me if I make a joke here.

September 9 - Boston-based Filene's joins the ranks of Bamberger's, Burdines, Jordan Marsh, Kaufmann's, Marshall Field's, Robinsons-May and a half-dozen other chains to fall under the mighty weight of Macy's, as the last store is converted to the Macy's masthead.

September 11 - The fifth anniversary of the September 11, 2001 terrorist attacks.

September 13 - Pluto's year keeps getting worse - Pluto's archrival, the solar system's largest dwarf planet, gets a name - Eris, making it the de-facto eleventh planet. Zecharia Sitchin fans wait with baited breath for the discovery of next planet.

September 22 - The first fatal accident involoving a maglev train is recorded in Germany. Fans of Josh will know that his eighth-grade science fair project was about magnetically levitated trains, and that he still cares for them deeply.

September 29 - U.S. Representative Mark Foley (R-FL) resigns after it is revealed that he sent explicit e-mails for several years to underage male pages.

October 1 - Impeach the President: The Case Against Bush and Cheney is published.

October 9 - North Korea claims a successful underground nuclear test.

October 10 - Google buys YouTube for $1.65 billion.

October 17 - The United States population reaches 300 million based on a United States Census Bureau projection.

October 17 - President Bush signs the controversial Military Commissions Act of 2006 that allows for the suspension of habeas corpus rights to U.S. citizens. And if you think I'm going to make a joke here, you're mistaken. One wrong word, and I could end up an "enemy combatant" and shipped off to Guantanamo Bay for the rest of my life.

October 27 - The St. Louis Cardinals win the 2006 World Series.

October 28 - Former Boston Celtic coach Red Auerbach dies. Auerbach won nine NBA titles, including eight straight from 1959 to 1966 - the longest consecutive string of championships in the history of North American professional sports.

November 1 - United States v. George W. Bush et al. by Elizabeth de la Vega is published.

November 3 - The journal Science predicts that 90% of maritime life forms will be extinct by 2048.

November 3 - Ted Haggard resigns as president of the National Association of Evangelicals, after allegations of methamphetamine use and sexual relations with a male prostitute.

November 5 - Former Iraqi President Saddam Hussein is sentenced to death by hanging after an Iraqi court finds him guilty of crimes against humanity. I so wish I had grabbed a copy of the Gulf News that had the big "Saddam Guilty" title.

Dang it!

November 7 - Democrats win control of both houses of Congress for the first time since 1994, followed closely by the real big story of the year ...

November 8 - ... Britney Spears files for divorce from Kevin Federline. (Sorry, I had to mention it).

November 9 - Journalist Ed Bradley dies.

November 12 - Gerald Ford surpasses Ronald Reagan as the longest-lived President of the United States.

November 14 - Boston Red Sox bid $51,111,111.11 just to negotiate with Japanese pitcher Daisuke ("Dice-K") Matsuzaka, the MVP of the World Baseball Classic.

November 14 - Fox News announced that it will air an interview with OJ Simpson in which he would discuss the murders of Nicole Brown Simpson and Ronald Goldman and promoted his upcoming book, If I Did It.

November 14 - Over five years later, Microsoft finally decides to take on the Apple iPod with their own MP3 player, the Zune. Chicago Sun-Times columnist Andy Ihnatko said that the Zune was "so obviously immune to success that it evokes something akin to a sense of pity".

November 17 - Sony's PlayStation 3 video game console released in U.S. at an MSRP of $499.99.

November 18 - Katie Holmes and Tom Cruise are married in Italy. I was so excited I jumped up and down on my couch.

November 19 - Nintendo releases the Wii video game console in the U.S. at an MSRP of $279.95.

November 20 - News Corp, owner of Fox News and HarperCollins, announce they have canceled the OJ Simpson interview as well as the book.

November 20 - Film director Robert Altman dies.

November 23 - Former Russian KGB agent Alexander Litvinenko dies in London from a rare radiation poisoning under highly suspicious circumstances. Some people suspect the Russian Security Service, the FSB. Johnny Depp and Michael Mann are fighting over who wants to make the movie about the event, and thus who gets the next case of polonium-210 poisoning.

November 26 - U.S. Judge orders the U.S. Treasury to change the dollar bill.

November 27 - At one thousand, two hundred and forty-five days, the Iraq War is now longer than the U.S. involvement in World War II.

November 27 - Pamela Anderson files for divorce from Kid Rock for a second time, after two weddings, two engagements, and sadly no funerals.

December 14 - The Boston Red Sox finally complete the contract for pitcher Daisuke Matsuzaka. Konichiwa!

December 25 - "The Godfather of Soul" James Brown dies from congestive heart failure resulting from complications of pneumonia. He leaves Tammi Rae Brown as a widow ... or wait, if they're not really married, is she even a widow? Huh.

December 25 - The U.S. military death toll in Iraq has reached 2,974, one more than the number of deaths in the September 11 terrorist attacks.

December 26 - Former US President Gerald Ford dies at his home in Rancho Mirage, California.

December 30 - Saddam Hussein, former Iraq president, is hanged in Baghdad.

December 31 - The U. S. military death toll in Iraq reaches 3,000.

And that's the year.

Not bad, just one Britney reference.
posted by Josh @ 9:00 AM
Burj Dubai Construction
So over the weekend we drove down to Bur Dubai, the old part of town by the creek. On our way over there, I was going to try and get some shots of the Burj Dubai construction - but it was a little hazy and, well, not quite pretty enough for photos. Yes, pretty enough for photos of a construction site.

I'm a little picky.

Anyway, Liz made a fantastic point about the recent reports that they're completing one story of the building every three days, versus one story per week a few months ago. She said, "the stories are getting smaller as they go up, so of course they're working faster."

And that's why I married her. She's cute and bright ...
posted by Josh @ 8:48 AM
2007-01-19
News: Burj Dubai reaches 100 floors
A couple of you have mentioned seeing this article or one like it. It strikes me that last I heard, construction was completing one story a week. Now it's down to one story per three days. That's crazy.

I'll try and get over there this week to take some updated photos, until then here's an illustration showing what the final complex will look like in 2009 (a full year after we're gone!)


The Associated Press
Dubai building becoming world's tallest
By Jim Krane
January 16, 2007

DUBAI, United Arab Emirates - The Burj Dubai skyscraper under construction here reached its 100th story on Tuesday, nearly two-thirds of the way in its relentless climb to become the world's tallest building.

With 3,000 laborers adding a new floor nearly every three days, the $1 billion spire is days away from surpassing a neighboring skyscraper that is currently the tallest in the Middle East, Dubai-based developer Emaar Properties said.

"The tower is a symbol of the city's pride and a statement of our arrival on the global scene as one of the world-class cities," Emaar chairman Mohammed Ali Alabbar said.

When finished in two years, the silvery steel-and-glass building is expected to rise beyond 2,300 feet and more than 160 floors -- dozens of stories taller than the world's current tallest building, the Taipei 101 tower in Taiwan, which measures 1,671 feet and 101 floors.

It will also top the world's tallest freestanding structure, Toronto's CN Tower, which stands 1,815 feet.

The tallest building in the United States, the Sears Tower in Chicago, comes in at 1,451 feet, while the Empire State Building measures 1,250 feet. Before they were destroyed in the Sept. 11 attacks, the World Trade Center towers both topped 1,360 feet. The Freedom Tower being planned for the site will measure 1,776 feet when it's completed in 2011.

Emaar isn't releasing its plans for the final height of the Burj Dubai so it can add more stories if a competing developer mounts a challenge. Predictions on skyscraper Web sites say the cylindrical Burj, which was designed by American architect Adrian Smith, will eventually loom over the city from a height of 2,600 feet or more.

Until the 1960s, the United Arab Emirates was an impoverished desert country whose residents survived through subsistence fishing, farming and small-time trade.

After it became rich from oil, Dubai began building skyscrapers to gain international prestige, not, like Hong Kong and New York, because of a shortage of land. But Dubai's skyscraper binge has jacked up land prices so much that tall buildings are now the only feasible use of coveted building lots in the city's central district.

Dubai has staked its fame on bold engineering, building attention-grabbing projects including manmade resort islands shaped like palm trees, a mall with indoor skiing, and a vast Disney World-style amusement complex that includes plans for an apartment building that rotates on its axis.

Exhibiting a flair for the luxurious that is typical of Dubai, one of the skyscraper's high-profile tenants will be the Armani Hotel, developed in conjunction with Italian fashion designer Giorgio Armani. The spire will also contain private apartments and offices.

Surrounding the dramatic concrete and steel tower is a $20 billion development project that includes several smaller towers set amid winding canals and a gargantuan shopping mall.

All of this development has angered many environmentalists, who say the Emirates is one of the biggest energy consumers and carbon dioxide emitters per capita on the planet. The World Wildlife Fund has asked the country to move toward renewable energy, especially solar power viable in one of the world's sunniest climates.

Although the government says it is making improvements, construction hasn't slowed on projects like the Burj Dubai. Motorists on the adjacent highway get dramatic daily views of the tower's progress, with 10 cranes and the world's fastest construction hoists zipping concrete slabs and giant bundles of steel rods to dizzying heights.

The construction division of South Korean conglomerate Samsung is building the tower, using a three-day-per-story construction technique pioneered on skyscrapers in South Korea.

"We're not breaking any speed records, just the height record," said Beejay Kim, Samsung's Dubai-based business manager.

Only one building in the Middle East currently remains taller: the nearby Emirates Office Tower, a skyscraper resembling a razor blade that rises to 1,165 feet. The Burj Dubai is approaching that height now -- it stands at 1,140 feet -- and should surpass it within days.

Asked how long the Burj Dubai would hold the world record when it's finished, Kim said he was unsure. "If anyone is looking for an even taller building, we are happy to build it," he said.

The Middle East previously held the record of the earth's tallest structure for about 43 centuries. Built around 2500 B.C., Egypt's Great Pyramid of Giza dwarfed the competition at about 481 feet until 1889 when the Eiffel Tower was completed in Paris at a height of 1,023 feet, including the flag pole.

&copy 2007 The Associated Press
posted by Josh @ 8:32 AM
2007-01-18
8 Lives Left
So the reason I jumped on the computer tonight and saw that Yahoo News article about the fire in Dubai was to write to you all about a near cat-astrophe we had about an hour ago.

One of the cats fell out the window.

Seriously.

See, the windows in our apartment have no screens, and the cats, Kitty and Lily, like to walk around on the sills. This, of course, freaks me the hell out. In fact, when I'm home alone with the cats, we leave the windows closed.

Anyway, tonight Liz was home and the windows in both the living room and the kitchen were open. And all of a sudden we hear a weird noise from the kitchen. Like a "thump".

I run in, and can't find Lilly.

We search the house, no Lilly.

We run outside and look in the bushes - no Lilly.

Our downstairs neighbor calls Liz in - apparently the cat fell out of our second story window and somehow into their window. Here's a photo (from last March) to give you some idea of the distance she fell: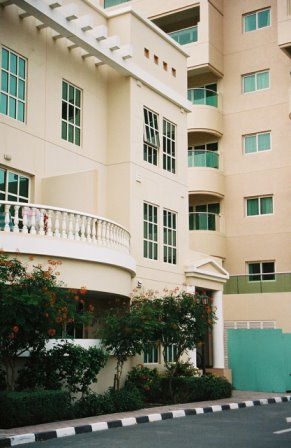 We think she must have landed in the tree, and climbed in their window.

That, or she completely ignored the laws of gravity. Well, after the initial tumble, I mean.

Anyway, once indoors again she apparently crawled into their closet and just cowered. Our neighbor thought she was pregnant and about to have kittens (As Lily has a little bit of a belly).

She's safe now, and sitting smack dab in the center of the living room on the floor. I bet it will be a long time before she goes up on the window sill again.

(Mostly because we're never going to open the windows again, or, we won't if I have any say in it ...)
posted by Josh @ 7:20 PM
News: Dubai Fire
Okay, this is crazy. Just saw this article on Yahoo.com - and about five hours ago I saw the smoke.

Liz came home for a late lunch at one or two, and as we ate I saw a billow of dark dark grey smoke out the window.

The crazy thing, while we were home in the States last week my Dad was asking about fire and rescue in Dubai. I couldn't name the closest fire house to us, which scared him. And judging by the lag time noted in this article, I think we know how quickly the response time is.


Associated Press
Dubai high-rise fire injures 25 workers
By Jim Krane
9 minutes ago

DUBAI, United Arab Emirates - A high-rise apartment building under construction caught fire Thursday, injuring up to 25 workers and trapping others in thick smoke as rescue crews scrambled to reach them. Two witnesses said they saw a man fall from one of the 37-story building's upper floors, but police and fire officials refused to comment. Hospital officials said three laborers were in serious condition.

"Some of the workers were trying to climb down on cables. One guy in red was trying to climb down and then he just fell. It was horrible," said Louise Olson, 25, from Denmark, who watched from her whirlpool bath in a high-rise that faces the burning tower.

"It was kind of like 9/11," said Steven Wullinger, 35, a German who saw the falling man.

Black smoke billowed from the upper floors of the glass-sheathed building, located in a cluster of apartment towers under construction on Dubai's southern outskirts.

One man scaling the outside of the building got stuck on a narrow ledge on the 13th floor and was rescued after balancing on his precarious perch for more than an hour. Rescuers eventually smashed windows to pull him to safety.

Trapped workers waved towels at hovering helicopters or climbed scaffolding toward the roof. Rescuers could be seen carrying injured workers on stretchers and putting them in ambulances.

Witnesses said the fire broke out around midday and burned for at least an hour before fire trucks arrived.

A rescue helicopter was unable to land on the roof, and firefighters on the ground took hours to start evacuating workers out from a 10th story window, even after most of the smoke had dissipated.

A hospital official, speaking on customary condition of anonymity, said up to 25 laborers from India, Pakistan and China were being treated for various degrees of smoke inhalation.

Dubai is in the midst of a skyscraper construction boom. Just this week, the Burj Dubai high-rise under construction reached its 100th story, nearly two-thirds of the way in its climb to become the world's tallest building.

&copy 2007 Associated Press
posted by Josh @ 7:10 PM
Our relation to the Palm
Great to hear from Liz yesterday, huh? It's funny, after five months of pestering her to write something here, I finally gave up. Now she writes something.

Huh.

Anyway, with a whole day off you'd think that today I'd have some great insights or a really amusing story for you here.

Nope.

What I do have is marginally interesting. Here's a photo of Dubai that one of my vendors at my last job sent me last January. Not sure when it was taken, but probably mid-2005.




I've dropped an arrow in to show you were we live. You can see the beach is pretty close, as is the Palm Jumeirah.

Up the coast a bit you see the sail-shaped Burj al-Arab hotel, and in the distance you can barely see the World Islands.

The big lake-looking inlet is the Dubai Marina, which is now much more built up. Oh, and that's Sheikh Zayed Road cutting diagonally across the frame, too. The frontage on the road is much more built up, now.

Lastly, here's the link to that Future Map of Dubai I found a few months ago, too, in case you're interested.

Something clever tomorrow. I promise.
posted by Josh @ 11:18 AM
2007-01-17
Some Words From Liz
Hello all. This is Liz, the other half of newlywedindubai.com. While Josh and I were back in Maine we heard some complaints - er, feedback - that I hadn't contributed my perspective for your reading pleasure. And though I'm not sure how much pleasure my writing will bring, I thought I'd say hello, and thank you to those friends and family who start their mornings with a Dubai diversion.

Truth be told, the reason I haven't written before now is that I'm conflicted about the notion of a blog. First, it seems like there are people with much more interesting stories than I - journalists in Iraq, someone studying the plight of exploited workers in any given country, a spiritual seeker sitting under the Bodhi tree. And second, I believe in small groups of friends sipping tea and in the small, private pages of a journal, which seem to me the antithesis of a blog. Perhaps I need to modernize - I am, after all, Time's person of the year for my use of technology. But perhaps I don't need to figure all that out right now.

What I will do instead is share a snippet of our life with you: this moment. This moment is 1:30 a.m. and, like the last few nights, Josh and I have been in a fight with jetlag. Luckily for him, he is fast asleep under our purple cotton comforter, while I have read most of the book my parents-in-law bought me for Christmas, watched some bad TV, and finally resorted to sleeping pills, which seem not to be working. Kitty is playing hide and seek with me behind the computer screen, alternately scratching and tapping my typing fingers. Like Josh, our other cat, Lily, is sleeping, too, in fairly similar positions, now that I look closely. The city is quiet, no honking, no hammering, no neighbors making the sounds common to life: cooking, cleaning, yelling, laughing. The dishes are clean from the delicious chicken parmesan Josh made us for dinner. The cat boxes are clean, too. Papers are corrected, and tomorrow's lessons are planned. So peaceful here in our corner of the Middle East.

And since the title of this blog is newlywedindubai, it seems right that I mention peacefulness in terms of marriage, since this is the feeling that being married to Josh has brought me: an ease where there used to be stress, a calmness where there used to be anxiety. Speaking of being calm, I think I might be able to finally fall asleep. Sleeping pills or contentment? Either way, I'll take it.

Goodnight.
posted by Liz @ 11:17 AM
2007-01-16
Dubai Can Talk for Free Again!
As they say, "the whole world can talk for free", and we used to add "... except for the UAE".

But not anymore! Skype works in Dubai again!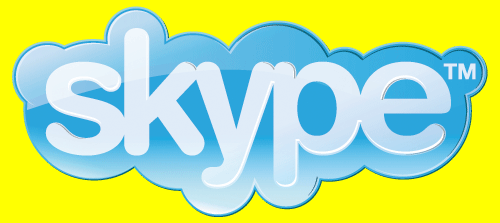 Skype is free software that allows anyone to call another Skype user over the computer for free. They also have packages where you can call a real telephone number from your computer or get a number so other people can call your computer from a real phone for a small fee.

As I've mentioned here before, the government owned telephone company Etisalat had blocked all VoIP (Voice over Internet Protocol). Not sure how or why it's unblocked now, although it might have something to do with du - the brand new telecom company in Dubai that just started operating last month.

Are you ready for a fun fact, though? Apparently Etisalat and du have decided to charge the same prices for everything. Clever, eh? None of that crazy "competition" stuff. Because who really loses when there's competition? The businesses fighting each other for customers.

Anyway, download the Skype software and give me a ring! I'll be online ...
posted by Josh @ 9:09 AM
News: Canada's Muslim Sitcom
Sorry to throw another news article at you so quickly after the last batch, but just saw this one this morning, and it really really interests me.

As I've spoken about here before, I'm a fan of Brent Butt's Canadian one-camera series Corner Gas. I like TV shows that are quirky and off-beat. And this one seems that way for sure ...


International Herald Tribune
Muslim sitcom off to a big start in Canada
By Christopher Mason
January 15, 2007

TORONTO: When it comes to producing a funny television show or movie in Canada, producers here have a reliable stable of topics - French-English relations, urban-rural dynamics and anything that involves a bumbling politician or the United States.

But Islam - something of a third rail of comedy throughout the Western world - did not make the list, which is one reason the Canadian Broadcasting Corporation's new situation comedy, "Little Mosque on the Prairie," is attracting such attention here.

"It is a risk doing a sitcom about what can be considered a very touchy subject," said Kirstine Layfield, executive director of network programming at the CBC.

But the series premiere last Tuesday attracted 2.1 million viewers, impressive in a country where an audience of one million is a runaway hit. The CBC has not had a show draw an audience of that size in a decade, according to the network.

The show follows a small group of Muslims in, of all places, a prairie town in Saskatchewan where, in the first epsiode, the group was trying to establish a mosque in the parish hall of a town church. A passerby, seeing the group praying, rushes to call a "terrorist hot line," to report Muslims praying "just like on CNN," which touches off a local firestorm.

Hoping to avoid making a stir in the town, the group hires a Canadian-born imam from Toronto who quits his father's law firm to take the job - career suicide, his father thinks. On the way, he is detained in the airport after being overheard on his cellphone saying, "If Dad thinks that's suicide, so be it," adding: "This is Allah's plan for me."

Later, a leader of the Muslim group is seen defending to a local person the plan to turn the church parish hall as a mosque. "It's a pilot project," he says, leading the man to exclaim wide-eyed, "You're training pilots?!" A bit hokey, perhaps. But light hearted moments like these among Muslims and non- Muslims have been few and far between in Canada of late.

Over the summer, 18 Muslim men were arrested in the Toronto area in connection with an alleged plot to attack several targets in southern Ontario. Their case continues to wind through the courts. In September, an inquiry cleared a Canadian citizen, Maher Arar, of terrorist accusations that saw him deported from the United States to Syria - where he says he was tortured - partly on intelligence from the Canadian authorities.

The show's creator, Zarqa Nawaz, says she was not trying to bridge all of the cultural gaps, but said she hoped the program could elicit laughs on all sides and perhaps foster a better understanding between Muslims and non-Muslims.

"I want the broader society to look at us as normal, with the same issues and concerns as anyone else," said Nawaz, who based the series loosely on her own experiences as a Muslim woman who moved from Toronto to the prairie. "We're just as much a part of the Canadian fabric as anyone else."

The CBC has committed to eight episodes of the program, and is negotiating with the show's producers for 13 more in the spring. But despite the initial success of "Little Mosque on the Prairie" the network is still proceeding with caution, having hired a consultant to flag anything in the scripts that could offend audiences.

The show has generally been well received by Muslim leaders, who welcome the light touch it brings to issues that are normally debated in numbing seriousness.

"Muslims are a bit late in laughing at themselves, but we have to use humor to remedy these divisions just like any community," said Mohamed Elmasry, an imam and president of the Canadian Islamic Congress.

The show has been criticized for treating too lightly the threat posed by radical Islam and the potentially dangerous influence of radical imams on young Muslims. The newly hired imam in "Little Mosque in the Prairie," Amaar Rashid, is clean-shaven, wears tight jeans and has the "ravishing looks of a soap- opera star," as a columnist in the Toronto Globe and Mail, Margaret Wente, put it.

"If there's an imam on Earth who resembles this one, I will convert to Islam, don the veil and catch the next plane to Mecca," the columnist wrote.

Syed Asad Dean, chairman of the Meadowvale Islamic Center in Mississauga, a western suburb of Toronto, said portraying Muslims as moderate members of the mainstream could have a beneficial effect on young Muslims.

"More extreme Muslims are telling our youth that Canada is not interested in our community, so something like this works dead against that type of mentality," he said. "The youth see it on television and say 'Hey, they recognize us and they actually made an investment to talk about us and our life in Canada.'"

The program's producers have spoken with television executives in the United States, Dubai, Israel, London, Germany and France among others, with the first and second episodes having been sent to networks and stations that have expressed an interest.

In the United States, only cable stations have responded so far, but CBC officials say they are hoping to pitch the show to the larger networks.

&copy 2007 the International Herald Tribune
posted by Josh @ 9:05 AM
2007-01-15
iPhone
Here's the last news story that I wanted to mention in my little MLK Day holiday clean-up today. I want to make sure that everyone has seen the news about the new Apple iPhone. It is so cool I am drooling right now. Although that might just be the jet lag ...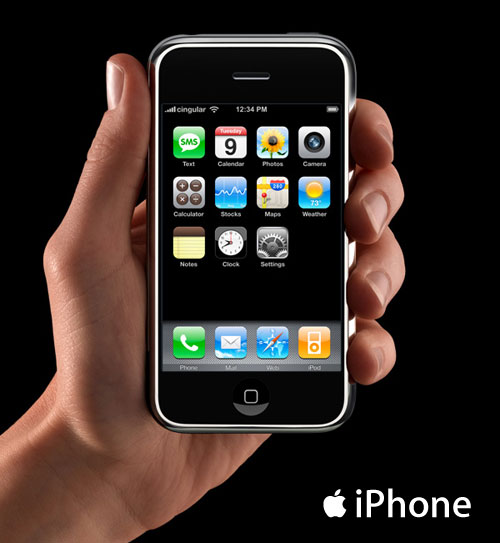 "iPhone combines three products - a revolutionary mobile phone, a widescreen iPod with touch controls, and a breakthrough Internet communications device with desktop-class email, web browsing, maps, and searching - into one small and lightweight handheld device. iPhone also introduces an entirely new user interface based on a large multi-touch display and pioneering new software, letting you control everything with just your fingers. So it ushers in an era of software power and sophistication never before seen in a mobile device, completely redefining what you can do on a mobile phone."

iPhone will be available through Cingular AT&T Wireless in June.
posted by Josh @ 3:44 PM
Logos
My brother's not going to be happy about all these tidbits that aren't about Dubai or being married, but I have to mention briefly that today marks the end of Cingular Wireless.





AT&T is rebranding the cellphone carrier starting today, following it's multi-billion dollar purchase of BellSouth last month. This might be confusing to you, as in late 2004 Cingular bought AT&T Wireless and rebranded the service to Cingular. Get it?

The part that gets me, though, is the reshuffling of logos. About a year and a half ago AT&T stopped using its classic globe logo (designed by Saul Bass, a graphic design tidbit that might make my brother happy).

The new logo is a lame 3-D reimagining. And lower case letters, too.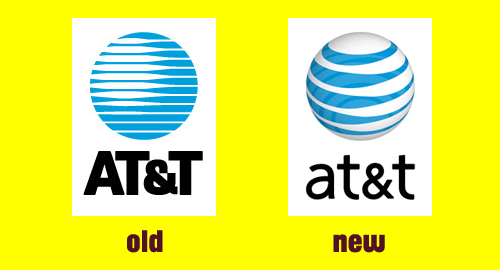 And I actually like the Cingular Wireless bouncing jack icon. I guess it's going to stick around for a little while, and then be phased out. So sad.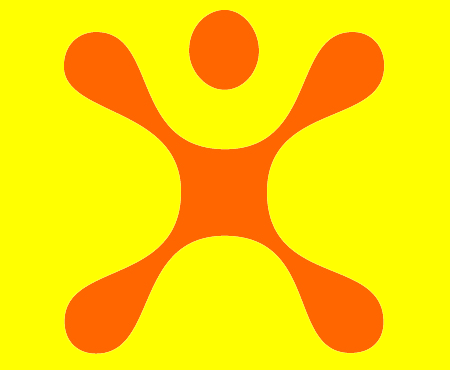 posted by Josh @ 3:40 PM
News: Disneyland and the Chili Peppers
You probably don't care much about the Disneyland Resort in California, but here's an odd article anyway.





For four months, starting already, they're playing Red Hot Chili Pepper songs on the newly rebranded Rockin' Space Mountain and Rockin' California Screamin' coasters.


cbs2.com
Disneyland To Play Red Hot Chili Peppers On Rides
December 28, 2006

Riders of the Disneyland Resort's Space Mountain and California Screamin' roller coaster rides will be thrilled by the songs of the Red Hot Chili Peppers, park officials announced Thursday. Specially remixed soundtracks from the group, recently nominated for six Grammy awards, will accompany new special effects to heighten each zig, zag and drop from Jan. 3 through April 26, officials said.

Rockin' Space Mountain will feature 200 lights and the sounds of "Higher Ground" -- the group's 1989 hit version of the Stevie Wonder song -- as well as new technology illuminating dancing rock fans.

Riders of Rockin' California Screamin' at Disney's California Adventure will also twist and turn to a new soundtrack.

A customized version of Red Hot Chili Peppers' 1999 hit "Around the World" will follow guests through 6,000 feet of track.

The four-minute ride is the world's longest steel looping roller coaster and takes guests from zero to 55 miles per hour in just four seconds.

The new soundtracks were created by Ryan Hewitt, who remixes the Red Hot Chili Peppers' own music.

The ride updates are part of the "Year of a Million Dreams" celebration that began at Disneyland Resort in Southern California and Walt Disney World Resort in Florida on Oct. 1.

Under the 15-month Disney Dreams Giveaway, guests are awarded prizes at random, including Dream Fastpasses to bypass lines at popular Disney attractions to around-the-world vacations or a stay in the special Mickey Mouse Penthouse at the Disneyland Hotel.

Also on tap are immersive entertainment experiences at the resort.

They include guests learning royal ways at the Disney Princess Fantasy Faire, dueling with Darth Vader at Jedi Training Academy and creating mayhem with Pirates in New Orleans Square.

At Disney's California Adventure Park, guests can join in a High School Musical Pep Rally.

The "Year of a Million Dreams" celebration lasts through 2007, officials said.

&copy 2006 cbs2.com
posted by Josh @ 10:05 AM
News: $100 Laptop
Here's a new article about that $100 laptop I've been following.

Interesting new twist - apparently now they might allow the general public to buy them - as long as you buy one for the developing world as well.

Clever idea.


newsfactor.com
Want To Buy a $100 Linux Laptop?
By Tim Gray
January 11, 2007

The nonprofit group that hopes to bring inexpensive laptops to poor kids around the world is now considering the possibility of allowing the $100 machines to be purchased by the general public.

The backers of the One Laptop Per Child (OLPC) project haven't suddenly been bitten by the capitalist bug, but rather have come up with a way to offer the computers to the general public while increasing their availability to school children in developing nations.

According to one plan being considered, the computers would be offered to customers who would have to purchase a minimum of two laptops at a time -- with the second going to the developing world.

Ambitious Plan

OLPC plans to deliver five million of the laptops to developing nations this summer, including to Brazil, Argentina, Uruguay, Nigeria, Libya, Pakistan, and Thailand.

Project officials hope the plan will be the start of bringing isolated schoolchildren around the world into the information age. The plan is widely considered to be one of the most ambitious educational projects ever undertaken.

Tech Specs

The OLPC group unveiled its final prototype, dubbed the XO, this week at the Consumer Electronics Show in Las Vegas. The laptop was developed to be a low-cost, durable, and easy-to-use PC that will appeal to children with its bright green body and white trim, reminiscent of a toy.

The laptops take advantage of an inexpensive Linux-based OS and a low-power display screen made by Taiwanese-based Chi Mei Optoelectronics. The XO's software has been designed to work specifically in an educational context.

The laptop also has built-in wireless networking and video-conferencing capabilities so that groups of children can work together.

Global Recharge

While a typical modern laptop requires 40 watts of power, the XO needs a mere three watts to browse the Web, and less than a single watt to display an electronic book, according to OLPC.

The new battery can be recharged with the yank of a string, in much the same way a lawnmower is started.

"If we started selling the laptop now, we would do very good business," Nicholas Negroponte, OLPC's chairman and founder, was quoted by BBC News as saying. "But our focus right now is on the launch in the developing world."
posted by Josh @ 10:03 AM
Go Pats!
Congrats to the Pats who won yesterday, beating the San Diego Chargers. Sadly I didn't stay up for the game, but was awake at 5 am for some unknown reason. Good times.

And my father-in-law pointed out that they won with a score of "24" ... much like the other show that was on yesterday.

Funny.
posted by Josh @ 9:59 AM
2007-01-14
Beef & Broccoli, Bill & Brady, Flower Power and Jack Bauer
So we're slowly recooping from the jet lag. Wait - is that how you'd spell "recooping"? Should it be "recuping", what with "recuperating" not being spelled "recooperating"?

Uh ...

As you can see, not quite over the jet lag. Life over the last two days has been slightly surreal, really. I'm about 90% sure last night I told Liz, "I'm too tired to sleep."

She replied, "I think I am, too."

But hey, at least we're in this together.

Although today is Liz's first day back teaching. Ouch. I expect her home at any point this afternoon with a zombified look in her eye telling me she's too tired to sleep.

Anyway, I'm writing on a Sunday, which is weird, but it's important. As nice as it is to be back in Dubai with out suitcases put away and our -- oh, who am I kidding? The suitcases, and everything else, are strewn about like a sand tornado ripped through the apartment. But it's nice to have our own space where we can throw everything about, and where we can sit around in our PJs at one in the afternoon because to us it feels like five in the morning.

But I am bummed today that we're not back in the States for this one weekend.

Yesterday our family friends threw a Chinese New Year party. They catered the wedding, actually, for those of you who were there and were psyched about the food - you can imagine what kinds of delicacies we missed out on.

Then today it's my little cousin's ninth birthday party, which would have been a hoot. Again, to tie it all into the wedding, she was the littlest of the Flower Power.

And then, at 4:30 pm EST, the New England Patriots are playing the San Diego Chargers. That should be a pretty amazing game, the Pats are great in the playoffs, but the Chargers have league MVP LaDainian Tomlinson, who's like a one-person touchdown generating machine.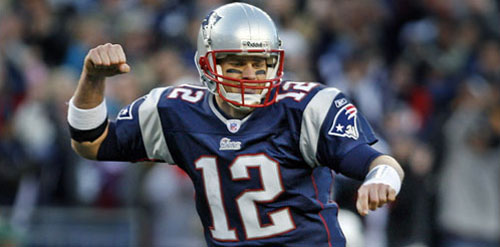 Sadly there's nothing wedding-related about the NFL, although I probably should have invited quarterback Tom Brady because wouldn't that be cool if he was around Waterford, Maine on August 5, 2006 and had nothing to do and was like, "Sure!"

Anyway ... the game'll probably be on live here but what's that, at 1:30 am? Not likely I'll be up in twelve hours.

Lastly, the other big thing we're missing this weekend is the season premiere of 24 tonight. I love that Jack Bauer. Luckily over the holiday we purchased both season four and five dvds. Over the past two jet-lagged days we've already watched the first eight hours of season four.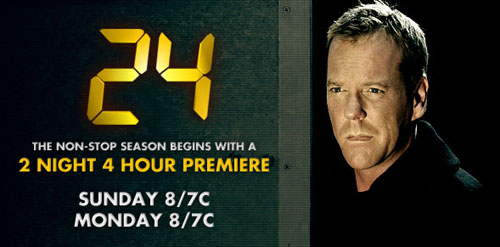 Oh well. I'm sure somehow the world will have a crisis that only Jack Bauer can avert. But if anything drastic or crazy happens, please don't tell Liz or myself. We'll grab the season six dvds in about twelve months.

Okay. I'm not quite too tired to sleep right now, so I might go attempt a nap. Wish me luck.
posted by Josh @ 1:25 PM
2007-01-12
Safe in Dubai
Well, we're home. And awake - sort of.

Yes, it's mid-afternoon here. But the last 24-36 hours have been a blur.

The first snag came when we went to check in at the American Airline desk at Logan Airport in Boston. For the first time I've ever seen or Liz has ever seen, the clerks were going to charge us extra because our bags were over fifty pounds each. Nevermind the fact that we were allowed four bags total, and we only had two. So we ended up having to go to the Hudson News bookstand next door to buy two extra duffle bags.

Oh, and our flight to New York's JFK Airport was now 35 minutes later. Giving us under one hour to switch terminals and airlines to make our plane to Dubai.

As it turns out, by the time our American Airlines plane pulled into the gate at terminal 9 at JFK it was a few minutes after 10 pm. Our flight on Emirates Airline started boarding at 10 pm ... from terminal 4.

Liz and I ran a damn marathon through terminal 9, up escalators, across moving platforms, down escalators - I'm thinking that JFK's terminal 9 is actually somewhere in the Boston suburbs.

After a nice little train ride to cap off the trip, we show up at Emirates. Phew. But since we switched terminals we had to go through security again. Crap. Okay, we can do this.

"We're here for Emirates flight two-oh-two."

"Oh that plane is already boarding."

"Yep - here are our boarding passes."

"What are these? Oh, you're going to have to have those reprinted at the Emirates desk, row seven."

Apparently the Boarding Passes we got in Boston are wrong and have to be reprinted for some unknown reason.

Luckily for us, international flights start boarding an hour before the plane leaves, not a half-hour like domestic flights. And even more luckily, the gate that our plane was boarding at was the first one once you got through security.

So we passed through security and boom, were right there, in a line of about eighty people. Guess we didn't need to run after all.

The plane ride was fine - coming this way the flight was only eleven hours (as opposed to fourteen and a quarter going to the States).

Of course, once we got to Dubai last night only two of our four bags made it (ironically they were the two newly purchased duffle bags). But at some point this morning the other two showed up at the apartment. So we're all set.

Although majorly jetlagged. I woke up at 1:30 this afternoon and it felt like the middle of the night. But I figured I had to get up to beat the jetlag.

Anyway, we had a great time at home. I want to thank all of our friends and family for a great vacation, and especially to both sets of our parents. They gave us the run of their houses, fridges and cars. So very nice of them!

Thank you!!

Here are a few news stories that I've seen while we were away. Most are Dubai construction related, because Dubai construction is the craziest growing phenom ever ...


posted by Josh @ 2:59 PM
News: Beckham to Play in USA
Lastly, this doesn't have anything to do with Dubai or with us as a couple, but I'm sure there'll be lots of Brits who we know here who are upset about this.

Plus, and I think it's true, David Beckham is the best-known sports star in the world. So even if it's not Dubai news, it's certainly huge world news.


The New York Times
David Beckham Is Coming to America
By Jack Bell
January 11, 2007

David Beckham is coming to America.

The 31-year-old English midfielder, weary of the politics and the lack of playing time in Spain with Real Madrid, today agreed to a five-year deal with the Los Angeles Galaxy of Major League Soccer and will join the team when his contract with Real expires on June 30. According to reports in the British news media, the contract is worth $250 million.

"I am proud to have played for two of the biggest clubs in football and I look forward to the new challenge of growing the world's most popular game in a county that is as passionate about its sport as my own," Beckham said in a statement.

Beckham joined Real Madrid in the summer of 2003 on a $50 million transfer from Manchester United, the only club he had played with up until that time. But since Beckham's arrival in Madrid, that storied club has not won a major domestic or international title. And Fabio Capello, the new coach of Real Madrid, was not nearly as taken with Beckham, his entourage and the constant spotlight on the tow-headed player. Capello relegated Beckham to the bench for much of the season.

Earlier this week, Real presented Beckham and his representatives with a new contract offer.

"This week, Real Madrid asked me to make a decision regarding my future and the offer to extend my contract a further two season," he said. "After discussing several options with my family and advisers to either stay here at Madrid or join other major British and European clubs, I have decided to join the Los Angeles Galaxy and play in the M.L.S. from August this year."

Under terms of his contract with Real Madrid, Beckham was free to talk with other clubs during the January transfer period. Any switch now would have cost the buying club a hefty fee, but now the Galaxy will obtain Beckham for free after his contract expires.

Beckham led England into last summer's World Cup, but struggled with injuries and watched as his team was eliminated in a penalty kick shootout against Portugal in the quarter finals. After the tournament, Beckham stepped down as England captain but said he wanted to continue to represent his country. New coach Steve McLaren did not recall Beckham for international duty.

Beckham's signing by the Galaxy, long-rumored, catapults the league into the global soccer spotlight.

Up until last November, M.L.S. tightly controlled player salaries under its single-entity system, in which the league owned all player contracts and a team's salary budget could not exceed about $2 million a year, with only a few exceptions. The league's board of governors voted to relax that restriction and allow each team to sign one player for any amount, of which the league would pay only the first $400,000.

They called it the designated player rule, but to soccer fans in the United States it has been referred to as the "Beckham Rule" since Day 1.

Beckham's signing represents a confluence of soccer, marketing and pop culture in the perfect locale - Southern California.

Beckham's wife Victoria, also known as Posh Spice, was a member of the Spice Girls pop group that was popular in the early 1990s. She is known to want to re-launch her singing career and Los Angeles could offer her the opportunity. Mrs. Beckham was seen house shopping in Beverly Hills during December.

In addition, Beckham last summer launched a soccer academy in Los Angeles. He is a long-time spokesman for Adidas, the German sporting goods company that is about to begin the second year of a 10-year sponsorship agreement with M.L.S.

And his addition to the Galaxy roster will give M.L.S. its first, truly global soccer star. His signing with the Galaxy will instantly be compared with the signing of the Brazilian star Pelé by the New York Cosmos in the mid-1970s.

"David Beckham will have a greater impact on soccer in America than any athlete has ever had on a sport globally," said Tim Leiweke, the president of the Anschutz Entertainment Group, which runs the Galaxy and two other M.L.S. clubs. "David is truly the only individual that can build the bridge between soccer in America and the rest of the world."

&copy 2007 The New York Times Company
posted by Josh @ 2:58 PM
News: Dubai to Build Building Shaped Like a Man
The last of the crazy architecture articles. A building. Shaped like a man.

Why?

Because they can.


Seven Days (www.sevendays.ae)
Oh man, what next?
January 11, 2007

Just when you thought Dubai's skyline had reached its quota of bizarre ideas, along comes another radical design - the world's largest concrete and glass, human-shaped building, complete with fabric kandura.

The dhs500 million 140-metre Burj Al Arabi building, shaped like a traditionally dressed Gulf national, will join an iPod, world-shaped islands, the elusive underwater Hydropolis hotel and the world's next tallest building - the Burj Dubai - on the emirate's rapidly expanding, and very unique, skyline.

The latest design concept has left many wondering, 'What next?' for a city where anything seems possible. Speaking about the endless possibilities open to architects in Dubai, James Turford, assistant architect at Aedas, said : "There is the potential to create a truly incredible city, with the vast amount of money and space available here. "It's really a playground of ideas, where anything - within reason - goes."

The Burj Al Arabi building is the brainchild of AAA Group chairman Mohammed Al Syoufi, who wanted to create a concept representing national culture and identity. He said: "It will rank alongside the Burj Al Arab and similar projects as an icon reflecting both Islamic and Arabic history, something not done before." The hotel, which will boast 35 floors of commercial offices, will also feature seven horses on a podium, representing the seven emirates and laid in the shape of the UAE.

The kandura will be made from a special fabric that allows light to permeate through and at the very top will be a boardroom for meetings - in the 'brain' of the building. Construction is expected to start in the first quarter of this year but it has not been launched for sale yet.
posted by Josh @ 2:58 PM
News: Wikipedia Blocks Qatar
A friend and loyal reader asked us about this while we were home, but it was only the dateline that was Dubai, the article was about our neighbor Qatar.

But I have to mention it, because I love Wikipedia.


Associated Press
Ooops: Wikipedia blocks posts from Qatar
By Jim Krane
January 03, 2007

DUBAI, United Arab Emirates (AP) -- Web encyclopedia Wikipedia has inadvertently blocked people in the Persian Gulf nation of Qatar from editing and contributing entries at least four times since November, computer logs from the site show.

Visitors still could read articles but they weren't able to participate - a crucial task for a collaborative encyclopedia whose core premise is to allow anyone to add, edit or even delete entries, regardless of expertise.

Wikipedia administrators had responded to an unusually high level of spam and fraudulent posts by blocking contributions from the numeric Internet address tied to those posts.

But that resulted in the accidental blocking of the entire nation because Qatar's sole telecom, Q-Tel, funnels all Internet traffic through that single address, a practice that allows the country to monitor and censor its users, said David Gerard, Wikipedia's London-based spokesman. Administrators reversed the block once they discovered the scope.

"Our apologies to the people of Qatar," Gerard said on Wednesday. "It was a mistake. We won't do it again - unless somebody slips up, in which case it will be remedied quickly."

Energy-rich Qatar, the size of Connecticut with about 900,000 inhabitants, is the Middle East's wealthiest country on a per-capita basis. It is the home of the Al-Jazeera satellite TV network and the U.S. military's Central Command forward headquarters overseeing the wars in Iraq and Afghanistan.

Wikipedia's block logs provided by Gerard show Qataris also were shut out of participating in the encyclopedia's news pages, portals, articles and all other forms of posting on Nov. 22, for 48 hours; on Nov. 25, for 31 hours; and Dec. 28 for 24 hours.

In a posting on Wikipedia, founder Jimmy Wales said the latest block lasted less than 12 hours. He added that any countrywide blocking goes against the site's policy.

Gerard said routing an entire country's traffic - even that of a tiny nation like Qatar - through a single IP address is unusual. He said Wikipedia is looking for a way to refine its capabilities to block problem individual users in the Gulf state without hamstringing the entire country.

&copy 2007 The Associated Press
posted by Josh @ 2:57 PM
News: Military deaths in Iraq exceed September 11
We knew this was going to happen sooner or later, but on Christmas Day? That's so sad.


Associated Press
Military deaths in Iraq exceed 9/11 toll
By Larry McShane
December 26, 2006

NEW YORK - Nearly four years after the war in Iraq began, the number of Americans troops killed there now exceeds the grim toll of victims from the Sept. 11 terrorist attacks.

The U.S. military death toll in Iraq has reached 2,974, one more than the number of deaths in the Sept. 11, 2001, attacks in the United States, according to an Associated Press count on Tuesday.

The U.S. military announced the deaths of two soldiers in a bomb explosion southwest of Baghdad on Monday. The military was withholding the soldiers' names until relatives could be notified.

The 9/11 death toll includes the 2,749 killed at the World Trade Center, 184 at the Pentagon and 40 passengers aboard United Flight 93. While all were killed within a few hours that morning, the deaths in Iraq have stretched across 45 months - with no end yet in sight.

The victims came from across the United States. More than 50 residents of Alabama have died in the conflict. More than 30 of the dead lived in Nebraska. More than 40 went to Iraq from Kentucky.

A number of them enlisted in response to the 9/11 attacks.

Jonathan Lootens, from upstate New York, joined the Army. "This is something I have to do," he told family members. The 25-year-old sergeant was killed during his second tour of duty when a roadside bomb went off near his vehicle in the city of Kirkuk.

Marine Lance Cpl. John Edward Hale was only 15 and living in Louisiana when the planes hit the World Trade Center, but he never forgot what happened. He joined the Marines after graduating high school last year, and was only in Iraq for three months when he was killed by a roadside bomb.

Michael Glover joined the Marines after his boyhood neighborhood - the Belle Harbor section of Queens - lost several residents in the Sept. 11 attacks.

One of his best friends, an equities trainer at Cantor Fitzgerald LP, was among those killed at the trade center. And Belle Harbor, an enclave of police, firefighters and government workers, lost a large number of residents.

Glover was killed by a sniper while on patrol in Fallujah.

&copy Associated Press
posted by Josh @ 2:57 PM
News: Dubai to Build iPod Building
The second of the crazy architecture articles I've found.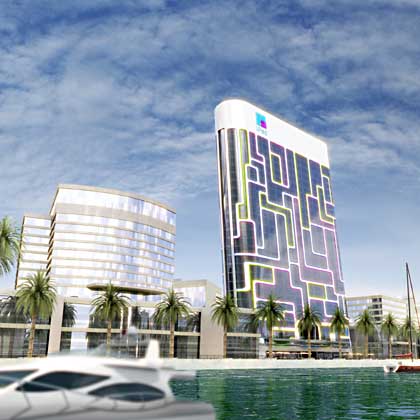 Gulf News
iPod will be model for Omniyat's new tower
By Robert Ditcham
December 12, 2006

Dubai: Real estate developer Omniyat Properties is planning to launch projects worth more than Dh3 billion in 2007, starting with a tower inspired by Apple's iPod MP3 player.

The company will announce at least two residential projects and one commercial development and will open its account in February with the innovative iPad residential tower in Business Bay.

The 23-storey building, which is scheduled to bring more than 200 units onto the market in 2009, was designed by Hong Kong-based architects James Law Cybertecture International.

The tower will sit atop a docking station angled at six degrees to give the exact look.

With a property portfolio worth Dh2.7 billion in its first year of operations - made up of four luxury commercial developments in Business Bay and one residential tower - the company has already made a swift impression on the market.

"Our aim was to launch three projects this year but strong market demand encouraged us to deliver more. Out of the entire portfolio, we have sealed sales worth approximately Dh2.4 billion," said Mehdi Amjad, president and CEO of Omniyat Properties, an arm of Almasa Holdings.

Amjad admitted the company has still to face its biggest challenge. "We are aware that today people are taking us at face value on what we promise, but by 2008 when we hand over our first project, they will judge us on the quality of the product we deliver."

Next year will see the launch of new companies under the recently-formed Omniyat Holdings parent company.

The organisation was set up with an authorised capital of $250 million and initial paid-up capital of $100 million and will manage Omniyat Properties and a host of upcoming companies and projects.

Amjad said the first new company will focus on serving the property industry and will be listed on a major international stock exchange.

&copy Al Nisr Publishing LLC 2006
posted by Josh @ 2:56 PM
News: Entrepreneur of the Year
This article about Sheikh Mo was actually from before we left for the States, not quite sure how I missed it.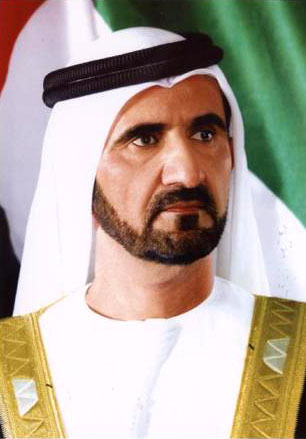 And, for the record, in Dubai every time they write about our ruler, they have to write out "His Highness Sheikh Mohammed Bin Rashid Al Maktoum, Vice-President and Prime Minister and Ruler of Dubai".


The New York Times
Entrepreneur of the Year: The Sheik of Dubai
By Seth Sherwood
December 10, 2006

A passionate admirer and composer of Arabic poetry, the Dubai ruler Sheik Mohammed bin Rashid al-Maktoum showed his gift for devising similes during the 2003 announcement of his plans to build Dubailand. The $10 billion project is an astonishingly vast network of theme parks and entertainment complexes that will employ some 300,000 people when completed in 2018.

"Money is like water," he told the crowd of assembled journalists and investors. "If you lock it up, it becomes stagnant and foul-smelling, but if you let it flow, it stays fresh."

It was an apt turn of phrase for a man who has rained down such staggering sums to cultivate tourism in his parched Middle Eastern hinterland along the Persian Gulf - and who has artfully persuaded foreigners to do likewise. Where 10 years ago there was only a sparsely developed desert coastline, there is now a multibillion-dollar buffet of never-seen-before tourist attractions rising from the sea and sand, including a rotating indoor ski mountain, an underwater luxury hotel, what will be the world's largest shopping mall and what will be the world's tallest building. They will shoot up alongside established icons like the "seven-star" Burj Al-Arab hotel and the Palms, a trio of palm-tree-shaped artificial islands, the first of which will open in January 2007.

The 57-year-old, British-educated ruler - who became Dubai's leader upon the death of his older brother in January, but has long been credited as the mastermind of the country's development - last year managed to attract more than six million travelers to a flat, hot, unforgiving landscape thousands of miles from the world's cultural capitals. And there is no sign that he intends to slow down. Dubai's starry-eyed goal is to lure 15 million visitors by the end of 2010.

But the big-league makeover isn't simply a powerful billionaire's vanity project. With his late father and brothers, Sheik Mohammed realized years ago that Dubai's limited oil supply - which is expected to run out within the next decade - required the emirate to begin pulling in cash from other sources. So he began a series of bold initiatives intended to cultivate tourism and other sectors of the economy.

In 1985, Sheik Mohammed personally started Emirates Airlines with $10 million and two planes. The airline has been profitable every year since 1986 and now operates about 100 planes serving more than 80 destinations around the world. A decade later he introduced the annual Dubai Shopping Festival. The monthlong event - basically a citywide sale with some extravagant raffles - now draws some three million attendees every winter and earns Dubai shops more than $1 billion.

Oil, which made up about half the country's revenues two decades ago, now accounts for about 5 percent. The gross domestic product has grown more than 400 percent in a little more than 10 years.

"He is definitely the most successful business case about how travel and tourism can transform a country," said Jean-Claude Baumgarten, president of the London-based World Travel and Tourism Council. "I don't know any better example in the world."

But it's the head-spinning and often record-setting tourism innovations that have brought Dubai the most attention. Sheik Mohammed seems dedicated to fostering a spirit of unbridled creativity in Dubai, and no wild venture seems too brazen or grandiose to get green-lighted. Consider International Chess City. Like the fantasyland of a lunchroom geek who has scored a Powerball jackpot, the proposed $2.6 billion district will hold 32 towers shaped like rooks, bishops and other chess pieces.

A taxi ride away, a gargantuan falcon-shaped patch of land - to be called Falcon City of Wonders - will boast large-scale replicas of the Hanging Gardens of Babylon, the Great Wall of China and the other wonders of the world, along with a 23-acre version of Central Park in New York.

Inspired by Dubai's success, the surrounding Persian Gulf countries are scrambling to fill their own coasts with artificial islands and over-the-top hotels. "If I look around the world, I can't see another place that's having such an influence on neighboring countries," said Mr. Baumgarten. Qatar, Bahrain and Oman "are all trying to build something around the Dubai model."

Dubai is still far from being a Persian Gulf paradise. Traffic is nightmarish. Many construction workers, a vast and essential component of Dubai's explosive growth, are poorly paid immigrants. And though the emirate is in some ways a model of multiculturalism and tolerance within the Middle East - women are free to go unveiled, for example, and Champagne-soaked nightclubs abound - tensions sometimes flare as the emirate tries to balance traditional Islamic values with the lifestyles of its liberal Western professionals.

Still, Sheik Mohammed has proved a canny problem-solver so far.

"Great men rise to great challenges," reads one of his poems. In true Dubai fashion, visitors flying into the city will soon be able to ponder these words from the air: The Arabic script of the poem will be spelled out by a circular arrangement of luxury villas on stilts surrounding the next of the Palm Islands.

&copy 2006 The New York Times Company
posted by Josh @ 2:56 PM
News: Dubai to Build Rotating Tower
Because that's what Dubai needs, a rotating building. Hmmm.

The first of three crazy architecture articles I've found.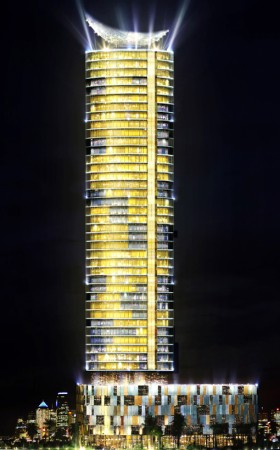 Gulf News
Rotating tower to be solar-powered
By Robert Ditcham, Staff Reporter
November 30, 2006

Dubai: Dubai's latest mind-boggling project will be yet another global first - a fully rotating tower powered by the sun.

Project engineers say the Dh400 million Time Residences tower in the City of Arabia master development will turn through 360 degrees, its rotation mechanism driven by stored solar energy.

The project, which will put 200 apartments onto the market, is another addition to Dubai's list of world exclusives which will include the world's tallest tower, biggest mall and largest man-made island - even a collection of dozens of man-made islands dubbed The World.

In July, Dubai-based High Rise Real estate launched the Rotating Tower, a Dh175 million project in Jumeirah Village South featuring four rotating penthouses and a rotating villa with its own car lift.

Dubai Property Ring, developer of the 30-floor Time Residences, says it has gone one step better by launching a fully rotating structure.

"We didn't want to build just another building or tower, we wanted to create something unique - a precious place to live - a genuine contender to be one of the great buildings in the world," said Tav Singh, director of Dubai Property Ring, the Dubai arm of UK-based property investors UK Property Group.

Singh said the company plans to build 23 more rotating towers in each of the world's time zones with finance provided by investors linked to the company.

The Time Residences tower will include one- and two-bedroom apartments as well as duplexes and penthouses. Singh said unit prices have not been released, but sales are expected to start in March 2007. Buyers' payments will be held in an account managed by Dubai Property Ring and Colliers International, master agents for the project.

The project is the company's first foray into property development, forcing it to take on the services of established names in their respective fields.

The tower was designed by UK architecture firm, Glenn Howells Architects (the company behind the Birmingham Rotunda in the UK) and Palmer and Turner, the master developers of City of Arabia.

"A distinctive time line runs down the building that meets 12 o'clock markings on the ground and the podium, allowing observers to use the building as a fully functioning time piece - it's unique, it's ambitious and it's an honour to be involved from the start," said James Abbott, senior architect at Palmer and Turner.

Dubai's Kulkarni QS will manage the project, while the task of rotating an 80,000 tonne tower through 360 degrees over a seven day period has been handed to Nick Cooper, managing director of Bennett Associates, the British engineer who designed the drill machine that bored the English Channel Tunnel.

Cooper said state of the art bearing systems at several points in the tower will allow a power plant to rotate the base of the tower at 5mm per second using only 21 electic kettles' worth of solar power.

Construction is expected to start in June next year with projected completion in the first quarter of 2009.

The project will also be showcased at this year's Cityscape from December 4-6 at the Colliers International stand.

&copy Al Nisr Publishing LLC 2006.
posted by Josh @ 2:55 PM
Josh and Liz are two American kids who got married in August. Liz has lived in Dubai since 2003, Josh since August of 2006.

Follow along in the culture shock of being recently married and (for Josh, at least) recently transplanted to Dubai.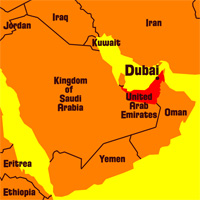 Right now in Dubai
Videos
Pictures
Previous Words
Favorite Recipes
Currency Converter
The easy way to convert Dirhams to Dollars!

Enter a number in either field, then click outside the text box.
Archives
Links We Like
Visitor Counter: