2007-08-30
News: Paramount Park in Dubai
This is older, about two months old now. But I was finishing up my semester and getting ready to go on vacation when this news broke. Sorry I missed it.


Variety
Paramount plans park in Mideast
Ruwaad to spend $2.5 billion on U.A.E. venue
By Marc Graser
June 26, 2007

Paramount is expanding its theme park biz into the Middle East.

Studio has inked a licensing deal with Ruwaad Holdings enabling the developer to build rides and attractions based on its library of films and characters at a proposed theme park in the United Arab Emirates.

Ruwaad plans to spend $2.5 billion on the Paramount Pictures-branded park, with the city of Dubai being considered to house the project.

Venue will also house hotels and resorts, restaurants and themed retail outlets.

No opening date has been announced. Exact size of the park is still being worked out.

Par is not footing any of the park's construction costs but will oversee planning and design elements.

Developers were attracted to Paramount's properties, which include "Top Gun," "Mission: Impossible," "Titanic," "The Godfather," "Grease," "Braveheart" and DreamWorks' co-production "Dreamgirls," which are viewed as lending themselves to adaptation as theme park attractions.

Park will also incorporate Bollywood and Arabic-language film content.

Par becomes the latest Hollywood player to enter the UAE with theme park plans.

A few months ago, Universal Parks & Resorts announced a partnership to build Universal City Dubailand, set to open in 2010. And Marvel has plans for a $1 billion park to bow in 2011, also in Dubai.

"The UAE is a spectacular center of growing commerce, tourism and entertainment, and we look forward to working together to bring a taste of Paramount and Hollywood to this dynamic market," said Michael Bartok, exec VP and head of Paramount Licensing, which handles licensing for Par, DreamWorks, Par Vantage, Nickelodeon Movies and MTV Films.

The Par deal is being overseen by Intl. Destination Brands, an affiliate of Ruwaad.

Darrell Metzger, CEO of Ruwaad Destinations, will manage the development aspects of the project. A former Walt Disney Co. exec, Metzger is also vice chairman of the Intl. Assn. of Amusement Parks and Attractions.

Ruwaad and Paramount Licensing are exploring development opportunities in other countries within the Middle East and elsewhere.

Paramount has licensing deals with five theme parks in North America that used to make up the Paramount Parks chain.

Owned and operated by Viacom, Paramount Parks went to CBS when the two companies split. Last year, CBS sold off the theme parks -- located in California, Ohio, Toronto, Virginia and on the border of the Carolinas -- to Cedar Fair Entertainment.

In May, Par Licensing also announced a licensing deal with Daewoo Motor Sales Corp. to build an $800 million theme park in South Korea.

&copy Reed Business Information
posted by Josh @ 9:18 AM
Josh and Liz are two American kids who got married in August. Liz has lived in Dubai since 2003, Josh since August of 2006.

Follow along in the culture shock of being recently married and (for Josh, at least) recently transplanted to Dubai.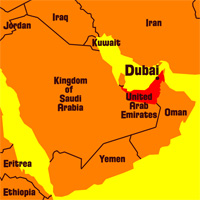 Right now in Dubai
Videos
Pictures
Previous Words
Favorite Recipes
Currency Converter
The easy way to convert Dirhams to Dollars!

Enter a number in either field, then click outside the text box.
Archives
Links We Like
Visitor Counter: