2007-08-23
News: Dubai invests $5 billion in Vegas
"Gentlemen, the 14000 block of Las Vegas Boulevard. Otherwise known as the Bellagio, the Mirage, the MGM Grand. Together, they're the three most profitable casinos in Las Vegas..."

So apparently someone in Dubai is a fan of Ocean's Eleven, as Dubai World just bought a chunk of MGM Mirage, the company that owns the Bellagio, the Mirage and the MGM Grand (Terry Benedict's a fictional character - sorry to ruin the illusion for ya).

Of course, last year Dubai invested heavily in New York (see Essex House, Mandarin Oriental, W Union Square Hotel, the Knickerbocker Hotel, Barneys New York). It was only a matter of time before Dubai hit The Strip.

Personally, I think the outrageous architecture and opulence of Vegas fits Dubai better.

Anyway, here is a list of the Las Vegas holdings of MGM Mirage:

Bellagio

The Mirage

MGM Grand Las Vegas

Excalibur

Luxor

Mandalay Bay

New York-New York

Treasure Island

Monte Carlo

Circus Circus

This reminds me, I still have to get our photos from Los Angeles and Las Vegas online ...


MotleyFool.com
MGM Gets a $5 Billion Boost
By Jeff Hwang
August 22, 2007

Just a couple of months ago MGM Mirage majority shareholder Kirk Kerkorian's Tracinda Corp. backed out of discussions to acquire MGM's key Bellagio and Project CityCenter properties on the Las Vegas Strip. It sure didn't take long for MGM to find another interested party.

MGM announced this morning that Dubai World would make a $5 billion investment in the company - a $2.7 billion investment in CityCenter and another $2.4 billion in MGM stock. The $2.7 billion investment nets Dubai World a 50% equity stake in CityCenter, valuing the project at $5.4 billion. Project CityCenter includes a 4,000-room resort hotel and casino, 2,650 condo and condo-hotel units, and two 400-room boutique hotels located on 76 acres of prime real estate at Center Strip. The project is scheduled to open in November 2009 at a cost of $7.4 billion.

Through its Infinity World Investments subsidiary, Dubai World will purchase up to 28.4 million shares of MGM stock at a price of $84 per share, or $2.4 billion total, amounting to 9.5% of outstanding shares. Dubai World plans to acquire half of the shares via public tender offer and the remaining shares directly from the company. The purchase price represents a premium of about 13% to the price of MGM shares at Tuesday's close.

With the proceeds, MGM could pay down debt, buy back shares, or perhaps fund an acquisition or future development.

MGM has thoroughly demonstrated its ability to monetize the value of its massive Strip real estate holdings through the use of joint ventures. In June it announced a 50/50 joint venture with Kerzner International to build a hotel and casino resort at the north end of the Strip on land MGM acquired earlier this year. The deals also speak to the value of undeveloped Strip real estate owned by Harrah's Entertainment, Wynn Resorts, and Boyd Gaming.

&copy The Motley Fool
posted by Josh @ 11:20 PM
Josh and Liz are two American kids who got married in August. Liz has lived in Dubai since 2003, Josh since August of 2006.

Follow along in the culture shock of being recently married and (for Josh, at least) recently transplanted to Dubai.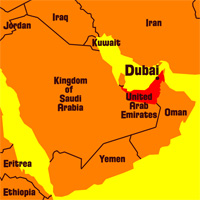 Right now in Dubai
Videos
Pictures
Previous Words
Favorite Recipes
Currency Converter
The easy way to convert Dirhams to Dollars!

Enter a number in either field, then click outside the text box.
Archives
Links We Like
Visitor Counter: