2007-08-23
Jet Lag is Evil
So it's four-something in the morning and I am wide awake. I hate jet lag.

See, the problem is that yesterday I didn't take a nap, I just fell asleep at 7 pm watching Discovery Channel. So did Liz. When we woke up it was already 9 pm, and somehow the television was on Animal Planet. (Is it possible the cats learned how to use the remote control while we were gone this summer?)

Since I pretty much need eight hours of sleep a night, this morning at 3 I start tossing and turning, and at one point I just gave up.

And now here I am.

Freaking circadian rhythms.

Liz, who is obviously a better sleeper than I, as she's still asleep, swears that recovery takes "one day per time zone". Eight time zones ... got in on Saturday ... yeah, looks like we still have a few more days left.

But in the nearer future, I'm totally going to have to take a nap today or I'll fall asleep before dinner. And I think I might make pizza. And I loves me some pizzas.
posted by Josh @ 4:25 AM
Josh and Liz are two American kids who got married in August. Liz has lived in Dubai since 2003, Josh since August of 2006.

Follow along in the culture shock of being recently married and (for Josh, at least) recently transplanted to Dubai.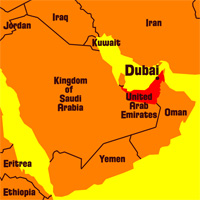 Right now in Dubai
Videos
Pictures
Previous Words
Favorite Recipes
Currency Converter
The easy way to convert Dirhams to Dollars!

Enter a number in either field, then click outside the text box.
Archives
Links We Like
Visitor Counter: