2007-08-22
iPod, TV and Me
I know I talked about our television offerings here in Dubai quite a bit last year, how we have many show from the States but that they're at the least six months delayed from when they air back home, but in some cases a few years later. And some shows don't exist here (poor "My Name is Earl" and "The Office").

Last year I probably also mentioned that we had tried to download some shows from Apple's iTunes Store, but Liz's laptop doesn't have the processor speed needed to play the files in an unstuttered manner. And my iBook, well, that just died altogether.

Anyway, this summer I devised a fantastic workaround for both of these problems. We bought an Apple iPod.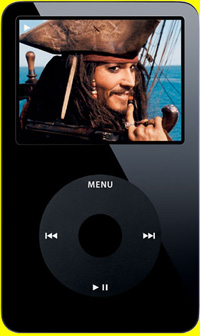 See, at first I really wanted one of those Apple TV dealies. But then I found out you need a widescreen or high definition television, and we don't have that. Plus, our TV is the European PAL, not North American NTSC, and Apple TV doesn't play nicely with PAL.

But as I was doing my research, I discovered that the current iPod (iPod with video a/k/a 5.5th Generation iPod) allows for video output - NTSC or PAL.

Plus this summer Apple was running a deal for college students - buy a Mac before and get a $199 rebate on an iPod of your choice.

Sweet!

So in addition to the iMac we now we have a new 30GB iPod that stores up to 40 hours of video. The LCD display is a little small (2.5-inch diagonal) with 320 by 240 pixel resolution, but it was fine to watch a few episodes of "Lost" on the airplane.

Other specs:

Height: 4.1 inches

Width: 2.4 inches

Depth: 0.43 inch

Weight: 4.8 ounces

Best of all, if we want to find other things to download (*cough bit torrent illegal copies of television shows*) or rip DVDs (*cough using an open-source, GPL-licensed, multiplatform, multithreaded DVD to MPEG-4 converter such as HandBrake*) we can now play them on our television set ...
posted by Josh @ 7:59 AM
Josh and Liz are two American kids who got married in August. Liz has lived in Dubai since 2003, Josh since August of 2006.

Follow along in the culture shock of being recently married and (for Josh, at least) recently transplanted to Dubai.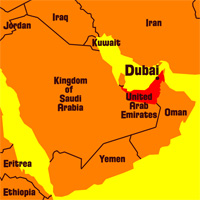 Right now in Dubai
Videos
Pictures
Previous Words
Favorite Recipes
Currency Converter
The easy way to convert Dirhams to Dollars!

Enter a number in either field, then click outside the text box.
Archives
Links We Like
Visitor Counter: