2007-08-27
Dubai is not a "Global City"
The other night we went to go see the new Bourne Ultimatum film with a friend of ours. I won't tell you much about the plot of the flick in case you haven't seen it yet, but I do want to talk a little about it being filmed all over the globe - locations included Moscow, Paris, London, Madrid, Tangier and New York City.

Not to toot our own horns, but it was pretty cool to see Jason Bourne in Waterloo Station or Gare du Nord - as we just were in London and Paris ourselves as part of what one of my buddies in Southern California called our Amazing Race summer. When you count Maine, Boston, Los Angeles, Las Vegas and of course, Dubai, well, we hit even more places than Matt Damon's character in the movie.

Which got me thinking of a prediction I made last December. After seeing "Casino Royale" I said, and I quote, "I bet you that at some point in the next two James Bond movies (#22 or #23) James Bond will visit to Dubai" (see James Bond in Dubai).

I'm now wondering if that was too bold a statement.

I mean, it felt right that Jason Bourne hopped a plane to Madrid, but had he come to Dubai it might have felt forced. I honestly am not sure that in 2007, or even 2008, that Dubai matches up with Moscow, Paris, London, Madrid, New York City, Los Angeles or Las Vegas. Sure, Dubai is an emerging city, but it's still got a ways to go.

It reminds me of an article I read last spring on wikipedia about "global cities".

Really simply, a global city is a city that has a direct effect on global affairs through culture or politics as well as socio-economic means.

Cities get points based on the following characteristics:

International, first-name familiarity; whereby a city is recognized without the need for a political subdivision. For example, although there are numerous cities and other political entities with the name Paris or variations on it, one would say "Paris", not "Paris, France".


Active influence and participation in international events and world affairs; for example, New York City is home to the United Nations headquarters complex and consequently contains a vast majority of the permanent missions to the UN.


A fairly large population (the center of a metropolitan area with a population of at least one million, typically several million).


A major international airport (for example, London Heathrow Airport, and Chicago O'Hare Airport) that serves as an established hub for several international airlines.


An advanced transportation system that includes several freeways and/or a large mass transit network offering multiple modes of transportation (rapid transit, light rail, regional rail, ferry, or bus).


In the West, several international cultures and communities (such as a Chinatown, a Little Italy, or other immigrant communities). In other parts of the world, cities which attract large foreign businesses and related expatriate communities; for example, Singapore, Shanghai, Hong Kong, Tokyo, and Moscow.


International financial institutions, law firms, corporate headquarters (especially conglomerates), and stock exchanges (for example the London Stock Exchange, the New York Stock Exchange, the World Bank, or the Tokyo Stock Exchange) that have influence over the world economy.


An advanced communications infrastructure on which modern trans-national corporations rely, such as fiber optics, Wi-Fi networks, cellular phone services, and other high-speed lines of communications.


World-renowned cultural institutions, such as museums and universities.


A lively cultural scene, including film festivals (for example the Toronto International Film Festival), premieres, a thriving music or theater scene (for example, West End theater and Broadway); an orchestra, an opera company, art galleries, and street performers.


Several powerful and influential media outlets with an international reach, such as the BBC, Associated Press, Reuters, The New York Times, The Times, or Agence France-Presse.


A strong sporting community, including major sports facilities, home teams in major league sports, and the ability and historical experience to host international sporting events such as the Olympic Games, Football World Cup, or Grand Slam tennis events.

Wonder where Dubai placed on this list?

Not very highly:

12 points: London, New York, Paris, Tokyo

10 points: Chicago, Frankfurt, Hong Kong, Los Angeles, Milan, Singapore

9 points: San Francisco, Sydney, Toronto, Zürich

skip a whole bunch


2 points: Abu Dhabi, Almaty, Birmingham (UK), Bogota, Bratislava, Brisbane, Bucharest, Cairo, Cleveland, Cologne, Detroit, Dubai, Ho Chi Minh City, Kiev, Lima, Lisbon, Manchester, Montevideo, Oslo, Riyadh, Rotterdam, Seattle, Strasbourg, Stuttgart, The Hague, Vancouver
Ooooh, dang, on the same par as Bratislava (the largest city in Slovakia) and Montevideo, which is either a city in Uruguay or a new South American MTV rip off.

I mean, anyone on the level of Cleveland has to feel pretty bad. (And for those of you defending Cleveland, two questions: Why do your rivers catch fire and why can't you win at any sports, like, ever?)

It's interesting when you look at the criteria for a global city - Dubai certainly is gaining in the international first-name familiarity, but we're still not a household name like London, New York, Paris, Tokyo. We have a fairly large population, but not nearly as big as some (did you know Ho Chi Minh City is the fiftieth largest city in the world?)

We do, however, have a big airport, and are building Dubai World Central International Airport - which will have an annual cargo capacity three times that of Memphis (MEM), today's largest cargo hub, and a passenger capacity of almost 50% more than Hartsfield-Jackson Atlanta International Airport (ATL), currently the world's busiest passenger airport.

As for an advanced transportation system - um, well, we have a bus ...

No, but seriously, the Dubai Metro will be done in a couple of years.

And that's just the thing - everything is still pretty new, or just a few years from being done.

The stock exchange is not even two years old. This will be the fourth year for the film festival, while the tennis championships has been around since 1993.

That big airport? It'll be fully built-out and operational by 2017.

Other than that museums, theaters, art galleries, all are in the nascent stages.

While we might be a little lacking on the whole "world-renowned cultural institutions" thing, we do have a mall that's just a shade smaller than Mall of America (100,000 square feet of retail floor area smaller, to be exact). And ours has an indoor ski mountain. So there.

And we're building the tallest man-made structure in the world, the Burj Dubai, as well as two other competitors (the Al Burj and the Burj Al Alam). The Burj is scheduled for occupancy in September 2009, the other two haven't even started construction yet.

So anyway, if Bond #22 is coming out in November of 2008, #23 will probably be in 2010, right?

Let's look at Dubai in 2010. We'll have a metro, and probably have the world's tallest building, too. Maybe a museum. For sure a new mall or two.

I'm thinking the Burj alone should bump Dubai a few pegs above Bratislava and Cleveland.

As for visits from Bond or Bourne? I'm still not sure.
posted by Josh @ 8:21 AM
Josh and Liz are two American kids who got married in August. Liz has lived in Dubai since 2003, Josh since August of 2006.

Follow along in the culture shock of being recently married and (for Josh, at least) recently transplanted to Dubai.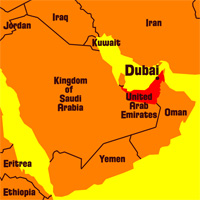 Right now in Dubai
Videos
Pictures
Previous Words
Favorite Recipes
Currency Converter
The easy way to convert Dirhams to Dollars!

Enter a number in either field, then click outside the text box.
Archives
Links We Like
Visitor Counter: