2007-08-17
Back in Dubai!
We're back!

Just landed two hours ago, give or take, after a nice flight on Delta from Atlanta. Unfortunately that means we had to drive two hours from Maine to Boston, fly two hours from Boston to Atlanta, and then fly back up the Eastern Seaboard past Boston and Maine on our way to Dubai.

Oh well.

The flight took a few minutes more than thirteen hours, and I seriously only slept a couple of hours. Add that to the hour nap I had on the way to the airport, and the second hour nap I had on the BOS to ATL flight, and I'm one tired cookie. Luckily it's already night here, so I'm ready for bed.

More adventures to write about tomorrow. Good night!
posted by Josh @ 9:29 PM
Josh and Liz are two American kids who got married in August. Liz has lived in Dubai since 2003, Josh since August of 2006.

Follow along in the culture shock of being recently married and (for Josh, at least) recently transplanted to Dubai.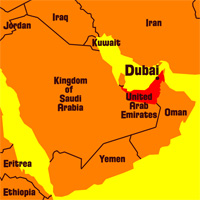 Right now in Dubai
Videos
Pictures
Previous Words
Favorite Recipes
Currency Converter
The easy way to convert Dirhams to Dollars!

Enter a number in either field, then click outside the text box.
Archives
Links We Like
Visitor Counter: