2007-07-09
Safe in the States!
Hey everyone!




We're back safe and sound in the United States! Got in late late late on Saturday night, actually three hours later than we were supposed to, thankyouverymuch Air France Baggage Handler Union who is, how do you say, on le strike.

But they got us home, and all of our luggage, too, so I can't really complain. They're no Emirates airlines, though. We flew them from Dubai to Paris. Hundreds of movies on demand, tons of food ... mmm. Oh, I finally saw Meet the Robinsons on the plane, too. Cute movie. My name in the credits was about an inch long though.

Anyway, getting the photos developed today (yes, I still like film) so check back in the next few days for some pictures of London, Paris and Disneyland Resort Paris.

Ooh la la ...
posted by Josh @ 5:20 PM
Josh and Liz are two American kids who got married in August. Liz has lived in Dubai since 2003, Josh since August of 2006.

Follow along in the culture shock of being recently married and (for Josh, at least) recently transplanted to Dubai.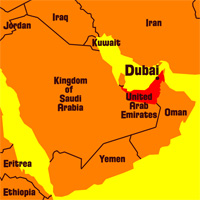 Right now in Dubai
Videos
Pictures
Previous Words
Favorite Recipes
Currency Converter
The easy way to convert Dirhams to Dollars!

Enter a number in either field, then click outside the text box.
Archives
Links We Like
Visitor Counter: