2007-07-19
Die Hard 4.0
So oddly enough, the newest Die Hard movie is called "Die Hard 4.0" in London and Paris, too, just like in Dubai. In the States it's "Live Free or Die Hard".




I guess the whole "Live Free or Die" quote is too American Revolution for the rest of the world. Makes sense. Personally I think "4.0" sounds more computer techy, anyway.

But that's not why I'm writing today. I'm writing because A) we just saw the movie last night and B) it's based on a non-fiction article, which I thought was tremendously interesting. John Carlin's May 1997 article A Farewell to Arms about the pending "information war". (Granted, this was pre-September 11th).

Still, it's an interesting read, at one point Carlin even references the potential for a Hollywood blockbuster movie about information war. Pretty crazy.

Two other interesting books related to Die Hard are "Nothing Lasts Forever" by Roderick Thorp and "58 Minutes" by Walter Wager.

"Nothing Lasts Forever" was the basis for the first Die Hard (almost twenty years ago) and "58 Minutes" was the inspiration for the second film. The third film was based on an original movie script written by Jonathan Hensleigh titled "Simon Says" that almost became Lethal Weapon 4.

Okay, that's all the movie trivia I have today ...
posted by Josh @ 6:49 PM
Josh and Liz are two American kids who got married in August. Liz has lived in Dubai since 2003, Josh since August of 2006.

Follow along in the culture shock of being recently married and (for Josh, at least) recently transplanted to Dubai.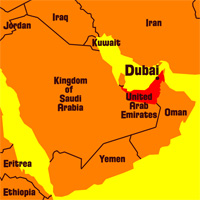 Right now in Dubai
Videos
Pictures
Previous Words
Favorite Recipes
Currency Converter
The easy way to convert Dirhams to Dollars!

Enter a number in either field, then click outside the text box.
Archives
Links We Like
Visitor Counter: