2007-07-15
Adjusting to life in the States
Well we've been back in the States almost a week now, already one-sixth of the way through our summer vacation. Sadly I haven't been to Taco Bell yet. Soon. Very soon.

We did, however, get to Target the other day. Man, I love that store. I was a little taken-aback by the toy aisles, though. Did you know that now there are Star Wars Transformers? And Transformers that don't actually transform?

Only in America.

This week I've also been setting up out new iMac, as well.




It is so choice. If you have the means, I highly recommend picking one up.

And lastly, yes, I'm still organizing the London and Paris photos. Should have some up shortly. Seriously this time.

Until then, check out this LEGO Eiffel Tower. It's three and a half feet tall!

Crazy!
posted by Josh @ 2:48 AM
Josh and Liz are two American kids who got married in August. Liz has lived in Dubai since 2003, Josh since August of 2006.

Follow along in the culture shock of being recently married and (for Josh, at least) recently transplanted to Dubai.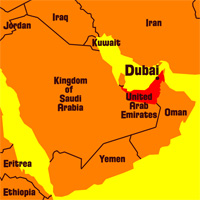 Right now in Dubai
Videos
Pictures
Previous Words
Favorite Recipes
Currency Converter
The easy way to convert Dirhams to Dollars!

Enter a number in either field, then click outside the text box.
Archives
Links We Like
Visitor Counter: