2007-05-10
You say "Al Aqah", I say "Al Aqqa"
No, you're not going crazy. (Well, that's a broad statement, let's just say on this case you're still sane). Some of the more eagle-eyed of readers might have noticed I've gone back-in-time and replaced all of the "Al Aqah"s with "Al Aqqa"s when talking about our trip last weekend.

Both are right. When I got home and was writing about our trip I googled it, and "Al Aqah" came up first. But then later I remembered the road signs to and from the area spelled it "Al Aqqa". And I think that one looks neater.

That happens quite a bit here, words or towns have multiple spellings. On old maps Dubai is sometimes spelled "Dubayy", even. I guess this is because the name is not being translated into English, it's only being transcribed from a different alphabet (from the Arabic alphabet to the Latin alphabet). So "Al Aqah" sounds like "Al Aqqa", and "Dubai sounds like "Dubayy".

So no, you're not crazy.

This time.
posted by Josh @ 10:12 AM
Josh and Liz are two American kids who got married in August. Liz has lived in Dubai since 2003, Josh since August of 2006.

Follow along in the culture shock of being recently married and (for Josh, at least) recently transplanted to Dubai.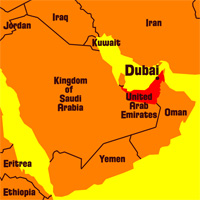 Right now in Dubai
Videos
Pictures
Previous Words
Favorite Recipes
Currency Converter
The easy way to convert Dirhams to Dollars!

Enter a number in either field, then click outside the text box.
Archives
Links We Like
Visitor Counter: