2007-05-23
Weekend photo roundup
I know it's Wednesday, but I have a few photos from the weekend I'd like to share. We haven't done this in awhile, I know, and I got some neat ones for you.

First off we have a shot of the Burj Dubai from the good old camera phone while we were stuck in traffic (don't worry, Liz was driving). The Burj, as you might recall, is projected to be the world's tallest building upon completion in a few years.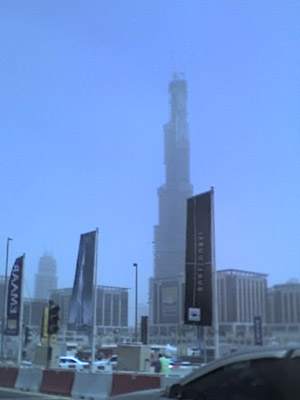 The Burj Dubai a few days later, again in traffic - almost the same intersection, actually. (Again, Liz was driving. Oddly enough I do do my fair share of driving, just somehow both of these times I wasn't. Well, I guess all of the times I do drive I don't have photographic evidence to prove it ...)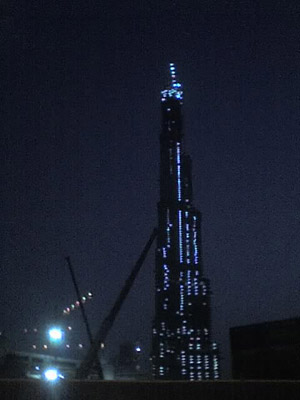 Here's a shot out of our window of our apartment at one of the (many) buildings in construction. The other weekend they put some palm trees out on the landing.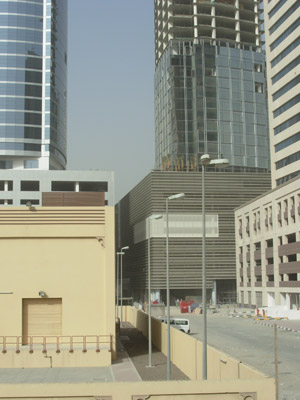 Here's a closer shot.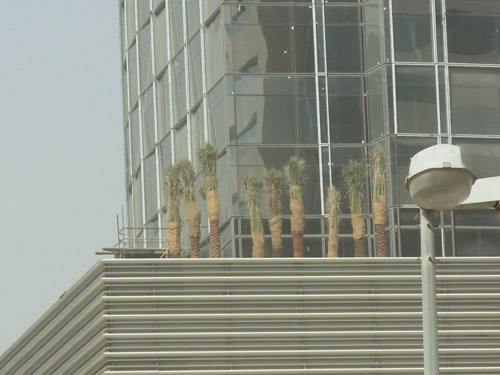 When we returned from Al Aqqa a few weeks ago we found graffiti on the wall outside of our apartment. That's fairly odd, because I can tell you when and where I've ever seen graffiti in Dubai. Three times, actually. Once at the Mall of the Emirates ("Fresh"), once on Beach Road (a U.A.E. flag - remind me that I want to get a photo of that), and out in Jebel Ali (another "Fresh").

Oh, and now this. Four times.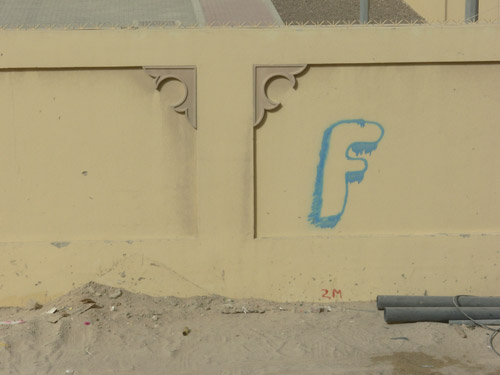 Lastly, when we went out to dinner the other night on Sheikh Zayed Road, we came very close to being stuck in our parking spot ... by a double-parked Lamborghini.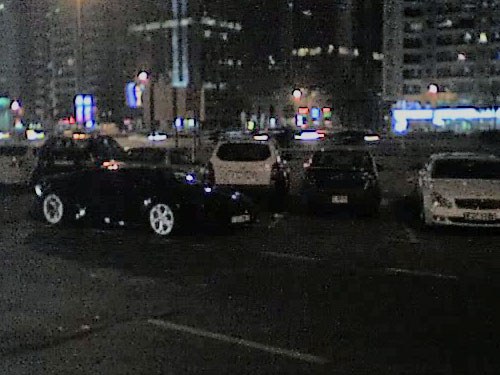 See, second car in on the right is the Black Echo (parked legally), and right next to us not in a spot is a black Lamborghini (not parked legally).

I don't know much in this world, but I know that if I went to the trouble and expense of buying myself a several hundred-thousand dollar car, I might not double-park it on a busy weekend night.

Or ever, really.

Just a thought.

Anyway, I'm really so glad this photo came out (albeit it with some photoshop lighting and contrast help). Pretty much sums up Dubai for me right there ...
posted by Josh @ 6:41 AM
Josh and Liz are two American kids who got married in August. Liz has lived in Dubai since 2003, Josh since August of 2006.

Follow along in the culture shock of being recently married and (for Josh, at least) recently transplanted to Dubai.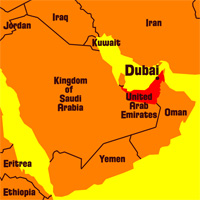 Right now in Dubai
Videos
Pictures
Previous Words
Favorite Recipes
Currency Converter
The easy way to convert Dirhams to Dollars!

Enter a number in either field, then click outside the text box.
Archives
Links We Like
Visitor Counter: