2007-05-29
That Cabbie Copped my Design!
The other night we were going to a going away party for one of Liz's friends, so Liz and I took a cab.

Stuck in traffic on the way over there I saw a familiar sight. An ad on the cab next to us had a silhouette of buildings in Dubai - just like the header of this website and our wedding invitations!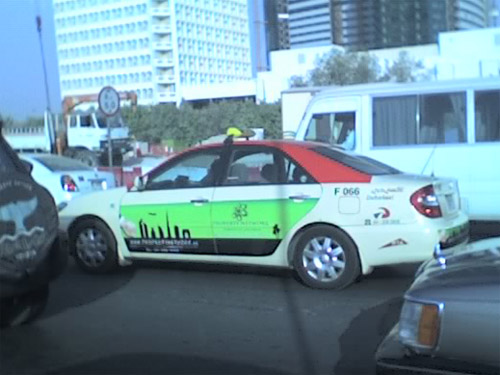 See, from left to right there's the Emirates Towers, some other building, Burj al-Arab, Burj Dubai, Dubai World Trade Centre and the Dubai International Financial Center.

Hey, I think on the far right they even have a palm tree!

Punks.

True, on the wedding invitations I didn't have the Dubai World Trade Centre or the Dubai International Financial Center, and I cut the Burj Dubai from the header of this website (at scale it just wouldn't fit properly!) but still, they're pretty similar!!

Personally I like how I have all of the buildings under construction in the background, I mean, to me that's really more "Dubai" than the rest of these silly buildings.

Sadly, I don't know what company this ad was for - my camera phone is a little lacking in image quality to read the ad properly. Oh well.

Let's just say "great minds think alike" then.
posted by Josh @ 6:40 AM
Josh and Liz are two American kids who got married in August. Liz has lived in Dubai since 2003, Josh since August of 2006.

Follow along in the culture shock of being recently married and (for Josh, at least) recently transplanted to Dubai.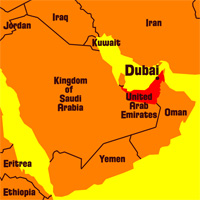 Right now in Dubai
Videos
Pictures
Previous Words
Favorite Recipes
Currency Converter
The easy way to convert Dirhams to Dollars!

Enter a number in either field, then click outside the text box.
Archives
Links We Like
Visitor Counter: