2007-05-21
Sorrow
Over the weekend I found out that a family friend passed away last week. It's times like this when it's really quite difficult to be overseas.

I feel really pretty crummy about the whole thing. Our friend was a carpenter - well, that's not the right word. No, Dickie was a craftsman. Anything that he touched would become instant artwork. He transcended carpentry.

For example, last summer he helped my dad put an addition onto our summer cottage in the woods of Maine. Then they put fake log cabin siding on. Well, not just "they" - I helped a little bit, but as I'm not a carpenter or a craftsman I pretty much just moved big piles of wood around, or held things straight while someone with talent and skill hammered them in.

Anyway, at one point, we replaced an existing window in the cottage with a big bay window. But Dickie was a little concerned about the weight of the window, and wanted to put some kind of support pieces in.

Now, your average carpenter would cut two pieces of wood, angle each side, hammer them in and go to the next project. Window supported, job done. But that wasn't Dickie. I don't even know what kind of tool he used (see, not at all a carpenter) but he made the most amazing, amazing curly-cue supports for the window. They support the window, but more than that - they're art. See? A craftsman.

Dickie wasn't just a craftsman, though. He was a musician, too, he played the steel guitar. All of the while when we were working on the cottage Dickie played an endless stream of country CDs, always reveling in the mastery of the musicians. His enthusiasm was infectious, and soon I was tapping along with the beat. And you know me and most country music. We just don't get along.

Anyway, I only helped for a few days at the cottage, at the same time I was busy packing up my things to move to Dubai, and putting the final touches on the wedding plans. I really wished I had helped more, Dickie was so clever and so helpful that even if you were hammering boards upside-down and using the wrong end of the hammer to do it he wouldn't even be upset, he would just calmly show you the proper way to do the job.

It was a great day when we finished the siding. My dad was beside himself with joy. I honestly don't think I've ever seen my father so pleased. I mean, yeah, he was happy at my college graduation, and my wedding was great fun, but I think those were predetermined in his mind. I don't think he ever doubted those days were going to happen. But putting the log siding on the cottage, that was always a dream to him. And all of a sudden it was real. He was speechless.

Then in the fall cancer returned to Dickie, and really did a number on him. But he and his wife fought through it. Tough old Mainers. I heard from my parents two weeks ago that Dickie and his wife stopped into the house and that he was looking good, had put on fifteen pounds, and even felt good enough to have a beer with dad.

And then, a week later, he was gone.

Now, I don't know all of Dickie's life story, but I know that at times he had it pretty rough. It seems that there's always employers out there willing to take advantage of employees, especially in the carpentry world of rural Maine. What made it worst was that Dickie wasn't your ordinary carpenter (not that there's anything wrong with being a carpenter, as I've fully proven that I'm not up to the job) and the pieces Dickie made could be in museums. They were art. He was an artist.

You know, ever since I've been in Dubai I've been shocked and amazed at the cars, the jewelery, the over-the-top showing wealth. I've written about it before. But the last few days I have been disgusted. Repulsed. Stomach-grindingly angry. How is it that life is not fair? That crappy people who want to spend hundreds of thousands of dollars for a car have the money and ability to, while other, kinder, nicer, more talented people can struggle so much?

Then all of a sudden I am ashamed. I mean really, I've kind of lived the life of Riley. I got to go to the college of my choice, got to move to Los Angeles to purse my dream, got to marry a wonderful woman, got to move across the world to a fantastic city and have the opportunity to earn a graduate degree in business ...

True, I wouldn't compare myself to Paris Hilton or any other trust-fund-having, heir-to-millions spoiled brat, but I've been quite lucky in my life.

Lastly - not to get too Kubler-Ross on you - acceptance. Because you know what? Every time that I look at those curlycue supports under the bay window at the cottage, I'll think of Dickie. Probably every morning that my father sees the cottage with it's log cabin siding, looking exactly like he had always dreamed, he'll think of Dickie too.

Because artists create, and their creations live on after they're gone.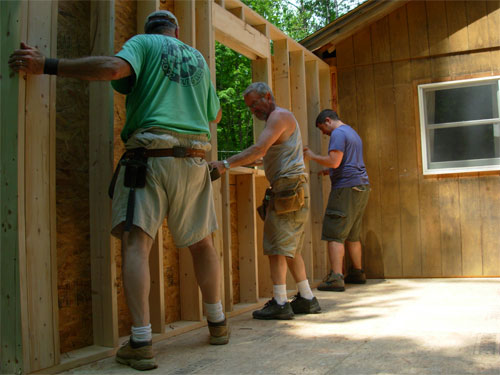 Dad, Dickie and Me putting up a wall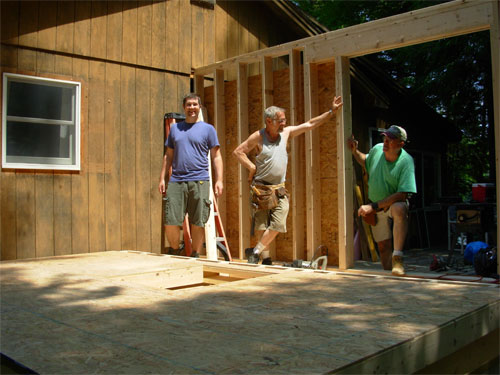 Mugging for the camera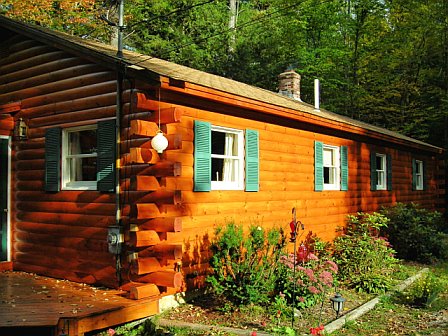 The finished and stained cottage. My Dad's Dream.
posted by Josh @ 6:42 AM
Josh and Liz are two American kids who got married in August. Liz has lived in Dubai since 2003, Josh since August of 2006.

Follow along in the culture shock of being recently married and (for Josh, at least) recently transplanted to Dubai.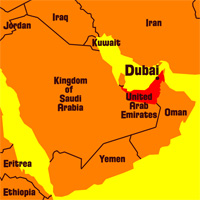 Right now in Dubai
Videos
Pictures
Previous Words
Favorite Recipes
Currency Converter
The easy way to convert Dirhams to Dollars!

Enter a number in either field, then click outside the text box.
Archives
Links We Like
Visitor Counter: