2007-05-10
Ryman-esque Painting
Weeks and weeks ago we bought this really cool oil painting in Karama, the kind of black-market part of Dubai. The stuff there for sale that's not illegal / pirate / counterfeit is generally hand-made and quite inexpensive. We bought this painting for something like 25 dirhams, or under seven dollars.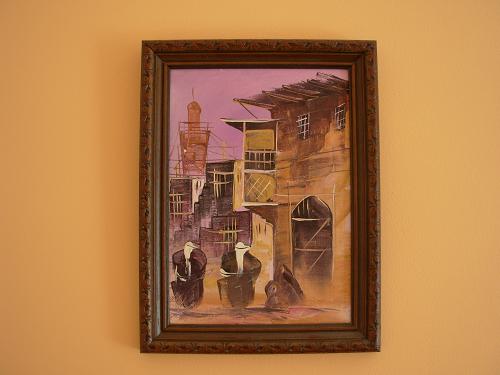 One of the reasons that I really like this painting is that the style reminds me of a painter by the name of Herb Ryman. He painted all sorts of pre-construction development artwork for Disney parks back in the day.

Here's a concept painting of New Orleans Square in Disneyland.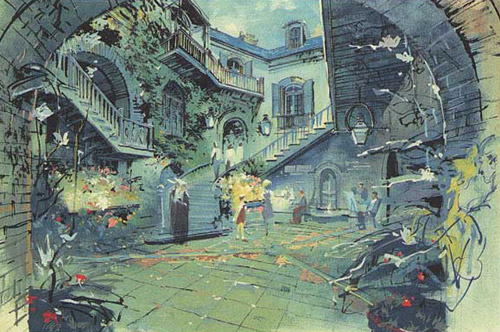 © Disney



And here's a concept piece for Tokyo Disneyland that Ryman did in 1976.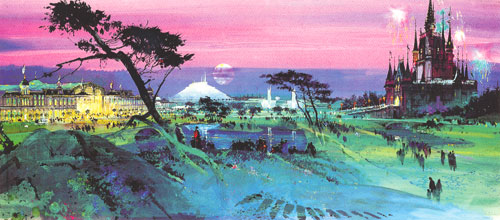 © Disney


A few similarities - mostly in the lack of detail, and almost sketchy quality - but you totally get the idea of what you're looking at.

Ryman's other work for Disney included, amazingly enough, the first map of Disneyland back in 1953.

The story goes that Walt Disney approached Ryman on either a Friday afternoon or on a Saturday morning, and said how his brother Roy (the financial genius behind the Walt Disney Company) was going to New York on Monday morning to meet with some potential Disneyland investors, and they needed to show the investors what Disneyland would look like.

Ryman said that he'd like to see it too, and that's when Walt said, "well, you're going to do it".

The two spent all weekend drawing what could be, with a few minor tweaks, the final map layout of Disneyland park.

I'll try and find a few other Ryman pieces to show you here, there's this one of EPCOT Center with a huge red sky that's just amazing.
posted by Josh @ 10:34 AM
Josh and Liz are two American kids who got married in August. Liz has lived in Dubai since 2003, Josh since August of 2006.

Follow along in the culture shock of being recently married and (for Josh, at least) recently transplanted to Dubai.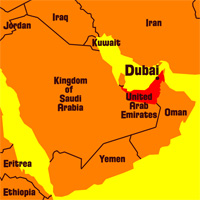 Right now in Dubai
Videos
Pictures
Previous Words
Favorite Recipes
Currency Converter
The easy way to convert Dirhams to Dollars!

Enter a number in either field, then click outside the text box.
Archives
Links We Like
Visitor Counter: