2007-05-24
News: Ryan Dallas Cook
I've never talked about this here before, but I've been following this story since October of 2005.

See, there's this band I like in California called Suburban Legends, they're a ska band with four or five trumpets, trombones, etc - pretty much more bandmembers than can fit into a minivan.

They're a small band, not on the radio, not on a record label, but they tour around Southern California and have some dedicated fans. Lots of high school age fans, because they play at Disneyland and Disney's California Adventure often, and due to the fact that they're all at least a half-a-decade younger than I am.

I think I told my brother that they were the world's first ska "boy band" when we first saw them in 2000 or 2001.

Probably the next line was how one of the trombone players reminded me so much of my brother's college roommate Andy.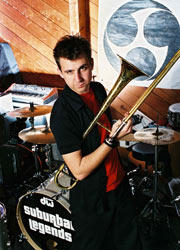 Anyway, a year and a half ago that trombone player was killed in a car accident on a freeway in Southern California. As if that wasn't horrible enough ... well, I guess you'll have to read the article below about who caused the accident and what happened next ...


knbc.com
Family Of Man Killed In Crash Files Lawsuit Against Hyundai Execs
May 23, 2007

SANTA ANA, Calif. -- A wrongful-death lawsuit filed Wednesday claims U.S. Hyundai executives helped a former colleague flee the country after a drunken-driving crash that killed a motorcyclist.

The Orange County Superior Court lawsuit seeks unspecified damages from Hyundai Motor America, Hyundai Motor Finance Co. and three executives for the 2005 death of Ryan Dallas Cook of Huntington Beach.

One of the executives, Youn Bum Lee, was charged last month with four felony charges: vehicular manslaughter by unlawful act with gross negligence while intoxicated; vehicular manslaughter with gross negligence; driving under the influence causing bodily injury and hit-and-run with permanent injury or death.

Lee is believed to have fled to his native South Korea after the crash and a warrant was issued last month for his arrest, although authorities are unsure of his specific whereabouts, said Susan Schroeder, a spokeswoman for the Orange County district attorney's office.

"He may never be held accountable," said Carlton Cook, the victim's father. "He may never own up to that because if they haven't found him by now, I don't know that they will be able to."

The family's attorneys said surveillance video shows that the executive was assisted in fleeing the country. The attorneys said two Hyundai executives escorted him onto an airplane.

"When they put him on that airplane, were they think about protecting Mr. Lee?" said attorney Wylie Aitken. "Or were they really thinking about protecting themselves?"

If convicted on all counts, he could receive up to 10 years in state prison, she said.

Hyundai released a statement that read, "Lee was terminated shortly after the event occurred."

Lee worked at Hyundai Motor America's headquarters in Fountain Valley and on Oct. 18, 2005, joined some colleagues for dinner followed by a visit to a karaoke bar, according to court documents.

During that time, Lee drank at least eight shots of rice wine, a colleague told police.

Just after midnight, Lee began driving his company car back to his Irvine home, according to the suit. A short time later, 911 calls to the California Highway Patrol reported that a sport utility vehicle with its headlights off had been weaving and hit the center divider of the 55 Freeway.

One caller reported seeing a headlight approaching. Authorities said it was Cook's motorcycle. The 23-year-old Cook braked but struck Lee's car, which had backed away from the center divider and into a lane, a CHP report indicated. Cook was thrown from the motorcycle and hit by three other cars. He died at the scene.

His parents, Carlton and Janet Cook, contended that Lee had been drinking at a Hyundai-sponsored function to entertain visiting executives from Seoul.

Cook's family contends that after the crash Lee fled but later contacted Hyundai colleagues to report he had been in an accident. Instead of reporting it, the suit contends that they arranged for him to meet with a criminal defense attorney in Los Angeles, then took him to the airport, where he bought a ticket to Seoul.

Lee's wife and son are believed to have joined him later.

Only after Lee reported safely arriving in South Korea did "the officers, directors and managing agents of Hyundai" contact the Fountain Valley Police Department to report they had the SUV involved in the crash, the suit claims.

The lawsuit claims Hyundai encouraged "a corporate culture of drinking and driving," failed to rapidly report the accident and assisted Lee in a "flight from justice."

"The company and its employees have and continue to express the deepest sympathy for the victim of the tragic accident and his family and friends," Kathy Parker, vice president of human resources for Hyundai Motor America, said in a statement Wednesday.

The company terminated Lee shortly after the accident and doesn't know his whereabouts but has been cooperating with the investigation, Parker said.

© KNBC.com and KNBC (NBC4 Los Angeles)
posted by Josh @ 6:37 AM
Josh and Liz are two American kids who got married in August. Liz has lived in Dubai since 2003, Josh since August of 2006.

Follow along in the culture shock of being recently married and (for Josh, at least) recently transplanted to Dubai.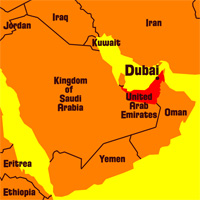 Right now in Dubai
Videos
Pictures
Previous Words
Favorite Recipes
Currency Converter
The easy way to convert Dirhams to Dollars!

Enter a number in either field, then click outside the text box.
Archives
Links We Like
Visitor Counter: