2007-05-07
Oh yeah, Matt Lauer
So this is why I shouldn't write here at six in the morning. I forget funny things.

I meant to mention that as soon as we heard that the Today Show's Matt Lauer was in Dubai we got the heck out of town. But I forgot.

It seems Mr. Lauer was here on Thursday doing his whole "Where in the World is Matt Lauer?" schtick.

Ugh.

Here's a quote, "And Dubai is still growing. So much so that current estimates - hard to verify - claim that there are more heavy building cranes in Dubai than anywhere else in the world."

Um, dude, "hard to verify"? Take a drive down Sheikh Zayed Road. Have you ever seen so many cranes in your life? No, make that have you ever imagined that many cranes?!?

Exactly.

There was something else I wanted to mention I thought, but I've forgotten it again. Guess I shouldn't blog before dinner, either.

Oh well. At least Lauer was gone by the time we got home.
posted by Josh @ 7:00 PM
Josh and Liz are two American kids who got married in August. Liz has lived in Dubai since 2003, Josh since August of 2006.

Follow along in the culture shock of being recently married and (for Josh, at least) recently transplanted to Dubai.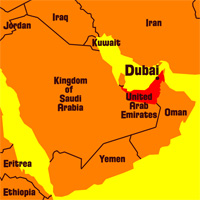 Right now in Dubai
Videos
Pictures
Previous Words
Favorite Recipes
Currency Converter
The easy way to convert Dirhams to Dollars!

Enter a number in either field, then click outside the text box.
Archives
Links We Like
Visitor Counter: