2007-05-08
Oh boy, Jay Leno.
So I know I've complained mentioned our satellite TV provider, Orbit before.



Well, they've just scored a big coup, or, at least that's what they're telling us. Every third commercial on TV right now lets us know that Orbit Communications Company has secured the exclusive basic cable television rights for the Middle East of The Tonight Show with Jay Leno and Late Night with Conan O'Brien.

Whoo. Jay Leno.

Conan's cool, though.

I'm more excited that a week from tonight we get Aaron Sorkin's Studio 60 on the Sunset Strip. I haven't heard great things, but hey, it's pretty cool we're getting it only, what, seven or eight months after the premiere.

They're also starting the new season of ER (I think they're on season 37, if I'm not mistaken) and the last season of That 70's Show (which by my calculations should take place in about 1986. "Hey Hyde, would you rather go see "Space Camp" or Soul Man" in the theater today? Or are you going on a date with Jackieeee?" "Shutup Kelso." "Meesa like Lea Thompson." "Shutup Fes.")

And sadly, a month into baseball season and I haven't seen a damn game yet. If only Orbit ESPN would play one once in a while. I'm sick to death of Cricket and Rugby!!
posted by Josh @ 6:44 AM
Josh and Liz are two American kids who got married in August. Liz has lived in Dubai since 2003, Josh since August of 2006.

Follow along in the culture shock of being recently married and (for Josh, at least) recently transplanted to Dubai.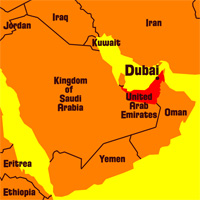 Right now in Dubai
Videos
Pictures
Previous Words
Favorite Recipes
Currency Converter
The easy way to convert Dirhams to Dollars!

Enter a number in either field, then click outside the text box.
Archives
Links We Like
Visitor Counter: