2007-05-30
News: More on Ryan Dallas Cook
Here's a longer story about Ryan Dallas Cook, the Southern California musician who was killed two years ago ...


Los Angeles Times
Crash victim's family sues Hyundai
Company officials helped a colleague leave the country before police could talk to him about an O.C. hit-and-run, suit says.
By Christine Hanley
May 24, 2007

The family of a professional musician killed in a hit-and-run accident in Orange County filed a lawsuit Wednesday against Hyundai Motor America, alleging that company officials helped one of their colleagues leave the country before he could be questioned by police.

Wylie A. Aitken, an attorney representing the victim's family, said surveillance tapes from Los Angeles International Airport show that Hyundai employees helped Youn Bum Lee become a fugitive, contradicting statements they made to police investigating the crash.

"Justice has certainly been slow in this case," Aitken said, surrounded by Ryan Dallas Cook's parents and three sisters during a news conference at his Santa Ana law office. "But at least we're headed in the right direction."

Cook, 23, was killed in October 2005 when his motorcycle slammed into Lee's disabled car on the Costa Mesa Freeway. Lee, who had been drinking with colleagues shortly before the crash, left the scene and was on a plane to his native South Korea less than 24 hours later, according to police and court records.

Lee was charged last month in absentia with felony gross vehicular manslaughter while intoxicated; driving under the influence of alcohol or drugs with injury; and hit-and-run with injury or death.

Cook's family wants other Hyundai employees held criminally responsible for obstructing justice and being accessories after the fact.

In the meantime, family members say, they are seeking answers and justice through their lawsuit.

"It is shocking that a major corporation would create a culture that would inevitably lead to a drunken-driving fatality and then actively assist the perpetrator in his flight from justice," Aitken said. "What unfolded was possible criminal conduct not just by Mr. Lee, but up and down the corporate chain."

Susan Schroeder, spokesman for the district attorney's office, said charges against other employees were still possible, but that prosecutors did not have evidence showing anyone helped Lee get out of the country.

She said it took longer than usual for a warrant to be issued because, in seeking the maximum charges against Lee, investigators had to find evidence that he was under the influence at the time of the crash. Because Lee already was out of the country, that took a lot of legwork, she said.

"Unfortunately, it took a lot longer than we wanted it to," she said.

Kathy Parker, vice president of human resources at Hyundai Motor America, Hyundai's U.S. subsidiary in Fountain Valley, issued a short written statement Wednesday saying the company had been cooperative throughout the investigation, including helping authorities search for Lee.

Lee, who lived in Irvine, was fired shortly after the accident, Parker said, and the company does not know his whereabouts. On behalf of all employees, she expressed the "deepest sympathy" for Cook and his family.

For the Cooks, the sympathy comes far too late and rings hollow, Aitken said, repeating his allegation that Hyundai officials knew about the fatal accident and still helped Lee leave the country.

Cook family members did not learn who was driving the SUV that night until they were provided with a police report six months after the hit-and-run, Aitken said. That's also when they found out that investigators believed Lee had spent the night drinking with other company officials.

In their wrongful-death lawsuit, which seeks unspecified damages, the family identifies Jason Ryu and Young Jang among the Hyundai colleagues who they believe helped arrange for Lee to leave the country before police could track him down.

Ryu, who, according to Aitken, now works for Hyundai in Alabama, could not be reached for comment. Jang, who is still in Orange County and works in the technology division, said he could not talk about the case and referred questions to the human resources department.

Reports by the California Highway Patrol, which is leading the investigation, show that the two men were among a group of employees drinking with Lee in the hours before the crash, and that they accompanied Lee to Los Angeles the next day so he could meet with a criminal attorney.

On the way home, Lee asked to be taken to LAX because "something had come up," according to their statements to police. Uncomfortable with the request, they drove instead to a hotel near the airport, where Lee jumped out and hailed a cab, their statements show. They told authorities they tailed Lee in their own taxi, never explaining why they couldn't take the car they were driving, police records show.

Lee didn't tell them where he was going, and they didn't ask, according to their statements to police. He seemed agitated and asked to be left alone, they told police. They left the airport about 9:30 p.m. to take a shuttle back to their car, still at the hotel, then drove to their Fountain Valley office, according to their statements.

Aitken said airport surveillance videos tracking the men's movements that night showed that their version of events "doesn't hold water."

&copy Los Angeles Times
posted by Josh @ 6:31 AM
Josh and Liz are two American kids who got married in August. Liz has lived in Dubai since 2003, Josh since August of 2006.

Follow along in the culture shock of being recently married and (for Josh, at least) recently transplanted to Dubai.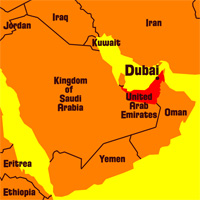 Right now in Dubai
Videos
Pictures
Previous Words
Favorite Recipes
Currency Converter
The easy way to convert Dirhams to Dollars!

Enter a number in either field, then click outside the text box.
Archives
Links We Like
Visitor Counter: