2007-05-11
News: Disney negotiating with counterfeit Chinese Disneyland
New word yesterday about Beijing Shijingshan Amusement Park, the counterfeit Disneyland in China.

Apparently now they're in "negotiations" with Disney.

I think the second to last paragraph has it right. Those are the kind of tactics Disney uses in "negotiations".


Associated Press
Beijing park underscores piracy battle, analysts say
May 10, 2007

BEIJING, China - That round-eared mouse dancing with kids? Not a copy of Disney's Mickey Mouse, the Shijingshan Amusement Park insists. And that raven-haired woman with seven men in elf suits? Not Snow White and the Seven Dwarfs.

Such rampant Chinese copying has strained ties with the United States, whose trade deficit with China soared to $232.5 billion last year. Both governments are preparing for what are expected to be contentious talks May 23-24 in Washington on Beijing's trade policies, its currency and other issues.

On Wednesday, a Chinese delegation signed deals at a ceremony in San Francisco to buy $4.3 billion in U.S. technology in an apparent effort to ease American anger. The contracts went mostly to software, semiconductor and telecommunications companies including Microsoft Corp., Oracle Corp., Cisco Systems Inc. and Hewlett-Packard Co.

China regularly makes such purchases of U.S. jetliners, soybeans and other goods before high-level contacts. But it was unclear what effect the latest buying spree might have on the souring U.S. mood.

Facing rising criticism from Congress, the Bush administration has threatened trade penalties over product piracy. Washington last month filed a World Trade Organization complaint against Beijing.

China is a leading source of unlicensed copies of goods ranging from music and software to sports equipment and heart medicine. Officials say such piracy costs legitimate foreign and Chinese suppliers billions of dollars a year in lost sales. The International Intellectual Property Alliance, an industry group, estimated losses to Chinese piracy of books, films, music and software last year at $2.2 billion.

Beijing has raised penalties for violators of patents, copyrights and other intellectual property and launched repeated crackdowns. But foreign industry groups say violations are growing faster than enforcement, driven by China's roaring economic expansion that has raised incomes and provided a market for consumer goods, both real and fake.

Even in a country awash in pirated music, movies and other goods, the state-owned Shijingshan park stands out.

"We do not have any agreements with Disney," its deputy general manager, Yin Zhiqiang, said Wednesday. "The characters in our park just look a little bit similar to theirs. But the faces, clothes, sizes and appearances are different."

Over the weeklong May Day holiday, the Shijingshan Amusement Park filled its grounds on Beijing's western suburbs with actors in costumes that resembled Disney and other foreign characters.

A video shot by Japan's Fuji TV on May 1 showed children cavorting with characters resembling Minnie Mouse, Donald Duck, Pluto, Snow White and the Seven Dwarves and Japan's Hello Kitty and Doraemon.

A banner over the entrance said, "Disney is too far, so please come to Shijingshan."

On Wednesday, the banner was down and none of the cartoon characters were on display. An employee who would give only her surname, Li, said the performances usually occur during the summer and holidays.

Lawyers for the park and the Walt Disney Co. were in negotiations, said Yin, the deputy general manager of the park, which is owned by the government of Beijing's Shijingshan District.

"The results will come out in a couple of days," he said.

A Disney spokeswoman, Alannah Goss, declined to comment on the Shijingshan park but sent a statement affirming Disney's determination to fight copying.

"Disney values and protects its intellectual property vigorously and takes reports of suspected infringement very seriously," the statement said.

Despite the striking similarities to foreign characters, Yin insisted the Beijing parks are all locally designed.

"Take our Cinderella as an example. The face of Disney's Cinderella face is European, but ours is a Chinese. She looks like a young Chinese country girl," he said.

On Wednesday, two workmen with sledgehammers could be seen tearing down the Sleeping Beauty statue.

Yin, the deputy general manager, refused to say why.

&copy The Associated Press
posted by Josh @ 10:03 AM
Josh and Liz are two American kids who got married in August. Liz has lived in Dubai since 2003, Josh since August of 2006.

Follow along in the culture shock of being recently married and (for Josh, at least) recently transplanted to Dubai.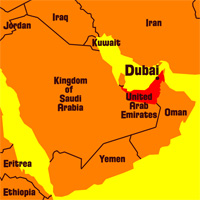 Right now in Dubai
Videos
Pictures
Previous Words
Favorite Recipes
Currency Converter
The easy way to convert Dirhams to Dollars!

Enter a number in either field, then click outside the text box.
Archives
Links We Like
Visitor Counter: