2007-05-11
Fujairah Tourism website
a/k/a Touristic Learnings for Make Benefit Glorious Emirate of Fujairah

I generally don't like to make fun of poorly translated websites, because hey, if I had to write in Arabic here this website would just be lots of photos. But the website for the Fujairah Tourism Bureau is just out of sight bad.

Check it:

Destination of The 3rd Millennium

Tourism in Fujairah have the priority due to the significant role that tourism plays in introducing the UAE society with its heritage and traditions including Fujairah with its wonderful beaches, mountain chains and archeological sites with history goes back to thousands of years.

All these factors encouraged in establishing Fujairah Tourism Bureau to be the governmental administrative body to play a big role to activate tourism in the Emirate.

The projects that the government of Fujairah intends to establish in tourism concentrate on studying and establishing many hotels and touristic establishments which many of them are already under execution and construction, in addition to rehabilitating the historical sites and concentration on the exploitation of archeology.

Dang.
posted by Josh @ 10:30 AM
Josh and Liz are two American kids who got married in August. Liz has lived in Dubai since 2003, Josh since August of 2006.

Follow along in the culture shock of being recently married and (for Josh, at least) recently transplanted to Dubai.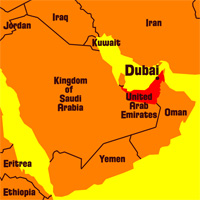 Right now in Dubai
Videos
Pictures
Previous Words
Favorite Recipes
Currency Converter
The easy way to convert Dirhams to Dollars!

Enter a number in either field, then click outside the text box.
Archives
Links We Like
Visitor Counter: