2007-05-07
The Final "Twilight of his Career"
So Roger Clemens has signed with the New York Yankees, eh?

Lord knows I've been wrong about baseball before (at the time I thought trading Nomar was the death knell of the '04 Sox). But, Theo willing and the creek don't rise, I think the '07 Sox are a pretty solid team with or without the Rocket. That this time he really is in the "twilight of his career".

Luckily now I have a father-in-law and brother-in-law who won't let me live down a Yankees World Series victory, which will be quite a bit of fun for me when it happens ...
posted by Josh @ 6:50 AM
Josh and Liz are two American kids who got married in August. Liz has lived in Dubai since 2003, Josh since August of 2006.

Follow along in the culture shock of being recently married and (for Josh, at least) recently transplanted to Dubai.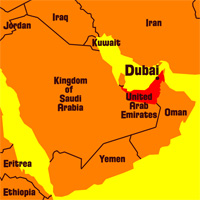 Right now in Dubai
Videos
Pictures
Previous Words
Favorite Recipes
Currency Converter
The easy way to convert Dirhams to Dollars!

Enter a number in either field, then click outside the text box.
Archives
Links We Like
Visitor Counter: