2007-05-31
Dubai Road Expansion
Okay, so this was the big news yesterday in Dubai - on Tuesday the The Roads and Transport Authority (RTA) unveiled a plan to increase the number of roads in and around Dubai, and the number of bridges over the Dubai Creek. The total cost? $12 billion.

Twelve.

Billion.

United States Dollars.

And just what are they going to spend it on?

"Our plan is to increase the capacity of the roads by building 500km of new roadways, 95 new interchanges, nine new ring roads, and increasing the number of Creek crossing lanes from 19 (in 2006) to 47 by 2008, and 100 by 2020," said the Chairman of the Board and Executive Director of RTA.

500 kilometers of roads.

Five hundred.

Kilometers.

Of roads.

Personally, I don't even see how you could build that many roads around Dubai, especially now that it's so built up. But then again I don't see how adding 81 lanes over the creek won't be just paving over it.

Towards the end of the article I read about this there was a crazy figure - the population in Dubai is currently around 1.3 million - but it's forecast to increase to around 5.3 million by 2020.

That's more than four-hundred percent growth in the next thirteen years.

Wow. They might even need more than 500 kilometers of roads!
posted by Josh @ 7:01 AM
Josh and Liz are two American kids who got married in August. Liz has lived in Dubai since 2003, Josh since August of 2006.

Follow along in the culture shock of being recently married and (for Josh, at least) recently transplanted to Dubai.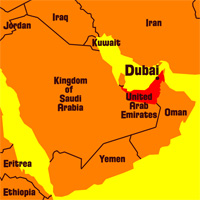 Right now in Dubai
Videos
Pictures
Previous Words
Favorite Recipes
Currency Converter
The easy way to convert Dirhams to Dollars!

Enter a number in either field, then click outside the text box.
Archives
Links We Like
Visitor Counter: