2007-05-02
Dubai from satellite
So with the photos of Dubai taken from space that I was talking about this morning, here's a little clarification. Because the image is enhanced with infrared light, the irrigated vegetation stands out in red. In case you were confused, we don't have red plants or red pavement here. Nope.

Anyway, here's a close-up of our 'hood: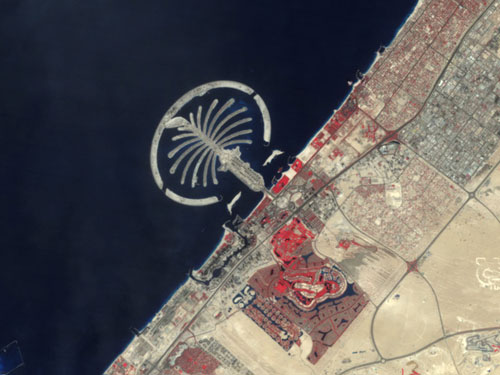 No, we don't live on the Palm Jumeirah, but on the land near it.

No chance you'd catch me on that fake island just waiting for a typhoon or tsunami or even a big wake from a Nimitz class aircraft carrier...
posted by Josh @ 11:06 PM
Josh and Liz are two American kids who got married in August. Liz has lived in Dubai since 2003, Josh since August of 2006.

Follow along in the culture shock of being recently married and (for Josh, at least) recently transplanted to Dubai.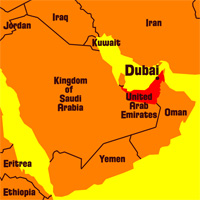 Right now in Dubai
Videos
Pictures
Previous Words
Favorite Recipes
Currency Converter
The easy way to convert Dirhams to Dollars!

Enter a number in either field, then click outside the text box.
Archives
Links We Like
Visitor Counter: