2007-05-07
Clemens (cont.)
So yeah, I stick with my early morning assessment that the Boston Red Sox don't need Roger Clemens.

Especially now that I've seen more facts - that the Yankees will pay Clemens the equivalent of $28 million a season, with the luxury tax (a staggering $7.5 million in tax alone), the total costs come to $6.3 million a month - or about a million a game he starts.

Dang.

Here are a few fun news stories in case you want to hear more.

Let's start with Boston Globe blowhard Dan Shaughnessy - Rocket lands with Yankees again

Shaughnessy starts by reminding us that Clemens is old. Way old. That he was a rookie in Boston in 1984, "the year after Carl Yastrzemski retired". It gets meaner after that (with a detour to take a potshot or two at Curt Schilling). Why hasn't Shaughnessy coined some phrase like, "The Curse of the Clemens"? "The Bane of Boston"? "The Jinx of the Rocket"? (C'mon, you know that Shaughnessy's laptop computer has about 5 mb full of these ideas).

--

Nick Cafardo from the Globe has a few better points - This old story becomes new again

"There's going to come a time -- and who knows, maybe it's this season -- when Roger Clemens isn't going to be successful every fifth day when he takes the mound."

Oooooooh. I like.

But he does point out that this isn't good for Boston, per se. "And it's a double-whammy: losing Clemens and having him go to the enemy."

You're right. Double whammy.

--

Bostonist says it all with their title - The Evil Empire Just Got 40% Eviler

Awesome already.

"Bostonist never was quite sure how we felt about the idea of Clemens coming back here; obviously we're willing to forgive and forget - well, forgive, anyway - but it's not all that easy to mop up all the bad blood that's been spilled in the relationship since Roger bolted town in '96. Now he's cemented his reputation 'round these parts as a soulless mercenary, which is definitely easier for all of us than having mixed emotions."

Genius.

Plus the story is accented with a photo of Clemens and his wife from Sports Illustrated (while he was with the Yankees, no less).

--

The other paper, the Boston Herald, takes an odd Vegas/Foxwoods slant to their article - Roger's no sure bet: Unlike Yankees, Sox didn't need to go all-in

They continue the theme in the article, too. "You don't bid crazy money, no matter who it's for, when you don't have to."

True, True.

--

ESPN's Bill Simmons hasn't written anything yet, but Sean McAdam puts together a fair but not spectacular article - Red Sox feel powerful enough without Rocket

--

Sports Illustrated is pretty blunt - Yanked around: Clemens should have signed with Astros or Red Sox

"Face it: If you're going to pick a team to win the World Series right now, the Yankees aren't going to be it. Clemens or no Clemens.

"I mean, the Yankees? If Clemens wanted to win another World Series, wouldn't the Red Sox have been the smarter choice? The Sox have a better bullpen. They have a better rotation. They're younger and healthier and they're better looking and they're probably smarter and they have - not an insignificant point, this one - a 5 1/2-game head start."

Wow. Rough stuff.

"This is Clemens' choice? The man either has a lot of misguided faith in that team or an unhealthy belief in his own ability to change the course of baseball events."

--

Lastly, the best title? From Rocket's new hometown paper, the New York Times - Paying Dearly in Desperation

Hahahahahaha!
posted by Josh @ 7:16 PM
Josh and Liz are two American kids who got married in August. Liz has lived in Dubai since 2003, Josh since August of 2006.

Follow along in the culture shock of being recently married and (for Josh, at least) recently transplanted to Dubai.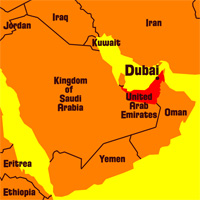 Right now in Dubai
Videos
Pictures
Previous Words
Favorite Recipes
Currency Converter
The easy way to convert Dirhams to Dollars!

Enter a number in either field, then click outside the text box.
Archives
Links We Like
Visitor Counter: