2007-05-17
Cheney & Ahmadinejad
I don't know if you've seen the news, but Vice-President / Batman villain (I always want him to have a long cigarette holder and a top hat) Richard "Dick" Cheney was in the U.A.E. capital of Abu Dhabi last week. While there he met with President HH Sheikh Khalifa bin Zayed Al Nahyan, then he sped out of town on a huge aircraft carrier, where he had a press conference on the flight deck and talked a little bit of smack towards Iran.

The best part of this story is that a few days later Iranian President Mahmoud Ahmadinejad went to Abu Dhabi to meet with the President of the U.A.E., as well as HH Sheikh Mohammad Bin Rashid Al Maktoum, Vice-President and Prime Minister of the U.A.E. and Ruler of Dubai. Then the Iranian President decided to talk some smack towards the U.S.A.

The two barely missed each other!

So this got me to thinking. If I wrote for

Saturday Night Live

, I'd want to write a skit where there's a sandstorm, or Cheney's aircraft carrier gets delayed, or Ahmadinejad shows up early or something and the two bump into each other in the sheikh's waiting room.

Wouldn't that be funny?

I mean, Cheney said, "We'll stand with others to prevent Iran from gaining nuclear weapons and dominating this region."

And Iran's Mehr news agency quoted Ahmadinejad as saying to the U.A.E. rulers, "with each other's help, we can turn the [Arabian] Gulf to the gulf of peace and friendship."

Although I'm pretty sure he said "Persian Gulf", as he's Iranian. But I got this quote from an Arabian news source, who would call it the "Arabian Gulf".

Hey, there you go right there, why don't we rename it "The Gulf"? How's that for peace and friendship?

Anyway, not sure how my fictional skit would end. Oh, wait, it's

Saturday Night Live

, after a few minutes of floundering and mugging (yes, I picture Horatio Sanz as Ahmadinejad, and we all know that he can't get through a skit without cracking himself up ...) they just say, "Live from New York, it's Saturday Night!"

And thus there's no need for a funny coda to the skit.

If only it worked the same for blogs.

"Live from Dubai, it's really early on Thursday morning!"

Nope.

Didn't work.

Oh well.

Time for work.
posted by Josh @ 6:44 AM
Josh and Liz are two American kids who got married in August. Liz has lived in Dubai since 2003, Josh since August of 2006.

Follow along in the culture shock of being recently married and (for Josh, at least) recently transplanted to Dubai.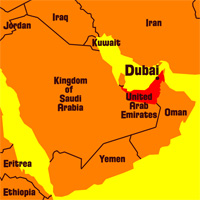 Right now in Dubai
Videos
Pictures
Previous Words
Favorite Recipes
Currency Converter
The easy way to convert Dirhams to Dollars!

Enter a number in either field, then click outside the text box.
Archives
Links We Like
Visitor Counter: