2007-05-18
400th Post!
Hey, this here's my 400th post!

Wow, in some ways August 13, 2006 feels like almost yesterday.

But then, in many, many other ways it feel like I've been in Dubai for nine months.

Anyway, looking towards the future, here are some headlines from upcoming posts between #401 - #800:

Glass melts on Sidewalk in Dubai


Dubai announces plan for mall bigger than all of Rhode Island


Temperature in Dubai officially hotter than the surface of the sun


Dick Cheney and Iranian President Mahmoud Ahmadinejad bump into each other in Abu Dhabi, Comedy Ensues


Orbit ESPN is showing another Cricket game. Oh joy.


Oh my Gosh the Palm Island just sunk!


Photos of the Palm Island sinking


I can't believe the Palm Island sunk


Why does Orbit ESPN love Cricket so much?!?


Dubai apologizes for Palm Island sinking


Just what in the world are the rules of Cricket anyway?!?


Dubai announces plan to colonize Moon


Dubai to build 2160 mile wide palm tree lake on Moon


So that's how you play Cricket


Oh my Gosh the Moon just sunk!


Dubai apologizes for sinking the Moon


You know, I think I like Cricket better than Baseball


Yep, Cricket is my new favorite sport


Yeah, okay, got a little nuts there at the end. I mean, Dubai colonizing the moon is one thing, but me liking cricket?

Not going to happen...

Anyway, see you for posts #401 - #800!
posted by Josh @ 7:40 AM
Josh and Liz are two American kids who got married in August. Liz has lived in Dubai since 2003, Josh since August of 2006.

Follow along in the culture shock of being recently married and (for Josh, at least) recently transplanted to Dubai.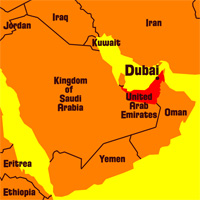 Right now in Dubai
Videos
Pictures
Previous Words
Favorite Recipes
Currency Converter
The easy way to convert Dirhams to Dollars!

Enter a number in either field, then click outside the text box.
Archives
Links We Like
Visitor Counter: