2007-03-12
So Much For Rock 'n Roll
I forgot to mention that this weekend was the Dubai International Jazz Festival at Dubai Media City - right in our backyard.

The lineup included Freddy Cole, Dee Dee Brigewater, Sergio Bekhazi Blues Trio, Acoustic Alchemy and Jamie Cullum ... and Toto.

Yes, Toto of "Africa" fame.

Toto who won the 1982 Grammy Awards for Album of the Year.

Toto of ... jazz fame?

Well, no.

But were they available?

Um ... yeah.

Considering this weekend was also the two day heavy metal festival Dubai Desert Rock, well, there was lots of washed up talent in Dubai this weekend.


Iron Maiden
The Prodigy
Stone Sour
Robert Plant and the Strange Sensation
Incubus
the Bravery

Yeah, washed up and not really my crowd.

Sadly, last year one of my favorite bands, Reel Big Fish played. I was actually in town visiting, too. But I didn't care about seeing Megadeth, 3 Doors Down or Testament. So I skipped it.
posted by Josh @ 9:50 AM
Josh and Liz are two American kids who got married in August. Liz has lived in Dubai since 2003, Josh since August of 2006.

Follow along in the culture shock of being recently married and (for Josh, at least) recently transplanted to Dubai.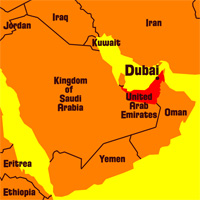 Right now in Dubai
Videos
Pictures
Previous Words
Favorite Recipes
Currency Converter
The easy way to convert Dirhams to Dollars!

Enter a number in either field, then click outside the text box.
Archives
Links We Like
Visitor Counter: