2007-03-20
News: NBC Buys Out Blog Critic
Hmmmm, after reading this article I think maybe I should keep writing about Tim Kring and his stealing of the idea for NBC's "Heroes". Seems like there could be some money in it for me.

"NBC/Universal presents Newlywed in Dubai" ...

Ooh, maybe I could even get a TV show like Donald Trump!


The New York Times
A Division of NBC Buys Out One of Its Harshest Online Critics
By Maria Aspan
March 19, 2007

In a review of "Top Design," the reality show on Bravo Networks, a staff writer for the Web site Televisionwithoutpity.com mused that in the future, the show would be "just another filthy memory whose outcome I've long since forgotten."

He can thank his new employers for the memories. Bravo, a division of NBC Universal, announced its acquisition of Television Without Pity on Tuesday. The television review Web site joins the network's other online outlets, including the broadband channels BrilliantButCancelled.com, OUTzoneTV.com and getTRIO.com.

Television Without Pity, which provides reviews and commentary on television shows ranging from "American Idol" to "Ugly Betty," has become well known in the television industry and the online community for its sharp, witty reviews.

In an interview, Lauren Zalaznick, the president of Bravo, praised the "agnostic editorial voice" of Television Without Pity. "We wanted to be associated with people who love television, and who love to hate television," she said.

That hatred, in the form of the site's trademark sarcasm and intense criticism, is often directed at Bravo and NBC programs, including "Project Runway," "Top Chef," "Heroes," "Friday Night Lights" and "Studio 60 on the Sunset Strip." (The best one reviewer could muster about "Studio 60" was: "If it gets a little better, it might actually be as good as your average, entirely pedestrian television drama.")

And Aaron Sorkin, who created "Studio 60" and "The West Wing" for NBC, is one of the site's favorite targets. After a scuffle on the message boards, he wrote a storyline into a 2002 episode of "The West Wing" that criticized "hysterical" Internet communities.

An announcement on Television Without Pity promises that the Web site will "continue taking shots at Aaron Sorkin."

Representatives from Bravo and Television Without Pity declined to disclose the purchase amount, although Tara Ariano, the Web site's co-editor and co-founder, described it as "very generous."

The Web site, which began in 1998 under the name Dawsonswrap.com, has over one million unique monthly visitors, according to ComScore MediaMetrix and Bravo; Bravo's other Web properties have about 1.5 million visitors.

If the Web site's editorial content changed after the acquisition, "Bravo would have bought something with no value," Ms. Ariano said. Bravo's relationship with Television Without Pity is meant to be "more curatorial than censorial," according to Ms. Zalaznick, who added that NBC had fully supported the acquisition.

"It's certainly not the job of a network or a company that owns a Web site to have opinions," she said. "But it is my mandate to provide a set of forums inside which strong opinion lives."

&copy The New York Times Company
posted by Josh @ 9:37 PM
Josh and Liz are two American kids who got married in August. Liz has lived in Dubai since 2003, Josh since August of 2006.

Follow along in the culture shock of being recently married and (for Josh, at least) recently transplanted to Dubai.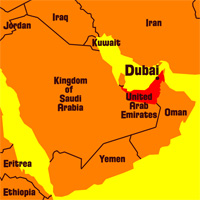 Right now in Dubai
Videos
Pictures
Previous Words
Favorite Recipes
Currency Converter
The easy way to convert Dirhams to Dollars!

Enter a number in either field, then click outside the text box.
Archives
Links We Like
Visitor Counter: