2007-03-31
News: LEGOLAND Berlin
So Thursday the Vegas mini-land at LEGOLAND California opened, and now today we have a new indoor LEGOLAND Discovery Centre opening in Berlin.

This is a new concept from the four existing LEGOLAND parks, an smaller, indoor center. It'll be interesting to see how it does.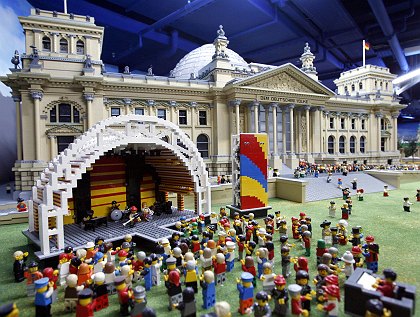 The Reichstag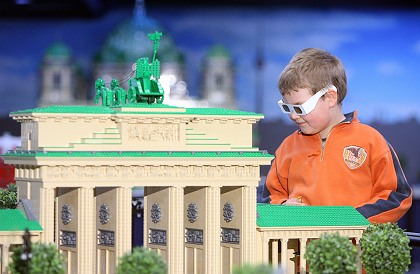 The Brandenburg Gate



And, to tie this all in to Dubai (which I can, because I'm pretty clever) the LEGOLAND parks is only thirty percent owned by the LEGO Group - they sold the majority stake in July of 2005 to Merlin Entertainments. Earlier this month Merlin Entertainments agreed to buy The Tussauds Group which is, you guessed it, controlled by Dubai International Capital LLC.

After the acquisition, Dubai International Capital will hold twenty percent of Merlin Entertainments.

So by my math, which could be off because I did just wake up, Dubai International Capital LLC will soon own fourteen percent of the LEGOLAND parks.


Spiegel Online
RECONSTRUCTING GERMANY
Berlin Sites Immortalized in Plastic at New Legoland
March 29, 2007

The Brandenburg Gate, the Reichstag and even soccer star Michael Ballack can be found in plastic brick form at the new Berlin Legoland.

Germany's latest addition to the animal world is neither as cute as the polar bear cub Knut, nor as dangerous as the rogue brown bear Bruno. Standing seven meters (23 feet) tall, the yellow giraffe made of Lego blocks cuts an imposing figure at Berlin's Potsdamer Platz, a popular tourist and shopping area in the heart of the city.

The plastic sculpture is one of the main attractions of the new Legoland Discovery Centre which will open its doors to the public on Saturday. Inside, visitors will find a 3,500 square meter (37,674 square meter) indoor amusement park with interactive games and Lego sculptures.

The centre is meant to appeal to a broad audience: "It's not only for children", explains Stella Owusu Boafo from the Berlin center. "Some of our attractions, like the miniature version of Berlin, will be particularly interesting for adults."

Owusu-Boafo argues that the rather hefty entrance price of €11 - 14.50 ($15 - 19) will be well worth it. There are six different areas to cater for architects and adventurers alike. The Lego factory explains how the plastic blocks are made, while the test and building center allows people to have a (Le)go at building little figures themselves.

Then there is the 5-million-Lego-block-strong miniature version of Berlin's city center, complete with Lego models of the Reichstag building and the Brandenburg Gate. Other attractions include a 4-D cinema -- built in the style of a 3-D cinema but with the additional dimension of artificial weather -- not to mention a dragon castle and a jungle exploration path.

This is the first indoor Legoland worldwide and the Berlin center will soon be followed by branches in other European capitals, says Owusu Boafo. The €7 million ($9.3 million) project is run by Merlin Entertainment who also manage the popular SeaLife centers. The organizers expect up to 300,000 visitors per year.

Before the official opening, several groups of schoolchildren were allowed to test the facilities. According to project manager Ulla Möll, the kids were happy -- and so was she: "Today is the first day where it's really full of kids and where we can see how happy they are," she told reporters on Tuesday. "I can't wait till Saturday."

mkp/dpa/reuters

© Speigel Online
posted by Josh @ 9:40 AM
Josh and Liz are two American kids who got married in August. Liz has lived in Dubai since 2003, Josh since August of 2006.

Follow along in the culture shock of being recently married and (for Josh, at least) recently transplanted to Dubai.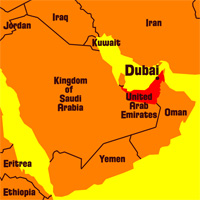 Right now in Dubai
Videos
Pictures
Previous Words
Favorite Recipes
Currency Converter
The easy way to convert Dirhams to Dollars!

Enter a number in either field, then click outside the text box.
Archives
Links We Like
Visitor Counter: