2007-03-12
News: Halliburton Moving to Dubai
I'm pretty sure everyone's seen this by now, it looks like Liz and I are getting some new neighbors ...


The Associated Press
Halliburton will move HQ to Dubai
By Jim Krane
March 11, 2007

DUBAI, United Arab Emirates - Oil services giant Halliburton Co. will soon shift its corporate headquarters from Houston to the Mideast financial powerhouse of Dubai, chief executive Dave Lesar announced Sunday.

"Halliburton is opening its corporate headquarters in Dubai while maintaining a corporate office in Houston," spokeswoman Cathy Mann said in an e-mail to The Associated Press. "The chairman, president and CEO will office from and be based in Dubai to run the company from the UAE."

Lesar, speaking at an energy conference in nearby Bahrain, said he will relocate to Dubai from Texas to oversee Halliburton's intensified focus on business in the Mideast and energy-hungry Asia, home to some of the world's most important oil and gas markets.

"As the CEO, I'm responsible for the global business of Halliburton in both hemispheres and I will continue to spend quite a bit of time in an airplane as I remain attentive to our customers, shareholders and employees around the world," Lesar said. "Yes, I will spend the majority of my time in Dubai."

Lesar's announcement appears to signal one of the highest-profile moves by a U.S. corporate leader to Dubai, an Arab boomtown where free-market capitalism has been paired with some of the world's most liberal tax, investment and residency laws.

"The eastern hemisphere is a market that is more heavily weighted toward oil exploration and production opportunities and growing our business here will bring more balance to Halliburton's overall portfolio," Lesar said.

In 2006, Halliburton — once headed by Vice President Dick Cheney — earned profits of $2.3 billion on revenues of $22.6 billion.

More than 38 percent of Halliburton's $13 billion oil field services revenue last year stemmed from sources in the eastern hemisphere, where the firm has 16,000 of its 45,000 employees.

Cheney was Halliburton's chief executive from 1995-2000 and the Bush administration has been accused of favoring the conglomerate with lucrative no-bid contracts in Iraq.

Federal investigators last month alleged Halliburton was responsible for $2.7 billion of the $10 billion in contractor waste and overcharging in Iraq.

Halliburton last month announced a 40-percent decline in fourth-quarter profit, despite heavy demand for its oil field equipment and personnel.

&copy The Associated Press
posted by Josh @ 10:21 PM
Josh and Liz are two American kids who got married in August. Liz has lived in Dubai since 2003, Josh since August of 2006.

Follow along in the culture shock of being recently married and (for Josh, at least) recently transplanted to Dubai.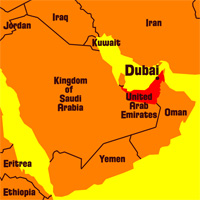 Right now in Dubai
Videos
Pictures
Previous Words
Favorite Recipes
Currency Converter
The easy way to convert Dirhams to Dollars!

Enter a number in either field, then click outside the text box.
Archives
Links We Like
Visitor Counter: