2007-03-14
News: Haliburton motives questioned
This Iran business is interesting ...

The Houston Chronicle
Democrats question Halliburton motive
By David Ivanovich and Brett Clanton
March 13, 2007

WASHINGTON — Democrats on Capitol Hill openly challenged Halliburton Co.'s explanations Monday as to why Chief Executive Officer Dave Lesar is relocating to the United Arab Emirates.

Halliburton announced Sunday that it plans to open a new corporate headquarters in Dubai. It said such a move would strengthen its presence in a part of the world where the oil-well-service business is growing substantially.

Several lawmakers voiced suspicions Monday about the oil-field service and military contracting giant's "bizarre announcement," as Sen. Byron Dorgan, D-N.D., described it. They asked whether it might really be a back-door way to enable Halliburton to expand its business dealings with Iran or avoid paying U.S. taxes.

"I think Congress ought to hold hearings to try to determine why one of this country's major defense contractors has decided to move its principal offices offshore," Dorgan said. "What's behind it?"

Halliburton spokeswoman Melissa Norcross said lawmakers were making "assumptions and suppositions" that are "absolutely untrue and unfounded."

The company said, and legal experts agreed, that the plans it has announced would not change its standing under the U.S. tax or trade sanction laws.

And it is in the process of cutting its ties to KBR, the subsidiary that holds the military support contract in Iraq. KBR is expected to soon be an independent, publicly traded company.

'Alarm bells'

But Halliburton's protestations were largely drowned out Monday, as Vice President Dick Cheney's one-time employer took a verbal drubbing.

Democratic presidential hopeful Sen. Hillary Rodham Clinton of New York called it "disgraceful" that an American company would take the kind of military contracts Halliburton has received "and then turn around and say we are not going to stay with our chief executive officer or the president of our company in the U.S. anymore."

Sen. Frank Lautenberg, D-N.J., one of Halliburton's most vociferous critics in Washington, called on the Treasury Department to investigate whether the company is trying to broaden its dealings with Tehran.

"Halliburton has gone to extraordinary lengths in the past to do business with the terrorist government in Iran," Lautenberg said.

"Given Halliburton's past dealings with Iran, the company's odd announcement this week certainly sets off alarm bells about its intention to do business with state sponsors of terrorism."

A Treasury spokeswoman could not say if Lautenberg's letter would prompt an investigation.

Federal law prohibits U.S. companies from trading directly with Iran.

However, foreign units of American firms can operate there, as long as that entity remains truly independent of the U.S. operation.

Subsidiary works with Iran

Halliburton has been doing business with Iran for years through a Cayman Islands-registered company called Halliburton Products & Services Ltd., which is based in Dubai.

More than two years ago, Lesar announced the company would pull the plug on its Iranian business.

In January 2005, Halliburton officials said they would wind down their operations in Iran once they had fulfilled all of their obligations.

On Monday, Norcross said "Halliburton and its subsidiaries are currently in the process of winding up our work in Iran and will exit upon the completion of existing commitments."

She would not say how long that process is expected to take.

In a letter to Treasury's Office of Foreign Assets Control, Lautenberg argued that "if Halliburton were to move the corporate headquarters, incorporate in Dubai, and cease to be a U.S. company, it would no longer be covered under the relevant U.S. terror sanctions laws."

But Norcross said Halliburton will remain a U.S. company, incorporated in Delaware, with its principal executive office in Houston.

And under those assumptions the same sanctions rules would apply.

Lesar is a U.S. citizen. And whether an American is sitting in Houston or Dubai, "you still have the same rules," said Peter Fitzgerald, a law professor at Stetson University.

The Halliburton CEO would run afoul of U.S. sanctions laws if he were to try to direct activities at the Cayman Islands-registered entity while it was still active in Iran.

Other lawmakers raised concerns that Halliburton, which as the Pentagon's largest contractor in Iraq holds a logistics contract valued at more than $25 billion, might be able to reduce its tax burden by moving its headquarters to Dubai.

Halliburton spokeswoman Norcross said the company expects "absolutely no tax benefits from this decision."

Iowa Sen. Chuck Grassley, ranking Republican on the Senate Finance Committee, said he will look into whether Halliburton will receive "any inappropriate tax benefits" from this action.

Taxed on all earnings

Chris Kolenda, a tax attorney with the Financial Advisory Group Houston, said as long as Halliburton remains incorporated in the United States, it will be required to pay taxes on what it earns here and abroad.

He said some energy firms have established dual headquarters in the U.S. and in regions such as Bermuda to cut their taxes on profits overseas.

Other lawmakers already seemed convinced Monday that the company would benefit from a tax perspective.

"At the same time they'll be avoiding U.S. taxes, I'm sure they won't stop insisting on taking their profits in cold hard U.S. cash," said Sen. Patrick Leahy, D-Vt.

As for Lesar, Kolenda said he can only avoid paying personal income taxes if he becomes a citizen of the United Arab Emirates.

&copy Houston Chronicle Washington Bureau
posted by Josh @ 7:01 AM
Josh and Liz are two American kids who got married in August. Liz has lived in Dubai since 2003, Josh since August of 2006.

Follow along in the culture shock of being recently married and (for Josh, at least) recently transplanted to Dubai.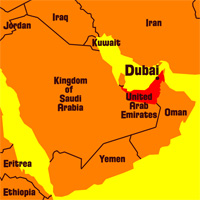 Right now in Dubai
Videos
Pictures
Previous Words
Favorite Recipes
Currency Converter
The easy way to convert Dirhams to Dollars!

Enter a number in either field, then click outside the text box.
Archives
Links We Like
Visitor Counter: