2007-03-11
News: Eastern Maine
Happy Daylight Saving day!

Here's a fun article for you all. Somehow this sounds like a TV show to me, something with an Northern Exposure-y feel to it...


The Associated Press
Extreme eastern Maine awaits more light
By Clarke Canfield
March 07, 2007

LUBEC, Maine - As the easternmost point in the United States, Lubec gets some of the earliest sunrises in America. But it also gets some of the most depressingly early sunsets, with the sun slipping below the horizon before 4 p.m. for weeks on end in early winter.

Which is why, after months of leaving work and eating dinner in dreary darkness, the people of Lubec are eagerly awaiting the earlier-than-usual arrival of daylight saving time this year.

By order of Congress, daylight saving time will start on March 11, three weeks early. Across the country, the sun will set an hour later. In Lubec, that will be 6:29 p.m.

It can't happen soon enough for Jed Coggins, who said he will use the extra sunlight to dig clams, take walks or simply take in the sun.

"It signals the start of spring in my mind, and I need it," Coggins, 78, said at McFadden's Variety store and deli.

Lubec, situated a grim 180 miles northeast of Portland, has seen brighter days, back when fish were plentiful and fish plants were bustling. Nowadays, its main drag is mostly empty storefronts. Just a few fishing boats are moored in the harbor. The nearest traffic light and movie theater are 50 miles away.

Because Lubec is so far north and east, from mid-November to early January the sun goes down on the town's famous candy-striped lighthouse before many of its 1,600 inhabitants get out of work or get home from school. The earliest sunset is the second week of December, at 3:47 p.m. The shortest day of the year, Dec. 21, has just 8 hours and 48 minutes of daylight.

Those early sunsets can make Maine residents crazy, Betsy Anderson joked at Broomstick Creations gift shop. "If you work all day, the worst part is getting off work and it's still dark," she said. "I'm one of those people who need more daylight."

To the east, just across the bridge over Lubec Narrows on Campobello Island, New Brunswick, Canadians are in the Atlantic time zone. Over there, just a few hundred yards away, the sun sets an hour later than in Lubec, which is in the Eastern time zone.

Erik Lookabaugh, owner of Lubec Hardware, said that daylight saving should be year-round or Maine should join the Atlantic time zone, something the Legislature considered doing two years ago.

"It's a psychological boost," Lookabaugh said. "The early sunsets are extreme up here."

In 2005, Congress decided to expand daylight saving time in the hope that more daylight in the evening will reduce energy consumption.

Because Lubec is situated so far east within the Eastern time zone, the town is often the first place in America to see the rays of the rising sun. The earliest sunrise of the year is in mid-June, at 4:41 a.m. The longest day tops 15 1/2 hours of daylight.

During the turn of the millennium, many people traveled to Lubec to be the first in America to welcome the year 2000. In Washington County, known across Maine as "sunrise county," residents are clearly proud of their early sunrises. Here, you'll find Sunrise Realty, Sunrise Apartments, Sunrise Canoe and Kayak, Sunrise County Veterinary Clinic and Sunrise Day Care.

In milder climes, people will no doubt use the extra hour of daylight to get in a little more golf. For Lubec residents, there is still snow at the nearby Herring Cove Golf course.

Karlene Hood, office manager at a former sardine cannery that now houses small businesses that process sea salt and sea cucumbers, intends to use the extra daylight to take rides with her husband on their motorcycle.

"We're all happy about it. The sooner it stays light later, the better," she said.

&copy The Associated Press
posted by Josh @ 3:25 PM
Josh and Liz are two American kids who got married in August. Liz has lived in Dubai since 2003, Josh since August of 2006.

Follow along in the culture shock of being recently married and (for Josh, at least) recently transplanted to Dubai.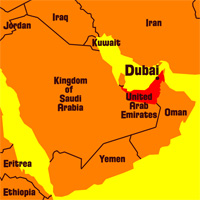 Right now in Dubai
Videos
Pictures
Previous Words
Favorite Recipes
Currency Converter
The easy way to convert Dirhams to Dollars!

Enter a number in either field, then click outside the text box.
Archives
Links We Like
Visitor Counter: