2007-03-14
News: Dubai on a Budget
I missed this the other day, the New York Times "Practical Traveler" had a bit about Dubai:


The New York Times
A Bargain Emirate
Dubai on a Budget? No, It's Not a Mirage
By Michelle Higgins
March 11, 2007

DUBAI on a budget sounds like an oxymoron. The most ostentatious of the seven city states of the United Arab Emirates, Dubai is where travelers go to find a self-proclaimed seven-star hotel, indoor skiing and artificial islands springing up from the seas in the shape of palm trees. A stay at that "seven-star" hotel, the sail-shaped Burj Al Arab, starts at more than $2,000 a night.

Yet now a number of budget hotel chains are moving into this playground for the rich. Sir Stelios Haji-Ioannou, the serial entrepreneur who founded the budget airline easyJet, was in Dubai two weeks ago to break ground on the first of six easyHotels to be built in the emirate.

The hotels, based on the easyHotel model introduced in Europe in 2005, will have rooms a little bigger than those in existing easyHotels — but still small, around 160 square feet, with just the basics, including a bed, a shower, a flat-screen television and an Internet connection. Prices won't be announced until the opening, but are expected to be around 250 to 300 dirhams, or about $67 to $80 a night at 3.75 dirhams to the dollar.

InterContinental Hotels plans to open its first Holiday Inn Express in Dubai this summer; with 244 rooms, the hotel will be significantly larger than its counterparts in the United States.

Ibis, an economy brand of Accor, the giant French hotel company, which already has one hotel in Dubai, plans to expand with a 480-room hotel there in December and a 365-room hotel in 2008. The existing Ibis World Trade Center Dubai, linked to the International Exhibition Center and Convention Center of Dubai, has rooms from around 70 euros, $95 a night at $1.35 to the euro. And Whitbread's budget brand, Premier Travel Inn, Britain's biggest hotel chain, is building a 300-room hotel at the Dubai Investments Park. Room rates are expected to be in the 400-dirham range.

The extreme emphasis on luxury in Dubai over the last decade is precisely why the market for budget travel is wide open. While most hotel guests continue to stay at high-end places, statistics show a growing demand for lower-priced accommodations.

The number of guests who stayed in five-star luxury hotels in Dubai increased just 10 percent, to nearly 2 million, in 2005 from the previous year, according to the latest statistics available online from the Dubai Department of Tourism and Commerce Marketing. By contrast, the number staying in one-star, limited-service hotels jumped 32 percent in that same time, to about 600,000.

It's not only hotels that have taken notice of the budget traveler. Anticipating a shift toward more economical vehicles in the next few years, Hertz is adding small cars like the Honda Jazz hatchback and Toyota Yaris to its Dubai fleet — cars that rent for about $55 a day, compared with $110 for a mid-size vehicle or $220 for an S.U.V.

"The place has gotten very expensive," said Bob Farrow, general manager of Hertz Car Rental in Dubai. "Everybody would love to drive a big car on vacation, but they want to pay for a small one."

Five years ago, small cars made up just 10 percent of the fleet at his outlet, but in the next year or so, Hertz plans to increase that to about 25 percent.

While more travel companies are catering to budget travelers in Dubai, for now it can still be difficult to find the cheaper alternatives. A call asking about budget options a couple of weeks ago left a spokeswoman flummoxed at the New York office promoting Dubai tourism.

"We really focus on the high end," she said. "Truly, it's a luxury market."

The head office in Dubai wasn't much more help. Asked by e-mail about typical rates and recommendations for travelers on tight budgets, Mohamed Abdul Mannan, a spokesman for the Dubai Department of Tourism and Commerce Marketing, replied with just one line — a Web address for an online article about the recent easyHotels announcement of plans to build there.

The spectacle of modern Dubai is a product of many years of intensive development. Once a fishing and pearl-diving village, it grew into a modest commercial city in the 19th century and wasn't transformed into a metropolis until the last couple of decades. Even as Dubai's reputation as a luxury travel destination took off, savvy travelers continued to score deals — although less remarkable ones as time went on — even without the new influx of budget chains.

"My wallet has seen the changes," said Jesse Long, 34, a photographer in Brooklyn who has been traveling to Dubai on business for the last five years. Hotels where he used to stay for $30 or $40 a night are now charging four times more, he said, "and they haven't really improved anything."

To get the best deal, Mr. Long stays in the central Bur Dubai district, where modestly priced accommodations can still be found, particularly along Khalid Bin Waleed Road. Last month, he stayed at the Hotel Ascot (www.ascothoteldubai.com) in that area for about $130 a night and dined at nearby Indian restaurants for less than $5 a meal.

For discounted hotel accommodations, he recommends www.wired-destinations.com.

It's also possible to find a bargain by consulting the tourism desk at the airport, but to avoid any confusion later, be sure to get the terms in writing, including the rate and any incentives, like free breakfast.

Ramadan, the ninth month of the Muslim lunar calendar, when people of Muslim faith fast from dawn to dusk, can be a good time to find bargains since hotels tend to be less crowded and may be more willing to negotiate on price. (This year, the start of Ramadan, which varies slightly by region, begins around Sept. 12.)

While working hours are slightly altered and many restaurants are closed much of the day, there is an air of festivity after dark, said Daniela Bonanno, a sales manager at Absolute Travel in New York who has visited Dubai during Ramadan. "After sunset, everyone celebrates because that's when they can eat," Ms. Bonanno said.

Shops and malls stay open longer, and hotels and restaurants offer special Iftar buffets to break the fast.

If you're on a budget, you might want to avoid traveling during the wildly popular Dubai Shopping Festival, which typically runs from late December through January, when you'll face high rates as you compete for rooms with crowds of well-heeled travelers.

&copy The New York Times Company
posted by Josh @ 6:29 PM
Josh and Liz are two American kids who got married in August. Liz has lived in Dubai since 2003, Josh since August of 2006.

Follow along in the culture shock of being recently married and (for Josh, at least) recently transplanted to Dubai.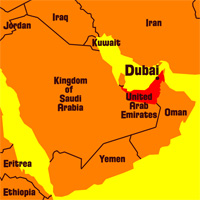 Right now in Dubai
Videos
Pictures
Previous Words
Favorite Recipes
Currency Converter
The easy way to convert Dirhams to Dollars!

Enter a number in either field, then click outside the text box.
Archives
Links We Like
Visitor Counter: