2007-03-04
News: Dubai group buys another hotel
A branch of the Dubai government just bought a majority stake in yet another NYC hotel. You won't let them run the ports but you'll let them buy all the hotels on Manhattan Island, eh?

Anyway, this article is really interesting for the paragraphs about what Dubai owns - mostly the third paragraph and the last two.

You have to give Jumeirah International a little more credit, though. They put their name on everything they own, like the Jumeirah Essex House, the Jumeirah Carlton Tower, the Jumeirah Lowndes Hotel and, of course, the Jumeirah Beach Hotel.

If Istithmar was smart they'd make it the "Istithmar Mandarin Oriental", the "Istithmar W Hotel", the "Istithmar Knickerbocker Hotel", the "Istithmar Hotel Washington" and maybe even "Istithmar Loehmann's".

Although, and this could be my somewhat Americanize tongue here, but how exactly do you pronounce "Istithmar"??

"Ju-mehr-ah" is a little easier to say.

The Associated Press
Dubai's Istithmar buys Manhattan hotel
March 04, 2007

DUBAI - Dubai's government bolstered its holdings of New York City real estate, announcing on Sunday that its Istithmar PJSC holding company had purchased a majority stake in Manhattan's five-star Mandarin Oriental hotel.

The US$340 million (euro260 million) purchase of the Mandarin Oriental, part of the Time Warner Center on Manhattan's Columbus Circle, adds to the growing US real estate portfolio held by the Arab world's financial powerhouse.

Istithmar's previous New York properties include the W Hotel on Union Square, the Knickerbocker Hotel on Times Square and commercial buildings at 280 Park Avenue, 230 Park Avenue and 450 Lexington Avenue. The firm also owns the Hotel Washington in Washington D.C.

"We're building a portfolio of both luxury and budget hotels in key target markets around the world," said Joe Sita, chief executive of Istithmar's hotels group.

Another Dubai government-held firm, Jumeirah International, owns the Jumeirah Essex House hotel on Manhattan's Central Park South.

Istithmar said in a prepared release that it bought a 73 per cent share of the Mandarin Oriental, buying 25 per cent from Mandarin Oriental Hotel Group and 48 per cent from a joint venture between New York-based developers Apollo Real Estate Advisors LP and Related Cos.

Istithmar already holds 2.4 percent of Time Warner shares and options.

Dubai, one of seven city-states that form the US-allied United Arab Emirates, has grown into a global financial capital despite its lack of petroleum reserves. The city has instead lured energy revenues from neighbouring states through liberal investment and residency laws, booming financial and real estate sectors, and the Mideast's largest port and airport.

Istithmar is a sister company to the Dubai government-owned DP World, one of the world's largest ports operators. DP World's purchase last year of operations in six US ports touched off a political firestorm in the US Congress, which cited security reasons for voting to force the Dubai company to sell its US holdings.

The imbroglio damaged relations between Washington and the Emirates, where many said US opposition to the deal smacked of anti-Arab bias.

American International Group Inc., an insurance conglomerate, received approval last month from US federal antitrust authorities to complete its purchase of the ports.

Last July, Istithmar paid US$300 million (euro230 million) for New York-based specialty retailer Loehmann's. Istithmar said it planned to increase the number of Loehmann's stores to 100 from 60 over the next five years and open a flagship on Manhattan's Upper West Side.

Elsewhere, Istithmar bought a US$1 billion (euro760 million) stake in London-based bank Standard Chartered Plc and acquired London's Adelphi building for US$567 million (euro430 million).

Istithmar Hotels, founded less than a year ago, has already amassed a US$3 billion (euro2.3 billion) portfolio of hotels and resorts. Besides those mentioned, it holds a portion of Kerzner Group, the developer and operator of Atlantis Resorts and luxury resort One and Only; as well as the franchise for budget hotel chain easyHotels in the Middle East, North Africa and South Asia.

Jumeirah's other properties include a pair of luxury hotels in London, the Jumeirah Carlton Tower and the Jumeirah Lowndes Hotel. Jumeirah is building a luxury resort in Bermuda as well as hotels and resorts in China, Thailand and the Middle East.

&copy The Associated Press
posted by Josh @ 9:40 PM
Josh and Liz are two American kids who got married in August. Liz has lived in Dubai since 2003, Josh since August of 2006.

Follow along in the culture shock of being recently married and (for Josh, at least) recently transplanted to Dubai.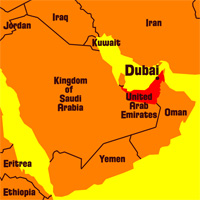 Right now in Dubai
Videos
Pictures
Previous Words
Favorite Recipes
Currency Converter
The easy way to convert Dirhams to Dollars!

Enter a number in either field, then click outside the text box.
Archives
Links We Like
Visitor Counter: