2007-03-04
News: Abu Dhabi Louvre
Just saw this story in Bahrain's Gulf Daily News:


Gulf Daily News
'Desert Louvre' deal on way
March 04, 2007

PARIS: French Culture Minister Renaud Donnedieu de Vabres will sign a controversial agreement on Tuesday to build an annexe of Paris' famed Louvre art gallery in Abu Dhabi, his ministry said yesterday.

A spokesman refused to give any more details of the project, which according to France's Le Monde newspaper will earn the French state up to $900 million (700m euros ).

The new museum satellite, designed by French architect Jean Nouvel and planned for 2012, is one of five to be built as part of a "culture district" on Saadiyat Island, the future site of a multi-billion-dollar tourist resort just off the coast of Abu Dhabi.

Under the terms of the contract, Abu Dhabi would reportedly pay France 150m euros to provide it with four exhibitions per year, for 10 years, drawn from major French museums including the Louvre.

During that time, Abu Dhabi plans to spend an annual 40m euros on establishing its own collection, the report said.

For 200m euros, a certain number of artworks would also be provided on extended loans, for a maximum of 10 years, and gradually replaced by Abu Dhabi's own collection.

France's international museum agency would be in charge of managing the new museum, at a cost of 70m euros.

For the right to use the Louvre brand name for 20 years, the Emirate would be expected to pay between 200 and 400m euros, Le Monde said.

The project, modelled on an initiative pioneered by New York's Guggenheim museum, has sparked outrage in France where some 4,650 people - including dozens of museum directors, curators and art historians - have signed a petition in protest.

Critics accuse the Louvre of "selling its soul" by loaning out its prized collections overseas, and dismiss the Abu Dhabi project as a gimmick that will deprive the Louvre's 7.3m annual visitors in Paris.

But the head of the art gallery, Henri Loyrette, and his department heads say it will contribute to the spread of French culture and benefit museums in France financially.

© Gulf Daily News
posted by Josh @ 12:26 PM
Josh and Liz are two American kids who got married in August. Liz has lived in Dubai since 2003, Josh since August of 2006.

Follow along in the culture shock of being recently married and (for Josh, at least) recently transplanted to Dubai.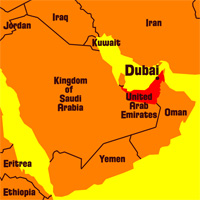 Right now in Dubai
Videos
Pictures
Previous Words
Favorite Recipes
Currency Converter
The easy way to convert Dirhams to Dollars!

Enter a number in either field, then click outside the text box.
Archives
Links We Like
Visitor Counter: