2007-03-28
NCAA Bracket
Here's a quickie update on my NCAA Men's Basketball bracket from work.

(If you don't recall, I only have three of the final four, but other than that I was doing really well.)

So the new standings just came out, and now apparently the only way I can make any money is if Florida plays Ohio State and wins. And then I only come in third.

Which pays out $33.

Not bad, but not the $200 that first place gets.

Needless to say, but, "Go Buckeyes. And go Gators even more!!"
posted by Josh @ 3:56 PM
Josh and Liz are two American kids who got married in August. Liz has lived in Dubai since 2003, Josh since August of 2006.

Follow along in the culture shock of being recently married and (for Josh, at least) recently transplanted to Dubai.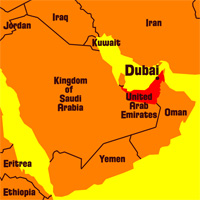 Right now in Dubai
Videos
Pictures
Previous Words
Favorite Recipes
Currency Converter
The easy way to convert Dirhams to Dollars!

Enter a number in either field, then click outside the text box.
Archives
Links We Like
Visitor Counter: