2007-03-02
Men's Tennis
Sorry about not posting yesterday, I was busy during the day and started feeling ill at night. Nothing serious, just a stuffed up head really.

Anyway, on Wednesday night we went to the Dubai Duty Free Men's Open part of the Dubai Tennis Championships.

But, more importantly, I've learned a bit more about tennis. From our friends at Wikipedia: "A tennis match usually comprises one to five sets. A set consists of a number of games, and games, in turn, consist of points."

To put it in American terms, a match is like a baseball game. It can be an hour long, or three hours long. But where baseball is broken down into innings, tennis is broken down into sets. But instead of nine innings, a tennis match only lasts until someone hsa won the best-of-three sets. So the longest it can go is three sets. Maybe only two sets.

Sets are broken down into games, which are sort of like outs. To win a set one has to win "at least six games and at least two games more than his [or her] opponent". So a set is going to go six games, maybe even seven or eight.

Lastly "a game is won by the first player to have won at least four points and at least two points more than his [or her] opponent".

Um, maybe games are like strikes?

Yeah, it's a tough analogy. I think I used it mostly because (a) I'm psyched that baseball spring training is started and (b) I'm still a little stuffed up and delirious.

So to recap:


match = baseball game
set = baseball innings
game = baseball outs
josh = insane

Anyway, the first match was saw on Wednesday was Roger Federer vs. Daniele Bracciali.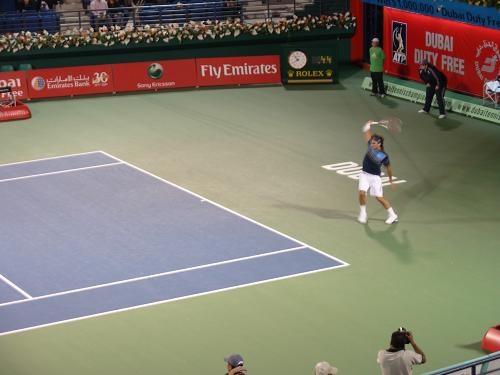 Roger Federer


Federer, a Swiss, is the number one player in the world, and has been since February 2, 2004. Thus he holds the all-time record for most consecutive weeks as the top-ranked male player.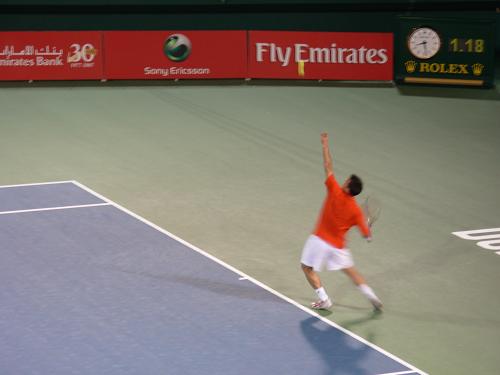 Daniele Bracciali


Bracciali is Italian, and pretty bad-ass. His serves were in the low 200 kilometers per hour, one reached 234 km/hr. That's something like 145 miles per hour.

Yeah.

The best part of the night was this one shot Federer made. I don't know much about tennis, but this seems like it should be a highlight for years to come.

The two players were getting closer and closer to the net, and it gets pretty intense. Bracciali then wails on the ball, Federer has to turn and run to try and catch up with it. He does, but can't turn around in time, so back to the net he kind of straddles the ball, lifts his leg and hits it between his legs.

Bracciali can do nothing but watch the ball and pray to his Italian Gods that it doesn't land in fair territory.

But it does, about a foot safe (sorry, that's twelve inches in the metric system).

The place erupted. Or, as much as a tennis stadium can "erupt".

Bracciali bowed on one knee to Federer.

Federer went on to win the match.

(Oh yeah, that's why they always say, "Game, set, match.")

The second match we saw the beginning of was Rafael Nadal vs. Igor Andreev.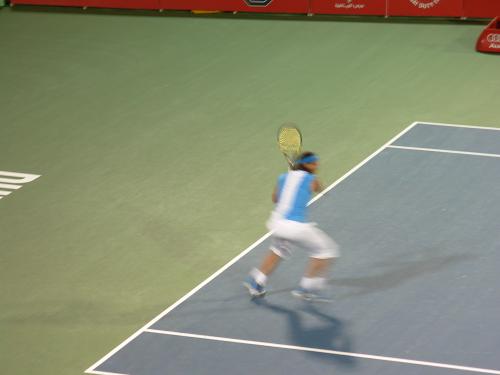 Rafael Nadal


Nadal is the defending champion of the Dubai Championship, after beating Roger Federer last year. He's second ranked in the world.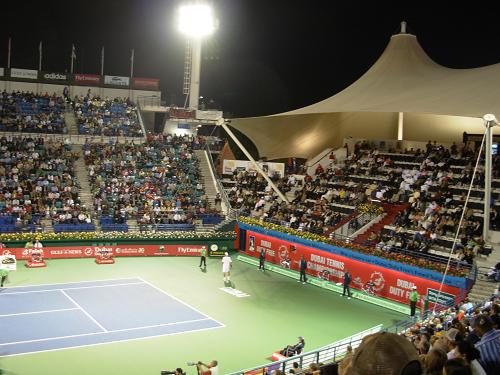 Igor Andreev


Andreev is a Russian, and held off Nadal for two sets before going to the tie-breaking set, that ended close to midnight. I'm glad we didn't stay for the entire match, imagine how sick I'd probably be if we didn't get home until 1 am ...

Sadly last night Nadal lost, for full coverage check out: Article about Thursday's games.
posted by Josh @ 10:50 AM
Josh and Liz are two American kids who got married in August. Liz has lived in Dubai since 2003, Josh since August of 2006.

Follow along in the culture shock of being recently married and (for Josh, at least) recently transplanted to Dubai.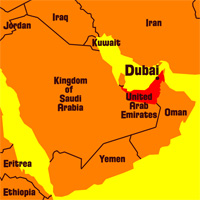 Right now in Dubai
Videos
Pictures
Previous Words
Favorite Recipes
Currency Converter
The easy way to convert Dirhams to Dollars!

Enter a number in either field, then click outside the text box.
Archives
Links We Like
Visitor Counter: